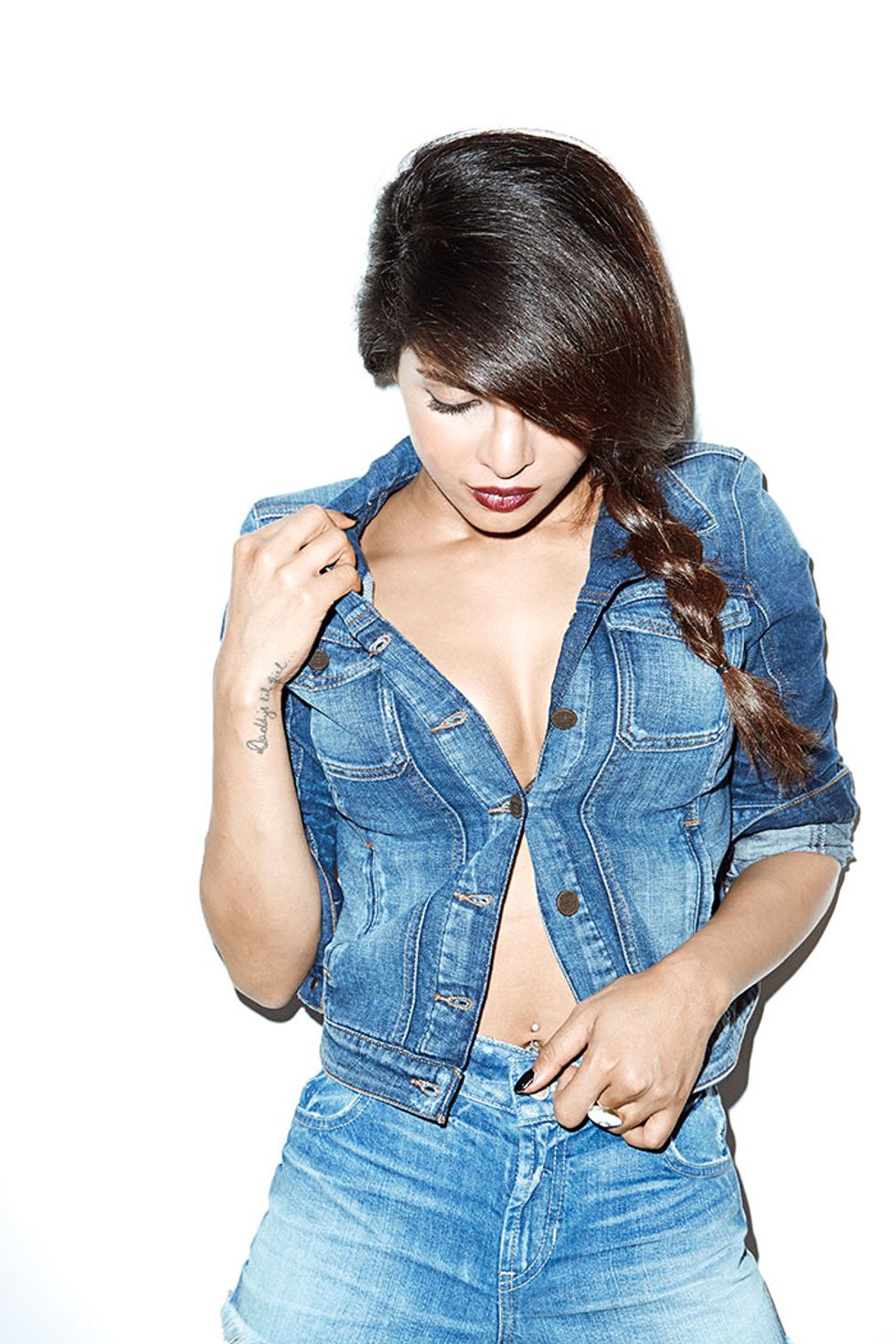 Jacket and shorts by Guess and ring by La Vie Bobo.
Back in 2009, I was whisked away to Mumbai to be a judge of the Femina Miss India Pageant held at a local soccer stadium. I was the only non-Bollywood bigwig on the panel. I would tell you who else was on the panel, but you've never heard of any of them. And at that time you'd also never heard of the pageant's featured performer, Priyanka Chopra. Imagine Angelina Jolie's fame when she stole Brad Pitt's heart, or J. Lo's after she wore that barely-there Versace dress to the Grammys. In India, Chopra was bigger. She won the Miss India contest in 2000 and went on to win Miss World before becoming a Bollywood megastar. And now she's poised to become just as famous in the U.S.
Chopra's currently serving Sophia Loren-style va-va-voom sexiness on the pages of every American fashion magazine, as the new "Guess girl." The iconic brand, which has made stars of models like Claudia Schiffer, Eva Herzigova and Anna Nicole Smith, chose Chopra to be the star of their holiday campaign photographed by ex-rockstar Bryan "Cuts Like a Knife" Adams. "I think it's the first time they've used a brand ambassador of ethnicity," says Chopra, "and I'm very excited about that." And like many of today's multi-hyphenates, Chopra can be seen shaking her shapely silhouette alongside "Mr. Worldwide" himself, hitmaker Pitbull in the video for her new single, "Exotic," which has over 18 million views on YouTube. "I'm a very Top 40 kind of girl," says Chopra. "I know it's cliché, but that's the kind of music I make -- I'm a mainstream actor and I want to be a mainstream musician."
Unlike in America, where the most famous beauty queens are either embarrassing YouTube anecdotes or Donald Trump sidekicks, in India pageants are the breeding grounds for superstars. Chopra has starred in hit Bollywood movies like Andaaz, Fashion and the Krrish superhero franchise, opposite a parade of her country's hottest hunks including Hrithik Roshan, Shahrukh Khan and John Abraham (South Asia's equivalent to Brad Pitt, George Clooney and Leonardo DiCaprio).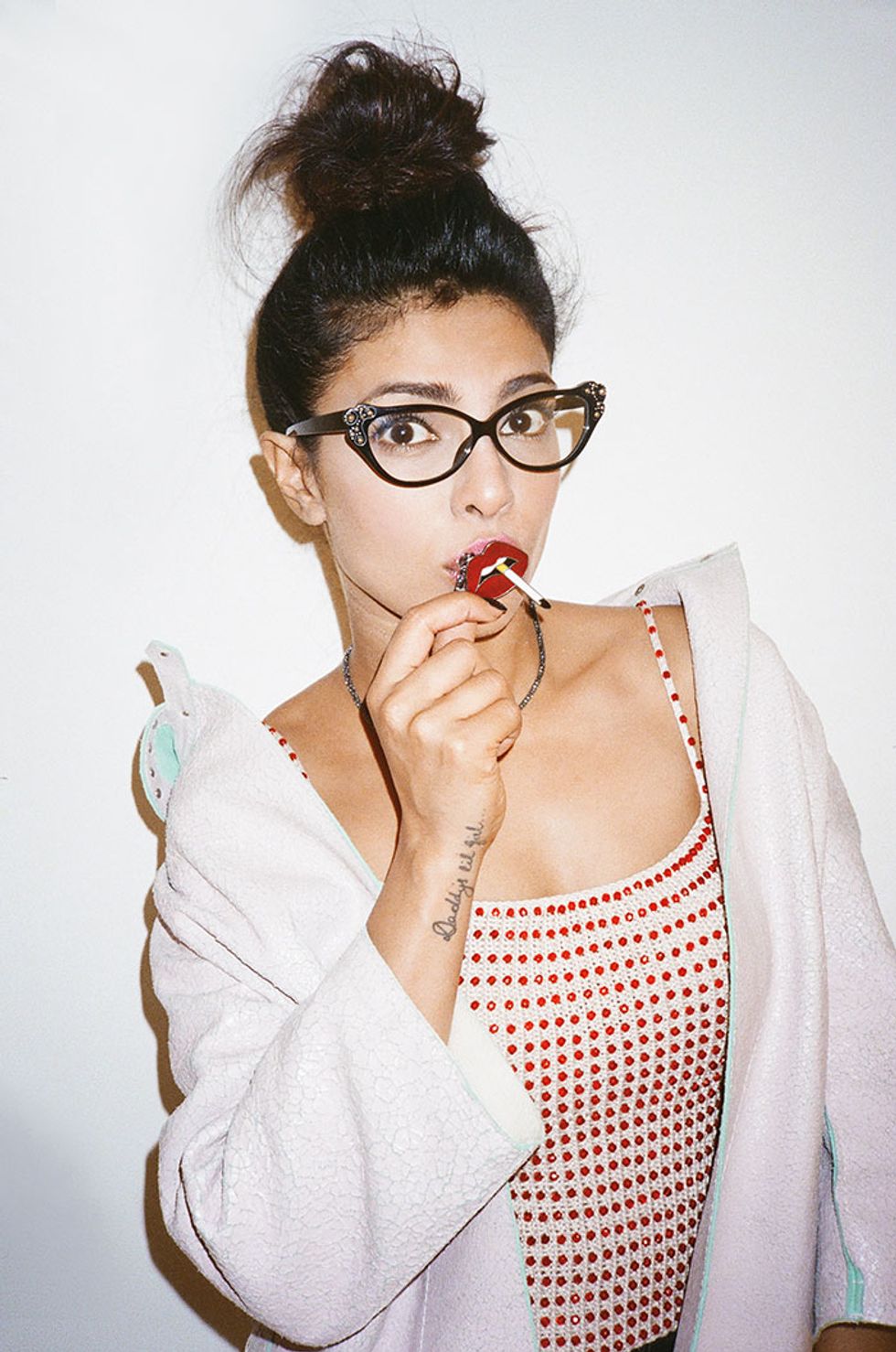 Coat by Hache, vintage top by Chanel from PinkClouds, necklace by Lynn Ban and glasses by Agent Provocateur x Linda Farrow.
But Bollywood stars are like Kylie Minogue: huge everywhere in the world, except America. It's looking like Chopra, however, may be able to break that mold. She's the first Bollywood star to land an agent at CAA, and splits her time between Mumbai and L.A. to promote her career in the U.S. "It's not something I'm delusional about," she says. "I have an incredible body of work in the country that I live in, but I'm also relatively new to the American audience, and I see that. Sometimes it confuses me, it's almost like being a debutante all over again."
But this isn't the 31-year-old's first introduction to the States. "I went to high school in Queens, Boston and Indianapolis, so I understand both the East and the West," she says. "I want my music to be international pop. I sing in English, but I want it to have a vibe from India."
And like Lady Gaga, Katy Perry and Rihanna, she often takes to Twitter to give her fans a snapshot of her glamorous jet-set life -- even if it has its downsides. "There are people who just want attention and write crap. That's annoying, of course," Chopra says, "but then there's a beautiful button that Twitter has created, called 'block.' I only follow people I know, or people I want to know about." And what celebrity does she get tips on Twitter from? "I follow Oprah. Like I said, I'm a mainstream kind of girl."

Styled by Stephanie Singer

Hair by Michael Lollo at The Wall Group / Makeup by Joseph Carrillo / Stylist's Assistant: Ekaterina Razgonova

Photographed at at Go Studios