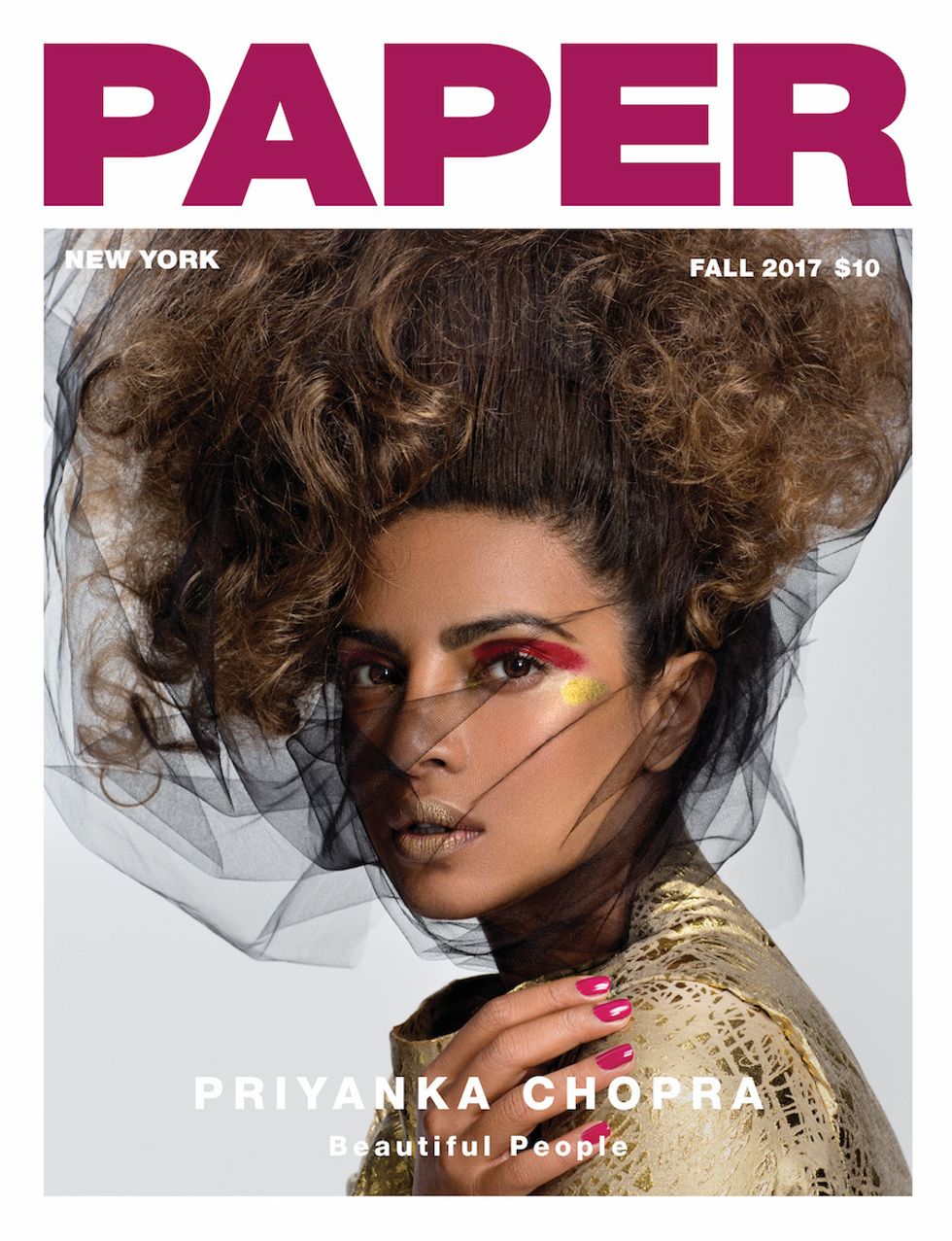 In a clip from May, Priyanka Chopra perches confidently on Wendy Williams' couch, gamely answering the self-proclaimed "nosy" talk show host's questions about her family, dating prospects and good friend Meghan Markle. It is this last subject that piques Williams' interest the most, as she excitedly cozies up closer to Chopra and declares, "You're friends with Meghan Markle, Prince Harry's girlfriend?" Chopra resists the gush, raises an eyebrow and says, "Also, Meghan Markle, actress, Suits, her achievements... just saying."
The moment quickly went viral -- after all, who can resist a girl-power meets side-eye moment on daytime TV? But it was actually a very typical Chopra response -- that is, direct, honest and about ten steps ahead.
Born in Jamshedpur, India, Chopra is the daughter of two doctors. Though she jokes that her parents set the bar for success unachievably high, the multi-hyphenate entertainer has made a name for herself as one of the highest paid actresses in India and one of the most visible faces in the world. A self-described "geek at heart," Chopra always thought she'd be an engineer. "My family is extremely academically inclined," she says. Demonstrating her well-earned reputation for professionalism, Chopra offers immediately to hold my recorder herself, recalling sympathetically how a different writer had once realized 45 minutes into an interview that his hadn't been switched on. "He was near tears, and of course we redid the whole thing," she smiles.
When she was seventeen, Chopra's mother sent her picture to the 2000 Miss India contest "because it was a millennium year and she thought it would be cool." Chopra not only won the contest but went on to be crowned Miss World later that year. Suddenly, the girl who loved physics and math was inundated with entertainment offers. "I guess it made business sense to have a beauty queen starring in a movie," she notes matter-of-factly. Chopra is close with her family, and after discussing her blossoming career options with her late father (she has "Daddy's lil girl" tattooed on her wrist in his handwriting), she decided to give acting a chance. "If you're terrible at it," she recalls him telling her, "you'll know in a year and you can go back to school. Just give it a chance." The rest, you could say, is history -- but Chopra prefers to frame it as something more.
Click through for more photos of Priyanka Chopra from PAPER's Beautiful People issue!

"I feel like it was destiny. I'm a big believer in destiny," she says. "I really feel like there has to be a bigger picture planned for each one of us, because there are sometimes things that happen which you don't expect at all, and it works out for your best interest. You get in life what you need, not what you want. If you have the ability to recognize those opportunities, life can be pretty all right."
If it seems like Chopra has it all figured out, it's because she quite possibly does. Though she insists that she's just "a girl doing her job," it's clear that she's become a woman who calls her own shots and moves through the world with the kind of deep self-assurance that only comes with life experience and a willingness to push through setbacks.
"I'm extremely ambitious," she says, "and I think it's a really great quality for girls to have. Somehow, ambition and feminism have turned into bad words, and they're not." Chopra defines ambition as "wanting to be the best version of yourself," and says she's "learned that over time. [But] of course there are dark moments when you're just like, 'I can't do this,' and you feel scared." Chopra insists that in these moments, she pushes on. "I never say 'no' to anything because you never know the new experience that will come your way. Yes, it's really hard sometimes. As a girl, as someone who didn't know anyone in the business or the entertainment industry, it was very solitary, my journey. It's been very long, and that's been the hard part. It makes you vulnerable."
After winning Miss World, Chopra hit the ground running, starring in a slew of Bollywood films from 2003 on. Her bankability at the box office came briefly into question after appearing in a string of poorly received films in the mid aughts, but the solution to that career rut turned out to be challenging herself even more. After six months of hesitation, Chopra took a role in 2008's critically acclaimed Fashion. "I wasn't pretty sure about myself," she said at the time of taking on the complex role of a fashion model's rise and fall, "whether I'd be able to do justice to the role or not. But [director Madhur Bhandarkar] showed immense confidence in me, and I finally said yes." Today, she is proud of the evolution of the characters she has played. "My characters went from one-dimensional to three-dimensional to multi-dimensional."
In 2015, Chopra became the first South Asian actor to headline an American network series with the role of FBI recruit Alex Parrish on ABC's Quantico. "I love playing Alex Parrish," she says. "She's one of my favorite characters I've played because she's such an empowered, modern, unapologetic girl. She just lives her life. She's broken. I just love what she stands for."
Chopra also became the first South Asian person to win a People's Choice Award for Favorite Actress in a New TV Series for that role, leading the charge for a new wave of representation of South Asian characters in media, like Dev in Master of None and Kumail in The Big Sick. Chopra is pleased that diversity on screen is better than before but says, "It's still not enough."
"Aziz Ansari and I were at the Boom Boom Room after the Met Gala [this year]," she recounts. "We were hanging out and looking at everyone, and he said to me, 'You know Priyanka, I've been here so many times. Seven years ago there were only two South Asians, and today, there are seven.'" Here, she pauses. "I was like, 'I don't know if that's a lot, Aziz, that we've gone from two to seven in a room of 500.' I'm laughing about it, but representation needs to be brought up in a big way."
Chopra acknowledges that she's had to fight for the roles she's played in American media, from Alex Parrish to her turn as a villainous billionaire in this summer's Baywatch. "I fought to not be the stereotype of what is expected of an Indian girl," she says. "You should be proud of your ethnicity of course, but that cannot be the only reason [you're cast]."
The disconnect between American and Indian culture represents a "Pandora's box" of things that Chopra wishes Americans understood. "One, Bollywood is not a city," she says. "I feel like the word 'Bollywood' has been reduced to a Zumba class." She continues, "Two, there's so much beauty in India's chaos. It's not one thing. It's not even ten things. It's just a metamorphosis of contradictions, and there's music to it. When you see the country, your every sense will be assaulted with how much there is in terms of culture and music and people and the contradictions that live within society. We don't all have arranged marriages, and there's a lot more food outside of chicken tikka masala. I can go on."
Chopra spent part of her teenage years living with her aunt in the Boston suburbs and recalls being bullied by another girl for having looks that were so different from those of her white classmates. "I was very, very insecure as a teenager," she says of that time. Chopra clearly overcame the experience, and says, "In retrospect I feel like [the girl] was insecure and scared, too. There's no right or wrong in the world, I'd like to believe. I feel like there's perspectives."
The ability to consider different perspectives serves Chopra not only as an actress and a producer, but also as a highly sought-after spokeswoman in the beauty world (perhaps her most high-profile gig is as the global brand ambassador for Pantene). But over time she's had to reassess some of her endorsements. After seeing herself in a commercial for a skin- lightening cream — a product as common in India as bronzer is in America, she says -- she realized that she didn't want to be part of the centuries-long perpetuation of fair skin as the ultimate beauty ideal. "I was made to feel very self-conscious when I was younger because I'm darker-toned, and that was a huge part of my self-esteem issue when I was growing up," she explains. "So I did this cream commercial and when I saw it, it made me feel like crap. It reminded me of what I felt like when I was a little girl. I was like, 'Oh my god, this is what I felt like. Like what I have is not good enough.' I got out of the contract and never did it again. It took me seeing myself advocating the thing that made my teenage years miserable, because it was normal and everyone did it. It was sold in stores right next to toothpaste. You don't understand the psychology of what it does to society. When I did it is when I understood it. Creams for glowing skin is different, but as soon as it says 'whitening,' it's like, what?"
Though role model is not a position she actively seeks out, Chopra is aware of the effect her presence in media has on young people. "I'm glad I can be an example, because I never had someone that looked like me when I was growing up," she says. "I always wanted to be Sarah Michelle Gellar. I loved Buffy. She was an extremely strong role model for me, and it didn't matter that she didn't look like me."
Chopra is currently working on two Hollywood films she'll star in -- an adaptation of Daniel Pearle's play, A Kid Like Jake, alongside Claire Danes, Jim Parsons and Octavia Spencer, and the rom-com Isn't It Romantic, opposite Rebel Wilson, Liam Hemsworth and Adam Devine. She's also developing a show that she'll executive produce for ABC about a "huge Indian star who becomes a soccer mom in Middle America," based on the real life of Chopra's childhood icon, Madhuri Dixit.
While she's game to chat about her work projects, Chopra is famously mum about her personal life. "90% of my life is public; my whole life is on Google," she says. "There's parts of me, especially my relationships, that I feel like I want to protect. Everything cannot be for public consumption." Echoing her defense of her good friend Meghan Markle, she adds, "I want to be spoken about for my work and not my relationships, and that tends to happen with actresses and with girls. We become more spoken about for our relationships than the job that we do. I don't want that."
As for the challenges she has faced and will continue to face, she says, "I think the better story is how you educate people instead of being offended by them. I let my work prove that I'm not just a pretty face, or I'm not just a girl with big dreams and the patronizing tone that comes with that. I'm not afraid to learn, and I fold my sleeves up and get my hands dirty whenever I need to, whether that's me being a producer in a man's world or me being an actor, or writing or having an opinion on the world and everything that's happening in it. You have to be fearless even if you're told that you're just a girl. It is hard for women. We have to work four times more to prove the same point. There are an amazing amount of women doing it who are examples for people in my generation to follow. I hope I will be that going forward for others."
Photography by Michael Avedon
Styling by Jimi Urquiaga
Hair by Danilo
Makeup by Dotti

Nails by Tracylee at The Wall Group
Stylist Assistant: Noah Diaz

Sign Up for the Morning PAPER