"I've always had a good head on my shoulders," Pia Mia affirms as she reflects on her surreal experiences over the past few years. The 19-year-old singer is sitting outside at a Brentwood coffee shop, slowly sipping her drink, and in a sea of business-like Angelenos, her signature red bandana, thigh-high suede boots and bleach-blonde hair stand out. It's the kind of striking look that turns heads and reads "pop star" to passersby, even ones that may not yet know who she is. And, in fact, that style has been instrumental in launching Pia Mia's music career.

"The wife of one of Babyface's producers came up to me and randomly was like, 'Oh, are you a singer?'" Pia Mia recounts about how she got discovered at the hip health food mainstay Urth Caffe when she was 13, mere weeks after moving to LA with her mom. Acknowledging how strange the story sounds, she continues, "I think she might have liked my outfit." She ended up signing a year-long production deal with Babyface and considers the Urth Caffe episode one of many "stars-aligning moments" that has brought Pia Mia to where she is today.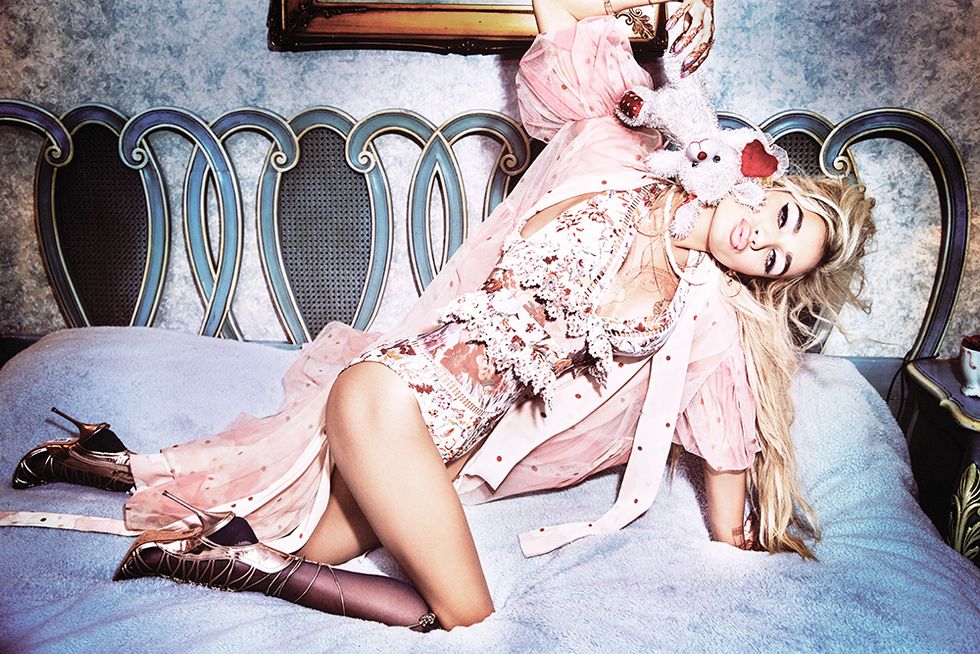 Robe by Simone Rocha, swimsuit by Zimmermann, shoes by Sophia Webster, socks by Nicolas Messina, rings, bracelet and eye earring by Delfina Delettrez and gold hoop by Chrome Hearts
Born Pia Mia Perez, she grew up in Guam and says that as a kid, she was so painfully shy that she'd only sing to herself while hiding inside her family's dryer. Her first time performing was at the age of eight, when she was chosen to play the lead in a class production of Cinderella. The experience solidified her interest in music, and led to her eventual move to LA. Pia Mia and her mom originally intended to stay for three months but as her career gained momentum, they stayed put, going back to Guam as often as possible to see the singer's dad and siblings.

Ultimately, Pia Mia would not end up releasing any of the music she worked on with Babyface, but the experience did teach her about the importance of remaining in control of her artistic vision. "You have to be who you are and know what you want to say," she says. "I've always been sure of that."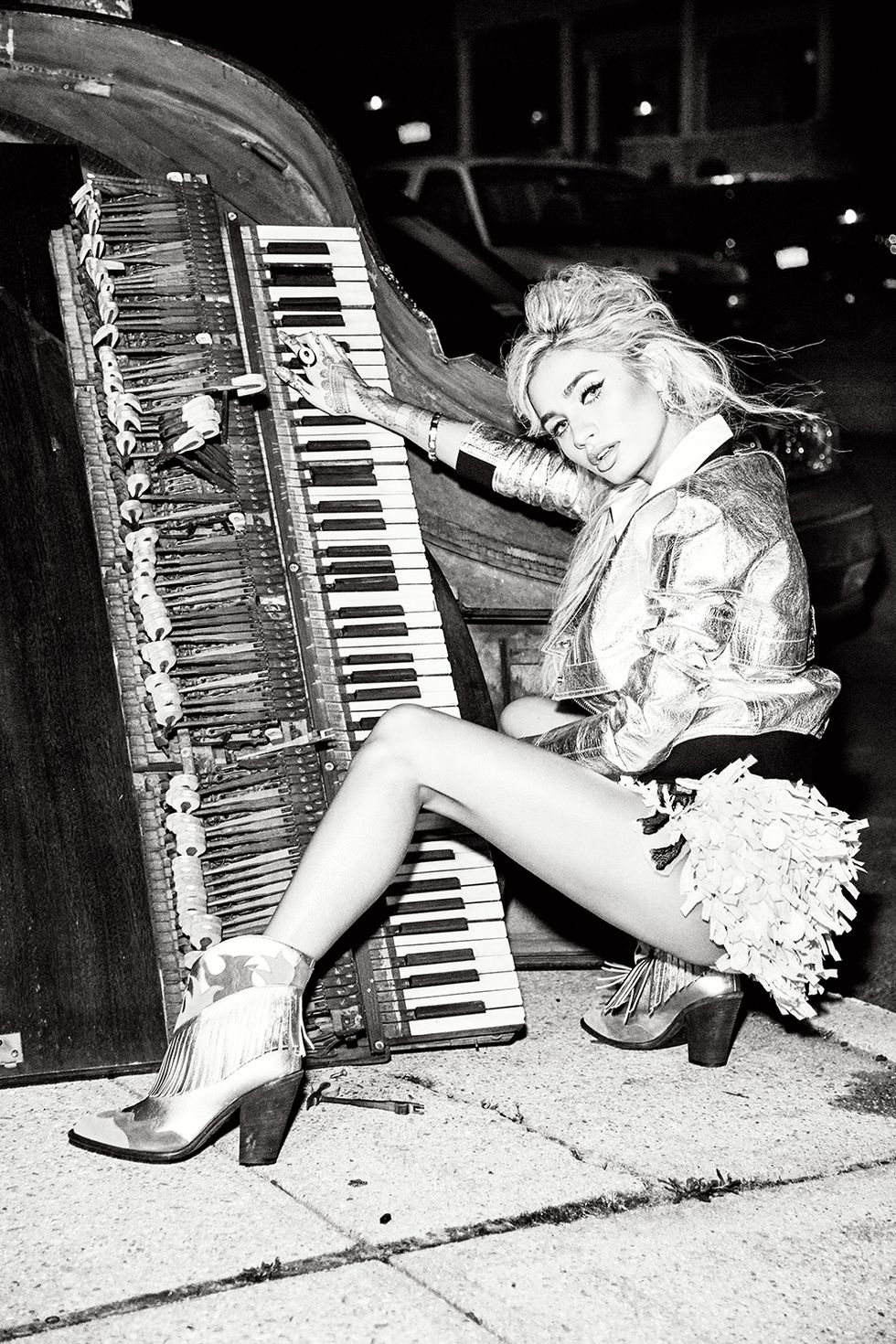 Shirt by Rochas, jacket by Courrèges, shorts byTsumori Chisato, boots by Giuseppe Zanotti, bracelet by Delfina Delettrez, ring by Gasoline Glamour, safety pin by Chrome Hearts
Musically, Pia Mia leans towards soulful pop numbers that bring in elements of R&B and have a buoyant, arena-ready feel. Many of her songs are deeply personal, often touching on the singer's experiences with love and heartbreak. She recently ended a relationship (although she doesn't mention her ex by name, she was last linked to Nic Nac, a producer who's worked with the singer on several of her songs), and it will be interesting to see whether and how the breakup is addressed on her debut full-length. Given her rising profile (which includes over 4 million fans on Instagram, a well-documented friendship with Kylie Jenner and hit songs like "Do It Again" with Tyga and Chris Brown and "Boys & Girls" with will.i.am ), it's easy to forget that the singer has only released an EP (2014's The Gift) so far. Although the album's drop date remains tentative and she isn't allowed to share any details, Pia Mia's already written over 150 songs that she can choose from. She says she has yet to select which ones will appear on the disc, but her recent single "Justin Bieber," a surging, soulful anthem, may indicate her future direction.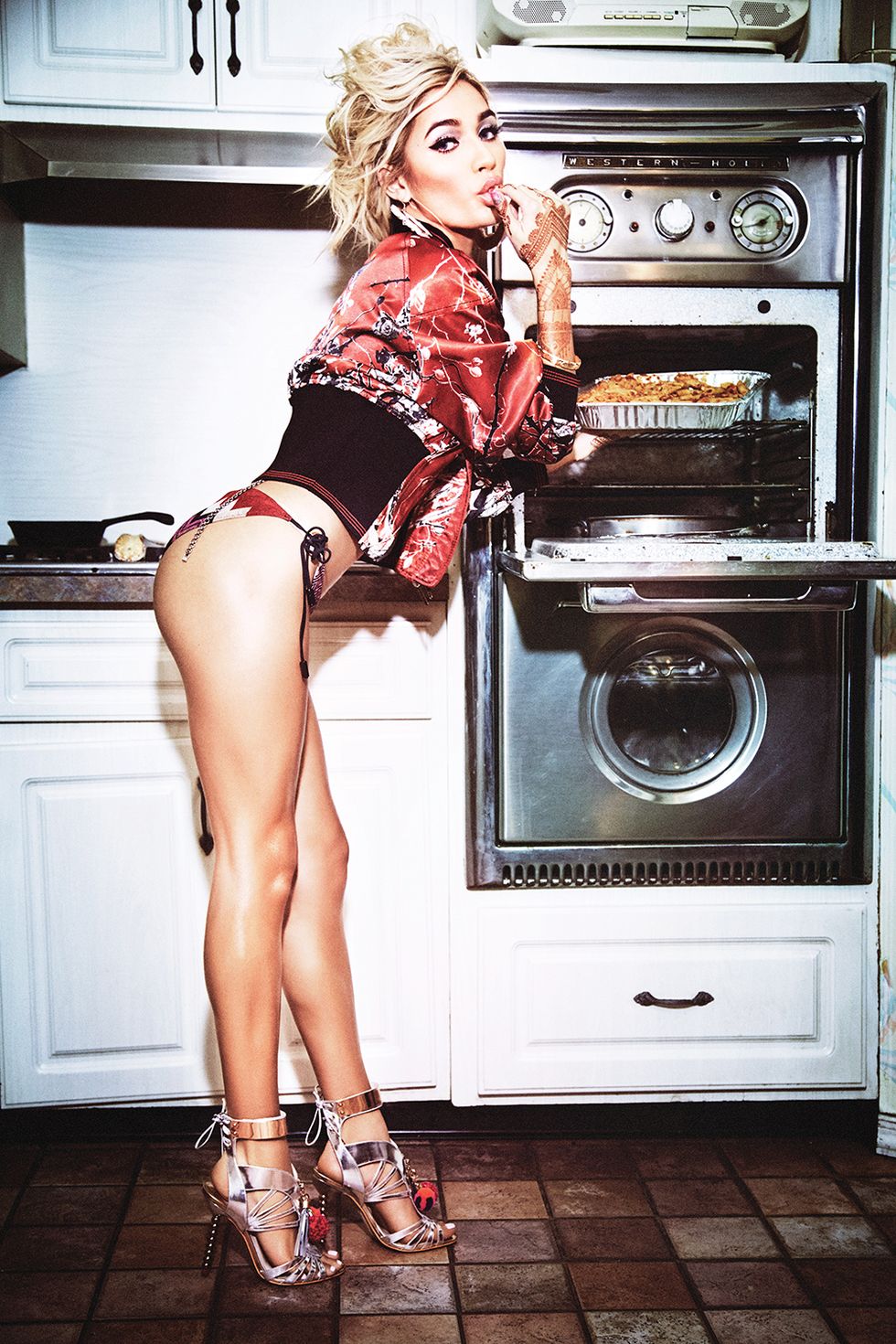 Jacket by Roberto Cavalli, bikini by Missoni, earrings by Gasoline Glamour, gold hoop by Chrome Hearts, belt and choker by Lanvin, shoes by Sophia Webster
Music isn't the only area where Pia Mia has found early success. She was recently named the first fashion director of Madonna's Material Girl clothing line, which is sold through Macy's. The singer will help choose the fabrics, pick the photographers and locations for the campaigns, work on the actual designs and star in a six-episode docuseries about her experiences in this role, produced by the YouTube fashion network StyleHaul. "Madonna obviously was not only such a fashion icon but also a music icon," the singer notes. "I think that's why this is working so well, because fashion and music go hand-in-hand for me also." She continues, "I feel like I'm not good at talking, but I am good at showing my emotions and expressing how I feel in my clothes or in my music." And now she has millions of fans watching and listening to every moment of that expression.
Bodysuit and leggings by The Blonds, earrings by Gasoline Glamour and Chrome Hearts, rings by Delfina Delettrez
Swimsuit by Ulyana Sergeenko, top by Dry Clean Only, gloves and necklace by Gasoline Glamour, cross necklace by Chrome Hearts, choker by Creepyyeha, Gold hoop by Chrome Hearts, eye earring by Delfina Delettrez
Top by Dry Clean Only, earrings by Chrome Hearts, tights by House of Harlot and boots by Giuseppe Zanotti
Bra, corset and tights by House of Harlot, bustier by Zimmermann and earrings by Chrome Hearts
Coat and skirt by MaryMe-JimmyPaul, bustier by Zimmermann, shoes by Christian Louboutin, earrings by Chrome Hearts and Delfina Delettrez, ring by Nuit12

Splash Photo Credits: Dress by Fausto Puglisi, swimsuit by Zimmermann, shoes by Lodovico Zordanazzo, ring by Delfina Delettrez, earrings by Gasoline Glamour and Chrome Hearts
Hair: Kenna for evo at Art Department
Makeup: Morgane Martini at The Wall Group
Manicurist: Naomi Yasuda at Streeters
Photographer's Assistants: John Ciamillo, Gaspar Detrich, Charley Parden
Stylist's Assistants: Ella Cepeda, Mary Bishop, and Hannah Lifshutz