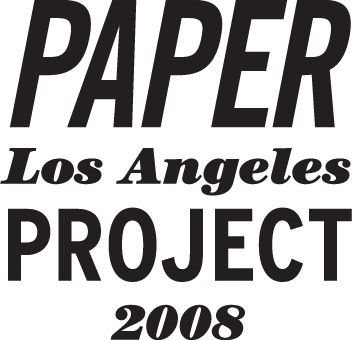 Get ready, West Coasters. PAPER, for the fourth year in a row, is packing up and leaving the safe confines of New York for the wilds of Los Angeles. From November 5-10, we'll be setting up shop on Sunset Boulevard in a temporary pop-up space designed by the architecture firm of Johnston Marklee, where we'll be hosting events, parties and putting together our annual February L.A. Issue! Here are some highlights of festivities to come...
Santa's Party House Goes to L.A.
The foursome (Andrew, Spencer, Ron and Larry) behind New York's most beloved new nightclub Santa's Party House are heading with us to L.A. where they'll be throwing our opening night party.
The It's UnReal Awards Hosted by Levi's
PAPER loves it some reality shows. We'll be celebrating our favorite reality stars and starlets -- from the hot messes to the freak shows -- at our first ever reality show awards show party.
The Second Annual 24-Hour Store
Come one, come all! For the second year in the row, Nov. 7 & 8, we'll be staying up all night hosting one of the most extreme and ridiculous shopping experiences you have ever encountered. Vendors like Jeremy Scott, Henry Holland, Libertine, Ooga Booga, Slow and Steady Wins the Race, Sophomore, Hearts Challenger, Mr. Cartoon and oodles others will be peddling their wares, as 24 musical performances sponsored by Converse go down. Featuring performers from Lady Tigra to Entrance with plenty of surprises in between, this will be truly an epic evening.
So get ready, mark your calendars and see you in La La Land!