For his Fall 2017 menswear show in February 2017, John Varvatos took a big risk. Thirty minutes before he was scheduled to send his first look onto the runway, he was still waiting for one of his models to arrive. "He actually showed up to the show about 25 or 30 minutes before we went live on the runway," the New York-based designer recalls. "We didn't know if he would make it or not because he was rushing from the airport."
Of course, Varvatos wouldn't do this for just anyone. This time, he had only made the special allowance because of who was on the other side: Colson Baker, an Ohio-born rocker-cum-rapper that many may know better by his stage name, Machine Gun Kelly. After the musician indicated his interest in being in the show during a conversation the two creatives had in Europe, Varvatos was so elated about the prospect that he was willing to cut things scarily close.
"I had altered a look for him [but had not fitted him in it] and it was like there were no changes at this point in time because we had to get him in hair and makeup very quickly," Varvatos tells me about the frenzy going on backstage when Kelly finally arrived. "I told him, 'You're going to put it on and it's going to fit or it's not going to fit and either you're in [the show] or not in.'"
To hear Kelly tell it, the whole situation was "like the Cinderella glass slipper." Would it fit or not? Luckily, as Varvatos tells me, "[His look] ended up fitting like it was custom-made for him." Kelly speaks of the experience in a similarly relieved manner. "I put on the pants, I put on the jacket, and John was like, 'It fits.' It was a wrap after that."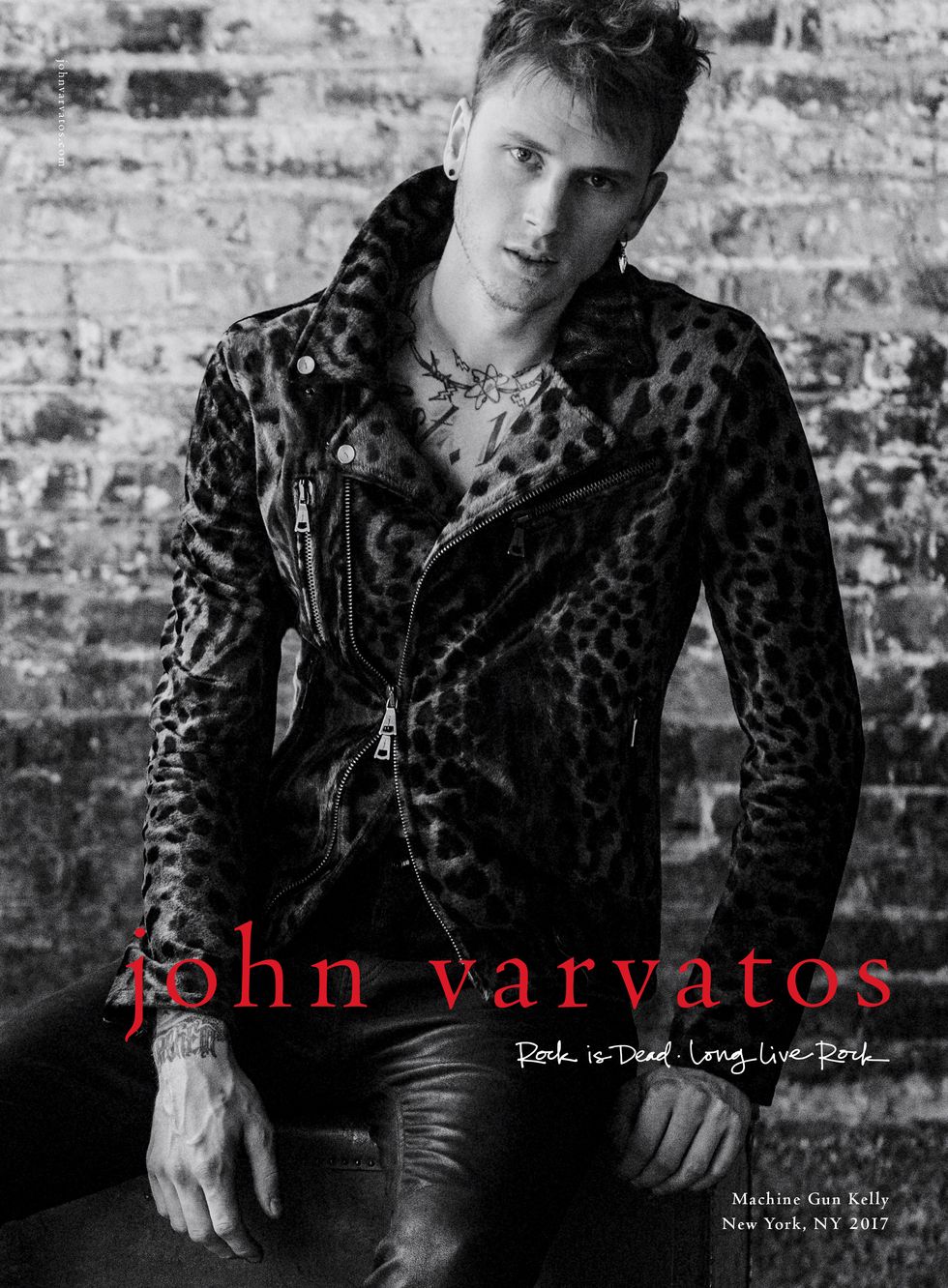 The show was a success. Admitting that he "was nervous until I spiked my hair like Sid Vicious," Machine Gun Kelly was given the honor of closing the show and chose to really embrace the designer's directions to "not hold back any attitude." After all, John Varvatos wanted the rapper to be himself—not an approximation of what he thinks he should be on the runway. "MGK has this swagger that a lot of models don't," says Varvatos. "They may be hot or sexy or have a nice body but they don't automatically have the swagger that he did."
So when John started to conceptualize the advertising campaign that would coincide with this show, it was only natural that he would somehow find his way back to Machine Gun Kelly. "I just love his energy and his spirit," he fawns. "So we reached out about the campaign and [MGK] was super excited about it." The designer describes the pair's relationship as one "where things just clicked," citing their mutual "passion for music" and their "Midwestern roots" as two very prominent common threads.
Machine Gun Kelly affirms that excitement about their friendship, especially since he describes himself as a lifelong fan of the brand. "I remember vividly that one of the first expensive clothes purchases I made when I got my record deal and finally had some money to spend on clothes was John Varvatos. I'm a tall, skinny dude and he just made clothes that fit my type." When the two finally met, at a New York Fashion Week after-party, he describes their instant bond as "just two rock-n-roll souls that found each other."
[youtube https://www.youtube.com/watch?v=PJHcr24rJWA&feature=youtu.be expand=1]
Naturally, that rock-n-roll mentality spilled over into the resulting campaign, which we are debuting today here at PAPER. Shot and directed by the iconic music photographer Danny Clinch, the campaign consists of two images of Machine Gun Kelly—sitting on a trunk comfortably wearing an animal print zip-up jacket—and a black-and-white video of the rapper "walking around the streets of New York City with a cup full of whiskey." (Whiskey not pictured.) In the video, MGK sings "Let You Go," a standout from his most recent album bloom and a song Varvatos tells me he instantly fell in love with after hearing it.
According to him, the shoot with Machine Gun Kelly was really natural. "He wasn't stiff. He's a performer. He's a relaxed guy. He's not nervous in front of the camera. He's badass and he doesn't think about it. It's an innate thing with him."
But even that ease on set isn't what seems to excite Varvatos the most about this collaboration. Rather, it's the "genuine and organic" way in which the collaboration came to be. He muses, "It's not like you've bought someone to be in your clothes. I didn't search him out; he was always attracted to my brand. His enthusiasm for the clothes and for working with me, together it's a lot of fun."
As for Machine Gun Kelly, well, he just seems ecstatic about the opportunity. "I'm looking forward for the fashion world in general to see how big the influence of me putting something on and telling the kids that it's cool can be," he explains in a voice that's simultaneously oozing with blanket sincerity and the unabashed confidence that seemed to draw attention to him in the first place. "John Varvatos is a perfect outlet to show the youth an upscale version of rock-n-roll that they can dress in and go anywhere. I'm excited to see how this impacts the culture."
All photos via Danny Clinch for John Varvatos

Beauty
Story by Ellen Atlanta / Photography by Tanner Abel and Nicholas Needham / Styling by Evan Dombkowski