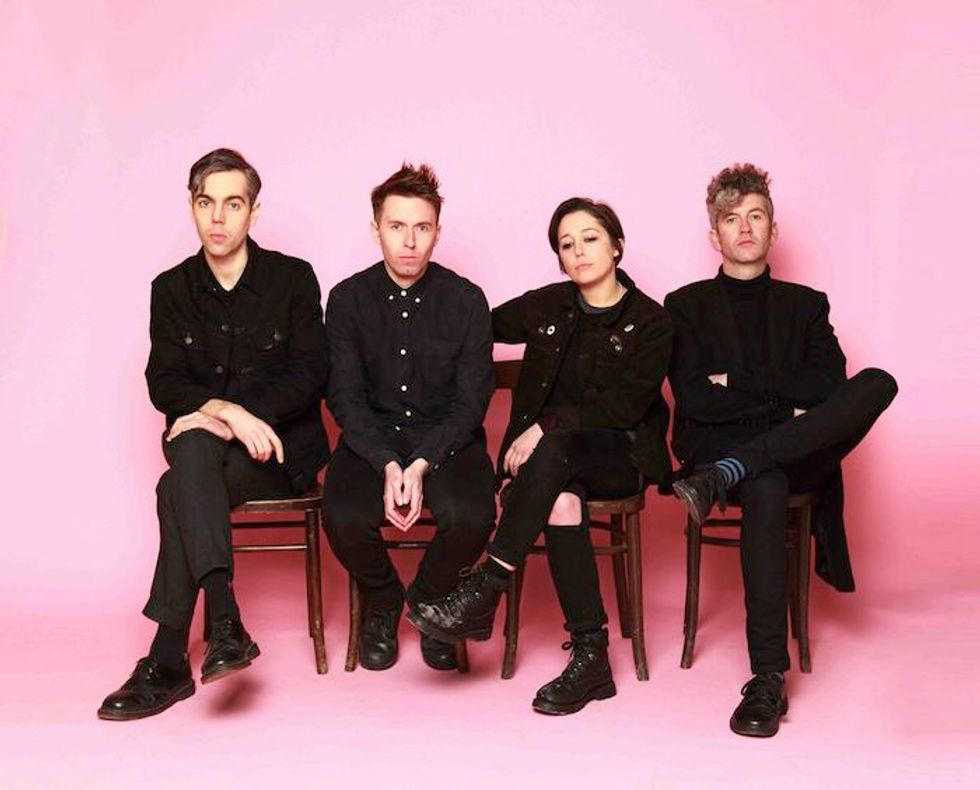 Belfast's Girls Names have become a reliable source of lo-fi indie pop, but on their new album
Arms Around A Vision
, the group have traded up for a more sweeping approach, heavy on the guitars and drama. This approach is best exemplified in first single "I Was You," which you can stream below.
"The song wrote itself. I was in a trance. I went for a wander and lost myself somewhere between my life then and my life in the present. The limbo of heartache took hold of my senses, and, if I was pushed to explain my state of mind at the time, I'd say I was transfixed by an idea of hatred and self-loathing," says frontman Cathal Cully. "But there is no horror, no evil nor darkness without the existence of love, beauty and light. The song is positioned somewhere within that dialectic, and as such 'I Was You' is the most beautiful song in the Girls Names repertoire to date."
Read on for an interview with Cully about the making of the album.
So this is your third album. How do you approach this one differently, so as to keep it interesting for yourself and your audience?
We wanted to shake things up a lot, but firstly the most logical reason was because different personnel were involved. (Guitarist Phil Quinn) just joined us when the last record had been written and ready to record and Gib Cassidy replaced Neil Brogan on drums just before that record got released. So there was about a year of adjustment and touring off the back of The New Life. We wanted to make this record a full-band offering, so early last year we rented a cottage in the middle of nowhere for a week and wrote the majority of the record off the back of some loose sketches and ideas I had. We had a few tours between this and recording to test out a couple of tracks and booked more studio time than we've ever needed before so that we could experiment with unfamiliar instruments and sounds. 
A few of the tracks that made it on the record were 
nowhere
 near finished when we walked into the studio. In fact, my favourite tracks were the ones that were mostly improvised from these skeletal arrangements and fleshed out with a sense of recklessness and detrimental abandonment: "We've a baby grand here - let's 
mic
 it up and run it through my pedals into this twin reverb and make it feedback on itself." Thankfully a hammer was at hand in the studio. And apart from three tracks, I'd never attempted to sing any of them until I stepped in front of the microphone in the studio and It's definitely the best performance I've done by a country mile -- maybe it helps a lot when the songs are ten times better too.
It was an intense time, and I'd no idea that I had been suffering from stress and anxiety for some time and I had a few personal foibles that needed ironing out - it was only around Christmas when I finally stopped running around that it all came to the fore. It was also very dark as it was the height of winter. When I think of the recording process, I don't remember seeing much daylight, as we were locked in the studio all day long and then I was straight to the pub most nights and it was this constant daily cycle for two weeks. It was a slightly manic time for me and you can definitely feel that intensity and angst and frustration running down the middle of the record. 
For a 
while
 you were strongly associated with Slumberland and the lo-fi noisy pop aesthetic, but you've moved beyond that here. Did you feel a conscious need to change people's perception of the band?
People's perception of the band has been a bit contradictory from the off and we've never really done much to steer anyone away from these inaccuracies and I don't think we ever will. I've seen a lot of nonsensical and trite descriptions of us over the years, but I stopped taking heed of that a long time ago. 
Come see
 us play and you'll know what we're about. We've always pushed ourselves forward with every release, it feels like everything up until now has been a dress rehearsal. But that's the same for all art: you're learning on the job. It's just taken six years to figure out a few things and put out the record we feel the 
most proud
 of and attached to.
The record would probably have still come out on Slumberland if time was not an issue and they just couldn't commit to putting it out when we wanted so that's cool and we just had to do what suits our needs best, not anyone else's. Tough Love 
have
 been with us through it all for the last five years so that loyalty is unshakeable. Who know's what will happen next.
You have a song on here called "A Hunger Artist." What does that mean to you? Do you consider one?
I can't explain exactly to you as it would take far too long to break it all down. Sometimes I find myself taking stock and trying to comprehend what I'm doing with my life and sometimes I scare myself and find myself struggling to comprehend the act of performance. At times, it can be a very strange concept. I want to make music, but I have to perform, but I want to tour to try to make money and see the world and live my life to the full so, I have to perform. When you're put up on a stage with everyone's gaze fixed on you, with everyone hanging on your every word, it can be quite a daunting experience. Don't you agree? So you have to have this split personality. The person who goes up on that stage is the hunger artist; it's quite a schizophrenic idea and I try not to let it cross over. It's my coping mechanism to be that person that some people want me to be. But like I said if I had to break it all down I'd be 
here
 a long time. 
When you saw that there was a band called Girl Band, did you get mad someone was getting on your turf?
No, that's just stupid. And they're from the same rock in the sea as us, so that would make it even more complicated? No. What anyone else does is of no concern to us. I've enough worries of my own. Our turf can't be touched. I'm on the whole a pretty nice 
man
 but my attitude is  that when it comes to this band it's us against everyone else. So I don't bother getting mad about trivial things anymore, futile acquisitions or the wayward embitterments. It makes you lose all means of desire.
You May Also Like