Prada has been in an interesting place as of late. Just a little over a month ago, the luxury label staged its first ever Resort presentation. Staged at the label's own Fondazione Observatorio in Milan, the show was a long time coming, especially considering that the brand's competitors — labels like Louis Vuitton, Dior, Chanel, and Gucci — have been embracing these "resort show as destination vacation" presentations for years, flying the fashion set out to places as varied as Japan, Cuba, and Rio.
Now in the throes of mens fashion month, it was interesting to see if this major change in scheduling would signal shifts in creative director Miuccia Prada's approach to menswear design. After all, the designers who present at Milan Men's Fashion Week (like the heavy-hitters Armani and Salvatore Ferragamo) are known for being much more buttoned-up than their adventurous designer peers in London, and for this reason, the Prada show has always been one of the most looked-forward-to presentations on the Milan calendar, if only because we can usually (save for FW17) assume that Miuccia will give us something more than suits.
Luckily, Miuccia's refusal to adhere to the standards that seem to dictate the aesthetics of her fellow Italians was in full-form for yesterday's show, and with a set that was designed and built to resemble a comic strip, there was no surprise that SS18 ended up being one of Miuccia's most playful yet.
[instagram https://www.instagram.com/p/BVaGBL2D8Yy/?taken-by=prada&hl=en expand=1]
Compared to the label's January FW17 menswear show, yesterday's SS18 collection was remarkably more current — and, as a result, definitely more exciting to watch. January's staid presentation of plaids and tartans were replaced with eye-popping prints and graphics. There was a clear line connecting last month's resort collection to this one — which should come as no surprise, considering that, until this year, Prada had always presented their "pre-fall" (resort) collections alongside their menswear.
The sportswear influence of resort reappeared with those instantly covetable thigh-high socks, and were again worn inside double-velcro-strapped funky footwear — though the soft pastels had been traded in for much bolder colors. In replace of heels, Miuccia put her men in pointed-toe loafers, studded closed-toe sandals, and high-top P.F. Flyer-referencing basketball shoes.
But while last month's resort show primarily kept the sportswear influence below the belt, this menswear show fully embraced it. Pants cuffed at the bottom with graphic velcro straps featuring the ever-familiar Prada logo, and shorts, which were kept well above mid-thigh, came in noticeably breathable fabrics.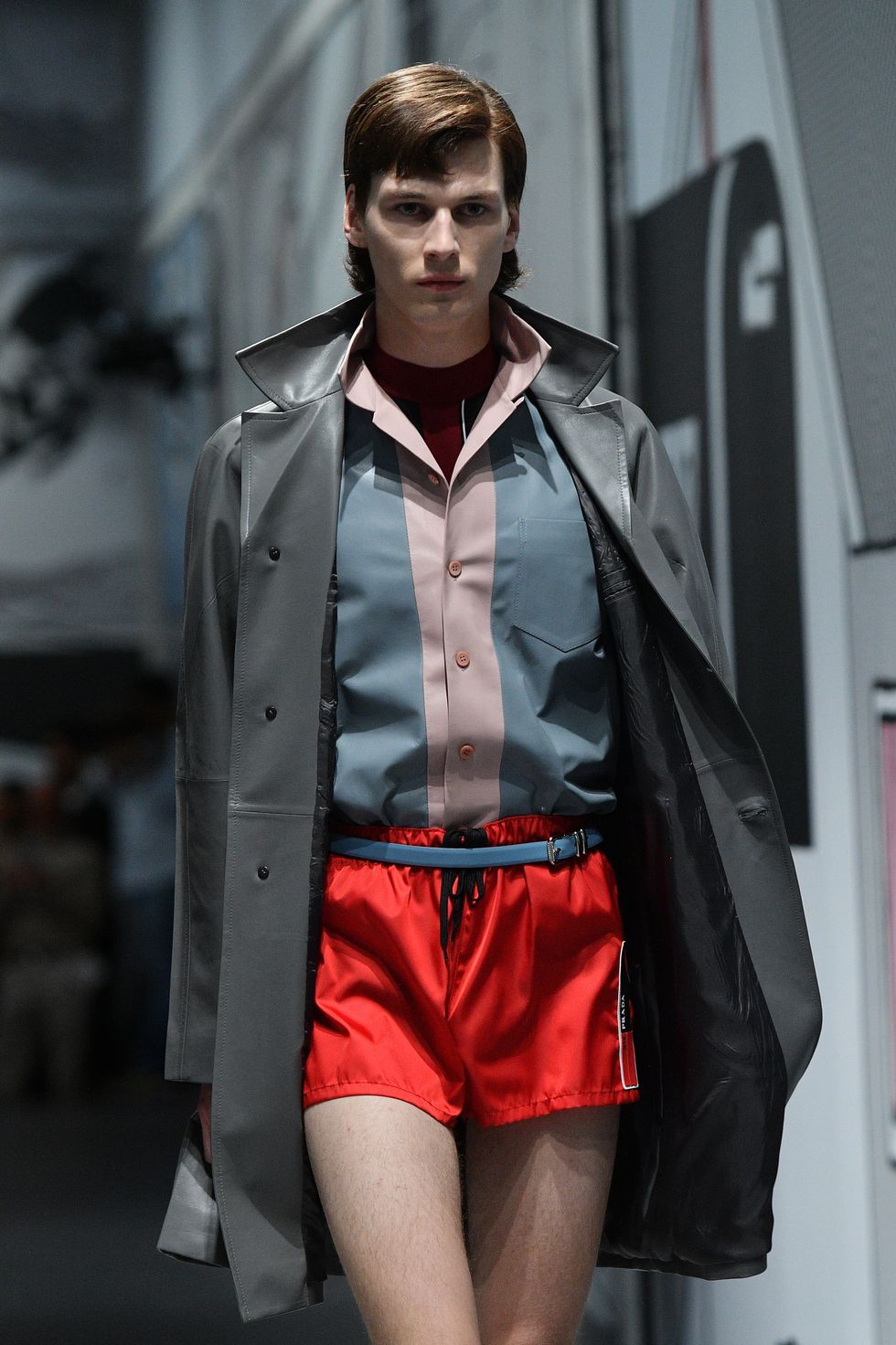 Nevertheless, the Prada staples remained. Cashmere cardigans, wool overcoats, and tailored suiting made their runway appearances, but were all styled in a decidedly non-corporate manner. The aforementioned cardigans came layered over graphic shirts, and zip-up blousons, which were all, in turn, tucked into drawstring pants. To complete the look, the models wore graphic fanny-packs around their waists.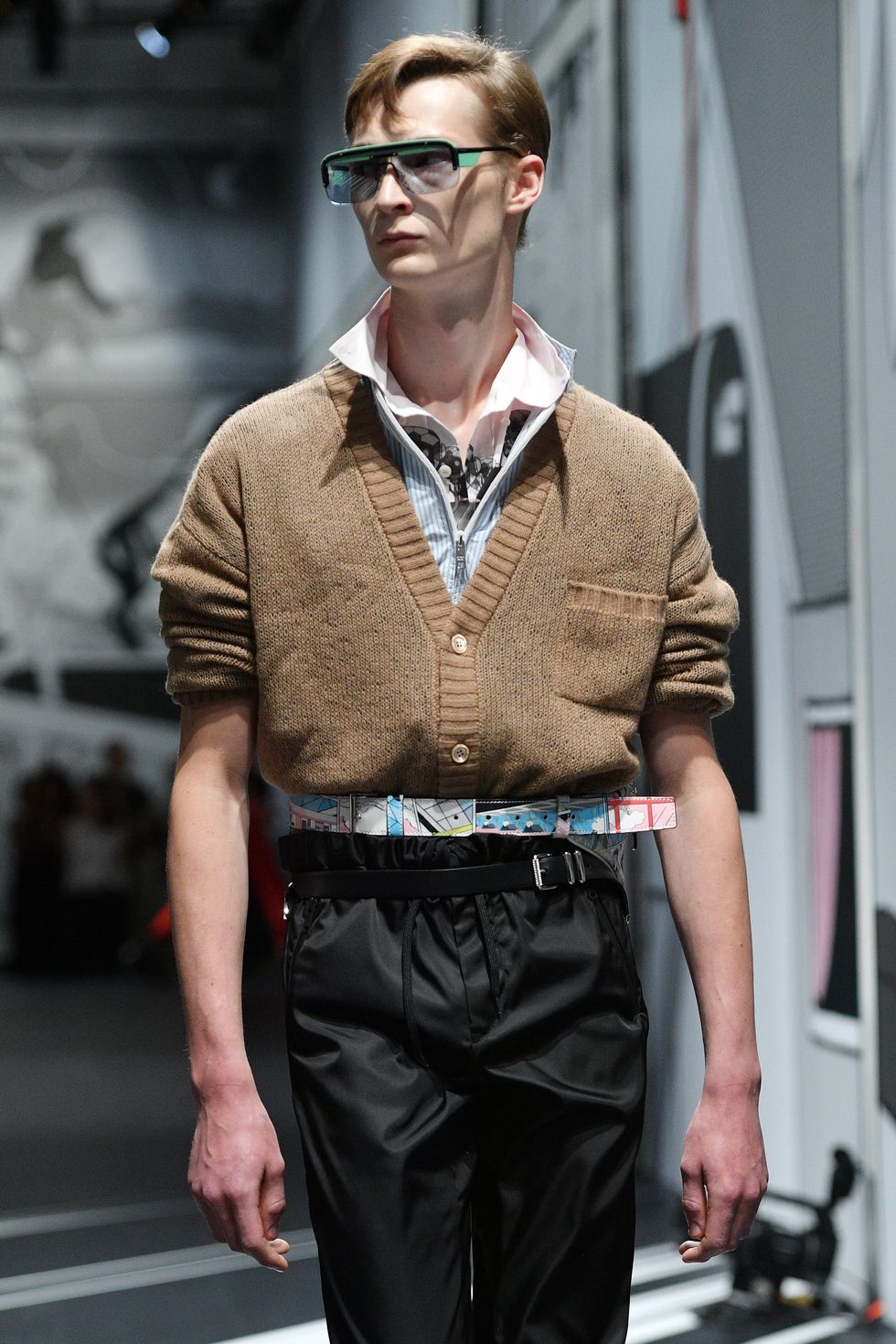 Miuccia has always been known for her ability to attractively combine things that otherwise should never be combined together — perhaps, currently rivaled only by Gucci's creative director, Alessandro Michele, whose more-is-more aesthetic has been crucial to the revitalization of his brand's image — and yesterday's show was certainly emblematic of that.

But the highlight of the collection was definitely the graphic comic imagery — courtesy of James Jean (a frequent Prada collaborator) and the Belgian artist Ollie Schrauwen — which came printed on bags, sweaters, and accessories of all kinds. According to reports, Miuccia herself cited comic books as the inspiration for her collection because "they are hand-drawn, human, simple and real."
Though these clothes may not be "hand-drawn," there is certainly much to be said about the realness of their simplicity. And isn't that what every Prada customer wants?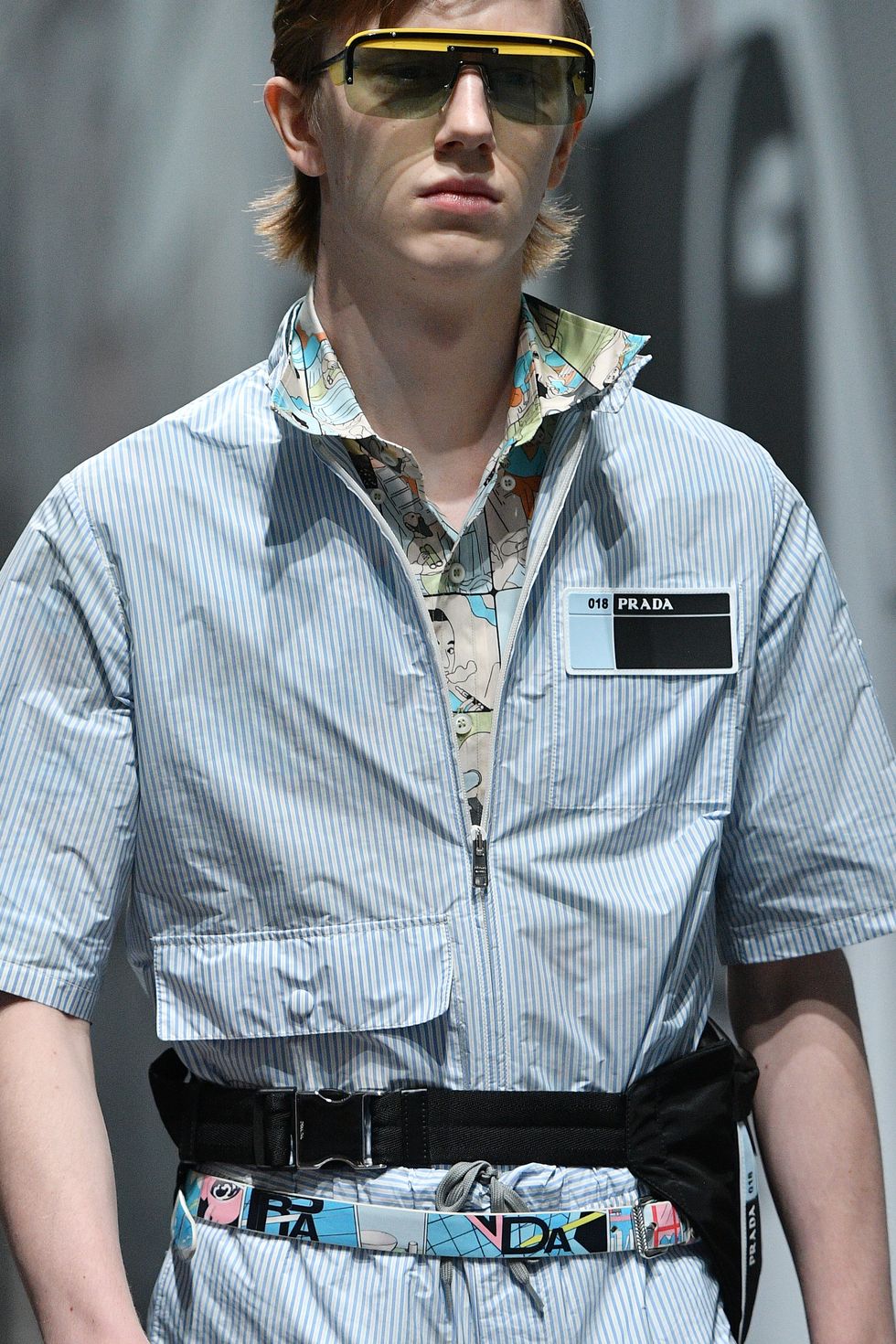 All photos via Venturelli / Getty Images

Sign Up For The Morning PAPER