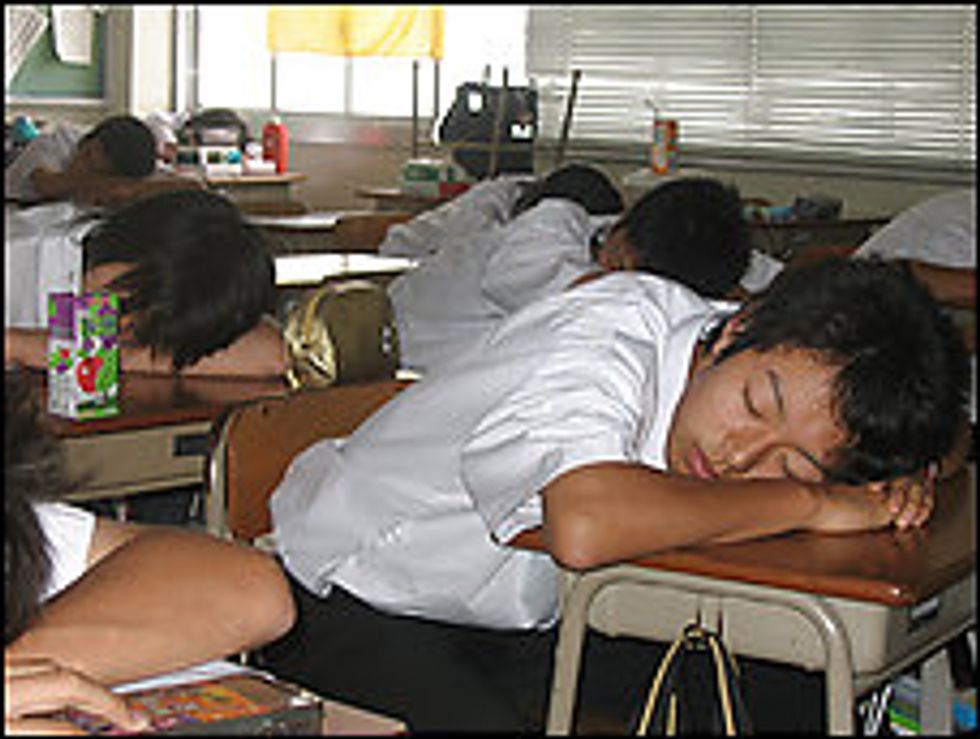 Japan provides all manner of amusements for bemused Americans. We love the kids and their pop fashions, assuming and dropping identities with the casualness of Paris Hilton romping in the sack. We love the toys, the gadgets, the sushi and saki, the Geishas, the movies. We observe their behavior, scratch our head and wonder if maybe there's something worth emulating in Japan's new fad of the moment -- napping.

First of all, I love the headline of this story -- "Nation of Workaholics Sleeps on the Job"


For high school students everywhere, the classroom desk is often a place to catch a few winks of sleep. But instead of receiving a scolding, dozing teenagers at Meizen high school are more likely these days to find their teachers dimming the lights, putting on classical music and joining their students for a power nap.

In a nation known for its tireless diligence, the students have joined a repose revolution that has investment bankers and bureaucrats sharing lunchtime with the sandman. Meizen High, in this progressive southern metropolitan area of 5 million, last year became the first school in the nation to promote mental alertness by officially encouraging all students to take 15-minute naps in their classrooms after lunch. Several schools have followed suit, and others have said they might adopt the practice.
The nation called by experts "the most sleep deprived on earth"  is obsessed with productivity as reflected in the mental alertness craze that's sweeping the nation. Electronic games designed to increase ones brainpower is the most rapidly growing segment of Nintendo's business. To facilitate the art of napping, nap salons have appeared to cater to this growing market.
The rise of the mini-siesta is perhaps the most noticeable evidence of the Japanese interest in gaining a mental edge. In the past two years, nap salons, as they're known, have popped up in Japan's major cities. One such salon in central Tokyo, Napia, boasts some 1,500 members. Fatigued office workers can take a brief lunchtime nap on a daybed there for the equivalent of about $4.50.
Naps should last not more than a half-hour. Here a trick you can try at home. Drink a cup of coffee before taking your nap. It takes about 20 minutes for the caffeine to kick in so you wake up all fresh and ready to go back to work.
via WashingtonPost