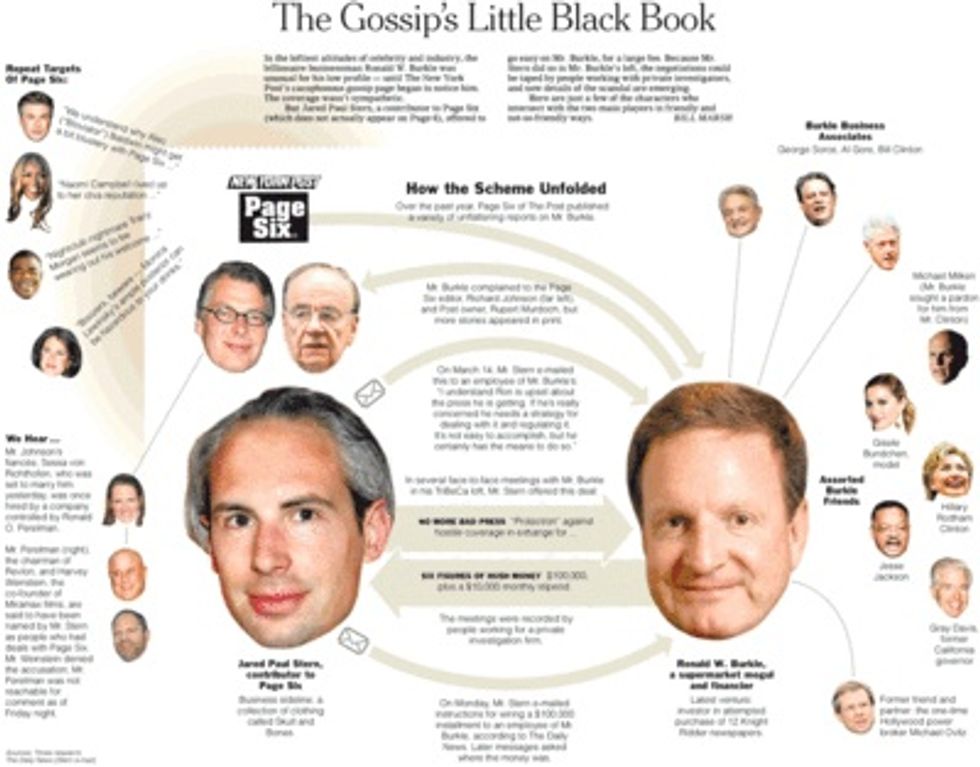 Today the New York Post's widely read Page Six covers itself in the growing Page Six scandal. With the threat of a law suit by the former contributor Jared Paul Stern looming over its head, the Post decided to preempt the story before any of its competitors -- most specifically the Daily News with whom they are waging a fierce circulation war -- got their hands on a four-page list of embarrassing allegations about former Post colleagues that Stern is prepared to make public.
Instead, it appears as though the Post has made it public for him, running it prominently in today's edition under the headline -- "Lies and Smears Aimed At Post." (What's the saying about the pot and the kettle...) Stern, you will remember, was investigated (and subsequently cleared) by the FBI after looking into accusations of extortion filed by Bill-Clinton-crony/supermarket mogul Ron Burkle who had set up a sting operation to trap Stern. Calling him a "rogue former freelancer" at Page Six, the Post goes on to list chapter and verse of the email that was written by Ian Spiegelman, another former Page Sixer, who was fired by the paper three years ago.
"Post editor-in-chief Col Allan said the Post, as a matter of principle, wouldn't pay even one cent to the litigious Stern, who, represented by controversial lawyer Larry Klayman, is also suing Burkle, the Daily News, former President Bill Clinton and Sen. Hillary Clinton."
Many of Stern's claims of payoffs, sexual favors and the killing of stories that got in the way of Murdoch's business interests have been alluded to before. But this is the first time they have been laid out in print this way.
Gawker has an update and some theories of its own regarding the Post's decision to make these allegations public.