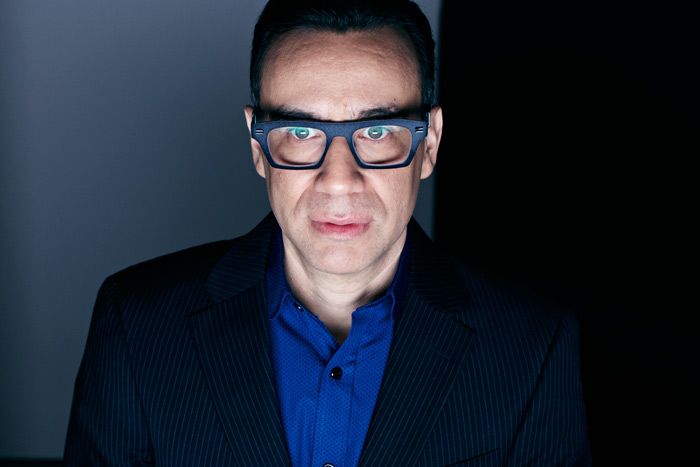 "No, no. I never take time off. I mean, ever, ever."

Comedian Fred Armisen isn't kidding. At present, he's juggling roles on
Saturday Night Live
(his eleventh season),
Portlandia
(the hilarious ode to Oregon's culture capital that he dreamt up with best friend and former Sleater-Kinney guitarist Carrie Brownstein) and IFC's new animated series
Out There
(he's the voice of Terry). And he's making cameos pretty much every second in between, from playing Ira Glass on an episode of NPR's
This American Life
to drumming for Yo La Tengo on
Late Night with Jimmy Fallon
.
Of all his work, however,
Portlandia
feels the most uniquely Armisen. As a co-creator of the hit sketch-comedy series, he's involved in almost every aspect of production, but it's his characters, perfectly observed parodies of people you know (a bicycle rights activist, a feminist bookstore owner and Armisen's favorite, a Beach Boys-obsessed recording studio hobbyist) where he's in his element.
Other roles are played by Armisen and Brownstein's talented friends. Chloë Sevigny is memorable as Fred and Carrie's new roommate, as is Jim Gaffigan as an unsuccessful stew cart employee. ("Free stew samples!")
But the show's biggest appeal is Armisen's genius repartee with Brownstein (which, by the way, he says is 70 to 80 percent improvised). "It's just such a weird thing," he says of their meeting nearly a decade ago. "I immediately knew we'd be friends. She didn't even say anything that made me think that. It was a chemical thing."
So if you'd told Armisen when he was in his 20s that he'd be where he is today, what would he have said? "Well, first I'd ask if you wanted something to drink," says Armisen, now 46. "And then I'd be all like 'Thank you! That's great news!'"
***

Fred Armisen answers our TV survey:
Do you watch the show when it airs?
I do. I like to see how it all came out. Sometimes there are some nice surprises from the editors!
What's your "guilty pleasure" TV show?
Anything with real police car chases.
Do people come up to you to talk about your character? What do they say?
Most people will say to me "Put a bird on it!" which is always pleasant and nice.
Suit jacket by Tommy Hilfiger and shirt by By Robert James.