Pornhub may be primarily known for, well, porn, but it's also the home of some pretty innovative marketing execs who have done everything from starting a record label (ft. Waka Flocka Flame) to Kickstarter-ing the first porno in space.
However, despite many a nutty publicity stunt, turns out they work pretty much like everyone else. So to find out a bit more about the inner workings of the Internet's wackiest wankers (lol), we spoke to Pornhub Vice President Corey Price about diversifying Pornhub's ass-ets (more lols), as well as how they've been dealing with a rapidly changing online industry, Avengers parody porn and whether we'll ever make sex in space a reality.
What's the biggest misconception about your job?

Probably that we work alongside pornstars at the office. Or that nudity is allowed. Hate to break it to you, but my job is just like everyone else's. Sure the industry may be known for explicit material, but [that's not the case] here at our office. We go to work each day, have meetings in conference rooms and drink excess amounts of coffee, just like anyone else.
Who comes up with campaigns? How long does it take from idea incubation to execution?
There are many people and teams involved in launching a successful campaign. Our marketing team meets weekly to discuss and brainstorm ideas. Once they formulate and map out something solid, our design team gets involved in creating mock-ups for the projects -- be it for landing pages, social media or a print ad. Then, our front end and back end developers get to work on making sure that we have all of the necessary components in place on the website in time for the launch. Once we're ready to go, our marketing and social media teams work together in getting the word out.
Do you ever feel like some stuff is too gimmicky? How do you figure out what campaigns drive traffic to Pornhub?
We have nixed a bunch of campaigns. Honestly, we nix more than we pursue. We often have to sift through all the ideas we generate and decide which ones are most compelling. We also have to be cognizant not to oversaturate the media while simultaneously making sure we garner substantial traffic to Pornhub. It's a balancing act.
A lot of the magic surrounding Pornhub's recent campaigns are that they just seem so crazy, far out and pretty unrelated to porn. Why all the non-sequiturs?
I don't know if they are "crazy" or "far out" as much as they are Pornhub branching out beyond strictly adult entertainment, which some people have a hard time wrapping their heads around. Through the past few years we've diversified and crossed over into a myriad of new industries with exciting campaigns and initiatives. For example – Pornhub Cares (philanthropic), Wankband (wearable technology), Scholarship (education), Pornhub Records (music), Pornhub Apparel (fashion). We don't want to be known as a strictly adult entertainment brand. Sure, our primary product is adult content, but we think that we've proven by now that we have much more going on than just that. We continue to push the envelope.
Do you have data on what kind of shows/movies do best with porn parodies? Are you the ones that brainstorm/commission that sort of stuff or is it pitched via independent directors and marketed by you?
We don't actually produce any of our own content, we are a video hosting platform that works much in the same way that YouTube does. That being said, our "Funny" category is definitely a popular one among our users.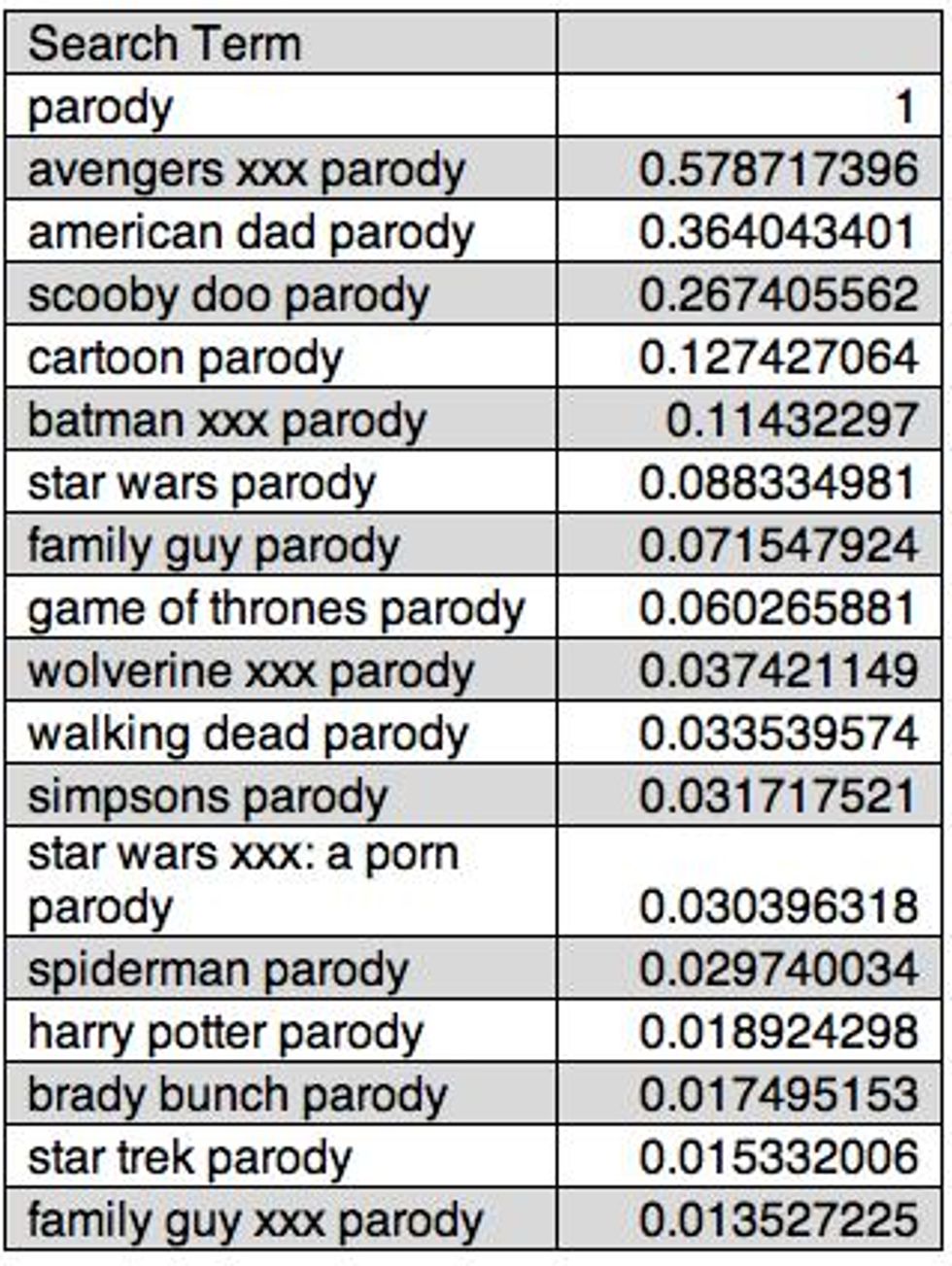 Normalized values for the top parody searches on Pornhub.com.

What is the status of the space porn project? Will it actually happen?
The crowdfunding campaign was intended to gauge interest, primarily. It seems like the world isn't ready for sex in space yet, but we very well may revisit this in the years to come. As technology continues to evolve, so too will our resourcefulness to continue to push the boundaries of sexual exploration. I penned a letter on the campaign's landing page thanking fans for their support and contributions.
Has Pornhub taken any lessons from the collapse of the music industry i.e. content is free, streaming is everywhere, physical media is dead?
For sure. The way we see it is that we have built a streaming platform that gets millions of visits every day. In the same way that musicians launch music videos on YouTube to promote their brand, [we do with] our content partners with their videos. Free streaming services like ours offer a valuable tool to anyone trying to make it in this industry.
You May Also Like