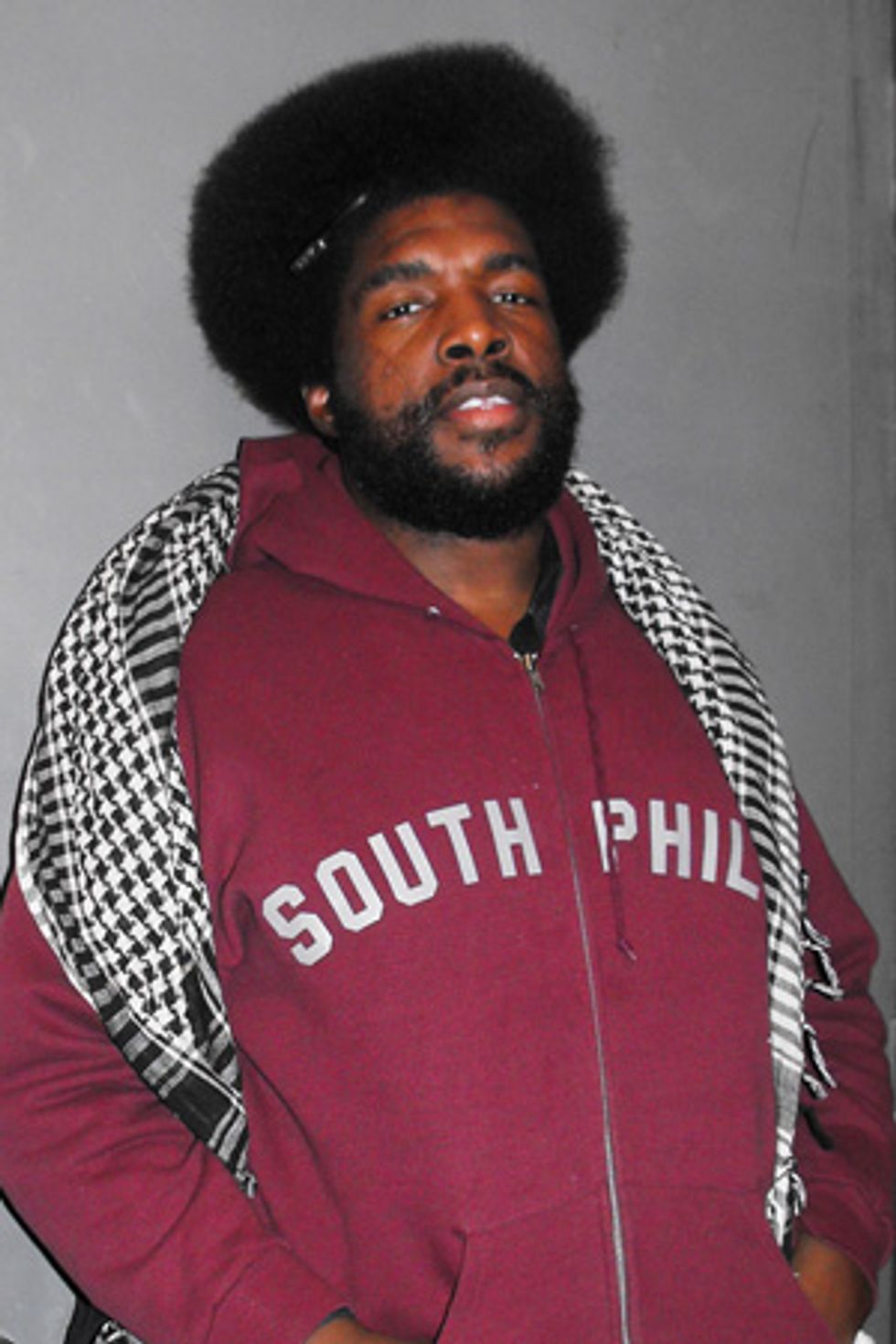 Like many of life's greatest unexpected boons, it all started with a friendly dare. But now The Roots have the last laugh: as the new permanent house band on Late Night with Jimmy Fallon, the critical darlings of progressive hip-hop are suddenly on the cusp of becoming a household name. Only ten days into their new gig, ?uestlove -- drummer , creative guru, and unofficial spokesman for The Roots -- already gives the likes of Max Weinberg a serious run for his money as a contender for the coolest drummer on late night TV history. The immediate impact of his overnight ubiquity is only starting to hit him, as we found out.
"I've done more interviews in the past four days than I ever had in my 18 year career," said a visibly spent ?uestlove when he spoke to PAPERMAG last week at (le) Poisson Rouge's Late Night With Jimmy Fallon kick off party. But while the shock and awe of instant fame is jarring, ?uestlove is already reaping its benefits: in addition to his new "professional" late night gig, he begins a DJ residency at the Le Poisson Rouge and weekly jam sessions with The Roots at the Highline Ballroom later this month. And Roots fans take heart: a new studio album is in the works, slated for an early 2010 release. Listen closely, because if ?uestlove has his way, you may just catch a preview of new Roots material "sandwiched" between Jimmy's skits and laughing fits.
So was the first taping nerve-wracking?
The buzz was very good at NBC. We had a great taping. We did have a few musical rough patches, but nothing that we can't fix. I'm excited; it was really great to see Jimmy interact live with people he's actually social with, like Justin Timberlake, our "surprise" guest the first night. The audience ate it up!
How has it been working alongside Jimmy?
Jimmy has been amazing. He has so much faith in us: his first words going on the air were "this is the best live band in the world!" So much pressure! Just call us the funkiest band in late night; I can deal with that."
Were you a fan of his on SNL?
Of course. And I kept thinking going into this: 'Are you going laugh at your own jokes? Are you going to break your character?' And he still does! It took him about four minutes to keep a straight face in a promo shoot recently; one of us said something dumb between us and he couldn't stop laughing. He made me feel like the funniest guy on earth.
Who initiated the arrangement of The Roots becoming Jimmy's house band?
My former boss did -- I used to work for The Chappelle Show, and our music supervisor Neil Brennan dared Jimmy to hire us, knowing that we wouldn't accept it. And just to spite Neil, we took the gig.
Was there a financial motivation?
No, but survival for us is bar none. That's job one: It's one thing when you are in your twenties and you don't have responsibilities, and you can live in your parent's house. Once you have those financial responsibilities, people to take care of, and a staff to pay, you think differently. It's freed up time with our families. And actually, The Roots have already conquered every possible medium except television. This is our last frontier.
The Roots are about to appear before millions of people every night. Has it hit you?
It wasn't until I went to bed last night that I realized, 'Oh my God, this exposure could actually make things better for the group! At least three million people will see us each night! This is the exposure we need!' For some reason, I didn't immediately equate the opportunity with potential success: instead, I had focused on things like, 'Can we afford to give up 250 gigs per year and survive? Can we think creatively over there?'
How do you determine what you play on the show?
"Here I Come" from Game Theory is the actual theme to the show. And right now, we're in songwriting mode. Thus far, we've written about 78 songs -- we call them "sandwiches" -- for the show. It's a mixture of both covers and original material.
Is it true you were writing 25 songs a day?
Well, our first week we were a little overzealous! We were getting up at 5 in the morning and working out... then by day four, we were like, 'snooze, snooze, snooze.' I think what got in the way of writing the 200 sandwiches -- and that's how many we're doing because I don't want the show to get stale -- is that they are really incorporating the crap out of us on the show! Skits, sketches, to accompany musical artists... there's a whole lot musical activity on the show besides "sandwich-making," so it's a lot to do."
Have you specifically influenced any of Jimmy's choices for musical guests to be featured on the show?
They definitely asked us for some sort of thumbs up sign on Miss Santigold. She doesn't want me to say this, but contrary to hipster theory, she's not from Brooklyn, but from Philly!
And don't YOU currently commute from Philly? How is that?
Everyday! In a way, it's torturous because you can actually get to Philly faster than you could to Yonkers from Brooklyn at the pace of New York traffic. It's not quite long enough to be considered lengthy. It's like 90 minutes. And on the bus, you have to make a choice: you need to decide if you are going to sleep or if you are going to prep.
Will you consider relocating to Manhattan?
I'm considering it much faster than I expected. Initially, I was going to wait about a year. But I'm crashing. Now that I have the residencies at (le) Poisson Rouge and Highline Ballroom... I mean, three nights of the week, I will be ending my nights at 4 or 5 in the morning. Just to go back home on the bus would be torture.
What do you say to those who may consider this house band gig "selling out"?
For a person to be responsible, pay their bills, and feed their family, is that selling out? I'm not walking around in carrying around $10,000 in change; I drive a Scion and a Mini-Cooper, two very modest cars, and I live in a modest house. If the music were compromised in any way, that's not even selling out... that would be selling ourselves short! In 2009, I don't know what the definition of "selling out" even is. Instead, I see the challenges this opportunity offers: I went in with zero expectations, but I see that we can redefine and reformat what a house band is.
Has anything surprised you about the transition to becoming a nightly house band?

There hasn't been one particular monkey wrench they've thrown at us that we couldn't handle; I'm very happy with the way we've been received. It's going to take some time to adjust; we are extremely nervous each day. We do under go extreme preparation each day; in fact, I think over-preparing has caused us to fumble a bit.
Does that preparation process feel less organic for the group?
I wouldn't say that.... well, actually I take that back. It does feel less organic. We now rehearse five hours a day. Before now, I could count all the The Roots rehearsals of the past decade on maybe one hand. But you can only get better if you practice all the time.
How will The Roots evolve the role and performance boundaries of a house band?
My goal is to introduce new musical ideas and to influence the direction of the format's evolution. We're going to introduce a new feature: "Sit-In of the Week." It's where an unknown entity could sit with us five nights a week and get the same exposure they'd get playing one song on another show. Someone like Esperanza Spalding or Robert Glasper or 21-year-old Australian bassist, Tal Wilkenfeld -- she looks like Rod Stewart's ex-wife but plays like fucking Charles Mingus.
Sonically, how far can you get away with pushing that envelope?
Traditionally, there's always been a limited amount of genres that house bands reference: there's AM rock, the post-disco staples, the so-called P-Funk references. But there are more musical languages that we can charter; that's where we come in. I mean we can play with bent notes, we can play with time signatures, or do all chromatic chord versions of songs -- things you wouldn't even hear a normal band do, let alone a professional late night band.