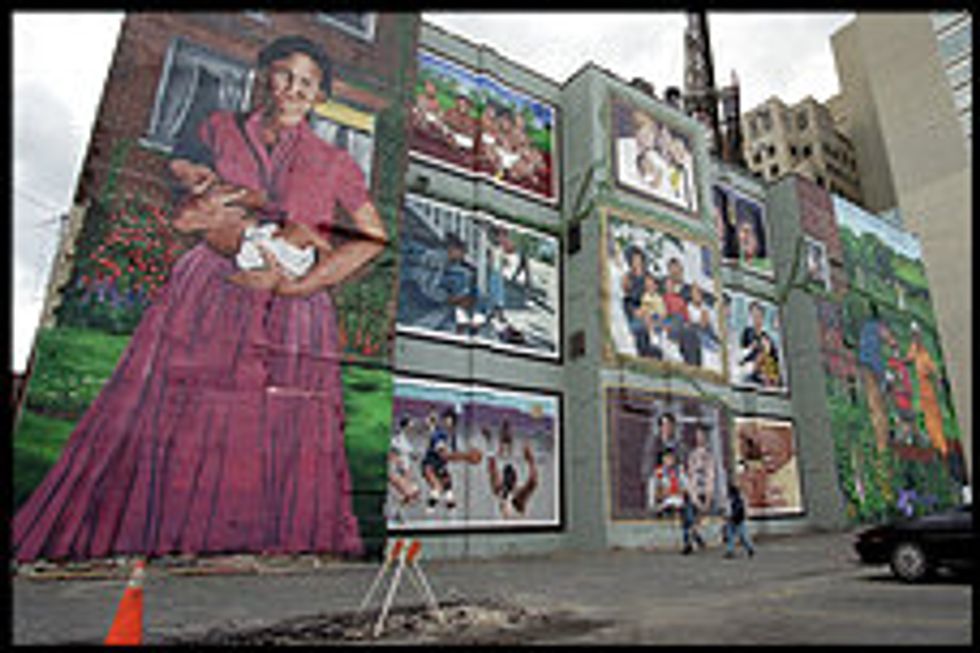 The once sleepy ville of Philadelphia has been breaking into the news lately. For one, after a contentious fight with Verizon, Philadelphia is heading for   citywide free wireless Internet access via wi-fi. They also registered on the radar recently when some watchdog group dedicated to fighting "urban decay" made noise about going after Sony for putting up posters disguised as street art as a form of guerrilla advertising for the Playstation. One wonders what this group known as SCRUB (Society to Reduce Urban Blight) thinks of efforts to save Philadelphia's incredible collection of street murals. The Washington Post  headlined it's story "Philadelphia, the Last Stand of Urban Murals."

"This art took flower in New York City. Disinvestment and white flight and arson laid New York low in the 1970s, but out of that decay stepped thousands of graffiti taggers and muralists, among them Keith Haring and Dondi and Jean-Michel Basquiat. Some saw their art as brilliant and others as a scourge but that debate does not matter anymore because most of the art is gone.
Real estate is too valuable now for street art; every vacant lot has become a Build it Now! commodity. The only murals left in Manhattan are 16-story ads for Calvin Klein and Bose speakers."
Whether one agrees or not (I kind of do), Philly sounds like it's worth a trip. With
casinos
now being seriously considered, doing the Philly shuffle between New York and the City of Brotherly Love could become fairly routine.