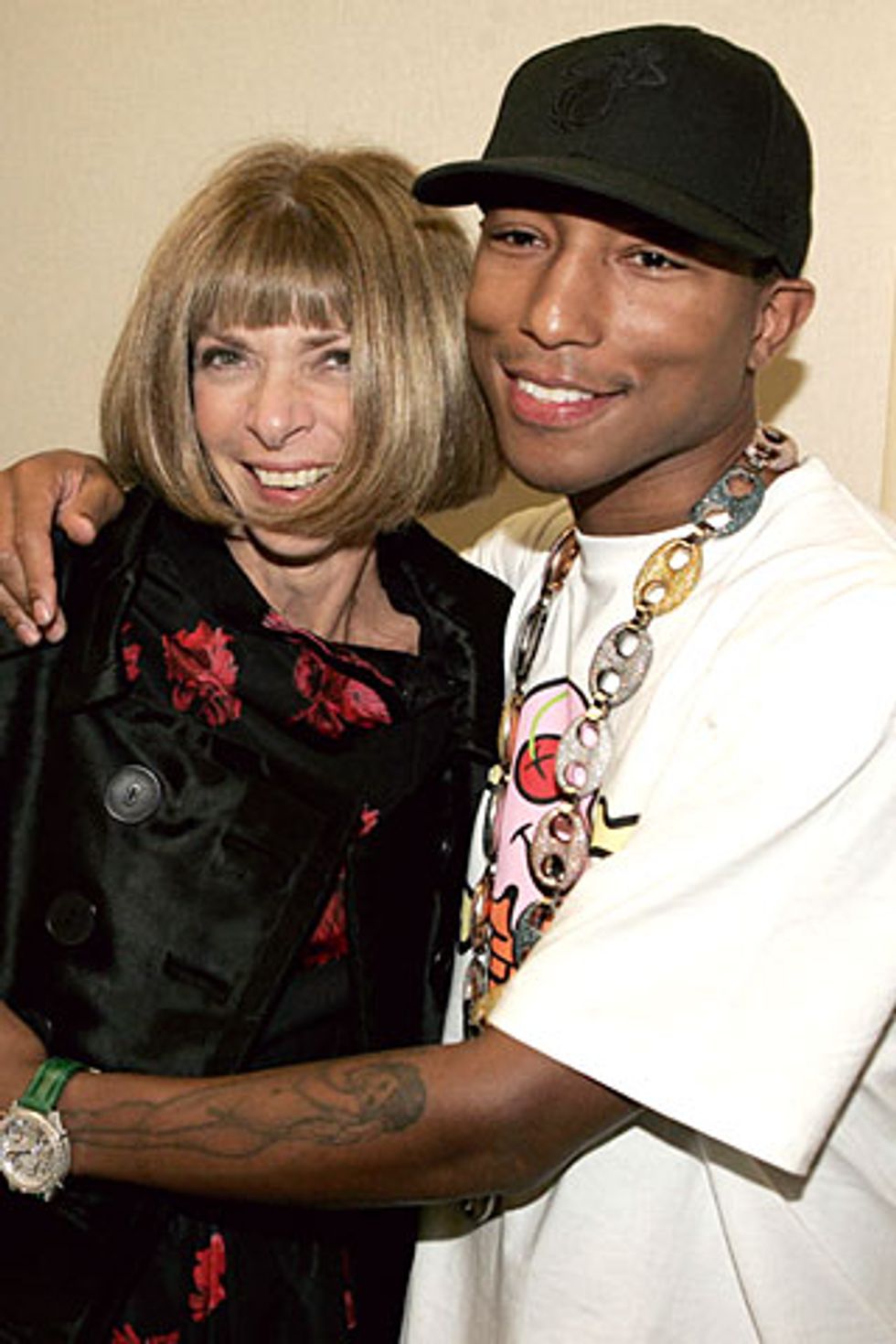 Pharrell Williams
goes his own way. Having established himself as one of the go-to producers of the decade, he extended his influence in the fashion world, most famously by teaming up with
Nigo
of
Bathing Ape
fame. Together, they launched the
Billionaire's Boys' Club
, which has been serving merch to hipster nerds ever since. His personal style and fashionophilia got the attention of
Vogue
editrix
Anna Wintour
who, it turns out, is one of his favorite people. In the cover story of PAPER's upcoming music issue he calls her a "genius" and defends the controversial
LeBron James/Gisele Bundchen
cover photo which many have descried as a "racist" depiction that potrays the basketball star as King Kong. Here's what Pharrell says:
"I was happy to see that it happened. I'm black so I don't get King Kong outta that. I think that says something about the person who sees that. [LeBron] doesn't look like a monkey to me. It's an iconic picture for fashion. That's the most important thing. And I hate it when people drum up controversy over stupid shit like that. It's like, yo, look at it objectively. Remove your own personal baggage. Artistically, it's an iconic picture and it will go down in the books as striking, brave, risky, edgy -- and that's what fashion is."
As for Wintour he says: "That's why I love her. Cause she doesn't give two fucks about what nobody thinks -- even when she does controversial shit, it always goes to her benefit. She's a genius chess player. And far from racist."
There's more but you'll have to wait for the issue to come out to read it! Check out out-takes of Pharrell from his PAPER shoot after the jump.
Photo of Pharrell and Anna from Style.com;
Photos of Pharrell from PAPER's upcoming music issue by Dan Monick