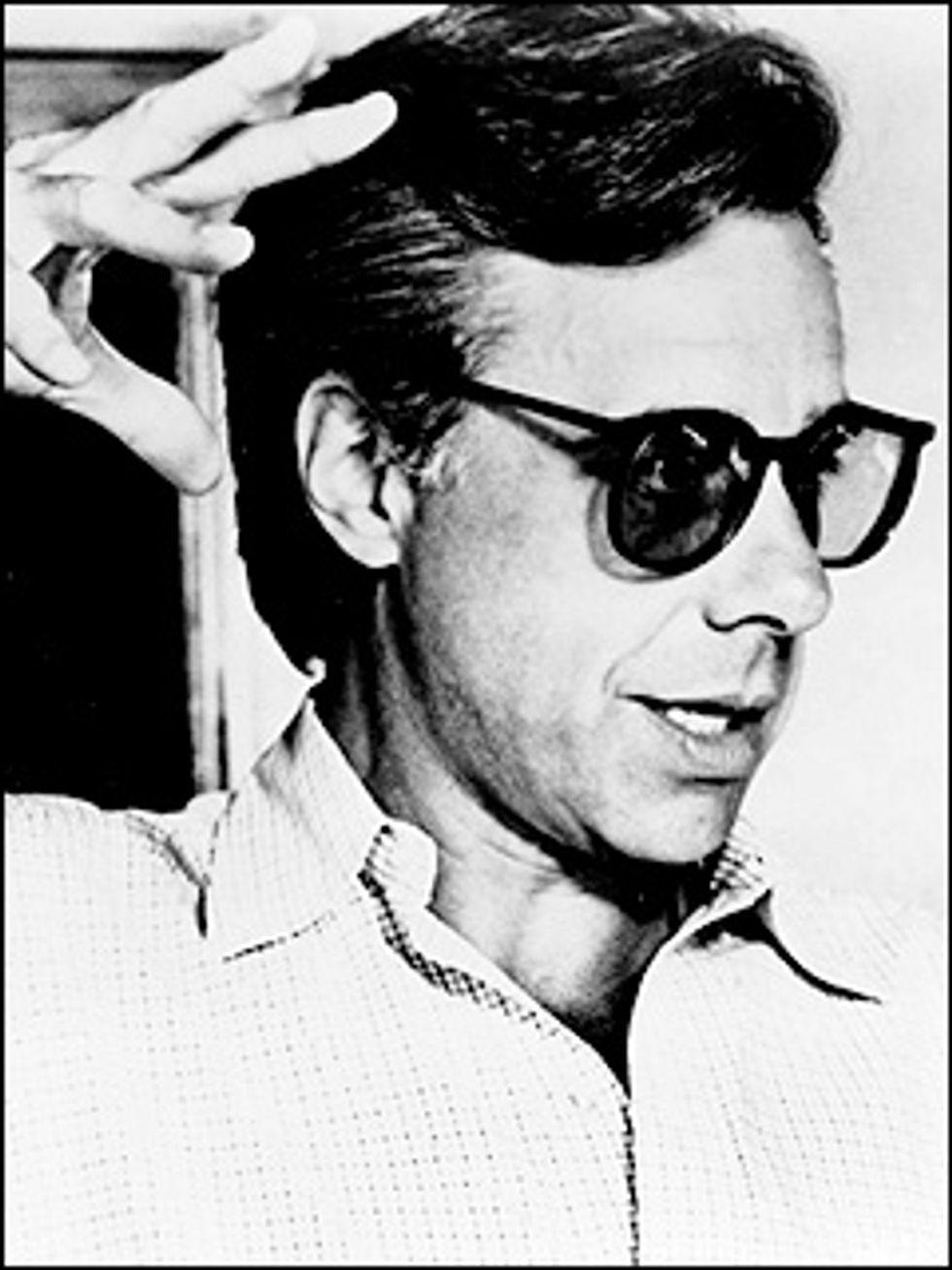 Some say that Peter Bogdanovich, director of classics such as The Last Picture Show and Paper Moon (among many others), is a has-been. After making several ambitious, successful films in the tradition of Hollywood's Golden Age, his subsequent films bombed, and the press looked at him askance when he married the half-sister of his deceased wife (and love of his life), Dorothy Stratten. Now amicably divorced, Bogdanovich has been steadily churning out books chronicling his relationships with luminary directors and actors of yesteryear -- John Cassavetes, Audrey Hepburn, Alfred Hitchcock. But despite these dips, his reputation as an admired director was resurrected with the 2002 release of The Cat's Meow. He recently signed on to direct the Franco D'Alessandro-written biopic of Anna Magnani and Tennessee Williams.
Recently, Bogdanovich was at Makor on Manhattan's Upper West Side delivering a talk on his latest book, Who the Hell's In It. "It's a little early for me," he said to the audience, mostly comprised of the early-bird special crowd, elderly regulars at Makor's noontime lecture series -- "I'll wake up when it all ends."
Bogdanovich is indeed a Rip van Winkle of sorts, a living anachronism. He's been called the buff of buffs -- and he does know an awful lot about films made in the first three quarters of the century -- but he thinks that most of what followed is bunk. He told the audience that he "hasn't seen everything that's out there lately" and confessed to never having watched a single episode of Desperate Housewives or a Wong Kar Wai film. Bogdanovich prefers to dwell in the land of pre-1960s Hollywood, an era when, in the words of Howard Hawks, you could watch a film "and know who the devil's making it." This quote became the title for Bogdanovich's seminal book of interviews with great directors, published in 1997. Indeed, Bogdanovich is chiefly interested in the personalities of the men with the movie cameras. "For me, that's what counts in pictures," he announced to the audience. "What is the humanity behind these people? What are they like?" And Bogdanovich knows well what they are like, having spent his early years befriending the directors he admired most. His mission, it seems, is to resurrect these figures, to allow them to dwell once more in the company of their adoring fans.
During the course of the talk, Bogdanovich gave a Catskills-cabaret-style performance, channeling the likes of Jon Stewart, Howard Hawks, Orson Welles (about whom he published a monograph for the MoMA), Audrey Hepburn, and, most convincingly, Alfred Hitchcock.
He recalled riding in an elevator with the great master of suspense. As the elevator filled up with people, Hitchcock loudly told Bogdanovich, in his deep, plodding, British-accent, "Well it was quite shocking -- there was blood everywhere. A stream of blood coming from his ear and another from his mouth. Of course there was a huge puddle of blood on the floor," and Hitchcock continued ornamenting the tale with gory details until the moment right before the elevator door opened, when he said, "I looked at the poor man and said 'Good God, what happened to you?' And do you know what he told me?" At which point he slipped out of the elevator leaving Bogdanovich open-mouthed. "What? What did he say?" Bogdanovich asked him. "Oh nothing, that's just my elevator story," Hitchcock chuckled.
The charming perversity of Hitchcock, the laconic wisdom of Howard Hawkes, the elfish magnetism of Hepburn -- these are the province of Bogdanovich's stories. The charms of this age don't much interest him. Bogdanovich has come to the right place. "Tell me of any movie or dialogue that is as good as any that you've talked about. At 80 years old, I say none are as good," declares one woman with a heavy Brooklyn accent during the Q&A session. "I agree with you. There are none," Bogndanovich says, vindicated.
At moments, it seemed that Bodanovich suffers from a sappy brand of nostalgia, relying on the same 20 or so stock stories to play to the old fashioned sensibility of an already receptive audience. But the warmth evident in his voice when he speaks of his old friends convinced me otherwise. Bogdanovich is a true lover of film -- a keeper of a particular moment in its history. "That's the wonderful thing about the movies," Bogdanovich said, impersonating Jimmy Stewart, "If you're good, and Gold helps ya, and if you're lucky enough to have a personality that comes across, then what you're doing is giving people little tiny pieces of time." Faithful to this mission, on a sunny Tuesday afternoon in January of 2006, Bogdanovich delivered a delectable little slice of the past.