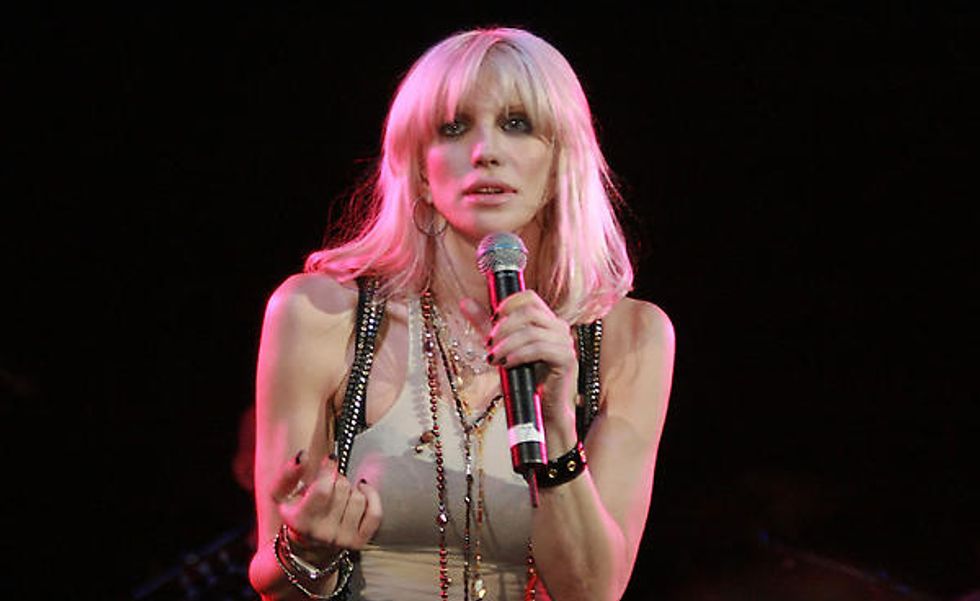 At last night's
Hole
concert at Terminal 5,
Courtney Love
, covered up in a plain button-down shirt and black dress, performed as if she was a huge Xanax. Love and the new Hole members (how I miss beautiful, talented
Melissa Auf der Maur
,
Eric Erlandson
and drummer
Patty Schemel
) seemed like they answered a Craigslist ad searching for rocker-looking dudes who don't mind working with a self-obsessed pain in the arse. Their second night performing at Terminal 5 this week, Hole sped through their set as if they couldn't wait to get off the stage. Love warned the crowd "We're not playing all that old shit. We are not an oldies band," yet did bland covers of two
Rolling Stones
songs ("Sympathy for the Devil," and "Play with Fire") and
Fleetwood Mac
's "Gold Dust Woman." Barely moving from the mic stand, Love's banter included a few jokes about how her boobs were sagging before asking the crowd to pretend they were having sex, adding "And I'm not going to do all the work." The RRRiot Girl Courtney seems long gone, replaced with a taut
Madonna
-like face and about as much energy as Lunesta. What happened to the stage diving diva in tiaras and tattered baby-doll dresses? When Love sang "Samantha," the best song from Hole's new album
Nobody's Daughter,
she made the lyric "People Like You/F#uck People Like Me" (repeat many times) about as sexy as a
Sarah Palin
speech. Sorry Courtney, I just hit the snooze button.