Fourteen-year-old
Tavi Gevinson
's blog,
The Style Rookie
, was shut down by Google's Blogger after Tavi posted a photo on April 22nd, her birthday, of a naked
Maggie Rizer
, circled by party ribbons, from a 1998 Yohji Yamamoto ad.
PD can relate to Tavi. I posted an image of a nude Rick Owens sculpture on Facebook and suddenly a few hours later, my account was canceled. My Facebook dismissal got blogged about on
Fashionista.com
and
Racked.com
and then suddenly my account was up and running. Phew! (Note to self: only PG-13 fashion photos for Facebook -- sorry Terry Richardson and Olivier Zahm).
Google claims they took down Tavi's site by mistake. Yeah, right. remember: Big Blogger Brother sees all. After the jump, check out the photograph of Maggie Rizer that caused all the fuss. I asked my pal Maggie about that Yohji shoot, which took place over a decade ago. "Imagine shutting down a site over such an innocent photo," Maggie told me. "I remember thinking during that photo how cool I thought the boots were and how confused I was that I was naked with streamers. In my mind it would have made so much more sense if I was naked and looking sexy, than looking like I was in my birthday suit for real. Inez and Vinhoodh took it literally I guess. At any rate, I still have the boots -- Yohji gave me a few pairs in a couple of styles. They're pretty beaten up now, just about perfect." She adds, "They painted my nipples hot pink! How funny, huh?"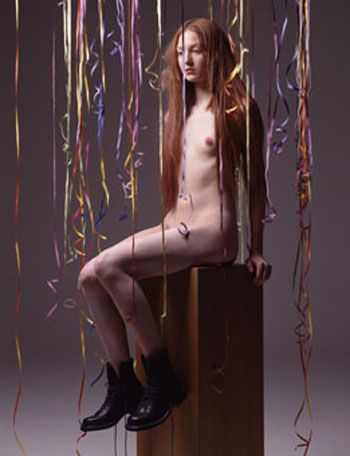 First photo of Maggie Rizer from patrickmcmullan.com