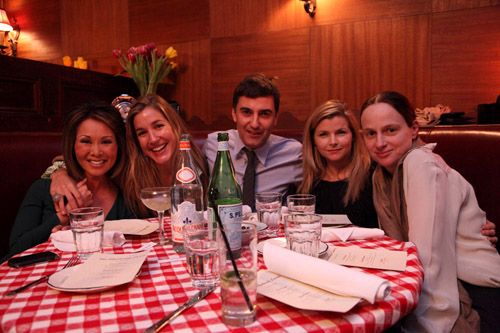 Before Fashion Week bogs down the style bloggers and chicsters, a gang of Glamazons headed to Billy Gilroy's new hot spot,
East Side Social Club
, for a lunch hosted by Brit
Euan Rellie
for "The Atlanicists" in honor of
Rag & Bone's David Neville and Patrick McMullan
. The menu (filet or trout) created by Billy's handsome, tatted-up son chef
Devon Gilroy
was chowed down by
CNN's Alina Cho
,
Jennifer Creel
,
Boykin Curry
,
Tara Hannert
,
Vogue
's
Alexandra Kotur
, writers
Bob Morris
,
Michael Musto
and
Jeffrey Podolsky
,
Marissa Noel Brown
,
Tracy Taylor
,
Kelly Bensimon
(who celebrated her upcoming
Playboy
cover at Butter later that night) beautiful
Lana Ogilvie
,
Alan Rish
,
Helen Lee Schifter
,
Kim Vernon
,
Luigi Tadini
,
Miguelina Gambaccini
,
Max Weiner
,
Bettina Zilkha
and Euan's wife
Lucy Sykes Rellie
. "An Atlanticist is the opposite of a xenophobe," Rellie explained to me. "It's someone from Europe who loves the gregarious, generous qualities of New York. It's someone from the US who is open to the intellectual pretensions of us Brits." From the size of the crowd, Euan should consider opening an Atlanticist nightclub. And then maybe, in Los Angeles, The Pacificists (who are pacifists who love working out, plastic surgery and the Queen Mother) could be the next outpost. Now I need some Cadbury chocolates!