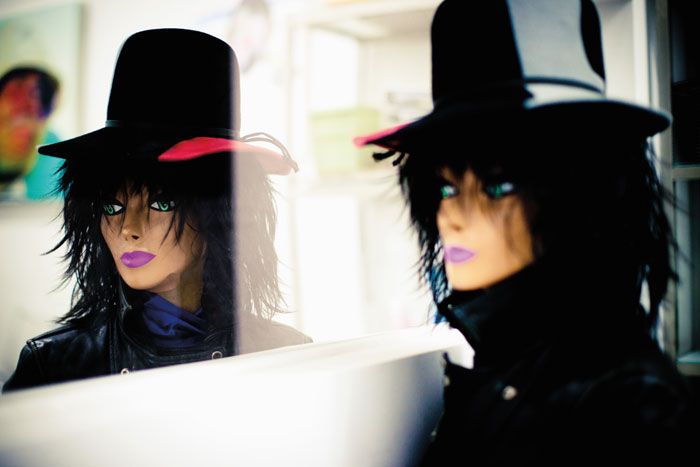 An Ivy League graduate, a former store-window display designer and prop artist, a working veteran of burlesque, a performance artist in a plastic mannequin mask who is schooled in conceptual discourse -- Narcissister is all of these things and more.
Tease with a twist, sensation as social sculpture, vanity as vitriol, and grace as, well, that which makes us human, Narcissister's work plays with concepts of identity, sensation and spectacle. She has been seen everywhere from dancing on
America's Got Talent
to performing late-night sets at cabaret clubs in downtown Manhattan. Despite being known around New York for the "reverse striptease," in which the naked artist pulls various articles of clothing out of her private parts, the woman behind this masked persona is more cerebral than carnal, and measured in her words and actions. The artist says she would rather not be known as Narcissister, nor will she reveal her real name, preferring that her anonymity let her performance identity (defined by the mask as much as by her behavior) float free. Her solo gallery debut this winter at Envoy Enterprises, "Narcissister Is You," included a video in which friends filmed themselves in their interpretations of the role. A sculptural installation allowed viewers to see themselves in a mirror while wearing her mask. "I don't want my art project to take itself too seriously," she says. "I want my audience to be as broad as possible."
While her new work, "The Organ Player," (a commission premiering at the Abrons Arts Center this March), will proffer an expansive internal exploration of the body, her work remains consistent in its embrace of what she described to us as "radical narcissism and self-love." One of the most compelling and confrontational new voices in performance art today, Narcissister does more than put on a great show -- she enables and empowers her audiences along the way.
"The Organ Player" is march 15th at the Abrons Arts Center, 466 Grand St., New York.