Starting in the 1980s, when drag was still subversive, the Boy Bar was a raucously fun St. Marks Place gay hangout featuring Mathew Kasten's array of Boy Bar Beauties in entertaining drag revues. One of those queens was Perfidia (Steven Kirkham), who also styled and sold wigs at Patricia Field's various stores, and nowadays is a top stylist for Broadway and TV. I spoke to Perfidia for a lovely trip down mammary lane.
Hello, Perfidia. When did you start at Boy Bar?
I showed up in '85 and won Miss Boy Bar in '86.
That was sort of the original Drag Race.
Exactly. Miss Guy was also in the show that night -- we were competing against each other. I did a song by [1960s chanteuse] Caterina Valente. That was the night [legendary trans goddess] International Chrysis named me. It's a lovely legacy.
What were you named before that?
Concha, after Marlene Dietrich in The Devil Is a Woman, which Chrysis also showed me. She said, "You've got see this movie." But then she said, "No, Concha's not right for you." She gave me Perfidia. That's a famous Latin song about a shady woman. Everybody does it --Eydie Gorme, they all do it. How perfect it was.
Tell me your drag background.

I came from San Diego, and in L.A. we were doing Motley Crue/Boy George kind of drag. In New York, I went to Pyramid and Boy Bar and saw titties were in. A friend, Tommy Rush, took me by the hand. We'd dated in Hollywood. In New York, he was like, "All right, here you go." He took me to Boy Bar, Pyramid, Palladium. Whispers (a weekly drag bash at Pyramid) was more evolved than Boy Bar at that point. Boy Bar was just getting going, with Shannon as Miss Boy Bar. Whispers had Sister, Tabboo and Hapi Phace, and there was Tangela and Ethyl on the bar. Lypsinka also, and Peter Kwaloff were people I really admired and tried to emulate. I lived with [performer] Clark Render and Chrysis, the queen of Danceteria and the last of the burlesque strippers. No one looks like Chrysis anymore. Did you ever see a tranny that looked like Jayne Mansfield? She's one of the most influential people in my life. She really put me on the path.
It was a wild time back then, no?
You had to look amazing to get in somewhere, and that was really fun because of the challenge of looking amazing on a budget. I loved that. At Pyramid, you'd go up to the door and say "Chrysis sent me." Boom, you're in.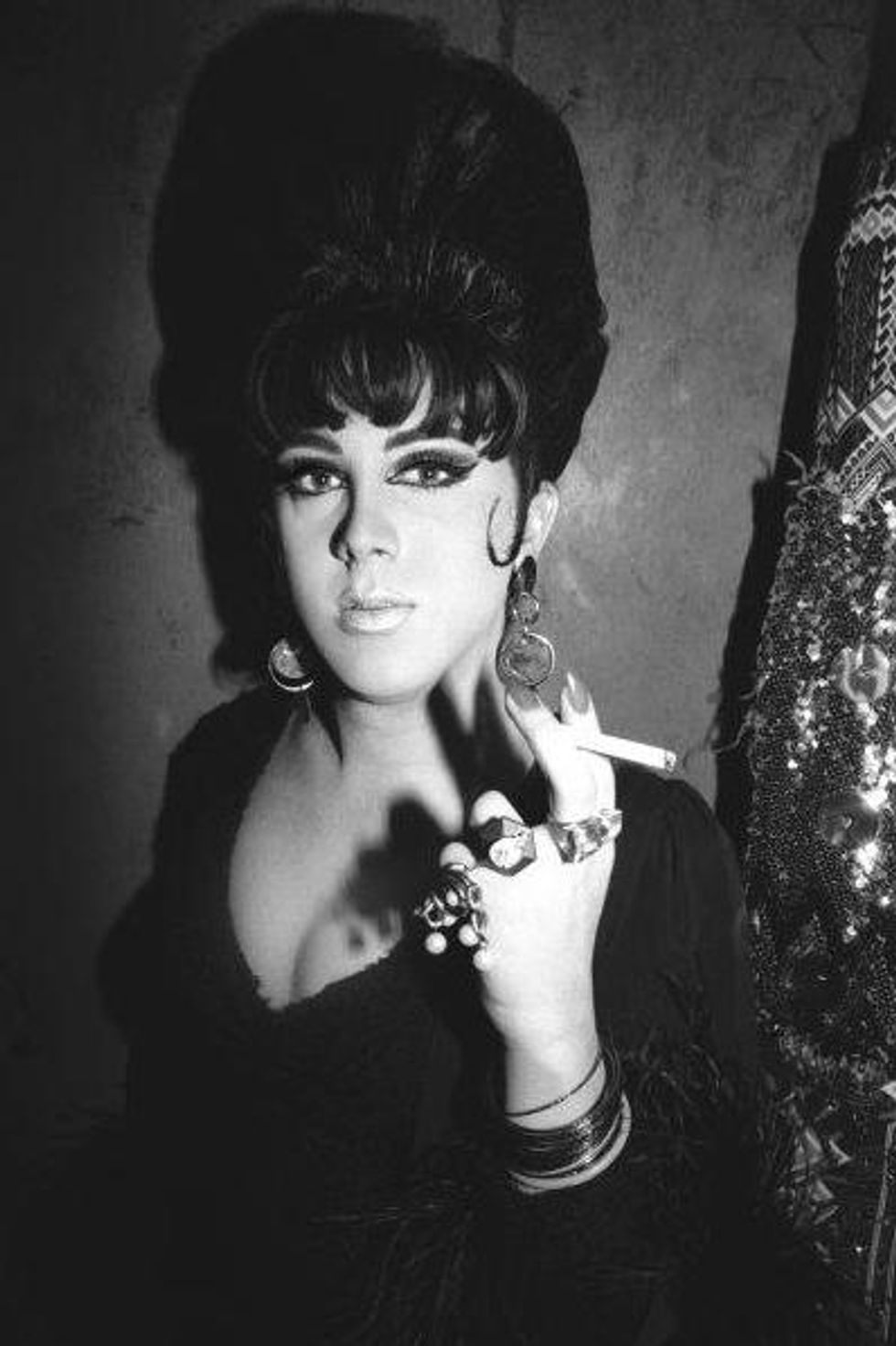 [Photo via Facebook]
Now you tell me. What was your aesthetic?
It was always a '60s lounge singer, and all the stuff that [Boy Bar door god] Len Whitney used to show us. He'd have a night of education and show us John Waters movies or Faster, Pussycat! Kill! Kill! Valley of the Dolls became the bible of how our shows should be, which is a great bible. [Boy Bar Beauty] Glamamore was Helen Lawson. Matthew Kasten put us all together, and each one found their own thing. But he's the person who molded it all. At that time, Pat Field wanted anyone who worked at Boy Bar to work at her store as well. It became this weird symbiotic relationship. I started there in '85.
So you had two mentors.
Matt was the mother and Pat was the father -- that's exactly how it felt. My parents weren't in close contact with me. It's a time when I needed that support.
Did they abandon you because you're gay?
Yeah, they kind of did. My mom was not as bad as the rest. When they heard I was doing drag in New York, they were not happy.
How did they find out?
I told them. When I met Yma Sumac [the Peruvian songstress Perfidia had been lipsynching to], I sent them a letter and told them everything. They were like, "Eww." I thought it was this great thing I was telling them. My dad had come to New York and seen one drag show and wasn't interested. He had no idea. It probably was pretty shocking.
What is your ethnicity?
Mom is Sicilian and dad's an Irish mix.
What did you learn from Mathew Kasten?
Backstage stuff, with everybody doing quick changes with each other. The whole showbiz thing and how to create a star. You'd have a great song and costume and wig and support from your friends. So many people came through there, it was amazing. Princess Diandra and I, our first show was the same night -- a Friday, an off night, when Matthew tried new talent. Afterwards, he thought, "Wow, I've got two new stars to put in the show." It never slowed down from there. When I started working with Susanne Bartsch, my first night was [British performance artist] Leigh Bowery's birthday party at Savage. To meet him the first night I worked with Susanne was insane. I went on to Copa and Bentley's. I was the main gogo box girl.
Was there any backstage competition between the Boy Bar Beauties?
I think it was always good stuff. Never where we walked away really angry with each other.
Did a mishap ever occur onstage?
Boy Bar would take the mistake and glorify it. We always rolled with it. Make the best out of whatever's happening onstage.
And what did you learn from Pat Field?
I learned so much -- the business skills of merchandising and using yourself to promote your merchandise. She taught me the basics of how to write an order, how to fill an order, how to work with customers. When someone didn't show, they called me in. I went from T-shirt boy to makeup counter to Wig Bar. When we decided to add the beauty element, I went to beauty school. I was at all four locations -- Eighth Street, then Sixth Avenue, then Hotel Venus (in Soho), then Bowery. Eighth Street was getting more and more tough, with a lot of shoplifting drama. Soho was a beautiful new place to work.
The Wig Bar started in '88. Due to the combination of Wigstock and Halloween and the Roxy, Wig Bar became one of the biggest departments. It's a wonderful thing to look back and see how it grew. Every year, we knew we were going to sell out of wigs, because of Wigstock. [Hairdresser/photographer] Bobby Miller used to come in the store and teach us '60s and '70s hair styles. I finally separated Wig Bar from the makeup department and that's when I coined Perfidia's Wig World, which was based on Ray's Wig World, a suggestion in John Waters' Female Trouble.
How did that end for you?
I left in '98. Pat and I had our differences and we fought sometimes. I was going to Japan once a year, promoting the store, and eventually it got old. She felt, "Either you go to Japan or you stay here and do your job in the store." We both agreed it was time for me to fly free. Within a week, I got to be hairstylist on Strangers with Candy and I moved on.
Who was your best friend in the Boy Bar Beauties?
Lulu, a Miss Boy Bar, whose male name was Todd Tomorrow (taken from Tab Hunter in Polyester). He sadly died of cirrhosis of the liver. He's the one who said, "Come to Broadway." My first show was Miss Saigon, where he was the wardrobe supervisor. When I got Taboo [the musical about Boy George], people took notice that there's a new wig stylist on Broadway doing good things. I then did shows like La Cage aux Folles and Gypsy. I just finished Hedwig last year and am doing Wicked and Something Rotten. I would like to be part of Hello Dolly! and Charlie and the Chocolate Factory. I like to say it out loud and try to make it happen. Through Basil Twist, I met Paul Reubens, did the Pee-wee Herman show on Broadway, and then HBO taped it and I got an Emmy nomination for hairstyling! That's unheard of. You don't even get a Tony nomination for Broadway.
How do you feel about the proliferation of drag today?
I love it, are you kidding? Have you see how busy I've been? When Ru touches her magic wand on people, it's incredible what's going to happen to them. I was living with Milan when he was on. The six degrees is really fun. And [the West Village drag bar] Boots & Saddle reminds me of Pyramid or Boy Bar.
But how about the drag itself?
It's always evolving. It was strangely pageant-y-looking for a while. It was a little bland for me, like wigs out of a bag. But now it's getting crazy again in the last four years, with the lacefront wigs and beautiful colors.
I don't want to hang up until you tell me about your performances as the high-trilling "queen of the Andes" Yma Sumac, and your meeting her too.
[DJ] Anita Sarko is the one who first played Yma for me. It was at a party. I started collecting the records and got on a search to find all the albums. Around the time I was doing Yma, she had the revival with a run at the Ballroom cabaret club. I was told to show up on a certain night for the Yma Sumac Lookalike Contest. As I remember, you were there. You, [singer] Blossom Dearie and Yma were the judges. You wrote that I'd probably been practicing my whole life to win this contest.
You creamed the competition.
On Yma's opening night, I'm at my table with [illustrator] Scott Ewalt and others, and at the table across from us is Holly Woodlawn and Thierry Mugler. That might be the night Scott and Thierry started making eyes at each other. After the show, we all rushed to the dressing room at the same time and the press got pictures of all of us together. I did an Yma window at Pat Field and she came to the store. She suggested I could come every night to the Ballroom and sit with her before the show. I saw her 17 times of the 22 shows. The most memorable thing she said to me was "You are like my son." I don't think she ever had a kid. She was like Norma Desmond in that she looked exactly the same as in the 1960s, even though she'd been out of the spotlight for so long. I finally had the nerve to go to the [Latin flavored drag and trans hangout] Escuelita and be in their amateur show. I did Yma there and was immediately invited to be in the cast. Everyone was blown away by my Yma. Then, when they saw me as Perfidia, they said, "Girl, you're beautiful." With Yma, the makeup was more old lady. The Escuelita girls were the most beautiful back then. They were different from the Boy Bar Beauties in that many had facial surgery or had taken hormones. Photographer David Burns used to see me there and got the idea to do a drag calendar. Joey Arias was on the cover. The party for the calendar was at Escuelita, and all my worlds intersected -- Pat and Susanne showed up, and Chrysis performed and brought the house down. The owner wanted her in the show permanently, but she said, "That's very sweet, but no, darling." She was such a headliner back then.
And you have been a wonderful focal point for all those worlds. Congratulations on a life well lived -- and accessorized.
You May Also Like