I'm in an Uber to Perez Hilton's Beverly Hills house, when he texts me saying his daughter is home sick from school. I shouldn't ring the doorbell because she's sleeping, so instead I'll text him when I arrive. No stranger to the art of controlling your image in the press, he's already positioning himself as Perez, the father — not Perez, the notorious celebrity blogger thirsty for drama.
My driver asks why I'm visiting Los Angeles, and I tell him I'm spending the afternoon with Perez Hilton. "Paris Hilton!" he exclaims. "She's famous for being famous!" I don't bother correcting him, but wonder if he's unimpressed by the house he eventually drops me off at. For Paris, it's shockingly humble, but for Perez, this home is shockingly nice — large with a quaint, well-kept yard covered in expensive kids' toys. I thought he wouldn't be rich, but the facade suggests otherwise.
When Perez answers the door, he gives me a quick hug, leads me straight into his master bedroom, and shuts the door behind him. I sit on a bench, but Perez immediately invites me onto his bed instead. "In bed with Perez!" he laughs. Forward, but in some ways I'm relieved. He may be a father, but Perez is still a provocateur at his core — even with someone he's known for minutes.

---
A graduate of New York University in 2000, Perez (real name Mario Lavandeira) moved to Los Angeles with dreams of becoming an actor. On the pursuit to stardom, the Miami-born performer worked at a number of LGBTQ companies, from GLAAD to Instinct Magazine, before launching his own blog, originally titled PageSixSixSix.com, and later renamed PerezHilton.com. The site became a go-to resource for breaking celebrity news, and a destination specifically for Perez's scathing coverage of the world's most famous people.
He drew MS paint semen dripping from their mouths, published cruel nicknames like Linsanity (Lindsay Lohan) and Cokate (Kate Moss), and notoriously outed gay celebrities, all while his audience skyrocketed, helping him build a multi-million dollar brand. It was the mid 2000s and celebrities were the public's primary target, as we rabidly tracked the demise of American sweethearts like Britney Spears, Paris Hilton and Nicole Richie. With every DUI, upskirt paparazzi shot, and celebrity feud, a rainbow-headed, hungry-eyed Perez was there to chronicle the mess for public consumption.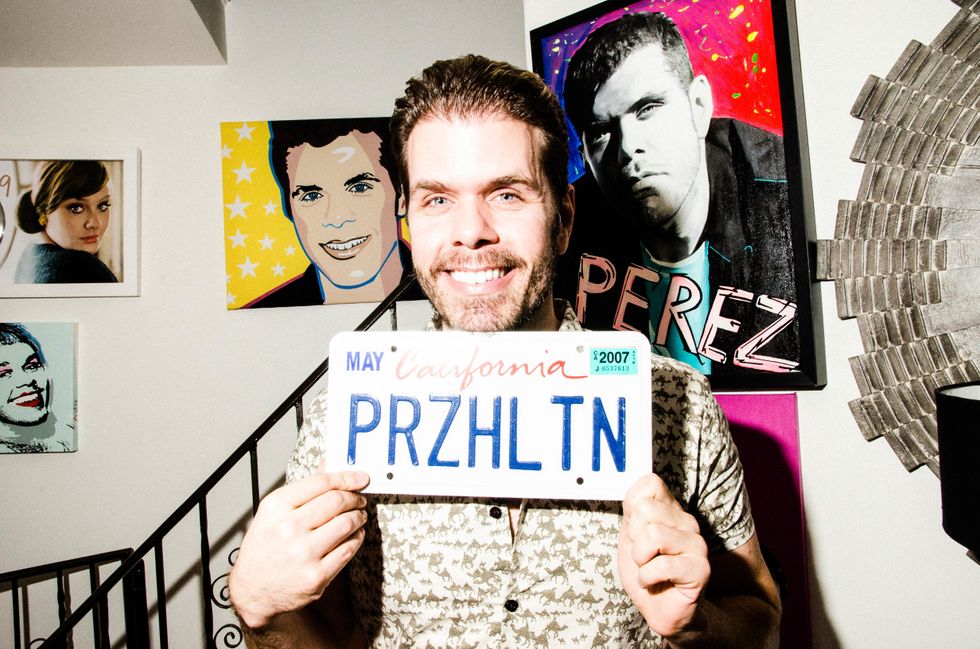 "The Earth has evolved into a breaking-news, gossip-hungry, minute-by-minute, click-to-refresh world. We're no longer a planet of people interested in gossip and breaking news; we're literally obsessed with finding out the next hot piece of dirt," writes Perez from the perspective of Andy Warhol in his 2009 book, Red Carpet Suicide. "It's no exaggeration that once Perez writes about you, the whole world knows about it immediately. His praise can help you (Amy Winehouse, the Jonas Brothers, and Kylie Minogue would like to thank Perez!), and his criticism can destroy you (RIP, Tara Reid) [...] If you're a 'singer' and you make a horrible record, or if your movie bombs on opening weekend or just goes straight to DVD, or if you launch a boring advertising campaign for a lame product, Perez will call you out."
"I'm an extreme person. I don't half-ass anything."
That particular period in pop culture was unlike any other, intensified with an explosion in the amount of paparazzi working in Los Angeles. Before the introduction of social media, celebrities weren't in control of their image, so on-the-street photos were a novelty — and something gossip blogs like PerezHilton.com relied on. Famous people weren't as accessible as they are today, encouraging swarms of paparazzi to chase stars like Spears around the city, driving for hours — sometimes flying in search helicopters — to photograph and hopefully capture something uncouth in exchange for a pretty penny. Celebrity news was proven to be profitable on a mainstream level, and everyone was clawing to have their share of the pot.
---
But today — about a decade later — 40-year-old Perez doesn't seem to want to focus on any of that. In fact, it's initially impossible to gear him towards the subject of celebrity at all. "I want to write a fitness book," he tells me almost immediately. "How to live a happier, healthier life, which I feel like, over the years, I've learned how to do and I'm still learning how." Despite a cleaner diet and more rigorous workout regimen, Perez admits he has difficulty sleeping. "I've got three young children, and five, six, seven things I do every day business-wise," he says. "To this day, I devote 12 hours of my time, every day, [to work] (not Saturday and Sunday). I've been averaging four and a half hours of sleep for a while now — I'm beginning to feel like Kanye." He laughs, but his eyes tell a different story. "I'm an extreme person. I don't half-ass anything."
At the start of 2018, Perez says he had a "full-on meltdown," describing an onslaught of severe stress that came with the pressure to financially support his kids and mother, whom he's lived with for several years now. A self-proclaimed "Type A planner," Perez became obsessed with the unknown future, especially after his youngest daughter Mayte was born in October, 2017. "How can I make more money? How can I spend less? How can I make more money? How can I spend less? I had anxiety and maybe some postpartum depression," he says. "I was very unwell, to the point where I realized something was wrong when my lawyer called and told me he'd pay for me to get a massage. And I started crying because I didn't have time to get a massage. Who can't make time for a free massage?"
As one of the only bloggers who's managed to achieve longstanding success in a fiercely competitive Internet age, Perez's work ethic is undeniable — and he wants me to understand that above all else. Perez launched his career well before the social media boom, and is openly critical about the easy pathways to celebrity that platforms like Instagram and Twitter allow for today. He specifically mentions Bhad Bhabie (of "cash me outside" fame), and Mason Ramsey (of Walmart yodeling fame), both of whom have landed recording contracts with Atlantic since going viral. "You may luck your way into that attention," Perez warns, "but you will not sustain success if you're lazy." He strives to be as much a father figure to his own kids as he does the next generation of newsmakers, it seems.
It doesn't matter if the job is considered D-List, Perez says he'll do anything for money — especially with such high California property taxes and private school tuition. His resume as of late is stacked with strange one-off gigs: he hosted Chippendale's in Vegas for six weeks, competed on Food Network's America's Worst Cooks: Celebrity Edition, and appeared on Celebrity Big Brother UK. "I'm shameless," Perez tells me, knowing I'm not at all surprised. He recently tweeted Tyra Banks asking to be in Freeform's Life Size 2, which will see the ever-aspiring actor return to his roots in an on-screen cameo. Earlier this month, he even filmed an episode of Nick Cannon's Wild 'n Out in Atlanta. "One of the most selfish things I do is work, and I work because I have to."
"I've made a conscious effort to change my thinking about my relationship with celebrities."
Perez credits his ceaseless determination to his parents, who fled communism in 1960s Cuba before eventually making a new life in Florida. He says he hopes to instill the same work ethic into his kids, jumping into a list of eight points he makes them recite in the car every morning on their way to school. I take a sip of water: "Number one is family, that's the most important thing in the world," Perez begins. "Number two is to work very hard, and I make sure they say 'very' — not just 'work hard.' Number three: listen; number four: don't lie; number five: be healthy; number six: gratitude; number seven: have fun; number eight: breathe."

---
A devoted family man. An anxious workaholic. A selfless caretaker. The Perez Hilton I'm in bed with today doesn't align with the notorious mid-aughts Perez Hilton I've followed for years. But there are relics of the past decorating his home: covering every inch of the walls are pop art portraits of Perez, photos of Perez with A-Listers like Oprah and Madonna, and framed records gifted by some of music's biggest names: Justin Bieber, the Jonas Brothers, Adele, Taylor Swift, and Lady Gaga (more on that later). His most prized possession, he tells me, is Amy Winehouse's Back to Black record, personally signed by the late icon: "To Perez, Love Amy."
There was a time when these musicians needed Perez's support in order to get ahead in the music industry. At Katy Perry's One of the Boys 2008 record release party, designed to look like a campy carnival, the pop star invited Perez to be the night's ringleader. ("She was going to be dropped by her label, and then I got really behind her before her album was released.") He famously supported Gaga long before her career-making The Fame debut, and he later attended the 2009 VMA's as her date. Perez even appeared in Rihanna's 2010 "S&M" music video, directed by Melina Matsoukas, in which the bad gal walked him like a leashed pet and bound him in a BDSM dungeon.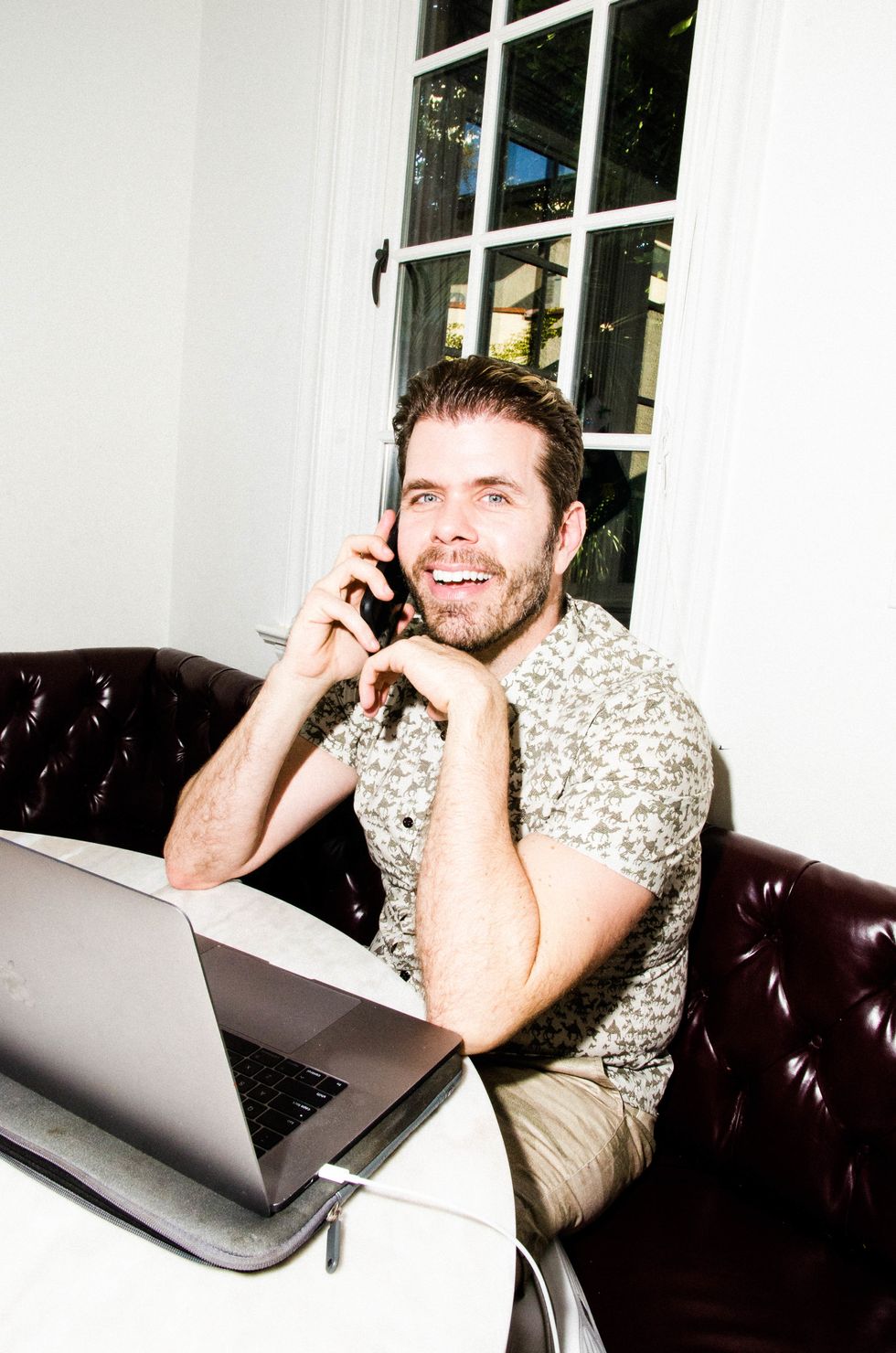 At any given birthday party, Perez's guest list would bring about a bizarre concoction of celebrity, from D-List to A-List. He refers to one particular photo taken in 2007 as "one of the most iconic photos from the aughts," featuring him alongside Paris Hilton, Kelly Osbourne, and Amy Winehouse. With electric blue, asymmetrical hair and matching glittery eye makeup, Perez sat at the very intersection of fame — a "reserved" table where he felt most comfortable at the time. Other parties over the years attracted names like Selena Gomez, Kim Kardashian, Christina Aguilera, Amanda Bynes, Heidi Montag, and John Stamos (?), featuring live performances from acts including the Pussycat Dolls.
"I've made a conscious effort to change my thinking about my relationship with celebrities," says when I ask if he's still close with any of the artists that decorate his home. "Whether it's Katy Perry or Lady Gaga or Adele or Justin Bieber, there's always an element of, 'I'm using them or they're using me, or we're using each other.' And I don't know if that's a real friendship. There came a point where Katy Perry became KATY PERRY, all caps, and just by nature of what I do for a living, it's a lot more difficult to have a relationship with her. Adele and I used to be friends, but we're not anymore. We're friendly, but I'm not texting her like I used to."
---
Not all of his friendships dissolved so amicably; Perez's fiery feud with Gaga is perhaps his most public and still affects his relationship with devoted Little Monsters today. "In 2010-2011, Lady Gaga was what Madonna was in the '80s — she was that hot," Perez says. "She no longer works with or is friends with anybody from that era: Matthew Williams and Laurieann Gibson; her former manager, Troy Carter; her former A&R guy, Martin Kierszenbaum; her former label head, Vincent Herbert. They're all gone from the picture, as am I. For a long time she was just using me until she didn't need me anymore, and then she kicked me in the nuts, spit in my face and threw me out the door." I assume he's speaking figuratively, but that imagery does seem like something that'd happen in any Gaga video.
"Did I play a role in a lot of negativity then? Of course. But I've realized the power and importance of words."
The impetus for the downfall of their relationship was when Perez filmed a UK TV special, following Gaga around Australia where she was performing songs off Born This Way. Perez says her team was working the pop star "to the bone then, so she was probably very tired and jet-lagged." While they were shooting, Gaga started mixing Jameson and wine — a lethal combination when you're overworked and exhausted. "I'm not Diane Sawyer or Barbara Walters, it didn't occur to me to suggest cutting her off," Perez says. "So she kept drinking, and there was a point when I asked her about her boyfriend, and that set her off. She refused to continue with the interview and then refused to do anymore filming. I had to beg and plead, like 'Please! I'm sorry! I wasn't trying to make you look bad!' The way she treated me was no way to treat a friend."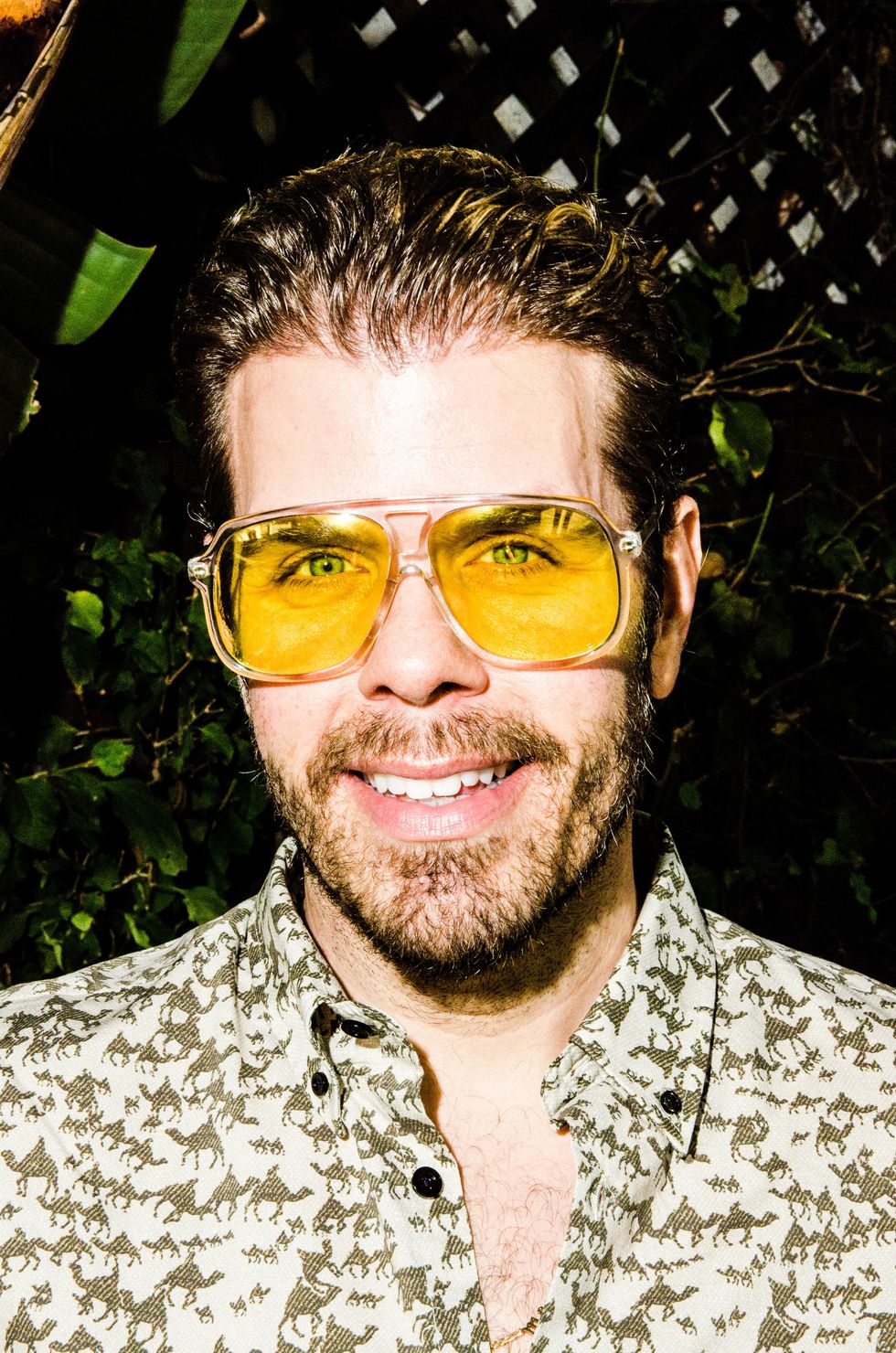 Everything reached a catastrophic peak when several fans spotted Perez looking for apartments in the same New York City building where Gaga was living a few years later. "Stay away from me + my family," Gaga tweeted in all caps. "You are sick trying to rent an apartment in my building to stalk me. Leave me alone!" She alleged that she saved every "psychotic text" Perez ever sent her, and called for security to remove him immediately. And all this unraveled online in front of millions.
"That was bullshit!" Perez exclaims, when I ask about the incident. "I was looking at a bunch of buildings because I had moved to New York and I was staying at a furnished rental long-term, short-term housing situation. That was one of the many places that I looked at. How was I supposed to know where Lady Gaga is? I'm not stalking her, I don't need to stalk her! In fact, her living in that building would make me not want to live in that building."
---
As someone who's been both the fire starter and caught in the fire of drama, Perez has a different outlook on celebrity reporting today than he did when his site first launched. I ask him point blank if he thinks he was "helpful or harmful" to the subjects he wrote about in the mid-aughts, especially as we sit surrounded by the wealth he created from their tumultuous stories. "I changed how I operate because there came a point when I did not feel comfortable with myself anymore, and what I was doing and how I was doing it," he admits. "It became too nasty and mean. I was trying to get a reaction out of the celebrities and my readers. Did I play a role in a lot of negativity then? Of course. But I've realized the power and importance of words."
"I'm trying to do better, I'm not perfect, I still make mistakes, and I'm a constant work in progress."
Specifically, Perez attributes this shift to a moment in September 2010, when Tyler Clementi, a gay Rutgers University student, jumped off the George Washington Bridge after his roommate secretly videotaped him kissing another man in their dorm room. The same month Clementi died, four other American teenagers were reported to have committed suicide after being bullied for their sexuality — a harrowing increase in LGBTQ suicides that caught the attention of journalist Dan Savage, who created the viral "It Gets Better" Project. Perez was among the first influencers to submit a video for Savage's project, and the public's response "shook him to his core," he says.
"I thought I was doing something positive, but the majority of comments were telling me that I was a hypocrite, a bully, and part of the problem. How dare I make an 'It Gets Better' video?" Perez says. For a while, he admits to having a Dr. Jekyll and Mr. Hyde approach to his career, separating Perez Hilton from Mario Lavandeira. But this made him realize, "I need to stop hiding behind the character of Perez. I need to change how I operate and share my true self with people. It's not like I reinvented the wheel when I made a change, I just put new rims on it."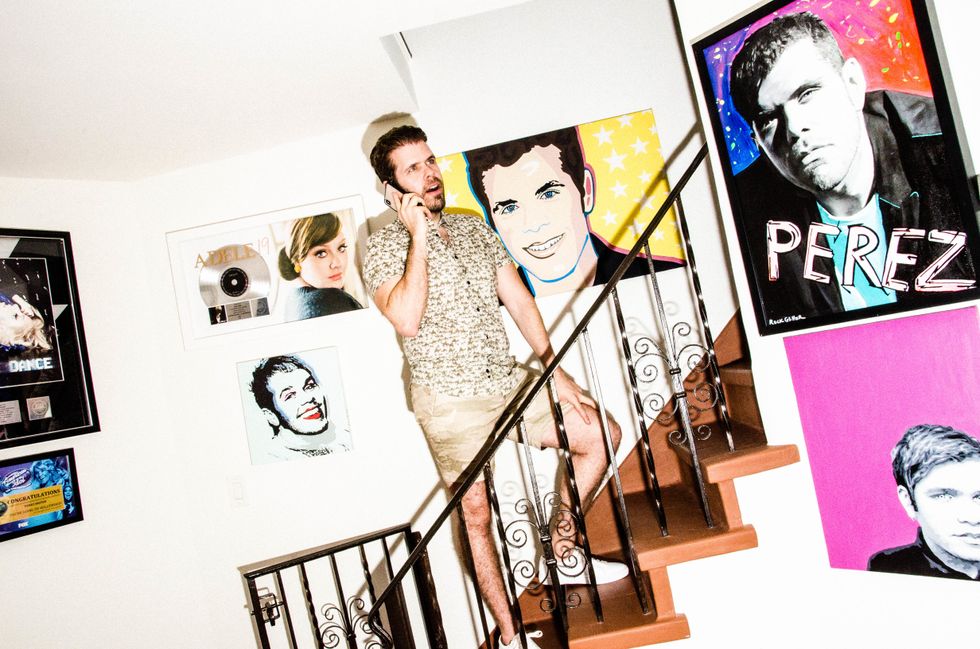 In many ways, today's newly mature Perez mirrors the lives of the women he was originally blogging about. "I'm like a female in Hollywood," he says. "I'm no longer an 'it' girl." Back then, Nicole Richie was getting arrested and photographed spilling out of clubs, and now she's a married mother of two; Paris Hilton was similarly wrestling with a party girl image, and now she's a completely untouchable mogul. "Paris is not a hot mess, anymore, " Perez says. "She grew up... Lindsay [Lohan] is still a hot mess, but I have a soft spot in my heart for her. We came up together, and she gave me so much material. We were friends, I'll still talk to her every once and awhile."
On the path to cleaning up his act, Perez admits he lost himself, focused too much on Oprah's model and constantly asking himself, "(WWOD) What Would Oprah Do?" He directs my attention to a photo of him and Oprah together at her NYC LifeClass with Deepak Chopra. "I'm an 'O'-theist," he says, proudly. But the shift was far too extreme, and ultimately felt inauthentic. Today, Sharon Osbourne is more of Perez's inspiration — positive intentions, with a polarizing bite. "Sharon is unapologetically herself, and isn't afraid to speak her mind," he says. "Like Rosie O'Donnell, a lot of people don't care for Sharon, but a lot of people do, also. I don't need to be liked. I also unlike a lot of people. I don't shy away from negative attention. The only bad press is no press." He laughs.
There have been some concrete updates in the way PerezHilton.com is managed. First, Perez now pays for all his photos ("I got a lot of lawsuits back in the day.") He no longer draws dicks on faces or gives people nasty nicknames. The site has a strict "No Kids" policy, unless a celebrity has already shared photos of their children on social media. There's no publishing nip slips or leaking sex tapes, anymore. "Like the Maya Angelou quote, 'When you know better, you do better,'" Perez says. "I'm trying to do better, I'm not perfect, I still make mistakes, and I'm a constant work in progress. But you you know what? We all are."
---
Toward the end of our conversation, we move from the bed to the floor so I can charge my phone. I tell Perez the recorder will pick up his voice from across the room, but he insists on sitting right next to it cross-legged, staying silent until I press record again. "All good?" he asks, waiting for my OK to then light up and subtly transform from Mario to Perez. The self-proclaimed "Queen of All Media," he knows this game all too well, as someone who's been on the interviewer and interviewee side many times before.
When we're done, Perez ushers me out of his bedroom and straight through the living room towards the front entrance. He stops at a framed photo of him with Madonna, centered on his living room console. Much like Oprah and Sharon Osbourne, the 60-year-old pop legend is someone Perez has looked up to his entire life, and has similarly shape-shifted her way through decades of industry competition to remain relevant today. "I'm so happy to know — and this is going to piss off a lot of people — I'm always going to have a career," Perez tells me, both as a warning to the public and a celebration of his undeniable staying power.