We would follow fashion designer Peggy Noland pretty much anywhere. Along with the rest of the world, we first noticed her pop-art meets pop-star aesthetic via the crazy catsuits she designed for Lovefoxxx of the band CSS. Then, we kept on noticing: her designs for The Gossip's "Men In Love" video, her brilliant, 2010 basketball-inspired collection (presented, natch, on a basketball court, in New York,) her perfectly colorful costumes for SSION's MoMA PS1 extravaganza last year, etc. After corresponding online for a few years, we finally met this Kansas City-based gal in person at her pop-up shop at New York's The Hole gallery a couple of years ago, and it wasn't entirely a surprise to discover that her own appearance is just as awesomely cute and weird as her designs. So when we ran into her again a few weeks ago, at the Hole's art fair bash in LA , we followed up and asked how long she'd be in town. As it turns out, she now lives in LA part-time, though she still maintains her eponymous boutique in KC. Being such a unique soul, we figured she'd have an equally unique take on the city, so we asked her to give Paper a tour of some of her favorite LA spots, no holds barred. Lucky for us, she obliged.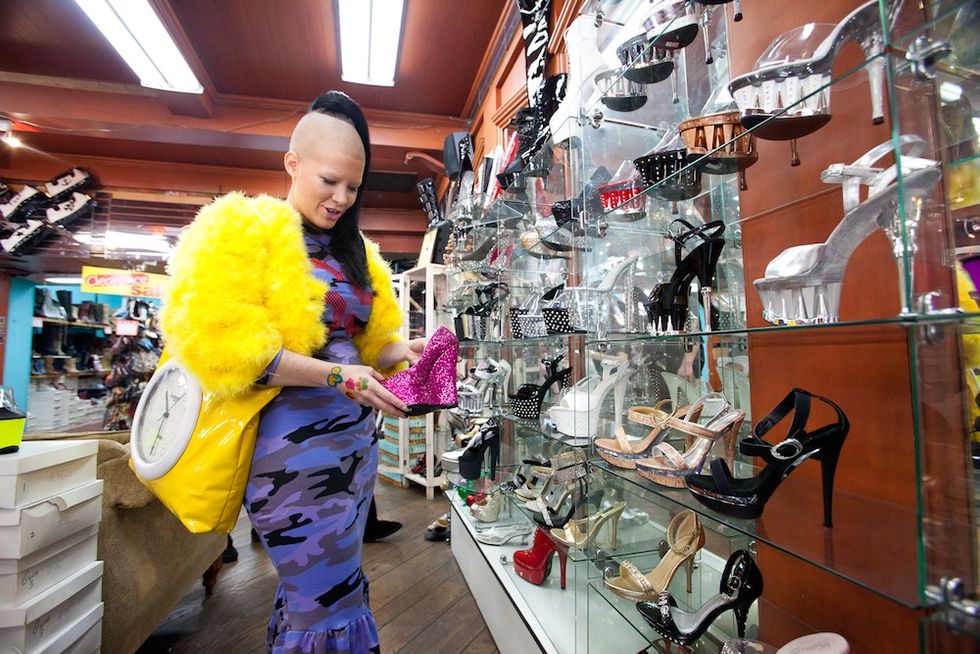 View image full-size

First stop -- the stripper shoe store on Hollywood Boulevard. This place has all you need for looking good while you're taking your clothes off (to put yourself through college, of course). The real thing I love about this place is the $10 section in the back. It has the bad (and I mean like Michael Jackson 'Bad') stuff. Careful, though -- these are actually the shoes that every street walker on Hollywood Boulevard has tried on and decided against. Wash your feet when you leave!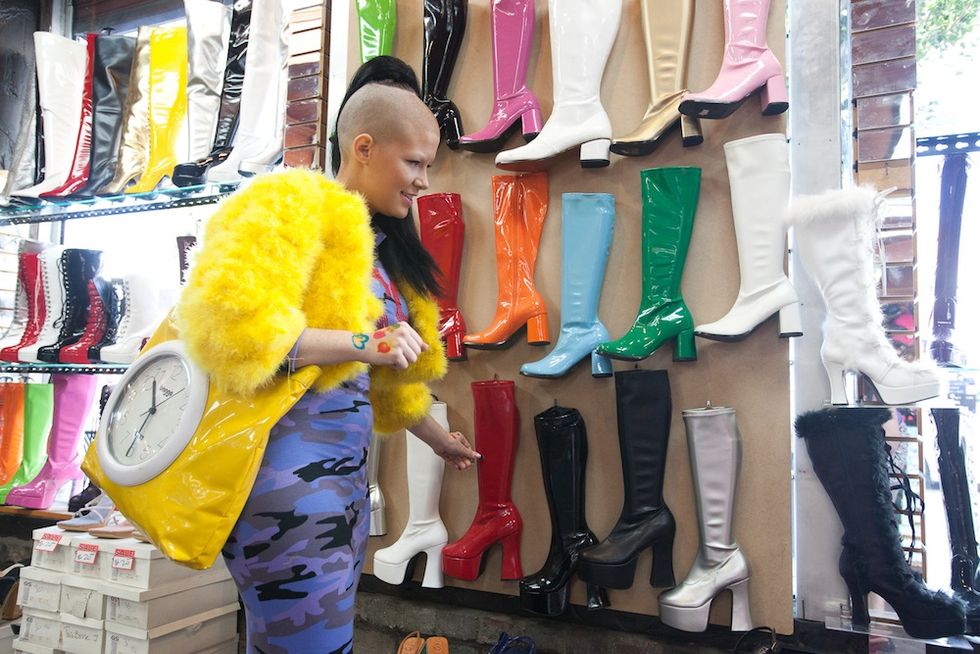 View image full-size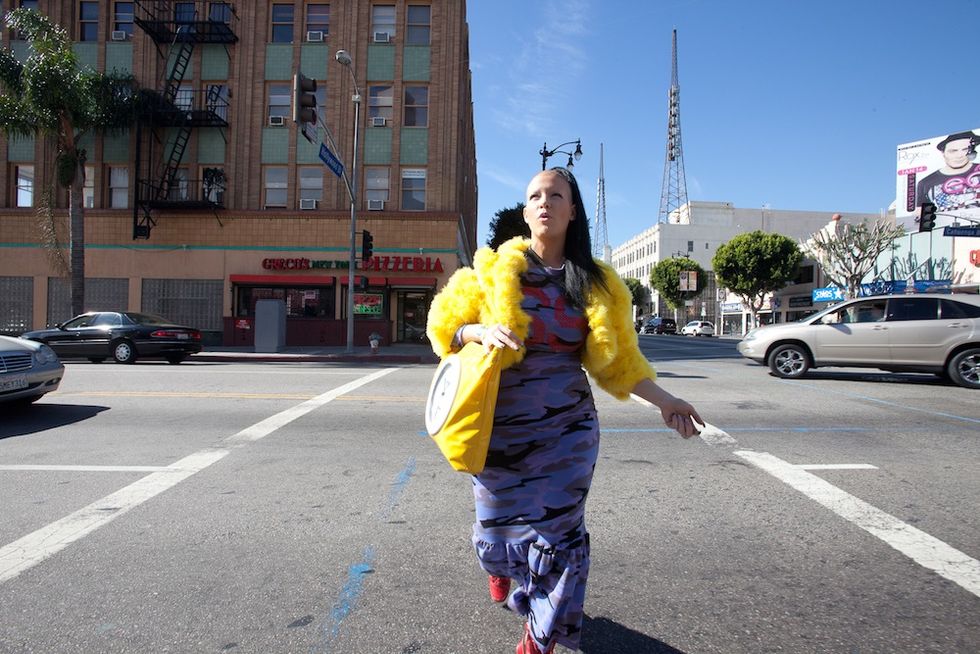 View image full-size

Walk a few block to the Museum of Death! Is that a homeless man in the palm tree behind me or Johnny Depp researching a new role?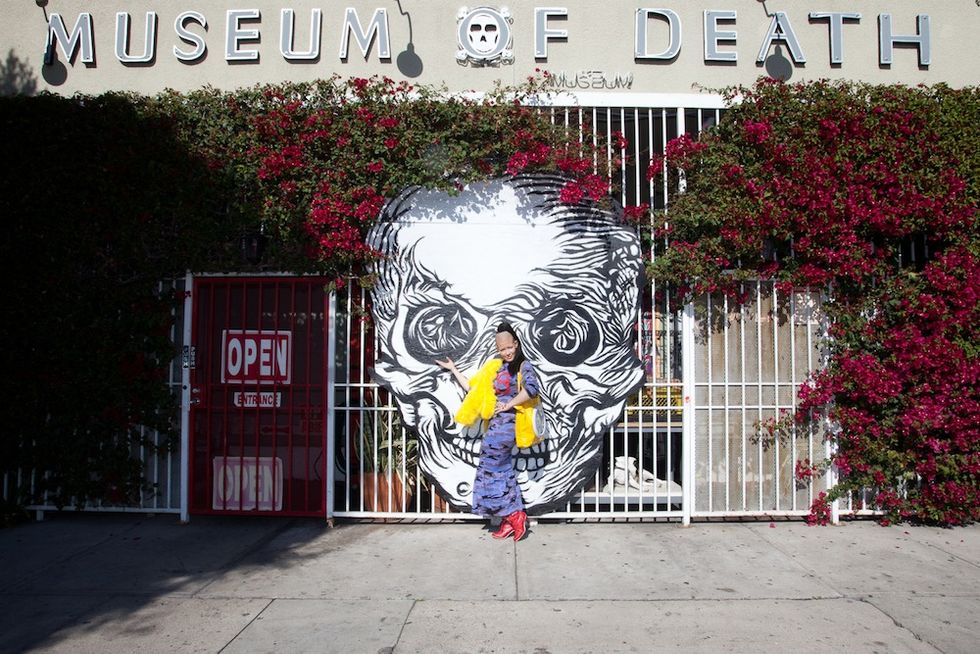 View image full-size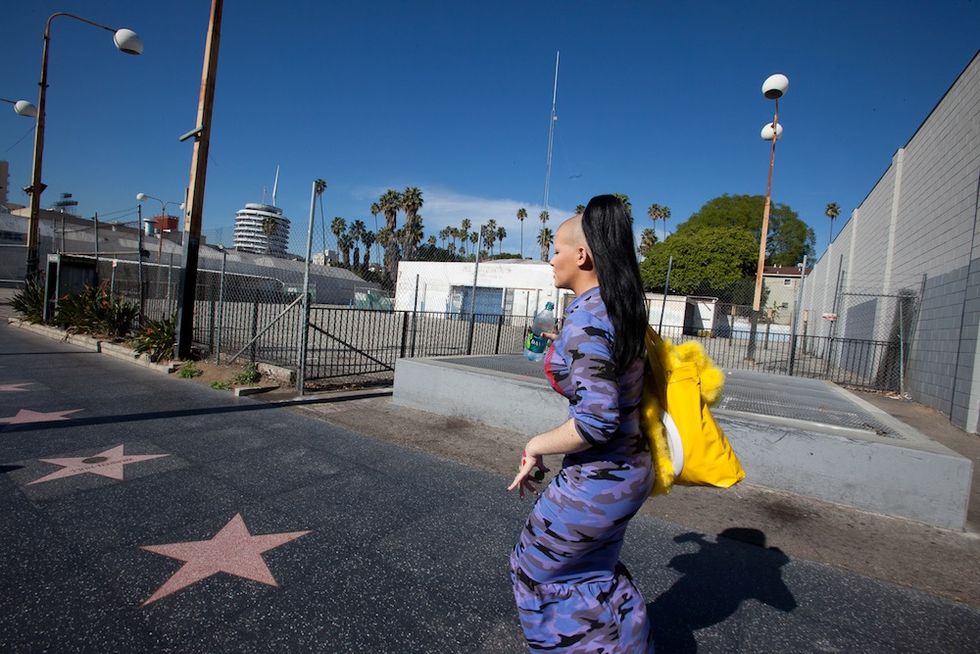 View image full-size

Lassie has a star on the Blvd!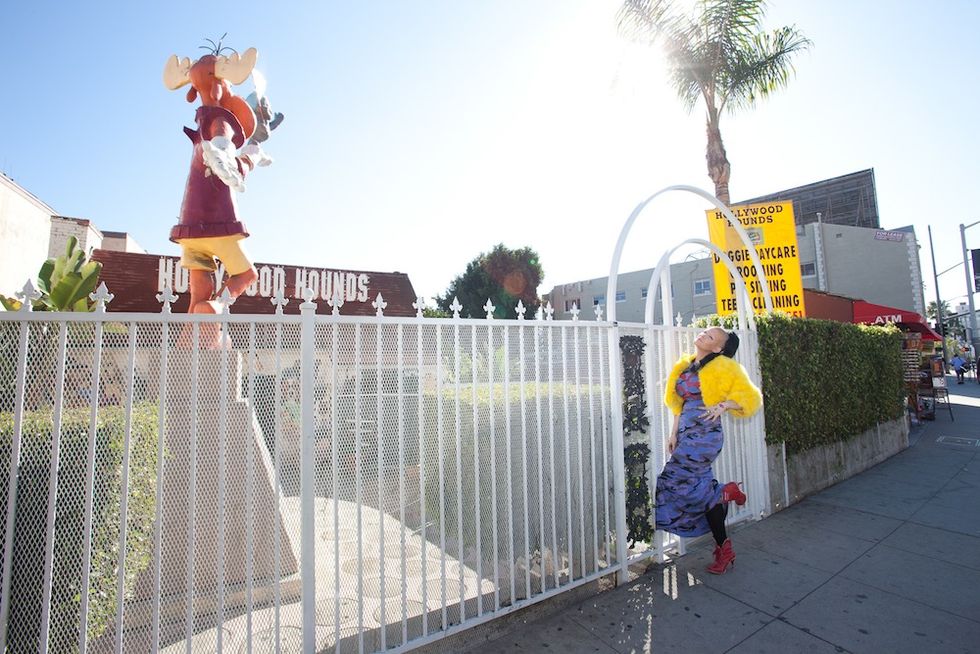 View image full-size

See that big ol' Bullwinkle statue behind me? He's CUTE! This is the gate outside Hollywood Hounds doggy daycare, which was closed when we went. If I had a dog, I'd name it Puggy Noland and drop him off here everyone morning on my way to Cher's house to watch Good Day LA and talk about Jillian Reynolds' outfits.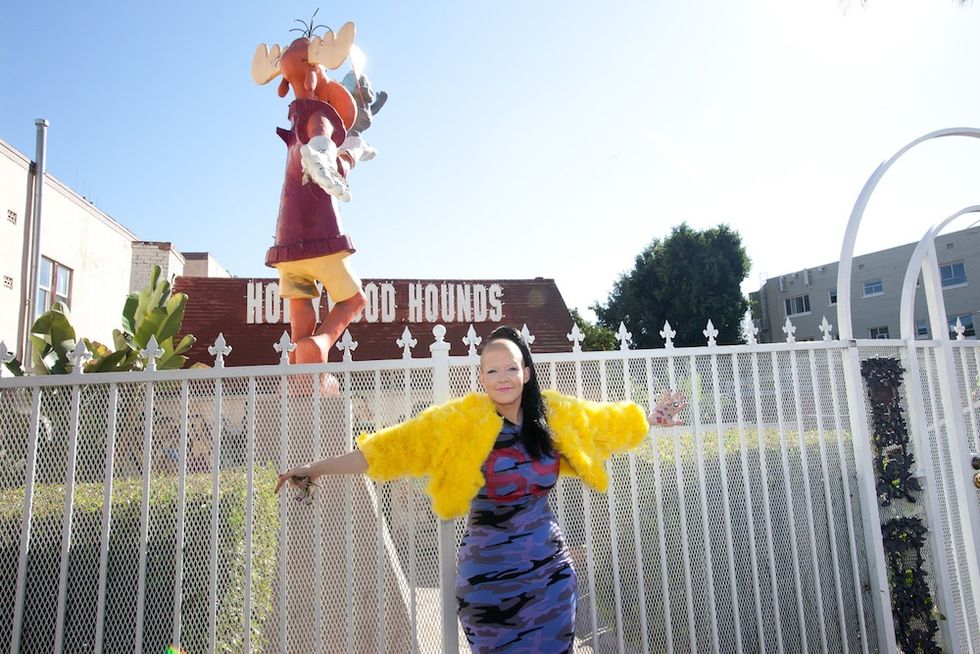 View image full-size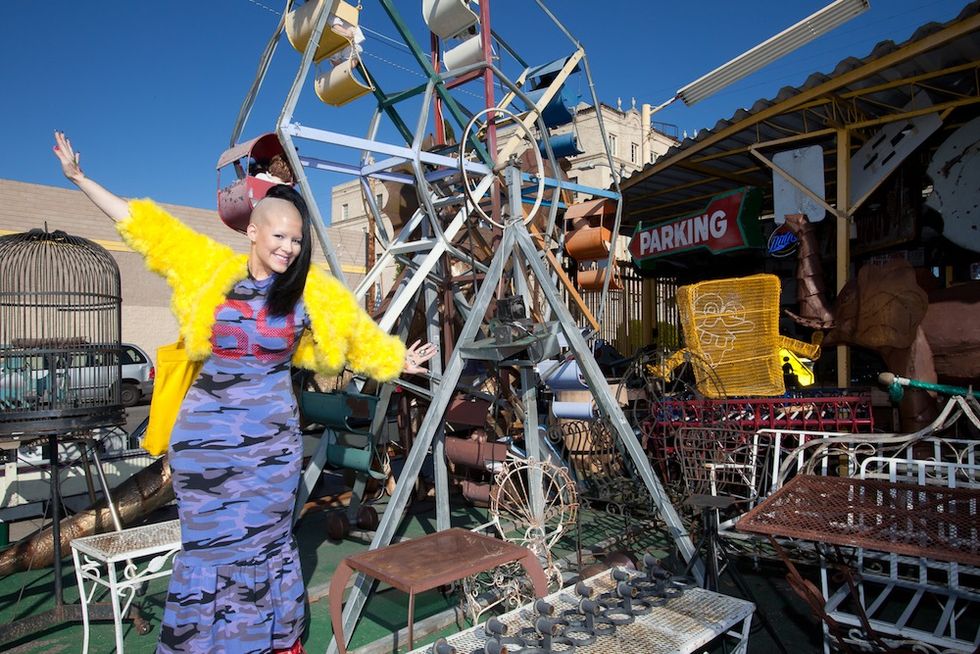 View image full-size

At Nick Metropolis Collectibles. Are you kidding me? This makes me wish I hadn't blown all my moola on a purple corvette and saved some change for the life-sized fiberglass cow up front, or the lil' Hollywood sign. I guess I'll have to settle for the Sponge Bob wire thing in the background.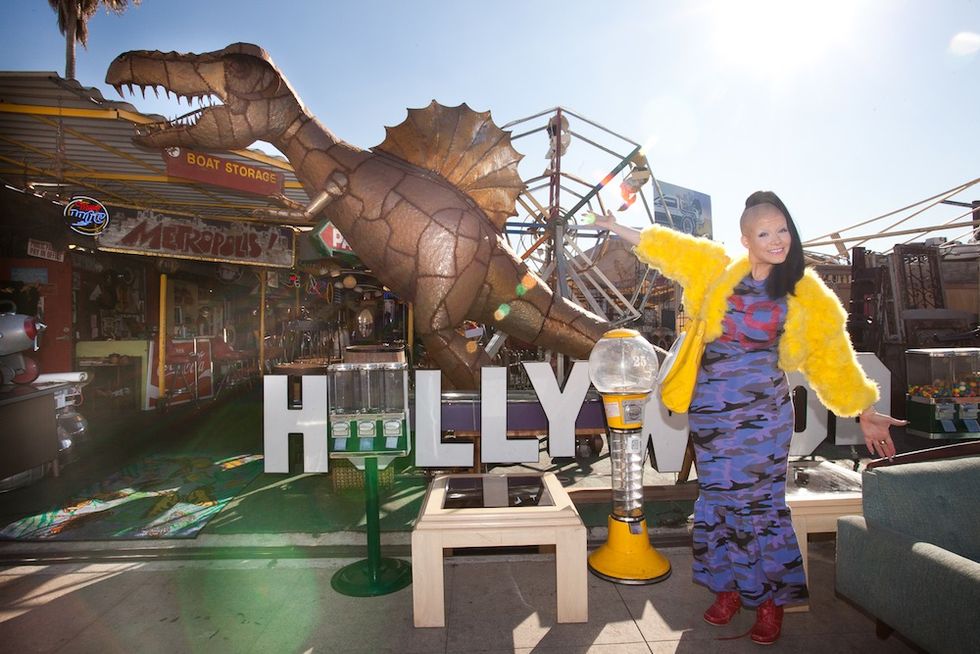 View image full-size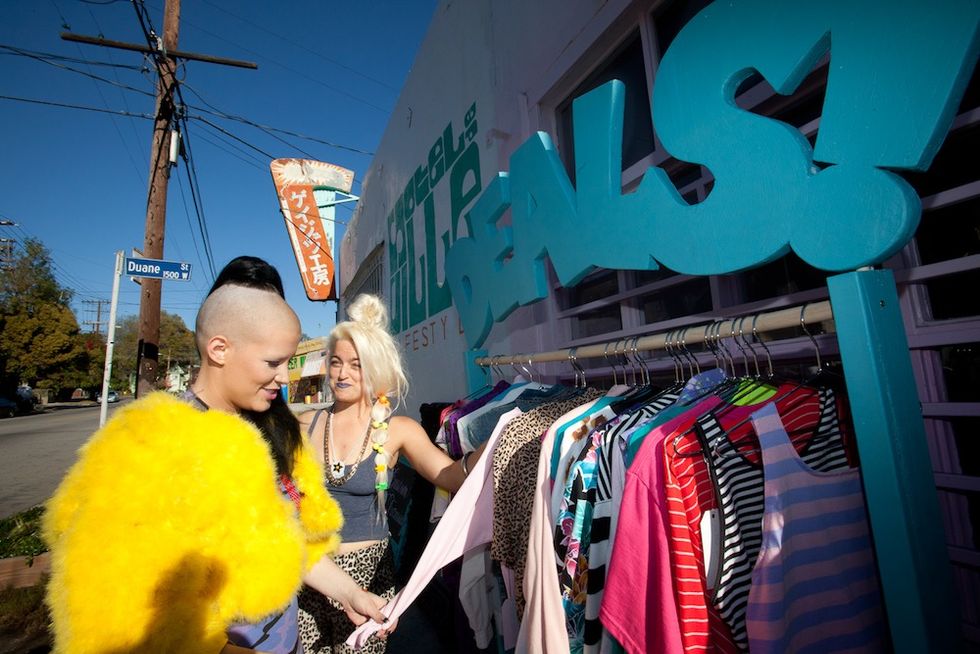 View image full-size

MY GIRLS! Christine and Anna from The Dog Show boutique are the type of women who a lot of people like to assume doesn't really exist: They're beautiful, ambitious and do it all themselves. I met Christine while teaching at the Kansas City Art Institute, from there she interned for me at my shop in Kansas City, and I have an amazing store facade to show for it. What happens when the people you tried to inspire end up inspiring you?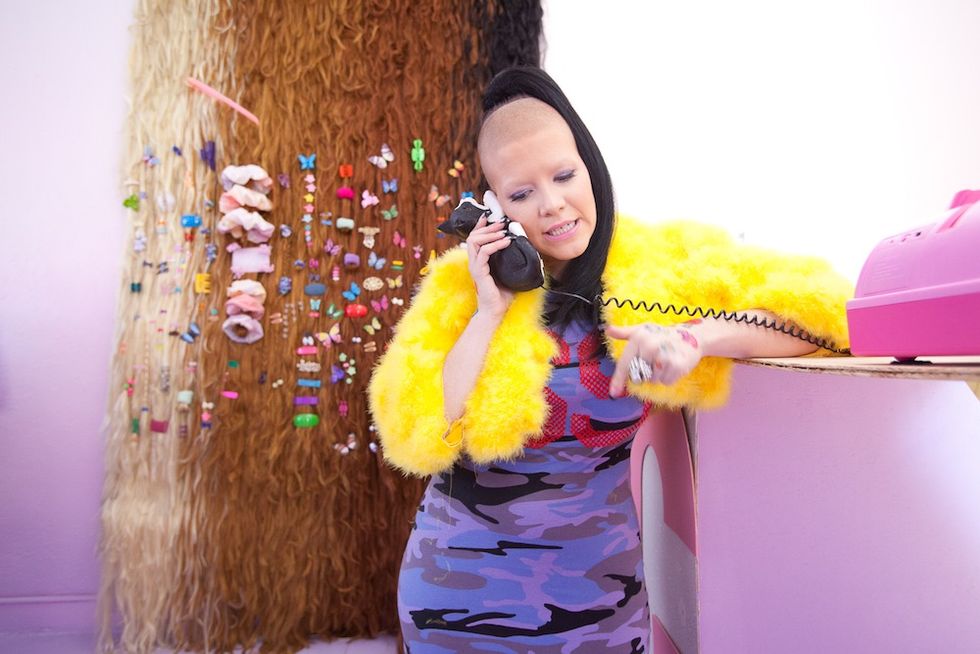 View image full-size

Had to stop to take care of some business on the cat phone! Buy buy buy, sell sell sell!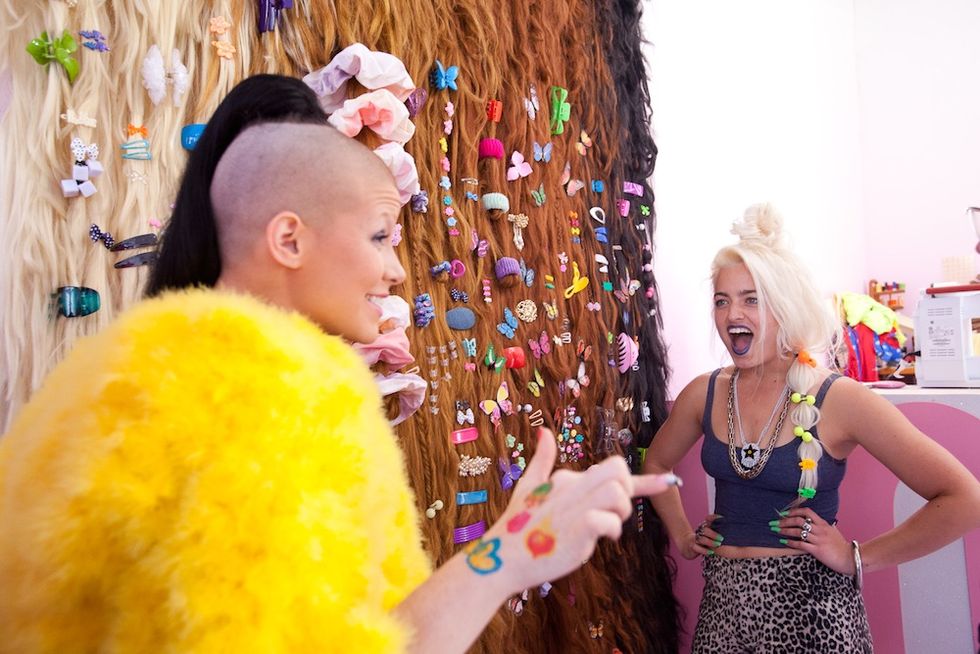 View image full-size

Gossiping by the hair wall! Telling these girls how to run a clothing bus-i-nass!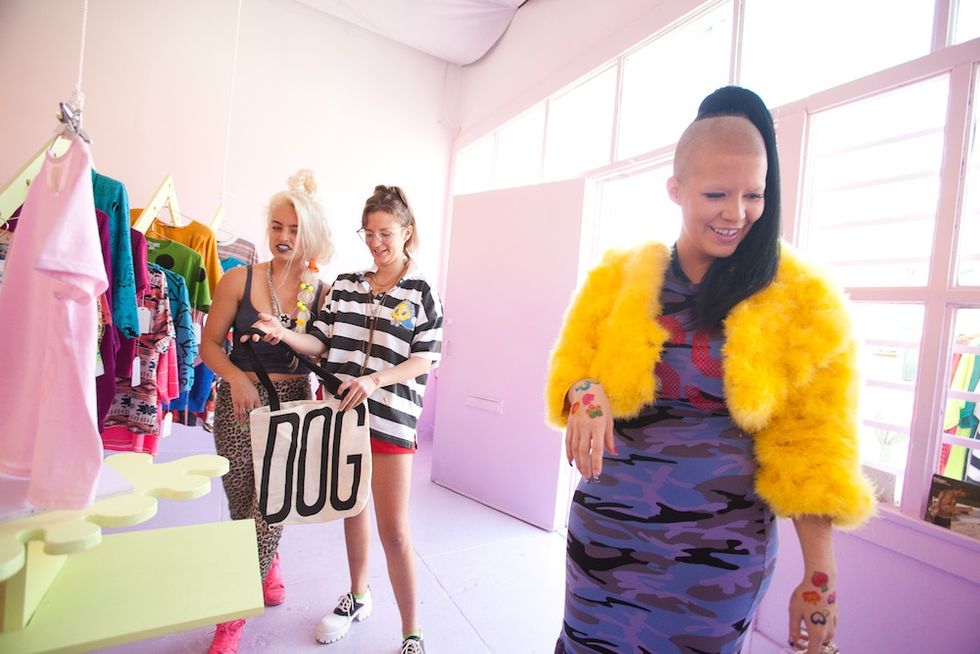 View image full-size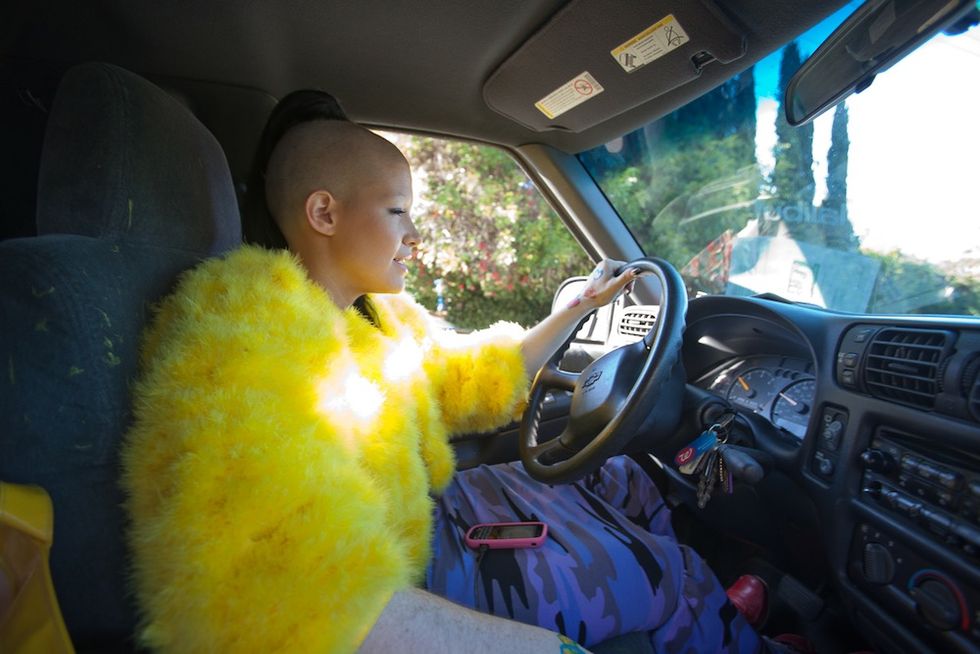 View image full-size

The purple corvette is in the shop ;) So I am driving this 2000 Chevy Blazer around! Whoops! Look at all the feathers on my seat. Big Bird loaned me his summer look.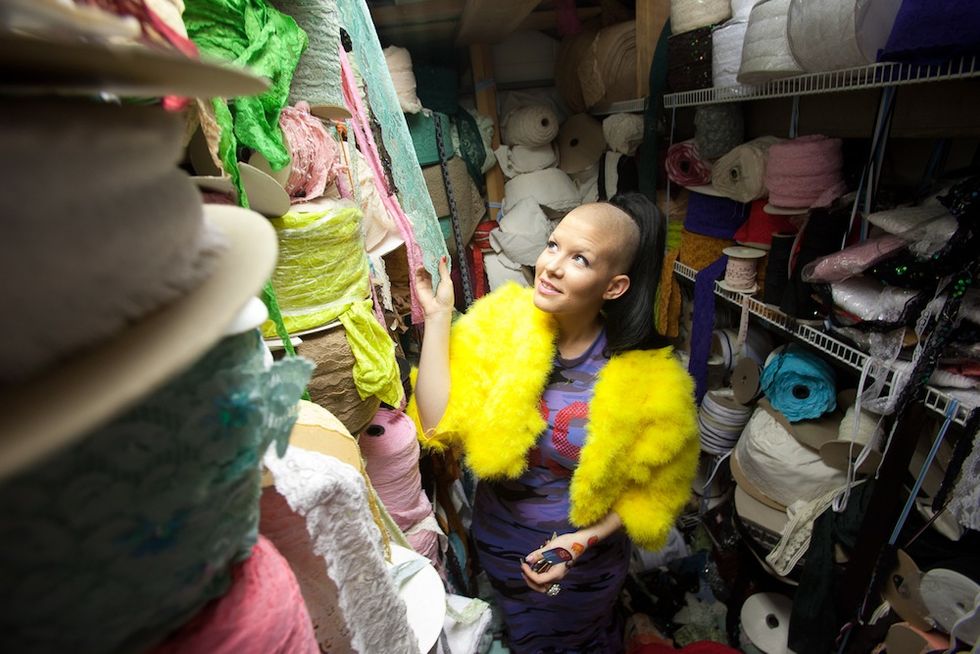 View image full-size

When I first got to L.A. and started shopping in the fabric district, I was kinda pissed that I had been going to Jo-Ann Fabrics twice a day when I could have walked into these little closets where everything is a dollar. Need 10 yards of purple camoflauge? One Dollar. Need 20 strands of yellow Maribou feathers? One Dollar.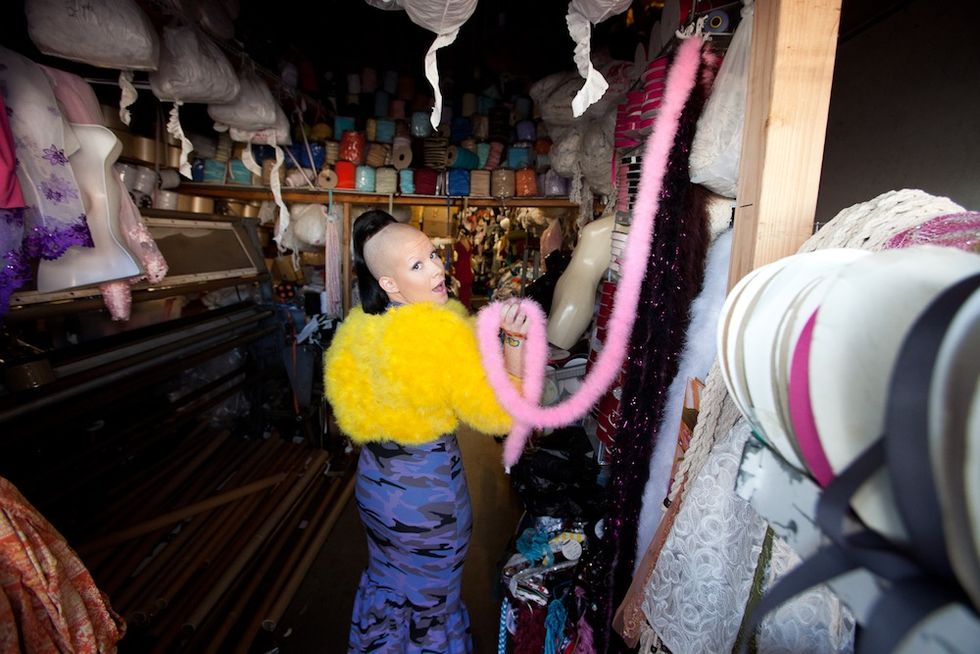 View image full-size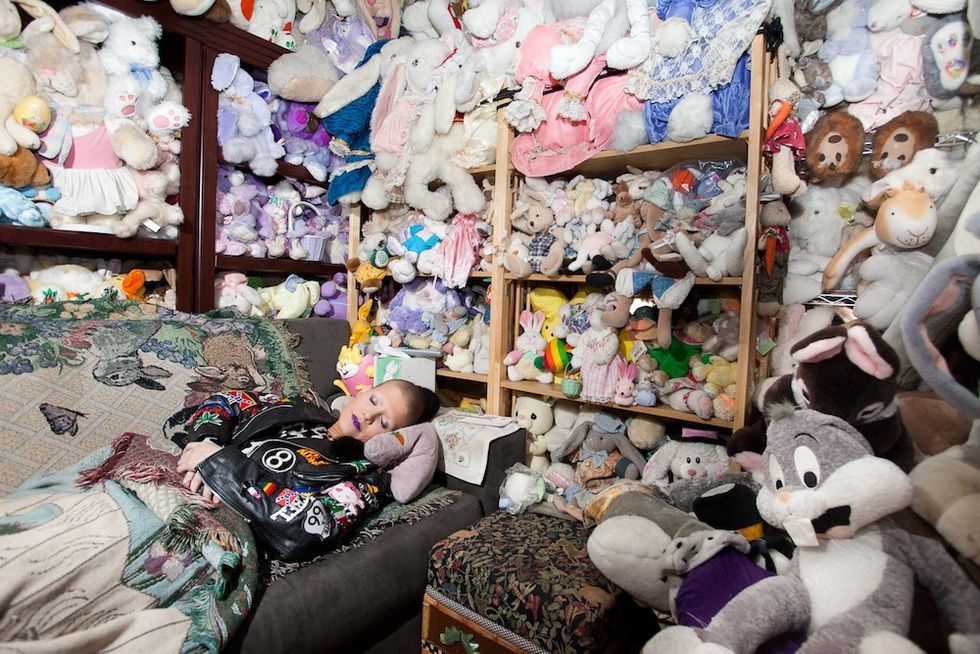 View image full-size

There is a lot for a midwest girl to do in the Big City. I was feeling the need to take a nap/watch cable while out running errands. Where better than the Bunny Museum?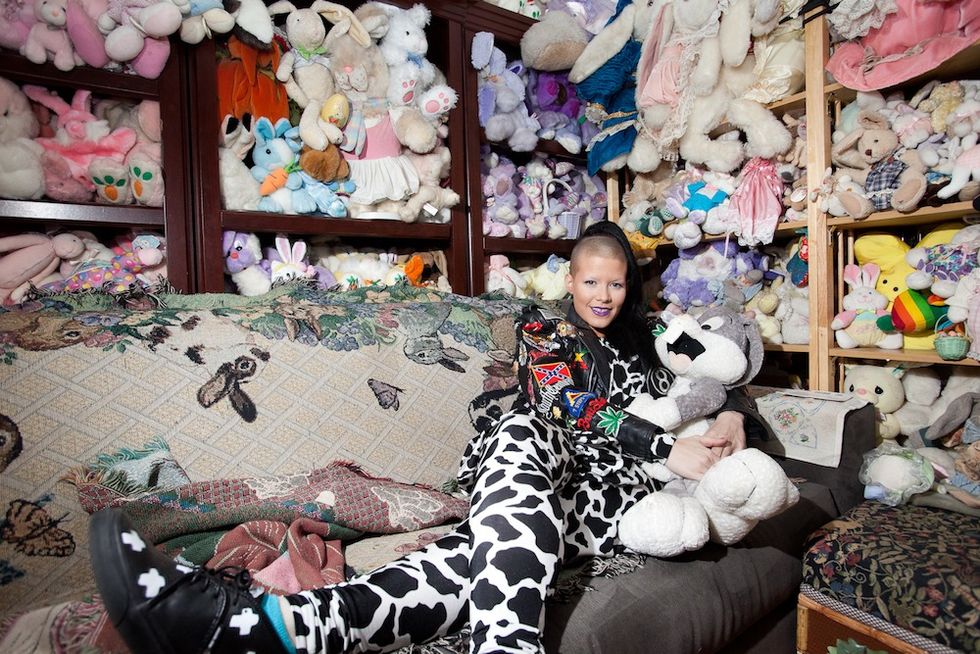 View image full-size

I thought I was dreaming, but this Bugs is real ... and  really trying to get fresh on the couch! Bugs! Looks how many eyes we have on us!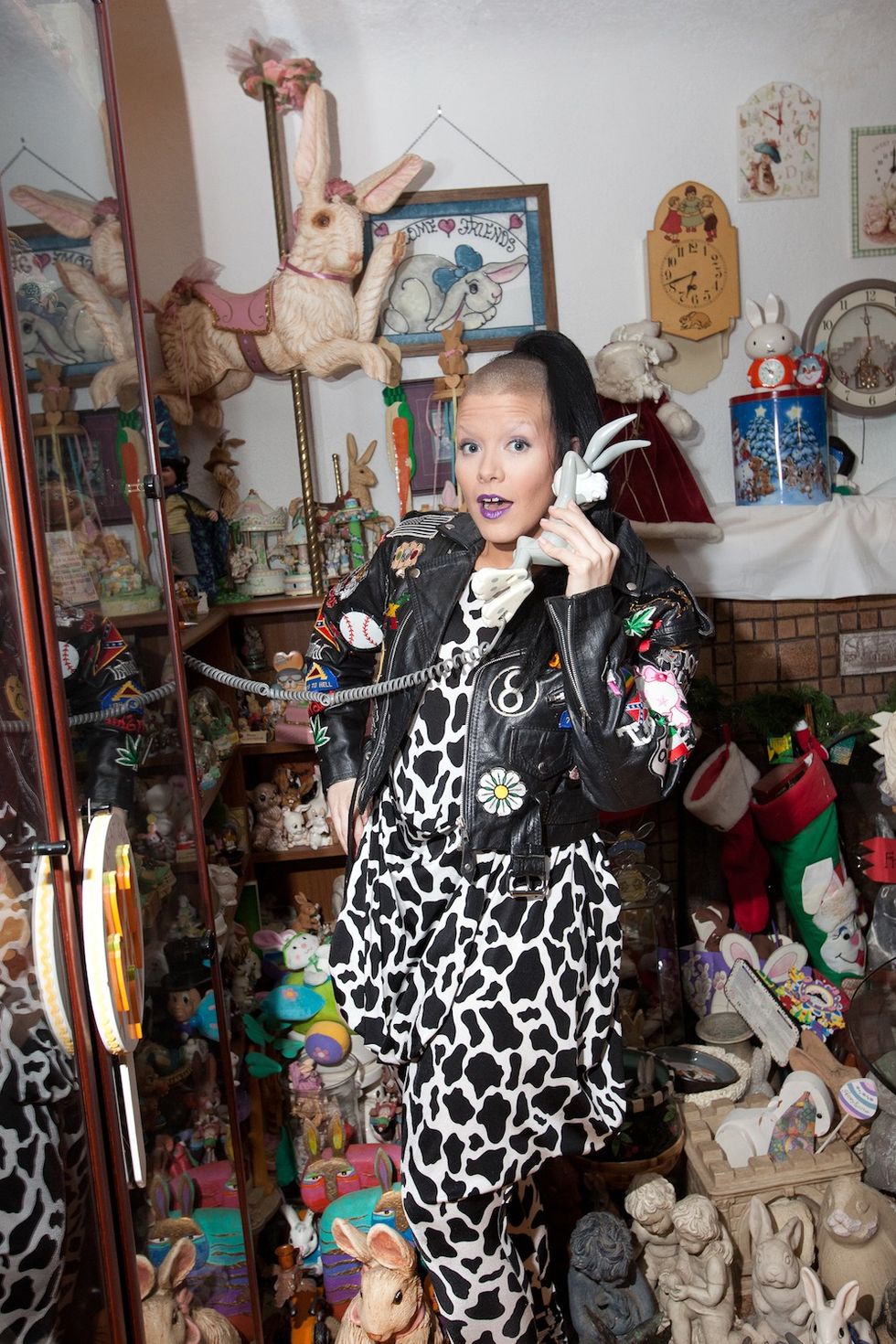 View image full-size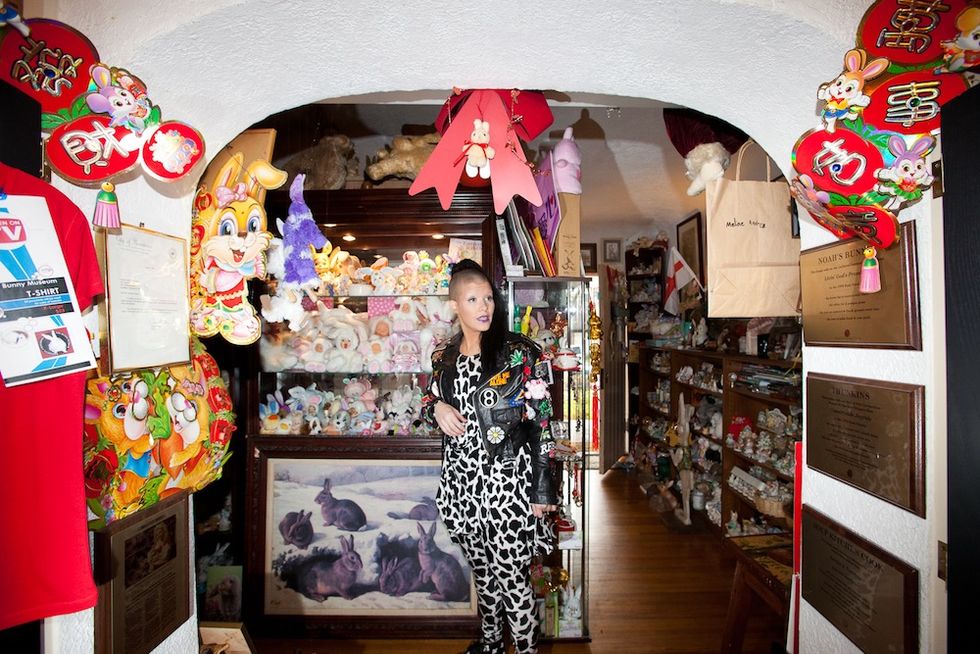 View image full-size

The Bunny Museum is cool, but check out that brown paper sack! Wow.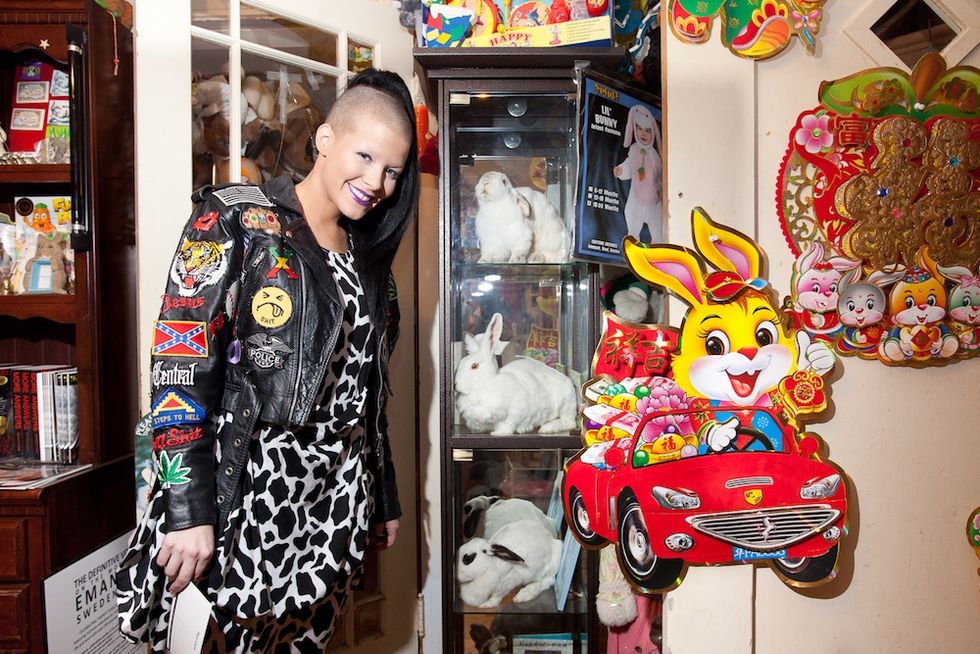 View image full-size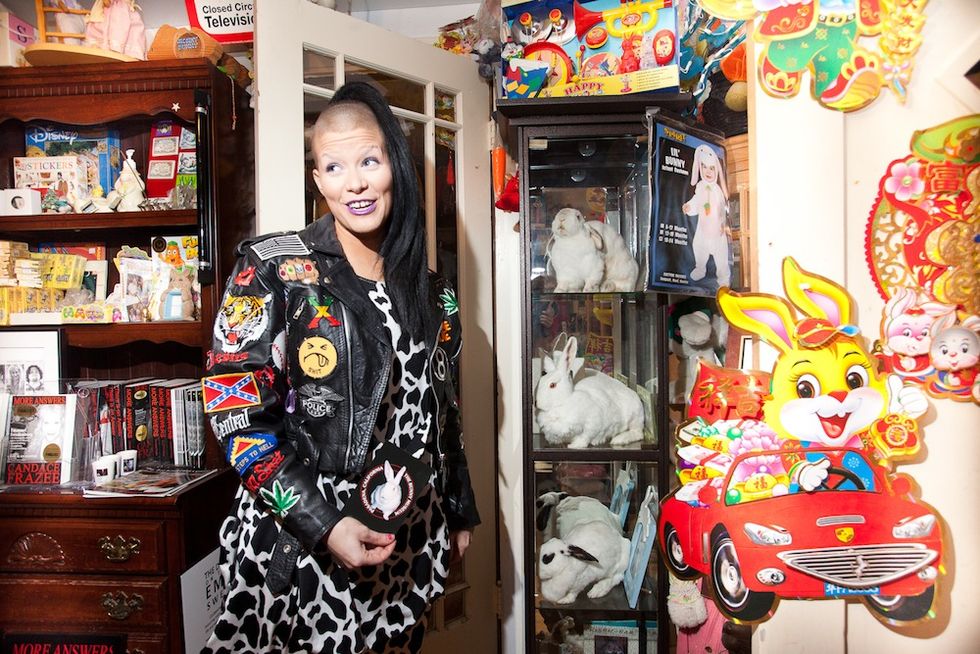 View image full-size

The Bunny mama is explaining to me that these are all her past bunny pets, freeze-dried.