Back in our September issue, we featured a conversation between Chelsea Manning and a host of artists and privacy activists, for which we commissioned a 2D printed portrait from artist Heather Dewey-Hagborg of the incarcerated Manning. And now a 3D life size version of the portrait will be featured as part of an exhibition curated by London's famed Victoria & Albert Museum at teh World Economic Forum at Davos this weekend, which we could not be more thrilled about.
These portraits made from Chelsea Manning's DNA, by @hdeweyh are now shown for the first time at @wef @V_and_A pic.twitter.com/kJ4XSdNeoi
— Mariana Pestana (@marianapestana_) January 20, 2016
Aptly dubbed "Radical Love", the portrait mask was generated from samples of Manning's DNA using a technique called "forensic DNA phenotyping," which was chosen in an attempt to mirror her own questions surrounding government transparency -- especially seeing as how forensic DNA phenotyping to generate likenesses of suspects has become an increasingly common and extremely problematic police practice.
A part of This Time Tomorrow, a larger exhibition curated by Mariana Pestana for the World Economic Forum, the show attempts to highlight emerging technologies in art that "point towards possible futures and foster debate about its consequences", which is the perfect message to pair with an actual exhibition of "Radical Love." After all, what better way to continue to combat Manning's erasure from the general public and ideas around the gendered face, all whilst also utilizing a nascent technology that has the potential to erode privacy for the masses? Check out images of the mask below and be sure to catch the exhibit before it ends this Saturday, January 23rd.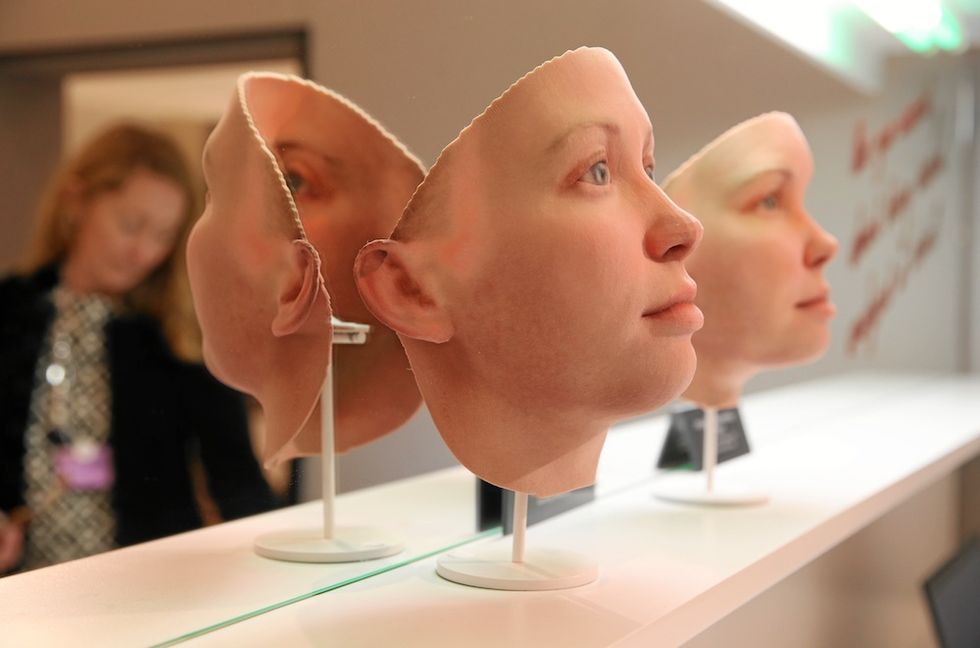 Photo courtesy of Heather Dewey-Hagborg