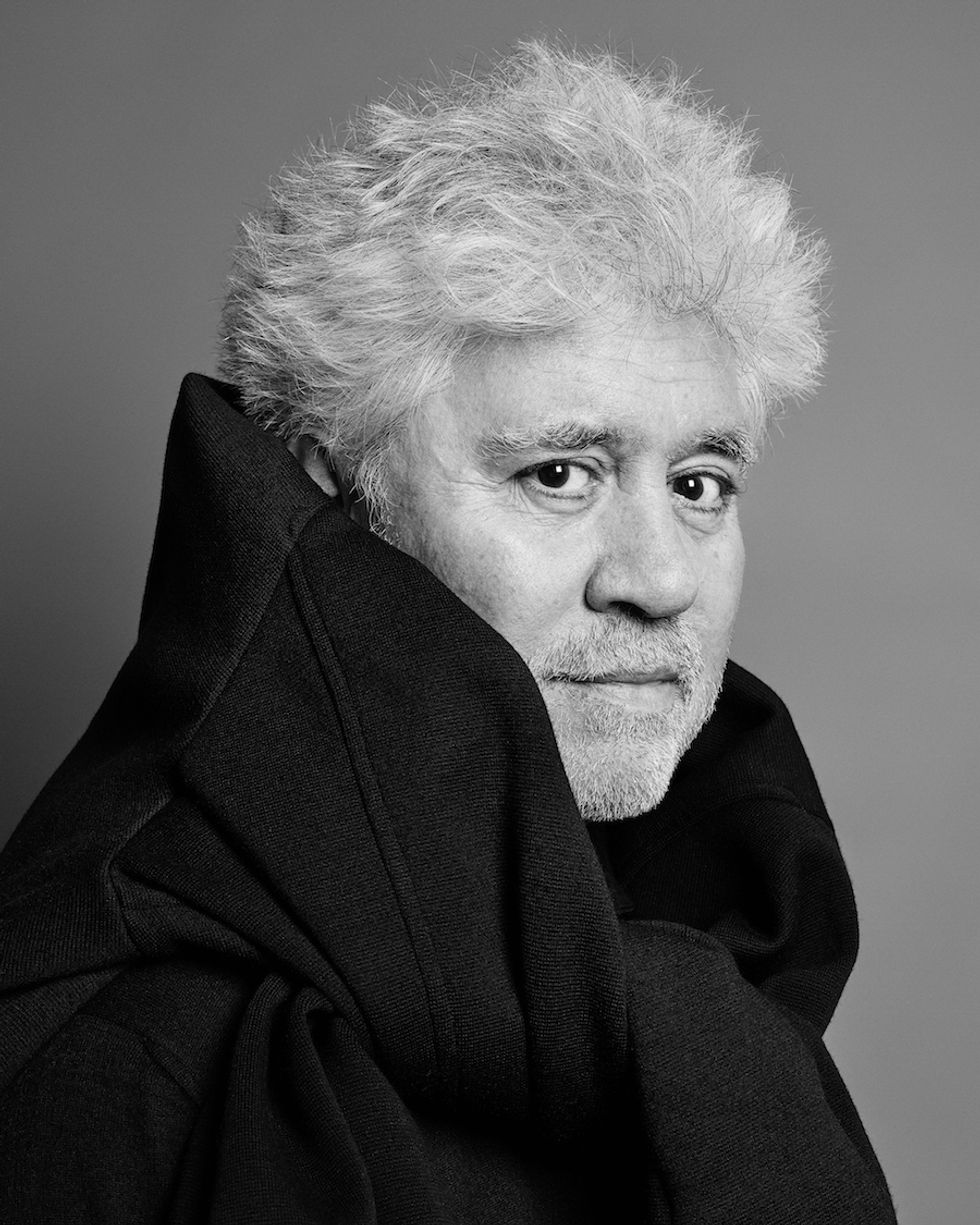 A feminist long before the word became clickbait, film director Pedro Almodóvar has spent his decades-long career telling the stories of powerful, complicated women. In the midst of a retrospective of his work at the MoMA, he talks to us about the power of nuns, mothers and his major new film Julieta.

They are cleavage-flashing, gun-wielding, fierce enough to fight bulls -- and for nearly four decades, audiences have fallen hard for them: Pedro Almodóvar's female protagonists. "I am a great admirer of women," says the Oscar-winning Spanish director, whose oeuvre brilliantly combines the camp of John Waters with the voyeuristic suspense of Alfred Hitchcock and is the subject of a major retrospective at the MoMA this month. "I actually believe the reason we've survived is that in moments of crisis, women take charge." And while the woman at the heart of his newest film, Julieta, isn't entirely unlike his other leading ladies, she exists in a film so strikingly different than anything Almodóvar has ever done -- a cinematic world devoid of drag queens, transgender twists, porn stars and psychotic plastic surgeons -- that it's almost impossible to draw comparisons. "It is a dark film," Almodóvar, 67, explains of the grief-stricken drama about the titular mother, who finds herself abandoned by her daughter. "But it is also a film full of light. Many of the most tragic moments in the film occur under some luminous situation." To experience Almodóvar speaking about the process of making this film, though, is to be at once overtaken by his own inner light.
You have used red as an important narrative element throughout your films. How do you experience color in your day-to-day life?

Some people are afraid of color; I embrace it in my life. My house is an experiment of colors. For me, one of my essential colors is red. Red is a color that I love very much, but it is a color that you have to be careful to use because it's a color with a capacity to transform or mutate the color that is right next to it. It's also a very good color for nighttime because it guides the spectator's gaze within a frame.
Your newest film begins with a red garment draped across Julieta.
It was very important in this movie to start with something red — something that looks like car paint, but you slowly discover that behind the fabric of the dress is a heart that is beating. I tried to send the most simple message, but also make it cinematic. This protagonist is going to experience everything important in life — love, she will create a life, she will suffer, she will be a victim — and red is wonderful to send a kind of subliminal message.
There is a breathtaking scene in the film where the younger Julieta, played by Adriana Ugarte, transitions seamlessly into the older Julieta, played by Emma Suarez, after a bath when the towel is lifted from her head. Why have two women play the protagonist?

The idea for this came immediately in the first draft — I knew I wanted Julieta divided into at least two actresses; I thought of using three but it felt too risky. I wanted the moment [when their timelines come together] to be simple, something that felt organic, because there are all kind of effects you can now use. In this instance, something like drying your hair with a towel so you don't catch a cold becomes an intimate transition for the audience. You never know what the result is going to be [with something like this]. There is actually this time period when you finish shooting and you really have no idea what film you've made — you don't know at all what kind of reaction it will create in the spectator. But I am so pleased you mention this sequence, because it is something people have said since the beginning touched them. And the entire movie could have fallen apart if that moment didn't work.
Pedro, Te Amo
A photographic love letter to the director inspired by his films
Photos by Jimmy Marble
Styling by Shirley Kurata
Starring: Love Bailey, Stevie DeFelice, Nadia Lee, Niia, Nico Tortorella and Manolo Vergara
Women on the Verge of a Nervous Breakdown, 1988: Starring Stevie DeFelice
On Stevie: Turtleneck and blazer by Norma Kamali, lipstick by Sephora Rouge Matte in 'Wanted'

Live Flesh, 1997: Starring Niia and Manolo Vergara
On Niia: Jacket by Marc Jacobs, sunglasses by Illesteva

On Manolo: Jacket by Coach, shirt by Giorgio Armani and sweater by Officine Générale
The Skin I Live In, 2011: Starring Stevie DeFelice and Nico Tortorella
On Nico: Suit by Emporio Armani, tie by Burberry and shoes by Dolce & Gabbana

Stevie appears in costume
Women on the Verge of a Nervous Breakdown, 1988 : Starring Stevie DeFelice and Love Bailey
On Stevie (left): Dress by Thom Browne, earrings by Dolce & Gabbana and shoes by Marc Jacobs

On Love (right): Coat by Michael Kors, shoes by Pedro Garcia and vintage earrings from The Way We Wore
The Flower of My Secret, 1995 : Starring Manolo Vergara and Stevie DeFelice
On Stevie: Dress by Prabal Gurung, shoes by Max Mara and earrings by Irene Neuwirth

On Manolo: Shirt by Polo Ralph Lauren

All About My Mother, 1999: Starring Niia and Nadia Lee
On Niia (left): Dress and jacket by Dior

On Nadia (right): Shirt, jacket and skirt by Valentino, earrings are vintage Chanel, lipstick by Sephora Collection Cream Lip Stain in 'Always Red' and nails by Chanel Le Vernis in 'Rouge Puissant'

Dark Habits, 1983: Starring Nadia Lee and Love Bailey
On Nadia (left): Dress by Stella McCartney, cuff and earrings by Irene Neuwirth, vintage bracelet from The Way We Wore and shoes by Nicholas Kirkwood

Love appears in costume
Women on the Verge of a Nervous Breakdown, 1988: Starring Stevie DeFelice
Top and skirt by Oscar de la Renta and bag (in shot) by Mulberry

​The Flower of My Secret, 1995 : Starring Manolo Vergara and Stevie DeFelice
On Stevie: Dress by Prabal Gurung, shoes by Max Mara and earrings by Irene Neuwirth

On Manolo: Shirt by Polo Ralph Lauren
Bad Education, 2004 Starring Nico Tortorella and Love Bailey
On Nico: Shirt and cardigan by Marc Jacobs, track pants by Adidas and slides by Tommy Hilfiger
On Love: Suit, shirt, earrings and shoes by Mulberry and ring by Delfina Delettrez
Women on the Verge of a Nervous Breakdown, 1988: Starring Stevie DeFelice and Manolo Vergara
On Stevie: Turtleneck and blazer by Norma Kamali, skirt by Opening Ceremony, shoes by Nicholas Kirkwood and lipstick by Sephora Rouge Matte in 'Wanted'
On Manolo: Suit and shirt by Giorgio Armani, tie and shoes by Dolce & Gabbana


How do you know when a muse has just walked into your life? Is there some unifying characteristic?
Yes, so… I do a lot of readings. At first my actors do a very spontaneous reading, and then we move forward with a little more guidance by me. But the moment that I actually know the actress will be the one is when there is something that she spontaneously understands about the character that I've written. The actress will go deeper and deeper into her character, until there comes a point when she inhabits the character to such a point that she does something that even surprises me as a writer. It's really a wonderful thing to experience.
For many of the great directors, Hitchcock being one example, I've read about actors asking them, "Why am I doing this scene in this particular way," and the director responds, "Because you have a contract, and because you have to do it." I have all the respect for Hitchcock, but I work in exactly the opposite way. I think that actors are very generous, but they are also very vulnerable, and so when I work with actors I really try to generate an intimate space where I sort of have to be everything — psychiatrist, brother, father, friend — because I do think they are quite exposed, and I feel the responsibility to take care of them.
How have women shaped the person you've become? Is there one woman who has influenced you most powerfully?
My mother. I was surrounded by women when I was a child, so my formation — my education — was through them. The fathers were out for the whole day and came home only in the night. Fathers, at least in the culture that I was educated in, represented authority, but you would stay the whole day with the mother or with neighbors. In the fifties, nobody had money for a nanny… that was something that didn't exist. I remember women on the patio: talking, singing, working, washing. They would talk about everything that happened in the little village. Life was what I could see in these women in the fifties. They were very strong women with an incredible capacity to fight, but they also had no prejudices at all — they were much more modern than the time period, much more modern than men.
When I went to Madrid, I was seventeen or eighteen, and I met a girl who I lived with for almost the entire 1970s. She was also very strong, very modern. In the place that we lived together, I shot my first movies, Laberinto de Pasiones and Pepi, Luci, Bom. When I write, I am conscious about their influence — I mix my mother, the women of that period and the girl [that I lived with in Madrid]. The omnipotent women that I write represent freedom, the mix of these two.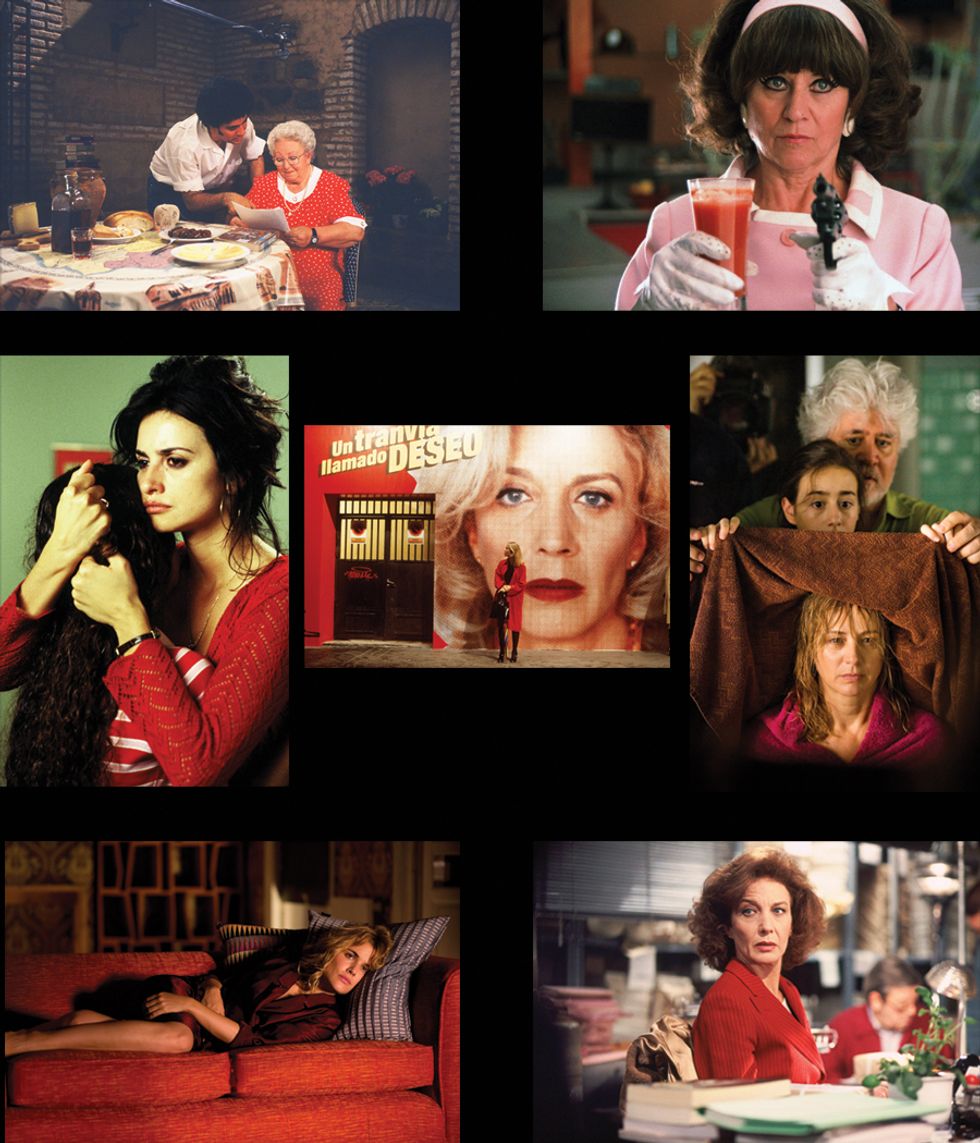 How do you define feminism?

Feminism for me is to recognize the power and the ability that the woman has in any aspect of her life. I think if men really were conscious of and recognized the power that women around them have, only then would you see the scales even out a bit.
Take, for example, the Catholic Church. I am not Catholic. I think the Catholic Church has good things and bad things, but I can't even conceive how over all these centuries the Catholic Church cannot recognize the fact that women are just as capable as men to perform two of the sacred rights of Catholicism: consecration and confession. In this case, I could refer to the current Pope, recognizing that nuns are perfectly capable of consecration and giving pardon. We have to solve these kinds of things to set an example.
Pedro Almodóvar For the Love of Women credits:
Grooming by Melissa Dezarate with Exclusive Artists
Pedro, Te Amo credits:
Photographer Assistants: Cody Smith, Will Richter and Jessica Worrell
Digital Tech: Ryan Lopez
Stylist Assistants: Nikki Grattan and Jessica Worrell
Hair by Terri Walker using R+Co at Jed Root
Hair Assistant: Gabriella Galindo
Makeup by Sandy Ganzer
Makeup Assistant: Hadia Kabir
Nails by Marisa Carmichael
Prop Stylist: Amy Taylor with Bernstein & Andriulli
Prop Stylist Assistant: Daniel Ralston

Location: The Forge
More from the issue:
Bella Hadid Like You've Never Seen Her Before (cover story)
Fran Lebowitz On Donald Trump, Protests and Moving to Canada
Remy Ma On the Importance of Women Working Together
Hayley Kiyoko On Understanding Her Sexuality and Finding Her Voice
Young Thug On the Fight Against Poverty
Colton Haynes On the Importance of Seeking Help
Jerry Springer On How Liberals Always Win (In the End)