The latest subject of NYC filmmaker Andy Boyce's "supermuse" series is Pauli Cakes, whose performance art often explores sexuality in surrealistic overstatements of femme hyperbole and unabashed gaudiness. Premiering today on PAPER, Boyce's film, dubbed Angel Cakes, showcases more than a few of Pauli Cakes' personas, but centers primarily on Petty Boots, who's inspired by the cartoon sex symbol Betty Boop and challenges both the male gaze and gender norms with intensely garish girliness.
Presenting in public as such during filming, Pauli Cakes was met with nasty misogyny — nothing they haven't heard before, the 20-year-old artist stresses. But that backlash also speaks to the intentions of the work, and the potential for profound meaning in what, at first thought, could be lauded as an incredible look and little else.
Angel Cakes isn't about a shocking visual for the sake of it, and if you're not understanding otherwise, reading our interview with Pauli Cakes below will help.
Can you tell us more about Petty Boots and the other personas we see in Angel Cakes?

Petty Boots is a fire that lives inside of a small glass cage inside of my head. She is the little girl who's breaking out of the chains society has attached to her existence. A knife-wielding and free-bleeding anomaly and aspect of my identity that acts as an alchemist towards all the pain I've experienced for existing in my body. She converts trauma into strength and healing energy. She is my own rendition of the glorified sex-symbol cartoon character known as Betty Boop. Petty Boots is also a resistant lust spirit, she breaks down moral barriers; her femininity is a sword. She sheds light on the pain we experience for existing sexually and autonomously. Some other personas in Angel Cakes are the invocation of saints and deities that I pray to and worship at my alter. I use a lot of work with elements fire, water, air that serves as a broader significance to each character.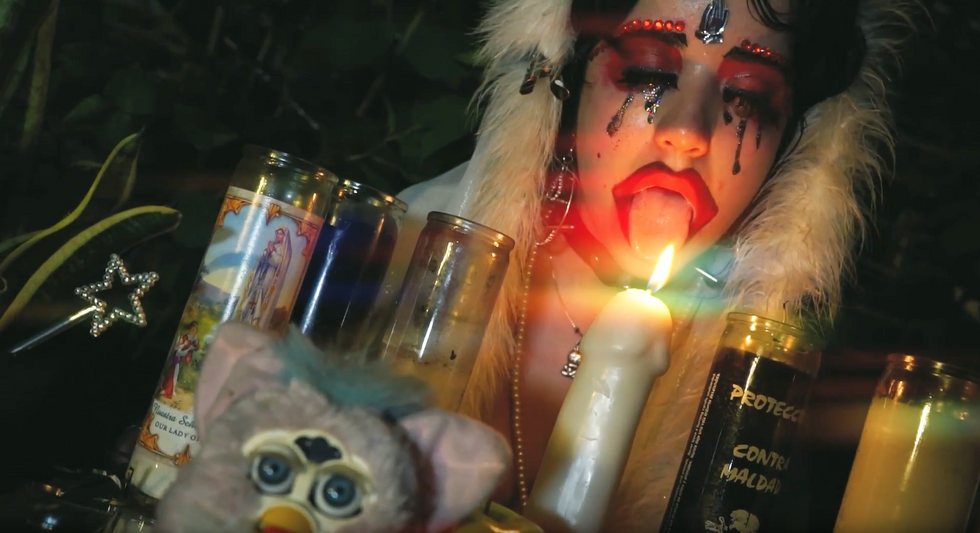 How was the experience of shooting the public scenes? The deli/convenience store egg mess, the train station — your performances in those scenarios are as empowering as they are entertaining, but I wonder about the passersby. Were people surprised? Supportive?

It was an outer body experience for the most part. There were so many different reactions from children, adults, couples. Some people covered their kids eyes, other people loved it and felt really inspired. People were overall very surprised, aroused, confused, angry and mesmerized; they all certainly felt something. I'm so truly grateful that Possessed was on board with Andy [Boyce] and I. Their support more or less saved me and protected me against the men going haywire in the station.
At one point, old men were trying to grab me and telling me that they'd "fuck my brains out" and calling me a "$2 hooker" and a "crazy nasty bitch" and all of these crazy names. Nothing that I haven't heard before, growing up [in New York]. However, I couldn't break out of my character to acknowledge them, even if I tried. I knew in that moment that I was more powerful than them, I had invoked a light within myself that was communicating a higher message. The guy working at the deli was real freaked out over the eggs. At first, he was enraged, yelling, saying that he'd call the cops and that I was not aloud in his store again. He began to calm down after realizing we meant no harm. The other employees were in complete shock, as if I was floating in mid air. Portals were being opened while we were filming, and people were certainly receptive of that.
Related | This Puerto Rican Designer's Fetishwear Line Is Universally Kinky
You were in Cuba recently, right? Can you tell us more about that experience?
Incredible. Cuba is a strong and stunning place, dear to my heart. By far, the most beautiful place I have ever been in my life. I've been having dreams about the ocean in Cuba for about a year and a half so I had to go and chase them. I went alone. I'm in a transitory point in my life, turning 21, I needed spiritual solitude, and to be with my mother, the ocean. I felt deep connections with the elements and rekindled my relationship with the earth and her angels. Cuba was my calling for that. I fell deeper and deeper in love everyday with the people, the energy, the spirits and the heat. Cuba is a very eccentric place, there is a strong collective consciousness, the energy is high and the people are very interpersonal. I have to admit, I got myself into some love triangles that I'll never forget. To say the least, I felt like I touched I was kissed by a thousands goddesses. It was an experience that left my soul content and my heart yearning to go back, and I will.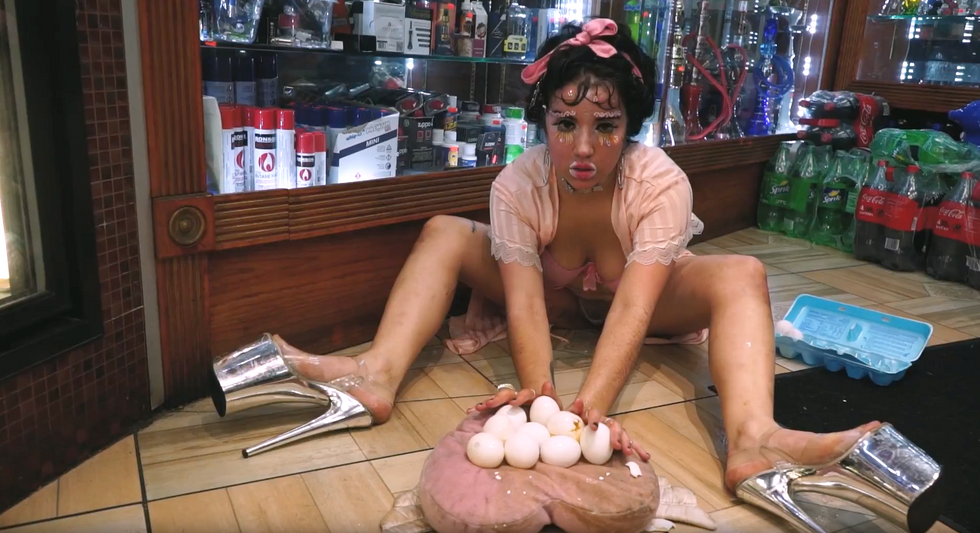 You were born in the Bronx. What was your early life life?

[I'm] New York City born and bred; I've lived here for my whole life, but have traveled a fair amount. I was always in and out of the house, and always quite rebellious and bold. I moved out of my parents house uptown when I was around 17, I could never stay in one place and I've always loved traveling and dreamt of faraway lands. I make time and prioritize leaving the city and immersing myself in different paces of life.
There weren't too many resources at the schools I attended. I never had a theater class or drama class, however I've always loved playing with my identity. I came into performance art through nightlife, through the streets, getting into trouble with authority, through being misunderstood and having to defend myself, through shape shifting. Essentially, the city was my opportunity to perform wherever I went. NYC is a theater school — all the drama, the looks, you have it all here. Nightlife began sweeping me off of my feet when I was 13 years old. I started going to raves and house parties, raging and dancing all night. I wasn't always so bold; that is where I'd build courage to perform and lose myself, disassociate and find myself again.
Related | Joey LaBeija Will Wake Up New York Nightlife with 'Techno Cumbia'
When did you start performance art?
At 17 I started go-go dancing, and that was a hands-on introduction to the performing arts world for me. I had to play this sex avatar who was every "male's fantasy" to make a buck and then come home and find peace within my queerness and non-binary soul. When I began performing in front of crowds of people who knew me, I felt really uneasy and uncomfortable. As I began growing and evolving and getting in touch with my spirituality and higher self, performing became more ritualistic. Sometimes when I perform I feel like I'm channeling my ancestors [from Brazil and Portugal], ripping through the intergenerational trauma passed down from mother to mother and breaking open my head to dig deep. As I grow, I feel more comfortable being vulnerable and performing in a way that creates intentional spaces of energy.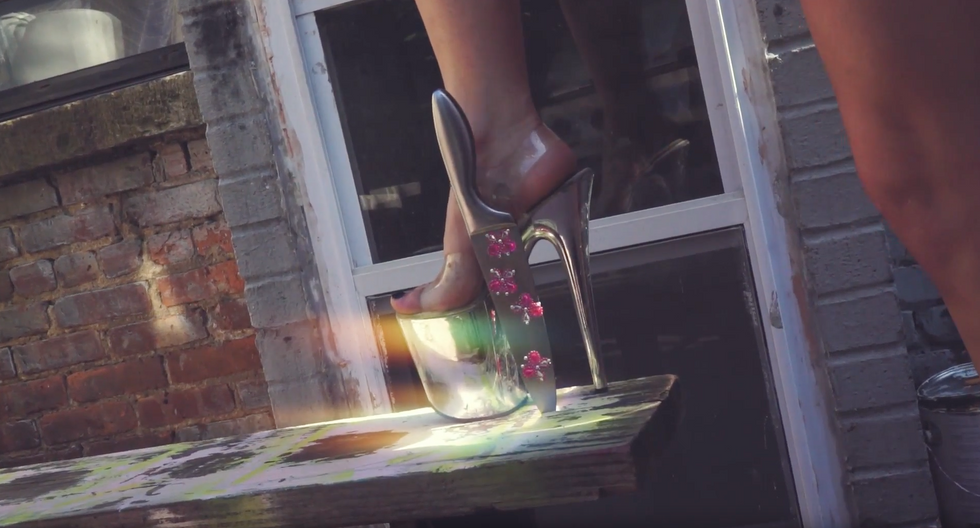 What are you working on currently? In activism, nightlife, music — anything!

I'm in the process of working on several projects. I'm partnering with a friend of mine Marley Parker and producing parties under the name "Club Cakes." These spaces of energy will encompass an unapologetic old school NYC house party vibe, safe and free for all to dance and love. Similar to what we grew up with — nightlife as a collective consciousness. In my opinion, nightlife is undervalued; it's getting more monetized and less radical. The intention want to shift that focus.
I'm also working on another project called "RE. SISTER," which is a network and space for survivors of gender-based violence to share their voices and creative work safely. This is a long-term project I've been sitting on while undergoing my own healing, but I'm excited to share with the world. During the month of April I'm showing some paintings and physical work at a couple of galleries in Bushwick. Working with different mediums unlocks new portals for me so I'm super psyched. I have a couple of other projects up my sleeve as well; I plan on releasing some zines, the Angel Cakes soundtrack, a video project I made last summer, and developing my work ethic and how I could use that to heal.
Follow Pauli Cakes on Instagram.
Sign Up for the Morning PAPER
Beauty
Photography by Jack Maffucci / Hair by John Novotny / Makeup by Shaena Baddour / Styling by Abby Bencie