Our first official L.A. Man is a New York transplant -- the immensely talented and whip-smart Paul Zaloom ,whose new film, Dante's Inferno plays at the Silver Lake Film Festival tonight, Monday, May 7th at 7 p.m. (Info here.)
Zaloom's brainy and hilarious toy-theater-meets-Irwin-Allen-blockbuster reimagines Dante's descent into Hell as a modern day nightmare, one available to view on CNN any day of the week! (Never was the brilliant Italian poet more relevant!) Paul Zaloom is probably best known to the world at large as the wacky scientist Beakman from the CBS Saturday morning kid's show Beakman's World, but others know him as the profoundly relevant and supremely clever puppeteer who has been wow-ing underground and overground audiences for years with his theatrical wizardry.
But let's allow Paul to speak for himself, in this email Q&A we did last week before Dante's Inferno first played at the Silver Lake Film Festival on Friday. (Last show is tonight so get over to the Los Feliz 3 at 1822 Vermont Avenue by 7 p.m!)

L.A. Woman: Can you give us a quick synopsis of the film?

Paul Zaloom: Sure. Dante wakes up in some alley from a bender, and his cell phone doesn't work. He bumps into some bum in a toga, who turns out to be Virgil. The poet proceeds to take the hapless slacker Dante on a tour of the underworld against a modern and familiar urban backdrop, complete with gated communities, used car lots, airports, strip malls and the U.S. Capital. In place of the 14th century celebrities Dante Alighieri put in his original, this Hell is populated by a cast of famous -- and infamous -- characters, mostly from the last 100 years: politicians, popes, dictators, mass murderers, and an appearance by Lucifer his own self. In this modern version, Dante wears a hoodie and talks like a skate punk who likes his liquor.
It gets weirder and weirder the lower into Hell they go, which is fun. Dante got to imagine Hell very specifically, which had never been done before (he also wrote in Italian, not Latin, another first for a major piece of literature... and I suspect he was one of the first writers anywhere to describe gay cruising.)
It was fun to put Cardinal O'Connor and Kohmeini and Spiro Agnew and Stalin and Leni Refenstahl, etc. in Hell.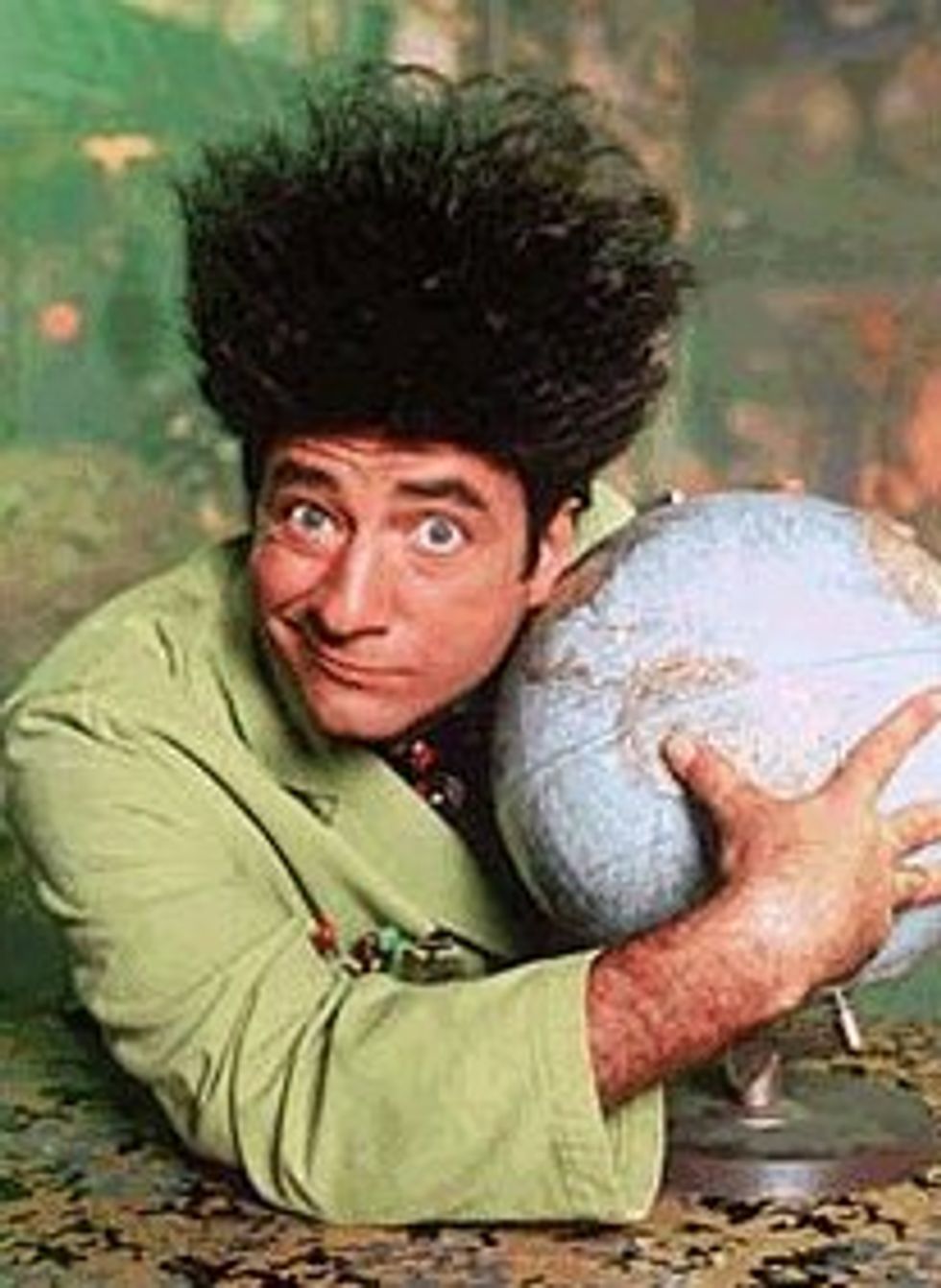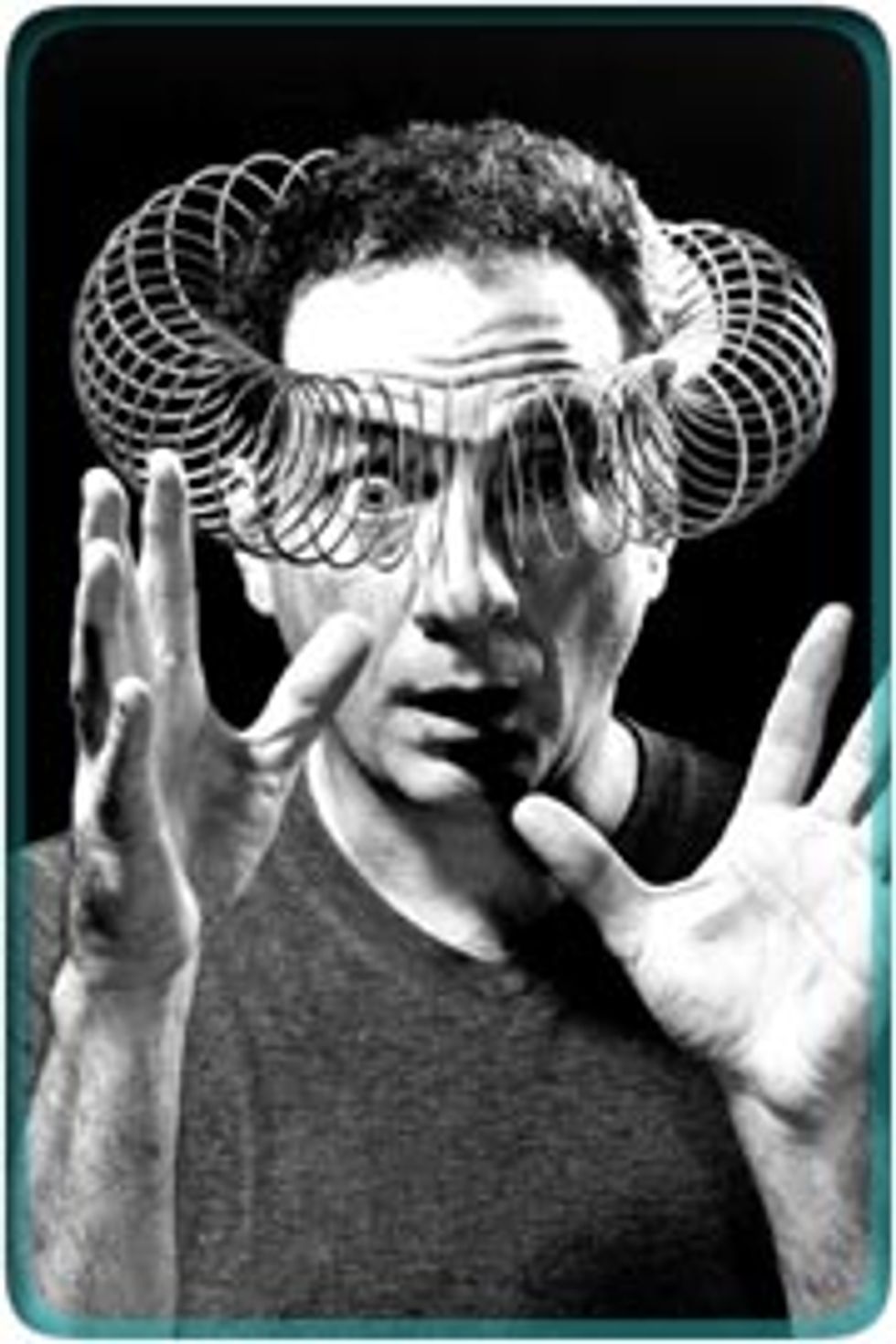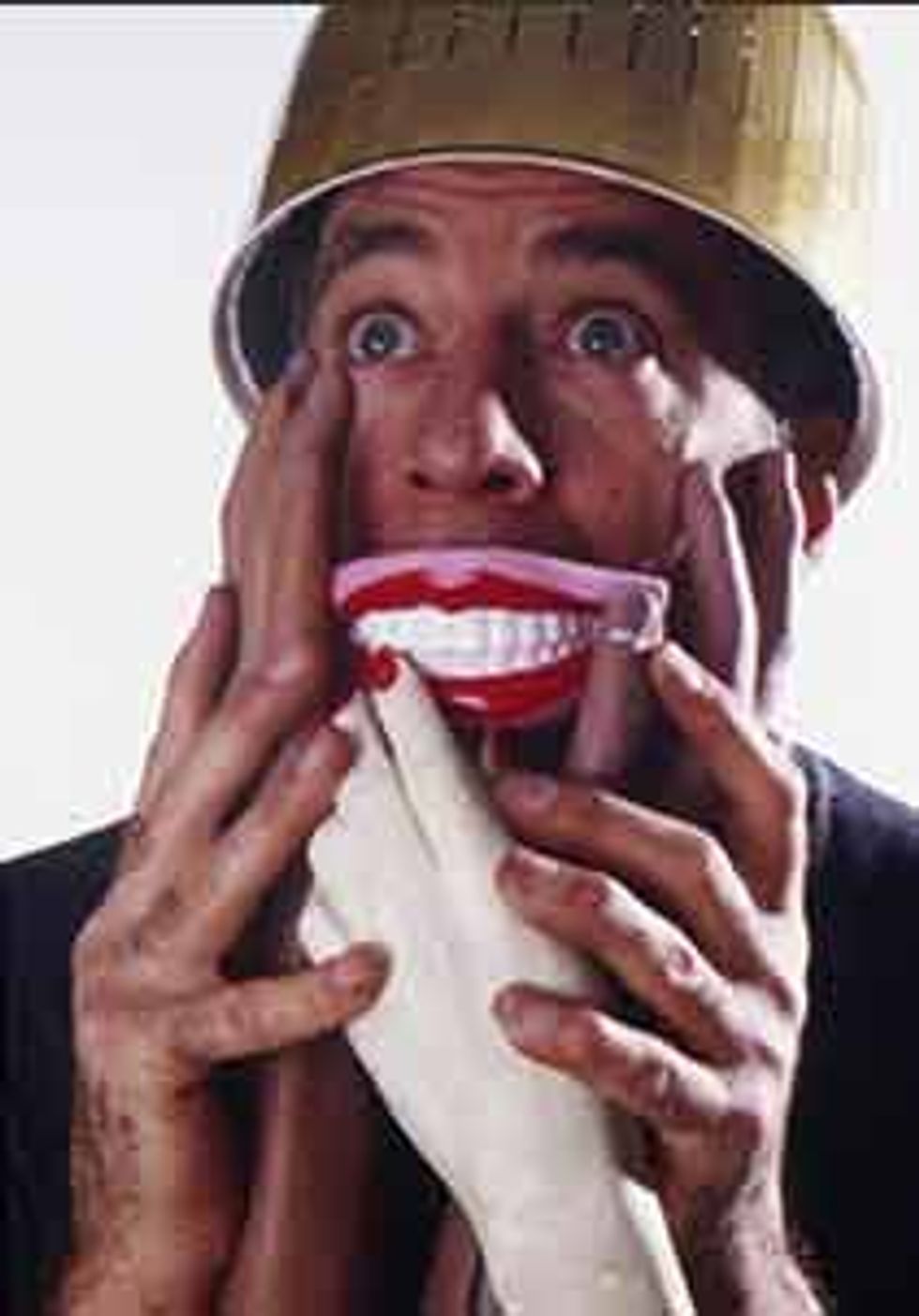 LAW: Why make a movie? What inspired you and how long did it take to make? Animation of any kind -- even puppetry -- is notoriously painstaking!
PZ: It took about three years to make the film, from the writing to building to shooting and the post. Director Sean Meredith and I had made a previous film with L.A. painter Sandow Birk about a fictional war between L.A. and San Francisco that Birk had documented with dozens of paintings, drawings, and sculptures. The film In Smog and Thunder: The Great War of the Californias, was a mockumentary with faux World at War, Cronkite-ian, sonorous narration (me), with computer scans of the paintings and drawings illustrating the narrative of the fictional war. I also co-wrote the thing with Sandow; it's a comedy. Duh.
With writer Marcus Sanders, Sandow had created an interpretation/paraphrase of the text of all three of Dante's renowned trilogy: the Inferno, Purgatory, and Paradise; they are published by Chronicle Books and fully illustrated wtih his Gustav Dore-inspired art. He approached me and Sean about doing a film of the Inferno, suggesting we write and shoot a live action film based on their reinterpretation of the classic text. But who wants to create Hell in live action with 9 dollars and no permits on the streets of L.A.? Not me. I wondered, how do we make his drawings come alive? Being a puppet freak, i came up with the obvious answer: toy theater!
Toy theater was a European amusement from the 19th century where kids (mostly boys) would buy paper stage sets, scenery, actors, and a script, set them up, and do shows for the dog and the maid, I guess. It was huge, as there was no Judge Judy or whatever to watch in those days. I thought it would be cool to use this paper format to make the show. Sandow and Sean thought I was crazy but they eventually came around. Elyse Pignolet came on board as the art director, and with Sandow, created over 500 puppets and 46 sets in a year of designing, building, and getting hot glue burns.
It's not animation. There's no computer gimmicks in it either. Just old school all the way: paper puppets hot glued to coat hangers. We jiggle them and do the lines. It took about 14 days to shoot, and it looks totally amazing! Demot Mulroney and James Cromwell get top billing as Dante and Virgil, but I am the only actor in the film; I play God and the Devil, so it's type casting once again. There's a trailer at dantefilm.com
I was the puppet meister on this and one of the writers with Sandow and Sean. It was hard as hell to adapt both the original and the reinterpretation to a puppet show. At first I wanted to remain as faithful to the original as possible, but after a while, I decided the original spirit was what was important, nothing else. And Dante scholars for the most part have been quite happy with it. It was hard as hell to write but a blast, too.
L.A.W: How long have you lived in L.A.?
PZ: Dunno...maybe 1992?
L.A.W.: When did you officially leave New York City?
PZ: Maybe 1998. I don't know.
LAW: Do you ever miss NYC?
PZ: Not really. Not sure why, because I loved it. Eh, it's a giant shopping mall now anyway, so I don't really give that much of a shit. LA is too big and sprawling to become totally Disneyfied like Manhattan and Paris.
LAW: Would you ever move back? (As if anyone can afford to!)
PZ: I lived like a king in a two bedroom, artist only, live/work loft on Franklin Street with an 800 buck rent for 18 years til my landlord kicked me out after he saw a pic of me in People Mag in my "Hollywood Hills home [sic]". No way would I move back to NY to live in a teacup in Yonkers. When I lived in Tribeca, no one would come down there to visit. Too far from Civilization or whatever. It was 10 years before we got our first bodega.
LAW: Did living in NYC teach you anything about surviving in Hollywood/LA?

PZ: I would imagine so, but I have no idea what. It's harder staying on the "performance art" radar here, and it would be better for my alleged "career" to be there, but inertia has triumphed, and I seem to be surviving.
LAW: What do you like best about living in L.A.?

PZ: The weather...duh. Ha ha; I just love summer, and it never lasted long enough back home. It doesn't last long enough here, either, but it's longer then in NY or Vermont, that's for damn sure. And the 365 museums and groovy architecture and really great friends and weird arcane stuff like the Museum of Jurrasic Technology.
LAW: Least?

PZ: Driving. I hate driving.
LAW: I think the first time we shared a stage was at PS1 back around 1982? Or am I dreaming? I remember seeing you at PS 122 (I think it was, but in these golden years who can rely on memory?) and you did a whole big about what a crock FEMA was, especially in the event of a thermonuclear war. I didn't know much about FEBA then, but boy did you open my eyes up! Any thoughts on FEMA during the Katrina disaster?
PZ: I think you curated a show at PS1 and invited me to play there, probably after seeing me at 122 or some other dive. I remember also playing Club 57 at some point, and it could have been because you invited me. I was on the fringes of the scene, only hanging out when I was performing. I'm more social now ha ha.
The show was about the Federal Emergency Management Agency's plan to relocate 130 million civilians from "risk areas" (cities) to "host areas" (country). There was tons of printed material that I used to research this cantastoria (story telling with pictures, an early film-before-film performance technique). This particular type of cantastoria is called a "cranky", a spool of paper with pictures drawn on it that is unrolled by me as a FEMA guy (me) with accompanying narration. So FEMA wrote the show for me, even the jokes. It was a gold mine of laughs. They were idiots then; some things don't change. Like many of the old school puppet art forms that are being revived, crankies were popularized by the Bread and Puppet Theater, which I joined when I was 19 and still work at when I am in Vermont.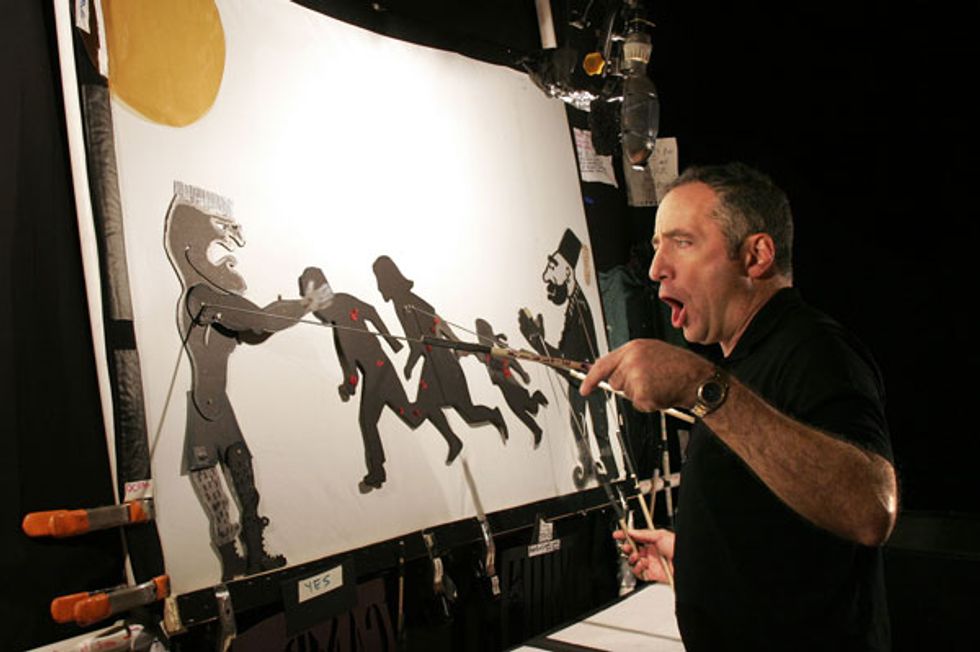 LAW: What are your future plans?

PZ: Recover from back surgery last week is at the top of my list. Just directed a show with the Cornerstone Theater with community members... gay seniors and youth... at the Gay and Lesbian Center, a goofy comedy that got a great review in the LA Times.
Then the Puppeteers of America puppetry festival this summer, followed by Bread and Puppet in August. Working on some TV stuff. Currently appearing on over 300 stations nationwide in a revival/reruns of the kids' science show Beakman's World (I play Beakman; no, I do not get resids...long story). Touring my Beakman Live! show in the fall. I hope to collaborate with the brilliant and wonderful Lynn Jeffries on a new toy theater piece, new cantastoria, new hand puppet shows, and more. Playing NYC and Denmark in the fall. Hanging out with my kid Amanda, her hubby Dan, and my two-year-old granddaughter (*gulp*), Mabel Jayne Kitchen, whom I adore. PS. Another is on the way! Yay!
LAW: Thanks, Paul. You are truly one of our national treasures! May a McArthur Grant be in your future!