Two iconic punk rockers from New York's downtown scene of the '70s have new books. Originally poets, their fame grew as legendary performers who in word and image came to define an era heralded by many as New York's Golden Age of musical creativity. But for most of their lives they have been -- and continue to be -- writers first. I'm talking about Patti Smith and Richard Hell.
Whether channeling Keith Richards or dressed in a man's white shirt as photographed by Robert Mapplethorpe for her album Horses, Patti Smith set off a style time bomb that's still reverberating. A star by any measure, she's the ultimate representation of the gracefully aging riot grrrl, an original badass who has managed to balance marriage, family, career and come out of it with her street cred intact.
Though Smith still tours and performs in concerts to pay the bills, one gets the feeling she'd rather be writing or traveling or doing anything else but rehashing the songs she's done hundreds of times. As an article in Billboard noted: "Smith's renown overshadows her record sales." (Her one big hit, "Because the Night," was co-written by Bruce Springsteen.)
When she famously dropped out of downtown's drug-drenched musical rat race, she moved to Detroit to marry Fred Sonic Smith, became a housewife and raised two children. As she told Joan Juliet Buck in an interview. "All of a sudden I had to find my time for writing within my very demanding domestic world. So I started waking up at five o'clock in the morning, when the kids were still asleep, and writing until they woke up for school at eight. I did that all through the '80s, every single day -- I have stacks and stacks of unpublished writing. That's when I learned to be a writer. Just Kids didn't come out of flotsam and jetsam. It came from years of developing a discipline."
Smith has been justifiably lauded for Just Kids, her National Book Award-winning memoir of her life with Mapplethorpe. Now she's come out with its follow-up, M Train.
Richard Hell of The Blank Generation fame is credited with more-or-less inventing the punk torn t-shirt and safety pin look, his spiky diy haircut defining a zeitgeist of rebellion still relevant today. Since giving up performing and turning his attention to writing full-time, he's published poetry, several novels, an autobiography, I Dreamed I Was a Very Clean Tramp, and, most recently, a collection of non-fiction pieces, Massive Pissed Love. "One part of the reason I went into rock 'n' roll from writing poetry," he told me in an interview about his autobiography, "was because I did want to speak to the whole world. You can do that with rock 'n' roll. It's a popular art that happens on a mass cultural scale, whereas not many people read poetry." So it was a bit of a switch years later when "I left rock 'n' roll and started all over again as a writer."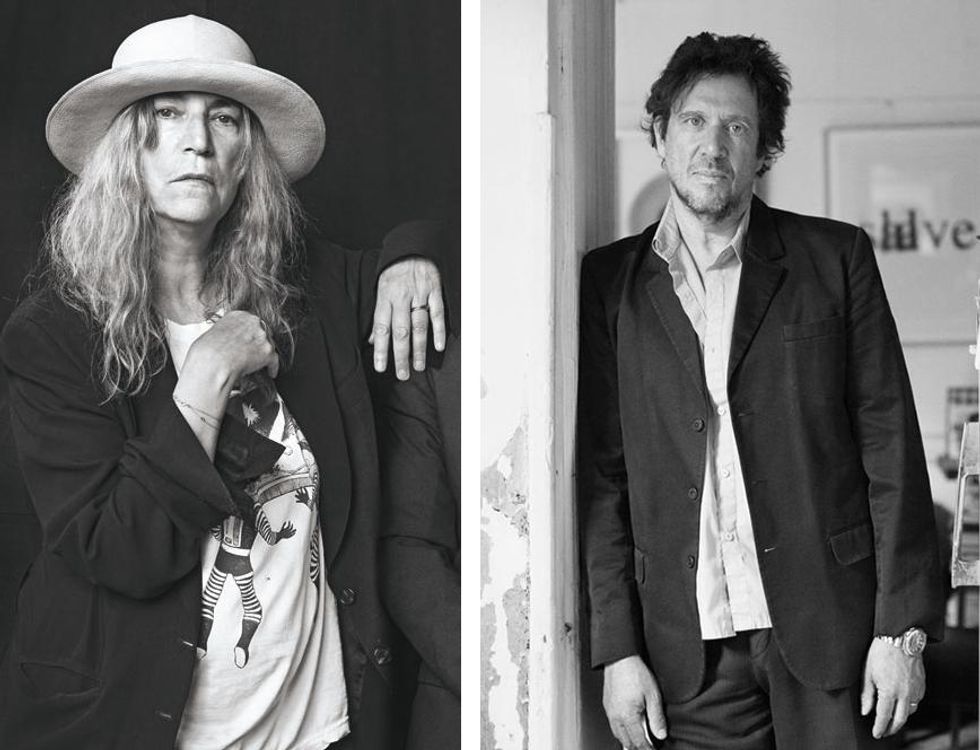 Photo of Smith by Rodolfo Martinez; Photo of Hell by Rebecca Smeyne

So here we are talking about the writers Smith and Hell who have more in common than meets the printed word. Namely, Tom Verlaine. Hell and Verlaine were childhood classmates who collectively ran away from boarding school and moved to downtown Manhattan where they wrote songs and formed bands that culminated with Television. But all was not well between the two and the band broke up as did the celebrated Hell/Verlaine friendship painfully recounted in Hell's autobiography. Verlaine and Smith dated in the mid-70s and he appears on her hit "Horses." What really happened there? Can't wait for a book that tells that story. As Wikipedia notes: "Television's performances at CBGB helped kick-start the first wave of punk bands, inspiring a number of different artists including Patti Smith, who wrote the first press review of Television for the Soho Weekly News in June 1974."
Smith and Hell have frequently crossed paths like a string of DNA. In Hell's opening essay on French auteur director Robert Bresson, he recalls how as "a kid in his early 20s and trying to teach myself to write I was also publishing books as a small publisher and I was doing a book of Patti Smith's. We were calling it Merde and she drew some pictures for it and one of them was just the penciled words 'There's not enuf time'. And I thought that was glamorous, because for me there was way too much time, way way too much time."
When I congratulated Hell on the great reviews his autobiography received, he refers again to Smith. "You get how memoirs are so popular," he says. "The same thing happened to Patti Smith -- it was by far the biggest success she had with any work. The other books I did, there'd be three or four reviews and a few readings but yeah, this one picked up a lot of attention."
M Train, says Smith, is about nothing. It's how she found herself adrift in New York City, the West Village to be precise, contemplating the passage of time. Smith, it turns out, is an aesthete who reveres artifacts, icons and tombstones she invests with meaning. She has her father's chair in her apartment but won't sit in it because he never did. She uses her mother's coffee grinder like a magical talisman invested with the ability to time travel back to her comforting gaze.
Hell's book is also non-fiction, a collection of his writings on film, music, art. But it's decidedly about something, mostly as a critic looking at other people's work, making associations along the way that enliven the pieces and animate them into personal essays that tell you as much about the writer as it does the subject under review. Which in my mind is a good thing. The essays, learned and erudite, land on a wide range of subjects from Joey Ramone to Marilyn Minter and the poet Aram Saroyan. Personal favorites include a measured piece comparing the Rolling Stones to the Velvet Underground where -- spoiler alert! -- he comes down on the side of the Velvets. Another explores the life and work of the great American noir-ist Nathanael West. Hell's almost thinking out loud, his thought process as invigorating as his muscular prose.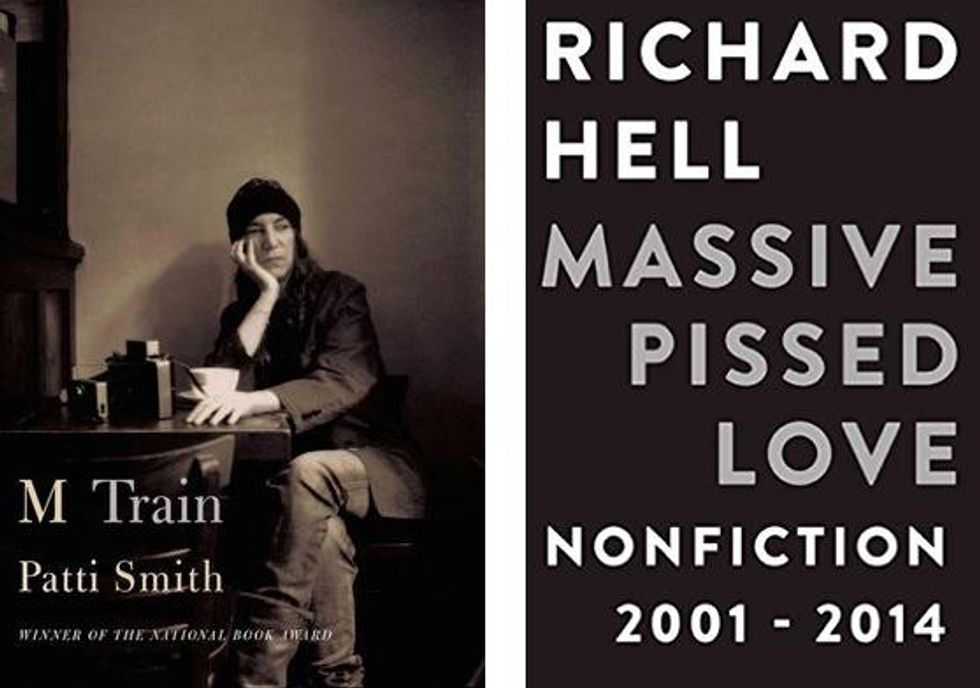 M Train and Massive Pissed Love
Patti Smith on the other hand is all sensibility. A dreamer, she takes pictures with an old accordion Polaroid camera that she loses. Her prose scans like poetry. She visits graves, abandoned train stations, remains of a vanished time. The woman who once famously sang "Jesus died for somebody's sins but not mine," now goes to the Vatican and meets the Pope. She talks to objects. She writes letters. She reveres her dead heroes, making pilgrimages to their homes and graves from Frida Kahlo to Tolstoi to Genet, Sylvia Plath, Yukio Mishima and others. She loves to move between the past and the present like a medium at a séance. She says of William Burroughs, "I used to call him, now I must summon him in other ways."
She also loves detective shows on TV, especially British ones "whose Moodiness and obsessive nature mirrored my own," she writes. She's most obsessed by The Killing and even more so by its lead character Sarah Linden saying, "She is dearer to me than most people."
Hell says, "I'd also been preoccupied ever since my 40s, which is 20 years now, with trying to figure out what it meant to not be young anymore." As a result, he says, "I care more about books and writing and beauty than just about anything." Massive Pissed Love is a testament to his success.
"I'm not the most observant type," says Smith, "[my] eyes seem to roll within." By her own standard M Train, a journey to the center of her mind, does what she sets out to do. While it might not be to everyone's taste in the way that Just Kids was, it is true to the person she is not was.

You May Also Like
America
Story by Katherine Gillespie / Photography by Dana Trippe / Styling by Rebecca Grice
America
Story by Mikelle Street / Photography by Renell Medrano / Styling by Anatolli Smith / Hair by Evanie Frausto / Makeup by Marcelo Gutierrez