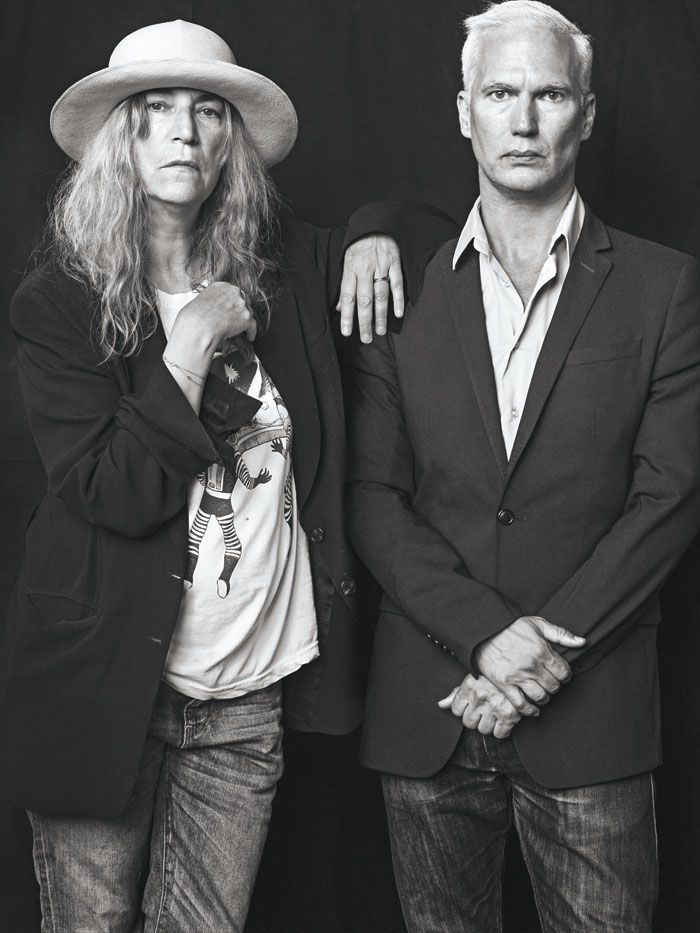 Her 2010 memoir,
Just Kids
, proved that Patti Smith's gift for razor-sharp, spiritually charged language had only grown since she delivered the first line of her first album 35 years earlier: "Jesus died for somebody's sins but not mine." Arguably the first woman in rock to channel pagan violence and ecstasy (i.e. spazz the fuck out) onstage, Smith was punk rock's midwife; she remains a hell-raising and indispensable New Yorker.
A letter from Patti:
On the whole, artists do not wish to be labeled or categorized. Being part of a subjective spread of so-titled OGs is not important to me. I have no problem being eliminated if I don't participate in a solicited questionnaire. You are obviously seeking OGs who behave themselves. That was never one of my strong points.
----
The curatorial muscle behind Marina Abramovic's
The Artist is Present
, the wildly successful Kraftwerk retrospective and many more, PS1 director and Museum of Modern Art chief curator Klaus Biesenbach has welcomed new media, performance art and even (gasp!) the celebrity spotlight into the MoMA fold. Result: a bracing climate that started in the galleries and has spread throughout the city -- and far beyond.

Personal OGs:
Christoph Schlingensief, Susan Sontag, Ryan Trecartin, Camille Henrot and of course, as everybody is now expecting as my answer, James Franco and Lana Del Rey.
Who has been an inspiration to you?
A huge inspiration was Joseph Beuys as he merged the artistic with the political, civil disobedience with courage and creativity with responsibility and society.

What was the biggest obstacle you had to overcome in your career?  
My own limited thinking.  
What do you think it was that made you succeed when many other pioneers did not? 
  Complete coincidence, unsatisfiable curiosity and a lot of luck. 
What do you think made you the person you are?
I do think people come together as complete coincidences of histories and biographies, the weather, the food you just had, but for serious; I do think it's really the education. It is your school, it is the books you read, it is the songs you listen to, it is the movies you watch, it is my little village library that I spent most of my early years in, it is the greenhouse I built when I was fourteen and lived in amongst my plants, and having next door, a small little wooden house that I built with an incubator breeding wild geese. That's not a joke, that's a serious answer. 

Have you ever felt truly hurt or shaken by a criticism?
As a medical student, I ended up running an art space that I founded in East Berlin called KW. It's still there. I had worked off the grid and completely protected by the former wall, and one year into working there, curating there, directing it, there was the first article in the press. I felt completely violated by the difference between what really had happened and what their description was. Somehow, I had lost the innocence of being private.
What were you like as a child and a teenager?
I had an uncanny photographic memory, I was a crazy scientist, I lived with my wild geese and my plants in a greenhouse. I liked reading the atlas, and zoological and botanical encyclopediae. I was very creative but more on a practical level.
Is there anything that you've seen recently that you think is completely radical? Or something that shocked you?
I think every morning waking up is completely radical. What's shocking? The loss of civil liberties and artistic freedom in many parts of the world and the homophobic, artistophobic, and xenophobic developments there.
What has your experience been like with your supporters? What is the best thing a fan has ever given you or done for you?
Curators don't really have fans, I would say. But we have people who follow us critically.  When I was a very young curator, I invited mature artists -- Katharina Sieverding, Dan Graham and Marina Abramovic, for example -- to literally be my teachers, my professors, while working with them. They gave me all I have. Now a huge influence is younger artists from all different fields helping me stay alive, stay curious, to stay inspired and help me from completely losing contact with what's really new
How do you define success?
Success is trying to help to push the envelope. To work on meaningful content, and in a certain way, even change its form, finding new form.
BACK TO ORIGINAL GANGSTERS