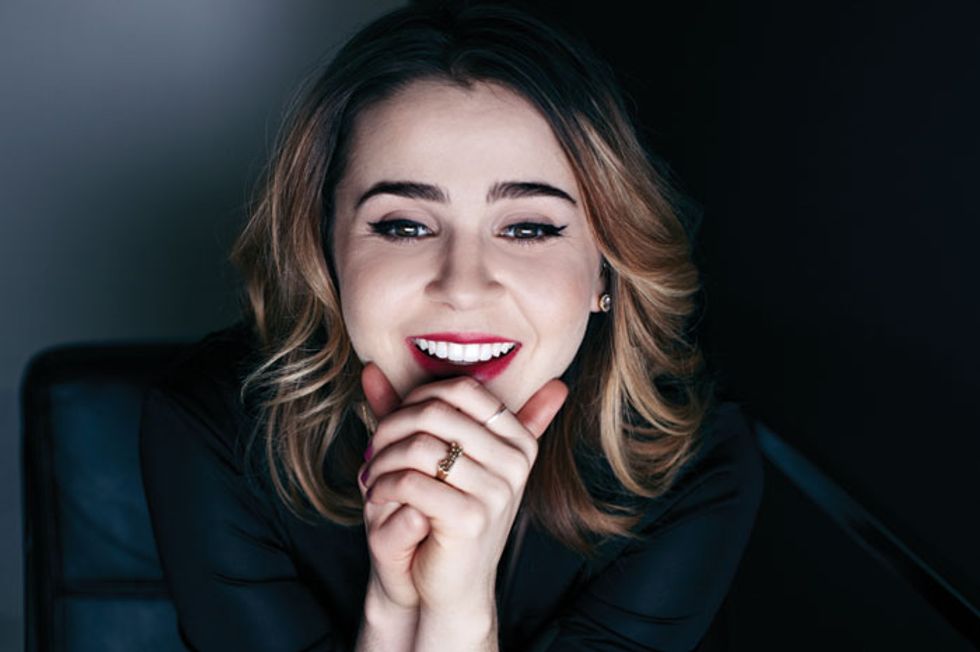 Perhaps you know Mae Whitman from her role as the whip-smart rebel Amber Holt on NBC's maddeningly under-the-radar family drama Parenthood, or as Ann Veal, the humorless, devoutly religious girlfriend to Michael Cera's George-Michael Bluth on soon-to-be-revived comedy Arrested Development. But at the top of Whitman's IMDB page sits a lesser-known role that is, well, awesome: Whitman is the voice of April O'Neil, the trusty pal to the Teenage Mutant Ninja Turtles on Nickelodeon's reboot of the '80s cartoon. Asked if playing O'Neil makes guys instantly fall in love with her, Whitman jokes, "It's a good card to play. It doesn't not help, I'll say that much."

Whitman's mother is a prolific voice actress, voicing movie and TV characters that were Generation Y's childhood staples, including
An American Tail
,
DuckTales
and
Rugrats
. "It was the best," she says of growing up with a mom whose voice she could hear on the shows she loved. "I still brag about the fact that she was a Smurf."
She also speaks warmly about her TV mom,
Parenthood
's Lauren Graham ("she's one of my best friends") and the rest of her co-stars. "Everyone's my buddy. Craig T. Nelson [who plays Whitman's grandfather] looks at you the wrong way and you want to start crying because he's so loving in real life."
But for all of
Parenthood
's warm fuzziness (off-screen and on) the show can be very real. One of this season's storylines dealt with teenage abortion, drawing the ire of a certain Fox pundit. "It seems like Bill O'Reilly always has something to say about our show," Whitman says. So what would Ann Veal think of liberal Amber Holt? "Ann would shun Amber, but would secretly be into her in that pervy way that Ann is into stuff," says Whitman. "Remember, Ann wants to know about the secular flesh."
***

Mae Whitman answers our TV survey:
What is your "guilty pleasure" TV show?
Well, my favorite show is obviously
Friday Night Lights
. But I feel no guilt there, so I'd have to say
Cheaters
.
Do you watch your show when it airs?
Hell yes. Every Tuesday night at ten.
What's the best thing about going to set everyday? The worst?
Seeing the faces of people that I love so much and knowing they are forced to spend the entire day hanging out with me. The worst? Sometimes Sarah Ramos takes my favorite parking spot.