Papertwin have been a band for a decade, but they just announced their debut album Family Portraits last month. The dream-pop trio was founded Brooklyn in 2009 by painter Max Decker, and his friends Francis Cardinale and Nick Shopa. Two largely DIY EPs of hazy, new wavy synth-pop attracted them blog buzz and a growing following. However, the band went on hiatus in 2016, when personal transitions spread them across the country.
Several years out from their scrappy Brooklyn DIY days, band is thinking through family and trauma on their first full-length record. Each new song on Family Portrait is inspired by a work of art — a figurative "Family Portrait" that's fitting for their emotionally impressionistic songs. They released in September their first single in three years "Candy Cigarettes." The eerie tune about vignettes of childhood is inflected with a disco beat and Twilight Zone synths. It was inspired by the Sally Mann photograph of the same title, which depicts a young girl glaring at the camera holding a candy cigarette.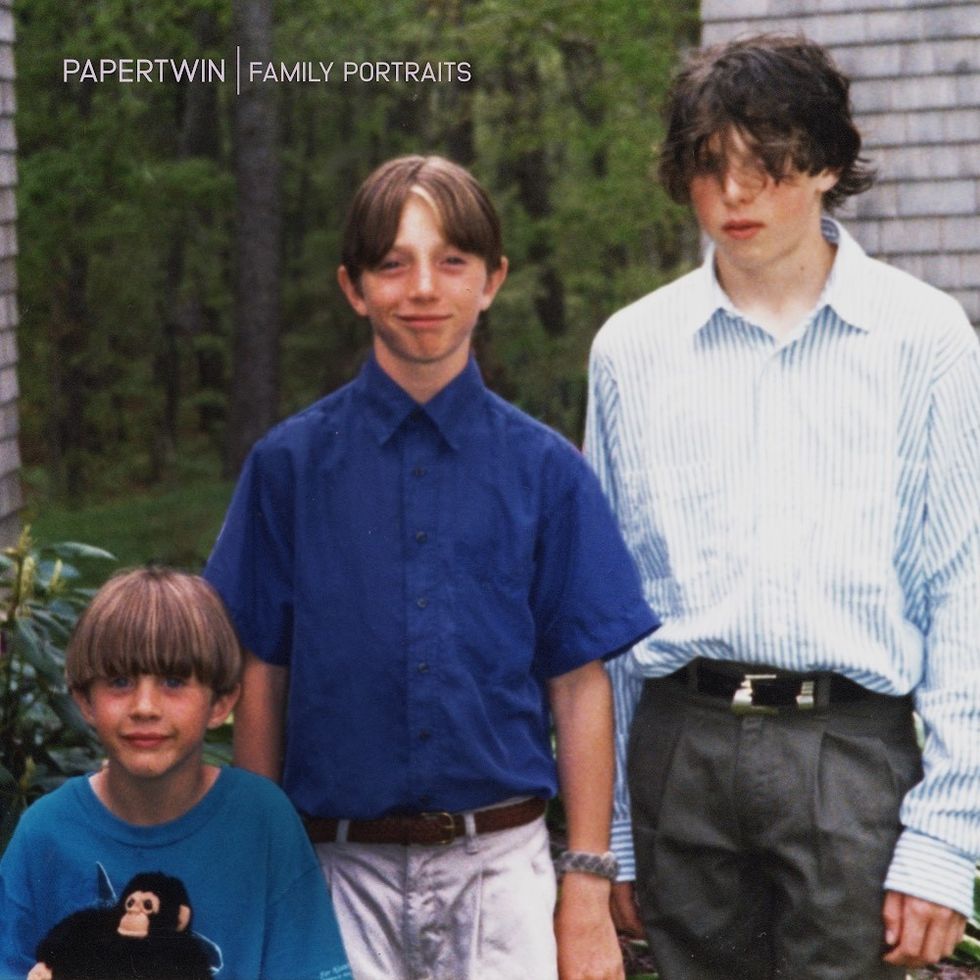 PAPER debuts their second Family Portrait single: "Happy Half Lives." This one rests on a gloomy, anxiously crisp drum beat, that affectingly contradicts Decker's languid, spacious vocals. Intricate synth pad work also serves to make the whole thing feel heavy and light at the same time. The band cites Talk Talk as an influence on the record, and indeed, the bright buzzy ecstatic yet melancholy sound of "Happy Half Lives" feels vintage in a way that also might be dated back to M83, Beach House and Passion Pit.
The song doesn't tell a linear story. Rather, Decker's abstract lyrics percolate anxiety about the future and the present: "The future looks like a man/ drunkenly playing with a knife/ To whose future do we belong?/ Just tell me over and over it's worth it all." He also contemplates, and ultimately appears suspect of the reality of authentic meaning and connection: "Victims of nuance/ Happy lives/ Half alive/ Quietly suspects thats as far as they get."
The starting point for "Happy Half Lives" was Edward Hopper's "Room in New York," which depicts a couple seated at the same small table, each person looking away from the other with palpable distance between them.
"Taking inspiration from Edward Hopper's painting 'Room In New York,' this song examines the disparity between our inner and outer lives," says Papertwin. "Who we think we are versus how we are seen and judged by others. Questioning whether you were even born into the right body at the right place or the right time. The silence between two people sitting in a room can be both ominous and comforting all at once."
Listen below, and stay tuned for Family Portraits, out November 15.
Photo courtesy of Francis Cardinale
Sign Up For The Morning PAPER