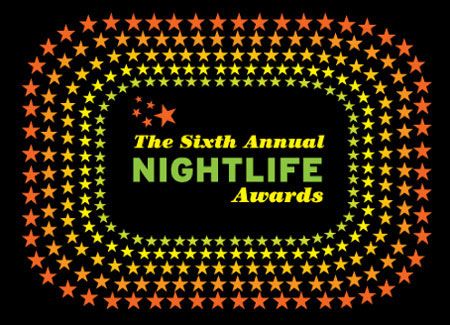 Earlier today,
we gave you the list
of our People's Choice nominations for the
Sixth Annual PAPER Magazine Nightlife Awards
on October 14th. To be clear,
People's Choice voting is limited to a number of categories and the winners are determined on the amount of votes they receive from you, the night owls of NYC
. The rest of the winners are determined by the PAPER staff in several lengthy meetings that involve PowerPoint presentations, spreadsheets and even pie (charts). Intense! And now, without further ado, here's the entire nominees list. Are you on it? 
Best Party
:
reOPENed at Santos Party House
Tuesdays at Le Bain
Flashing Lights at 88 Palace
Que Bajo?! at Santos Party House
The Danger
Let's Play House at the Counting Room
Bobbito's First Mondays at Camaradas el Barrio
Shakin' All Over Under Sideways Down at Home Sweet Home
Best Restaurant With a Nightlife Scene
:
Kenmare
The Lion
Cafe Gitane at the Jane Hotel
The Commodore
Roberta's
Minetta Tavern
The Breslin
The Smile
Best Hotel With a Nightlife Scene
:
Ace Hotel
The Standard Hotel
The Jane
Hudson Hotel
The Bowery Hotel
The Crosby Hotel
The Gansevoort Park Avenue
Best Designer With a Nightlife Influence
:
Asher Levine
Timo Weiland
Opening Ceremony
Charlotte Ronson
Madonna's Material Girl
Dee and Ricky
Abigail Lorick for Lorick
Best Bar/Lounge
:
Terroir
Prime Meats
Mission Delores
Cienfuegos
Matt Torrey's
Lady Jay's
The Wooly
Coco 66
Baddies
Polar Lounge at the Marcel Hotel
subMercer
Best Gay Night:
Amanda Lepore's Big Top at Carnival
Spank Loft Party
Club 57
Gumbo in DUMBO
Saturdays at Sugarland
Main Man at B.east
Sundays at Tandem
Vandam at Greenhouse
Family Function at Woody's
Bloody Mary at Good Units
Best DJ
:
Mia Moretti and Caitlin Moe
Michael Magnan
Nick Cohen
Mike Nouveau
Punches
Solange Knowles
Biz Markie
Stretch Armstrong
Jonathan Toubin
Just Blaze
Max Glazer
Alex English
Best Nightlife Photographer
:
Olivier Zahm
Hanuk
Rachel Chandler
Kevin Tachman
Jeremy Kost
Zac Sebastian
Best Club
:
Le Bain
Good Units
Le Poisson Rouge
Party XPO
Shea Stadium
The Collective
Brooklyn Bowl
Don Hill's
Future Face of Nightlife
:
Becka Diamond
Dree Hemingway
Coco and Breezy
Ericka Toure Aviance
Cody Critcheloe
Nancy Whang
PEOPLE'S CHOICE
-- THESE ARE THE WINNERS YOU PICK.
VOTE HERE
!
Best Party
:
Beige at Bowery Bar
Freedom at Le Poisson Rouge
The Rub
Tuesdays at Lit
Boys and Girls at Webster Hall
Sundays at St. Jerome's
Roots at Cielo
Tuesdays at Hotel Rivington
Mister Saturday Night
Morrissey Night at Sway
Best Club
:
Cielo
Avenue
Webster Hall
Greenhouse
Legion
Sugarland
Good Units
Best DJ
:
Boy George
Samantha Ronson
Harley and Cassie
Tommie Sunshine
DJ Cassidy
Sky Nellor
DJ Coleman
Tiesto
Skeet Skeet
Roxy Cottontail
?uestlove
Best Nightlife Website
:
Gayletter
Imboycrazy
The Downtown Diaries
Nicky Digital
Cobrasnake
Eater
Grub Street
Guest of a Guest
Flavorpill
Foursquare
Bushwickbk
America's Best Part
y:
Mustache Mondays (Los Angeles)
A Club Called Rhonda (Los Angeles)
Honey Soundsystems (San Francisco)
Comeback (Seatte)
It's a School Night at Bardot (Los Angeles)
Bnna Clps (Philadelphia)
Rehab Mondays at Debonair Social Club (Chicago)
Best Promoter
:
GBH
James Coppola
MeanRed
Été d'Amour (Sundays at Le Bain)
Six Six Sick
People Don't Dance No More
Jelly NYC