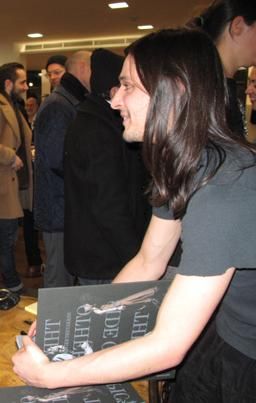 I dragged myself and my fabulous new weave (thanks Leigh Ann) to the
Olivier Theyskens
book party at
Barneys
last night. After I got over the fact that his hair looked (way) better than mine, we settled into a nice chit chat about his inspirations, his life and his loves. Take a look at it below while I finish j'dieing over the fact that I interviewed one of the most iconic young designers -- ever. Like Mr. Mickey would say, "That's the level we're on."
Lots of socialites and mediaites and rich, mature women from Texas and stuff all crowding around. How do you feel?
I'm a little overwhelmed by everything to be honest with you.
Everyone seems to love the book. What's your favorite part of it.
I'm very happy that my book is out. I love the work of my friend Julien [Claessens] who took the photos. It shows in beautiful photos my growth and his. Its an evolution. We started at the same time. So its the evolution of two people. And you see it as the photos move from black to white -- I think that's what makes this so special.
Are you proud of yourself?
Its not about being proud. Its about sharing.
In that case, are there any projects you are working on that you can share with us?
I can't tell but I'm thrilled by anything with great inspiration.
Will we be seeing you in New York more often?
I love New York. I'm here every two months, but I don't know if I can live here.
CLICK HERE FOR PAPERMAG'S COMPLETE DOWN-LOW FASHION WEEK FALL 2010 COVERAGE. >>