PAPER has always been a place of opportunity, a place that spotlights new talent and people who are doing tremendous things. We've spent over 20 years bringing you the Beautiful People issue, which identified amazing people who were doing things differently and using their creativity, ideas and success to transform culture and create new opportunities for artists, audiences and fans. This year, we have decided to rename the portfolio and call it exactly what it is: PAPER People. — Drew Elliott, Editor-in-Chief
If you've laughed in reaction to a comedy bit in the past year, there's a good chance your chuckle was a direct result of Phoebe Robinson's genius. Robinson is one half of 2 Dope Queenz (the other Dope Queen being fellow funny girl Jessica Williams), a podcast-turned-HBO variety comedy hour, as well as the author of the New York Times' bestselling essay collection You Can't Touch My Hair: And Other Things I Still Have To Explain, a staff writer for Portlandia's last season, a consultant for Broad City and a star of Netflix's female-fun-focused movie Ibiza alongside Gillian Jacobs and Vanessa Bayer.
Next up for the multi-hyphenate is the October release of her sophomore book Everything's Trash, But It's Okay, which uses a humorous lens to examine the fallout from the 2016 election, and her box office debut in What Men Want, a radical reboot of Nancy Meyer's turn of the millennium rom-com What Women Want, co-starring Taraji P. Henson and Tracy Morgan and out in 2019. With high-profile gigs such as these, it's guaranteed that Robinson will have us laughing in the year — if not years — to come.
Let's talk about Everything's Trash, But It's Okay – why is it OK?

I'm lucky to do comedy, where I can do this thing that makes me feel good and hopefully makes other people feel good, too. I always say "everything is trash," like I always talk about how I'm trash, I like bad reality TV, I like eating fast food when I shouldn't, I do really ridiculous things. Everything is trash, like we're just living in a trash world but…I think it's going to be fine, and also there is humor to still be had even though we're trying to deal with immigration and trans rights, and so we should have moments of levity.
Many people first discovered you on your podcast, 2 Dope Queenz. Can you chat a bit about the podcast landscape and the impact it's had on your career so far?
I think that podcasts are a really great equalizer, like if you find your audience you can really sort of talk about anything and I find the pods that are super specific have such great fanbases. And I think everyone, in a way, is a storyteller, and so it's just about finding a way to express yourself.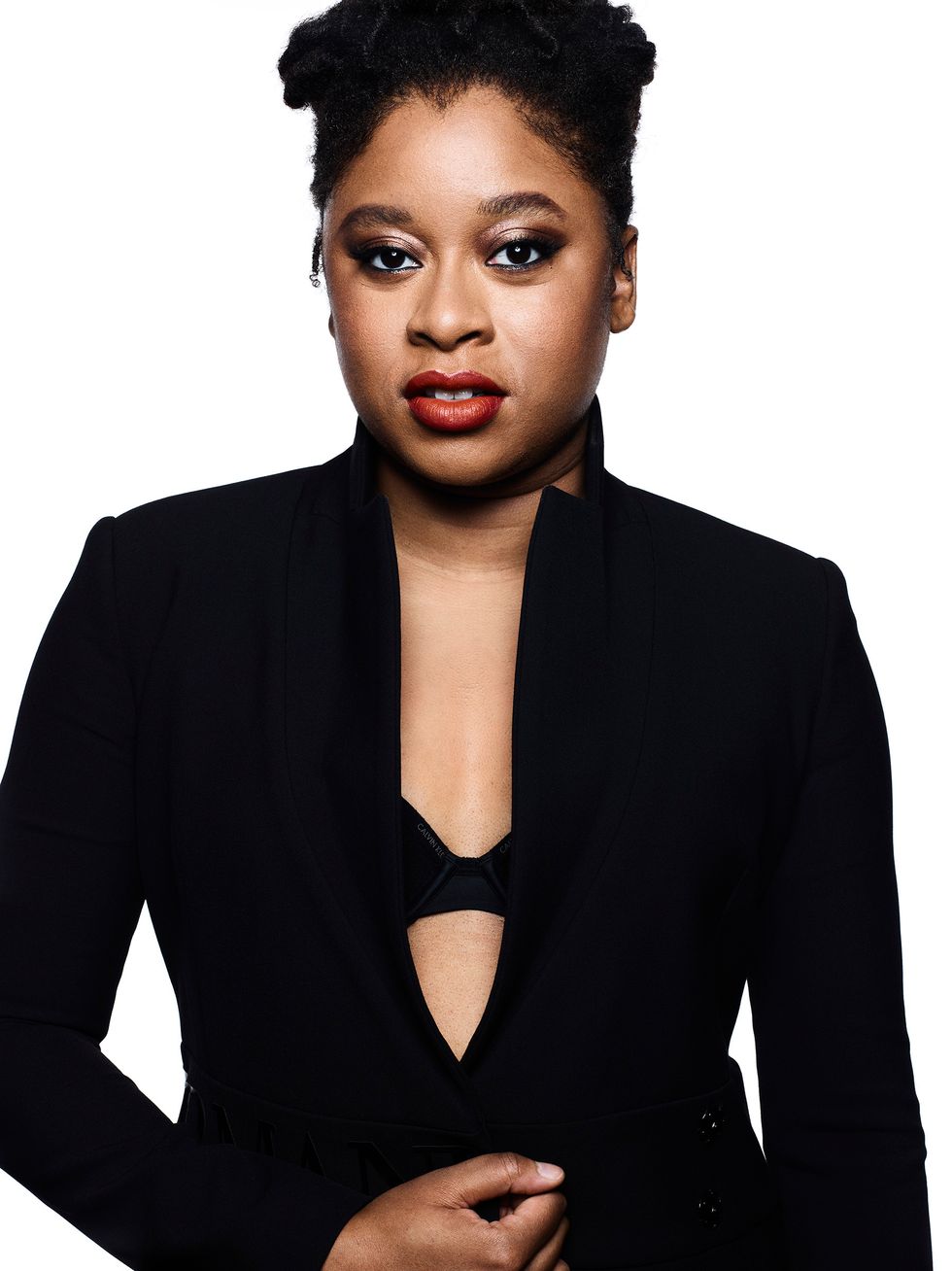 Jacket Emporio Armani
Take me through the experience of moving the pod to HBO.
To be on HBO is a dream for a lot of comedians — it certainly was for me, — so to hit that pinnacle, I was kind of like, "I did it!" Like the ten years [working in comedy] sort of paid off for us. And I think for Jess [Williams] and I, we were very adamant about being heavily involved in the creative and being producers. That was important for us, to stretch that muscle, and I think a lot of times women aren't encouraged to take on those roles, so we were like, "We're going to be two badass women who produce and have a hand in everything!"
Do you have a long-term plan? And if so, where are you right now in your desired trajectory?
Yes, I'm a planner. I definitely want to get more philanthropic; I do a lot of stuff with the (RED) organization and ONE campaign. I really just…I have so much; I truly have enough. More than enough. So I'm like, how can I use my platform so it's not just like, here's a selfie of me in a cool location?
And then I think a dream of mine is publishing. I would like to have an imprint and help usher in new voices that aren't heard, because publishing and podcasts are mostly [made up of] only white [people] and there are so many cool voices out there. So an imprint would be great. I'd love to have a production company and probably make TV shows and small indie movies, that'd be cool.
Um, save money, I guess? Gotta keep saving, you know, that's what Suze Orman says. And then just keep having fun. That's the thing, like sometimes you meet people and they do comedy for a while and they lose the fun of it, and it really just becomes about closing this deal getting this thing and I'm like...this should be fun...we're getting away with so much by having this be our job. So I want to hold onto that forever.
A study conducted by Color of Change found that "networks and streaming services systematically excluded Black talent from the writers' rooms" in the 2016-2017 television season, resulting in POC characters that were based on harmful stereotypes. Have you felt that your experiences in entertainment have been affected by this phenomenon?
I think I got into it in a time where there are shows like blackish and Insecure and people like Shonda Rhimes and Ryan Murphy, who're like, "We're going to control the narrative more and it's not going to be this outsider perspective based on stereotypes."
I think when I audition for stuff, there is more of a tendency [for casting directors to think] this is the sassy friend, or the friend that just gives love advice but has no life of their own, so that's still kind of a bummer. But I think there is space now for a 2 Dope Queenz to exist or a show like Pose, which has the most trans characters on television. Like, that couldn't have happened ten years ago. So I think while it's still hard and while the numbers still aren't great in terms of diversity, I think what's changing is that voices like Mindy Kaling's are being taken seriously in the same breath as Tina Fey's, and that might not have happened 20 years ago.
I think what will really change things, and which is why Jessica and I wanted to produce, is there needs to be people of color who are producing or people of color who are development executives. That's going to be the next wave of how we get the actual change to stay after it's just a trend moment.
On the other side of the coin, we're now in the midst of what some are calling the "New Golden Age of Black Cinema." How does it feel to be a part of that new guard?
Well, I didn't think I was a part of that until you just said that, so thank you! I think it's nice to kind of like…not feel alone. That's the cool thing where there's a bunch of us working and we're not the token, we're not the only one in the room where you have to be like, "I have to watch my step" or "I can't share this sort of experience because no one will get it." So I think right now it just feels really exciting, and I love that people like Lena Waithe are on the cover of Vanity Fair just being herself; it's so cool to see that. And I think that's going to encourage the people who come after us are to do even more creative and more boundary-pushing things.
I think a lot of times you hear excuses, especially with late-night shows, they're like, "There just aren't people to choose from!" It's like there are, you just have to go outside of just hiring people from Harvard or wherever. Go to cool shows that are happening in indie parts of New York or LA and you'll find all these rich, amazing, vibrant voices. So as long as we keep showing that example, like there is a Lena Waithe, there is an Issa Rae, there is a Donald Glover…if we can do it, everyone can.
Photography by Ben Hassett
Styling by Mia Solkin
Makeup by Delina Medhin
Hair by Cirsty Burton
Digital Tech: Carlo Barreto
1st Photo Assistant: Roeg Cohen
2nd Photo Assistants: Eric Hobbs and Chris Moore
Sign Up For The Morning PAPER