Jacquie AichePAPER has always been a place of opportunity, a place that spotlights new talent and people who are doing tremendous things. We've spent over 20 years bringing you the Beautiful People issue, which identified amazing people who were doing things differently and using their creativity, ideas and success to transform culture and create new opportunities for artists, audiences and fans. This year, we have decided to rename the portfolio and call it exactly what it is: PAPER People. — Drew Elliott, Editor-in-Chief
Moj Mahdara wants you to buy into self-confidence, makeup sold separately. Through her role as CEO of Beautycon — a two-day beauty "festival" held annually in New York, LA and London that includes expert panels, brand activations and meetups — she's encouraging just that. "Our festivals are just one piece of our business; what we're really building is the future of a beauty brand, retail and e-commerce experience," she said. For Mahdara, genuine inclusivity — across age, race and gender spectrums — is paramount. "I think to create an environment that actively rejects shame is really important," she added. As such, Mahdara ("not a cosmetics person," by her own admission) is spearheading a movement based on the inverse of traditional makeup marketing, perhaps best exemplified by Beautycon's mantra: "you don't need lipstick, lipstick needs you." The resistance, as they say, will be beautified.

I'd love to know a little about your personal relationship to beauty and that journey.

I don't have a personal relationship to beauty. I'm not someone who's really a cosmetics person. I was always more of a music, art, culture person, and I like audiences. Fandom is a passion of mine. So my relationship to beauty has been about these new faces and new content creators and the way they've disrupted community and communication and engaged a whole new audience to see beauty through a new lens. That's what attracted me to the space, but it's more about health and wellbeing for me — I'm a health and wellbeing junkie.

Diversity is a core component of Beautycon. Can you talk more about that as well as broader, more inclusive changes happening in the beauty industry you've noticed?

I think the definition of masculinity is changing and I think the definition of gender is also changing. I think the definition of your sexual parts determining your lifelong experience is starting to be challenged. Someone like Kim Kardashian [who headlined Beautycon L.A. this year] was somewhat of a controversial choice for us because she's an extreme of one archetype, but my pushback to that is we celebrate her approach to femininity as well, and she has a very specific approach. But on many levels, I really respect and think she's quite masterful in her approach.

How did the intersection of your Iranian-American and gay identities shape who you are today and your own point of view about diversity in the beauty industry and elsewhere?

I think it's exactly why I am the way I am, which is hyper-empathetic to other people and other cultures. If you're Persian or Iranian, you're already "other" because the country you are born in and are from has gone to a war with that region like a couple hundred times since you've been a kid, right? So you already are, you know — like the Persian Gulf War — you're Persian. Like, no one wants to be friends with that. So [add] in the fact you're gay and add to that that you're also butch. Like that's really... I know in 2018 that's very chic and everyone's super evolved, but it's only been 2018 for six months, and before that it was terrible. Just terrible.

Imagine all your life you've just wanted to be a successful businessman and then you're like, "Oh wait, I'm a girl and there can't be successful businesswomen." And then you're brown and Persian and gay and butch it's like... the odds... how am I ever going to make it to the other side? So, yes, I feel for anyone who comes from a strong culture that has to deal with the variety of preferences that as human beings we all have an ability and a right to express. But yeah, it's terrible.

I do believe that in the same way that diamonds are created from extreme pressure, I've adopted that philosophy into my life, and pressure doesn't bother me. Like at all. No amount of pressure has ever made me want to quit. Like, ever. So I guess that's the positive outcome of it all.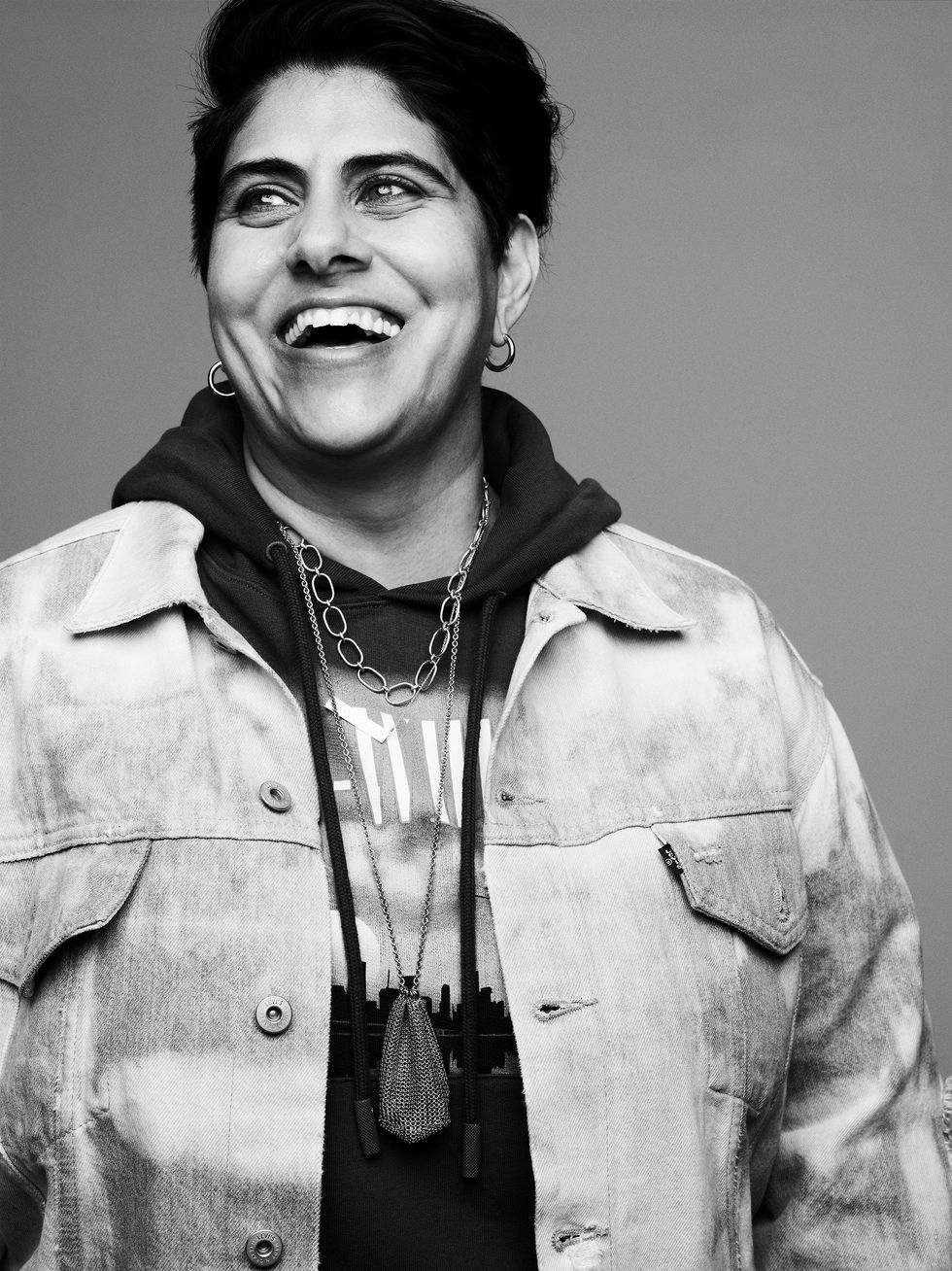 I know the travel ban is affecting a lot of Iranian-American families; do you still have family in Iran?

I do, the majority of my family is over there. It's really upsetting. I don't know how else to say that. It's also very upsetting because it's almost like people have something to gain from demonizing an entire region. Everyone needs to remember that this country was an incredibly progressive, democratic society throughout the '60s and '70s, and outside governmental influences have created what the government is today. And that government, what it is today, is not a reflection of the culture and the people of that country. I feel like a global citizen; I have a very global response to these things. I think human injustices, in general, seem to rock me a little bit deeper than most people, and I feel like I'm pretty impacted by some of the things that have been going on for the past 18 months.


I'm interested in the disconnect between glamour and makeup, which I know is important to Iranian women, and the laws which enforce compulsory hijab. Do you think it's because of the enforced modesty that women find autonomy and freedom through makeup?

In general, there's this word called gherti, which basically means a "social flirt." Most Persians love pretty things, pretty stuff, glamour, like Elizabeth Taylor, Marilyn Monroe... everything that's ever been a saga, a drama, like theatre... that culture loves all that stuff. So trying to get the women in that country to not wear a lot of makeup and [not] do their eyebrows and [not] get their nose jobs is like impossible. They would literally rather die. So, yes, that's why Iran is like the [global] capital of nose jobs and has the highest consumption of beauty products.

The Middle East, in general, loves beauty because, listen, at the end of the day, if you want to think about it through a heteronormative lens, like, "Do women wear makeup for men or do they wear it for other women?" and I think a lot of women really crave and want, more than anything, the admiration of other women. Like, what a guy thinks of them is not so interesting, but if their girlfriend tells them they look amazing, they love that. So imagine a society that's segregated by sexes — you basically have millions of women hanging out who want to look fierce for each other. Which makes total sense: they all love what they love. But growing up as someone who never wanted to wear makeup and my whole family all loved to wear makeup, I would stare at everyone in the mirror while they put on loads and loads of makeup, and it just gave me agita. Which is so weird now with Beautycon [laughs]... because I have a totally different feeling. It doesn't mean the same thing.

What do makeup and beauty mean to you now?

I think now what's different is there's all these young people, very gender fluid, of all ages... like I love the fact that people like @iconaccidental will come to Beautycon and she's in her 60s, and she's a power influencer. I love that we're this place where this beautiful, 63-year-old woman who's got half a million followers on Instagram is flying from New York to LA to be at Beautycon because we met on Instagram, and the fact that we have a hand in helping people remember that beauty is not ageist, that beauty can be everything from the day you're born until the day you die. Society as a whole has done a very good job of shaming people who... I think a lot about shame, actually. And I think to create an environment that actively rejects shame is really important. And I think it's different than what you see inside some of our competitors, where primarily the function of their business is to sell products. It's one thing to just use the faces of niche audiences to represent your brand, and a lot of brands have used LGBTQ+ and diverse faces to try and move their brand forward as a progressive campaign. But when you look at the DNA of the brand, the culture of the companies, the people who run that company, it's really inauthentic. So when I think about Beautycon it's about…how far can we get away from shame?

I think one of the things I'm probably most proud of is people will tell me how nice the community is to each other; you can see it through all our social channels, there is a genuine niceness. Nothing is ever good enough for us, and we're constantly pushing the envelope on what else we can do to be more progressive, more inclusive, and more thoughtful.
Would you say Beautycon's objective is to expand the definitions of beauty and how we think about it?

I think the definition of beauty, for us, is really to get beyond this concealer culture, to get beyond a culture of like, "You need this product!" I dare another beauty brand to have a tagline of "You don't need lipstick, lipstick needs you." Their taglines are like, "You need more. More, more, more!" Our taglines are like, "Real friends, false eyelashes." That's about us saying to you, "You don't really need all this stuff. You like it, but you don't need it, because you, as you are, are pretty awesome."

Photography by Ben Hassett
Styling by Mia Solkin
Grooming by Michelle Harvey at Opus Beauty
Digital Tech: Carlo Barreto
1st Photo Assistant: Roeg Cohen
2nd Photo Assistants: Eric Hobbs and Chris Moore
Sign Up For The Morning PAPER