PAPER has always been a place of opportunity, a place that spotlights new talent and people who are doing tremendous things. We've spent over 20 years bringing you the Beautiful People issue, which identified amazing people who were doing things differently and using their creativity, ideas and success to transform culture and create new opportunities for artists, audiences and fans. This year, we have decided to rename the portfolio and call it exactly what it is: PAPER People. — Drew Elliott, Editor-in-Chief
The future of marijuana according to MedMen, the largest nation-wide legal pot retailer, is radical normalization of weed and its associated uses — whether for medicinal or recreational purposes. And the future is now.
"We wanted the experience of going to buy a premium cannabis edible or bath bomb to be as familiar as any other product with highly trained approachable staff to help guide you through your purchase," Andrew Modlin, co-founder and president of MedMen, said.
In the 10 years since MedMen was first conceptualized, they've executed that goal to a T. The result is 19 shops in three states (California, Nevada and New York) that have licensed pharmacists on hand to guide customers based on their specific needs and detect possible drug interactions with one's existing medications. Products vary across locations due to state-level regulation — for instance, actual flower is prohibited from being sold in New York — but MedMen's commitment to providing an educational retail experience via highly-knowledgeable staff remains steadfast.
"[Customers] leave the store with a feeling of 'this isn't intimidating to me,' that 'marijuana can be accessible for me — even if I'm not able to buy it today in this store, I'm now educated way more than I was before I walked in,'" Adam Bierman, co-founder and CEO said. "[We're] your guide into the future of legal cannabis, regardless of how many SKUs are on the shelf. We're not needing people to use cannabis in order to experience what the future of cannabis looks and feels like."
So just what does the future of cannabis look and feel like? According to MedMen, whose brick-and-mortars exhibit a sleek, minimalist aesthetic, it's an upscale environment that more closely resembles an Apple store than the musty head shops of yore. With an open floorplan, no-frills wooden tables on which products are displayed, iPads on which customers can learn more about offerings and Genius Bar-looking counters where you can get one-on-one time with pharmacists at the ready, MedMen is not your mother's connect. And, better yet, you needn't fret that uttering a marijuana-specific word (i.e. referring to a "bong" instead of a "water pipe") will get you booted from the store; in MedMen's high-end pot shops, such a moratorium doesn't exist.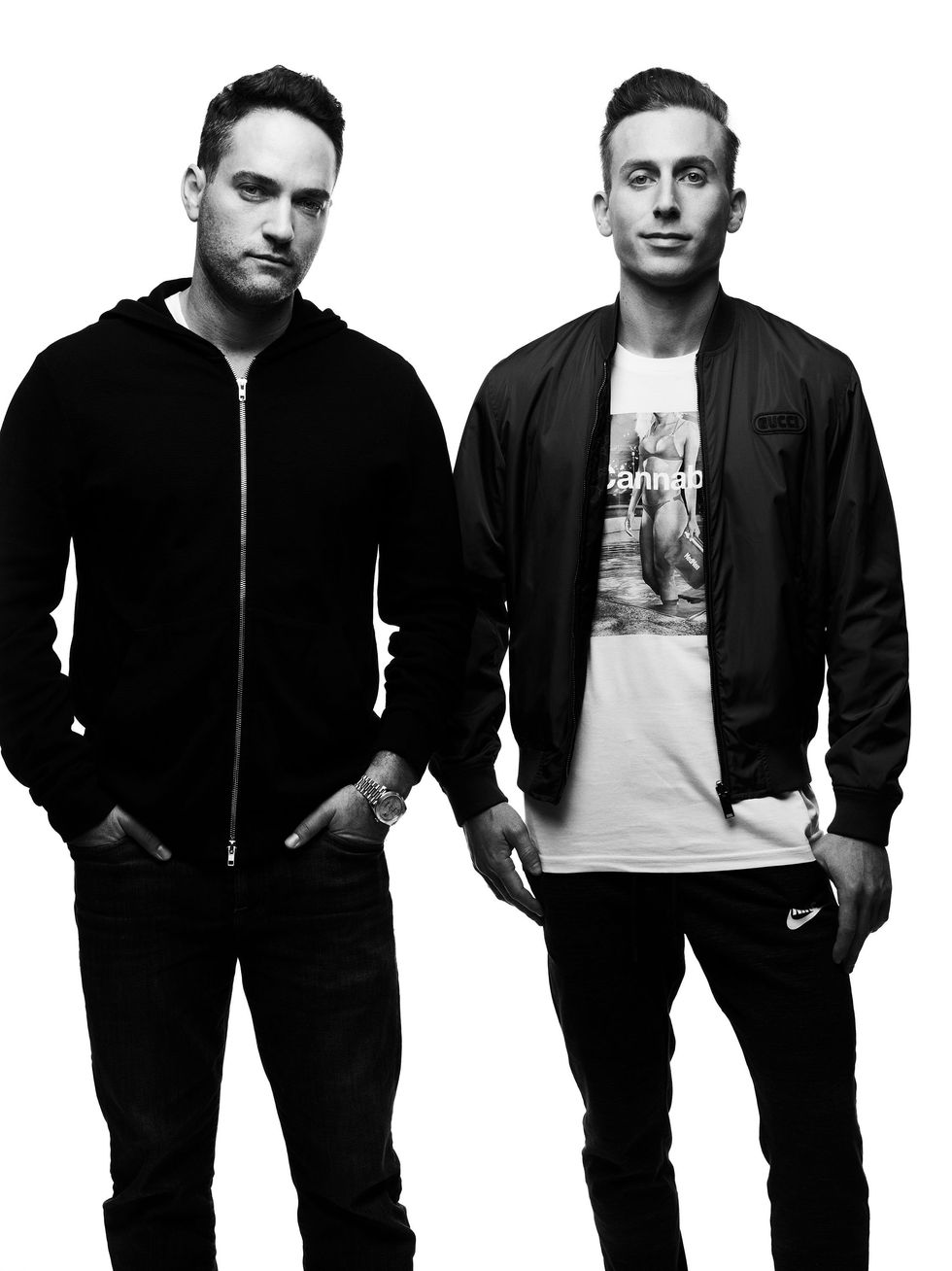 On Andrew Modlin (Right): Jacket by Gucci, Shirt by MedMen, Pants by Nike
With laxer laws and, consequently, increasing opportunities for research, the destigmatization of pot is reaching peak acceptance in the United States, despite the current attorney general's vitriol toward the plant. While multi-state marijuana ventures might present particular challenges in accordance with varying laws, anticipating such obstacles was all part of their master plan. (Bierman likens the logistics to casinos and gaming, another "privileged license, highly restricted, highly regulated industry.")
As "conscious capitalists," a term Bierman uses frequently, MedMen places emphasis on uplifting the communities they inhabit. "If we're in a community, we need to help that community be safer, healthier and happier than it was before we got there. Not because we're going to brag about it on our website to score some points, but because that is how you build a sustainable industry," he said.
It's the same ideology that has shaped some of the company's unique attributes, including unparalleled retail presence in key locales, total control over its own grow operations (with state-of-the-art farming facilities located in California, Nevada, and New York) and being one of the nation's preeminent donors of legalization efforts at the local, state and federal levels. (MedMen has given over $3 million to date to pro-legalization groups, industry organizations and political candidates, per the company's records. MedMen also sponsored the largest expungement fair — an event in which people can get marijuana convictions scrubbed from their records — in LA's history).
Another pillar of MedMen's commitment to education is EMBER, a part-magazine-part-catalog publication made in partnership with us at PAPER. EMBER features stories on productive potheads and weed-infused products — including ones sold in-store — and is another way MedMen seeks to normalize and educate the public with stories that feature successful creatives "coming out" of the hot-boxed closet, showing not only that one can smoke one and still make significant contributions to society — but that ultimately, weed might be the creativity-stoking catalyst that makes some people the successes they are, as opposed to the unmerited lazy stoner archetype we've largely been presented in the media.
With this green rush comes a sidelining of marginalized groups who have, historically, been disproportionately affected by the enforcement of marijuana-related laws. It's impossible to have a conversation about one without the other, and this "responsibility we have as leaders of this industry," as Bierman put it, isn't lost on the higher ups at the company.
"It's tough. There's this kind of history of disproportionate negative impact of communities of color, and then there's this 'new industry' that has kind of risen from those ashes and it's not the same people on both sides," Bierman said. "This industry needs to help build up our society, and where more pertinent to do so than where the war on drugs has dragged down society? So it's a balance. On one hand, it's about having a lot of pride in the work that Andrew and I have put in in almost 10 years to build this. But on the other hand, it's about being conscientious about where our opportunity stems from and our responsibility as a consequence of that, and I think that we've done a really good job of that.'
With plans to expand its retail presence — including opening facilities in Florida, Massachusetts and Canada before the end of 2019 — the company is full-steam ahead in seeing through its goal to be the most recognizable brand in the legal pot game. Now that's high maintenance.
Photography by Ben Hassett
Styling by Mia Solkin
Grooming by Penelope Vazquez
Digital Tech: Carlo Barreto
1st Photo Assistant: Roeg Cohen
2nd Photo Assistants: Eric Hobbs and Chris Moore
You May Also Like