PAPER has always been a place of opportunity, a place that spotlights new talent and people who are doing tremendous things. We've spent over 20 years bringing you the Beautiful People issue, which identified amazing people who were doing things differently and using their creativity, ideas and success to transform culture and create new opportunities for artists, audiences and fans. This year, we have decided to rename the portfolio and call it exactly what it is: PAPER People. — Drew Elliott, Editor-in-Chief
For husband-and-wife design duo Kristopher Brock and Laura Vassar of Brock Collection, a little distance is a good thing. That's why for the last three years they've designed their ready-to-wear label from the sunny, if slightly off-piste, calm of Los Angeles "Being here allows us to come from a place of clarity," Vassar, a Newport Beach native, explains, and with the noise of NYC a continent away, that clear vision comes through in the clothes. Brock, which took home the prestigious CFDA/Vogue Fashion Fund award in 2016, can swan comfortably between, say, Belle Epoque heroine and Beach Blanket Bingo, old-world glamour mixed with a dash of California ease. Their signature florals are instantly recognizable on any red carpet (fans include Emily Ratajkowski and Lily James), and their penchant for unabashedly feminine corseting is now a mainstream trend. If there was any fear that romance is dead, then Brock Collection is a much-welcome lifeline.

Running a ready-to-wear company out of LA has its pros and cons. What are the pros and cons you've noticed since moving out West about establishing a brand in LA?

LV: We started the company in New York, then when we had our son we moved out to California. It was definitely scary at first and we were thinking what are are we doing? But for the creative process, it's almost like a blessing because we're kind of out of everything that's happening. You're able to think on a whole different level. I can think more creatively from Newport — think on a different path. You're out of what's happening in New York and you're out of what's happening in L.A… It does comes with its minuses. We were so lucky to partner with a luxury group, Onward, that is based in Italy. We go there six times a year. We're doing fittings, production, sales, development and selling the collection, all with Onward so we go there and hammer it out.

KB: Going to Italy for fittings and all of that doesn't matter if we're based in New York or LA, Texas or Chicago, we're still going to the same place for development and production. But then you also have the social scene of New York, all the parties and events so we're missing out on that. You don't really get that social element.
LV: Which is almost better!
KB: There are some events that we still just have to fly to New York for a day [to go to]. It would be amazing if it were just leave our house, go to it, and come back home rather than sit on a plane for six hours. But it is a nice little community here in LA as well. It's fun. We love it.
LV: There is a nice camaraderie in LA — everyone really connects and works together. But it's really cool when you move some place and there are people in the same field.

Speaking of parties in New York, I was wondering if you had any thoughts on the CFDA / Vogue fashion fund finalists that were just announced.
LV: It's so exciting for everyone.
KB: It's a great group.
Having gone through that and winning, of course, do you have any advice for them?
LV: Just go for it! That time in our lives was one of the most influential on our business, on our brand, on ourselves personally. It really challenged us to come forward, push ourselves to build and grow the business. Looking back, we put our hearts and souls into every single step of that. It was life changing. The outcome was life changing, and the experience of it was so impactful. Just experience [the moment] would be the best advice.
KB: We learned so much throughout that process. And continue to learn from the advice given. My one pice of advice would be to go into it with a completely open mind. The top people in the industry are the judges and the mentors and they have so much to offer.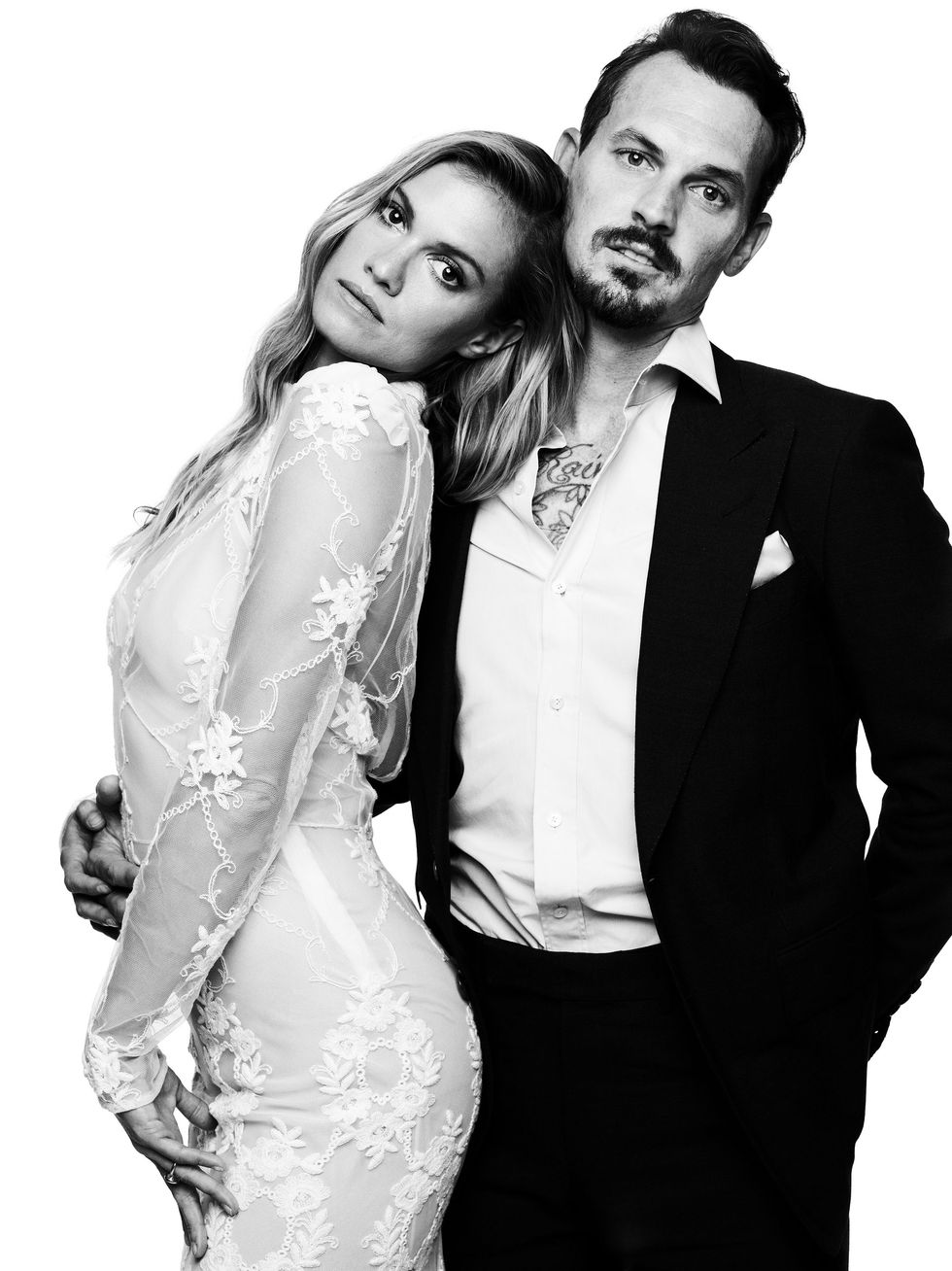 On Laura: Dress Brock Collection
On Kris: Clothing Tom Ford
The vision for the brand was so clear so early — how did you arrive there so quickly?

LV: It was something that we really focused on in the beginning. So, you start a brand, you have an idea of it, and then you have to get it across to the world, which is a totally different thing than just visualizing. Who are we? What are we doing? What sets us apart? Why are people coming to us? We had to dive deep and ask ourselves all of those questions. What is it that we want to portray? We went to our own hearts and thought about who is Brock. We did that during the CFDA process and after and our mentor gave us the best advice ever: the brands that do well are the ones that are really specific. We dove down and the answer was there. It was one of those things that the answer was there all along but you didn't really know exactly how to say it. We always come back to the notion of romance and clothes that you are emotionally connected to and you feel romantic in. American raw romanticism. If it's not that, then it shouldn't be in the collection.
KB: I think that it is ever evolving for us. What that means to us right now, next year, five years from now. It changes a little bit but it always goes back to that... if it doesn't scream raw romanticism then it's not Brock and we don't need it.

What does this idea of 'romanticism' mean to you exactly?
LV: When we do anything, we think what does ["romantic"] mean? What is a "romantic" pair of jeans? It's like a 100% cotton raw, Japanese, high waisted denim that makes [the Brock customer] feel secure. What's a romantic sweater? It's a 100% cashmere chunky sweater that she can wear by a bonfire. What's a romantic dress? It's corseted and maybe has frayed edges and is an antique jacquard but is strapless so she can show off her collar bone. What is a romantic evening gown? It's black lace and it's a little sheer. It's applying romance to every piece we make. Romance means something different to every woman. For our woman it's about all of those wardrobe essentials. And how she wants to feel in each one.

KB: What it really means for us is an emotional connection. It doesn't have to be a princess neckline or cliché romance. It's more an emotional feeling to timeless pieces.

You have such a strong red carpet presence, how do you approach that?

LV: We've been so happy by women wearing our dresses. It's been a dream come true. So exciting and so cool. The approach is always just the dress. We have to make a dress that someone's going to feel their most beautiful self in. Something that is going to stand out and that no one else has. If we make sure that the cuff is just right and the waist is just right and it's in a beautiful fabric and it's different from anyone else... We drape all of the fabric on the models by hand to make them really special and stand out. It is totally a dream come true to see the women supporting us.

Photography by Ben Hassett
Styling by Mia Solkin
Hair (Laura) by Veronica Nunez at Art Department
Makeup (Laura) by Harriet Hadfield at Opus Beauty
Grooming (Kristopher) by Michelle Harvey at Opus Beauty
Sign Up For The Morning PAPER