PAPER has always been a place of opportunity, a place that spotlights new talent and people who are doing tremendous things. We've spent over 20 years bringing you the Beautiful People issue, which identified amazing people who were doing things differently and using their creativity, ideas and success to transform culture and create new opportunities for artists, audiences and fans. This year, we have decided to rename the portfolio and call it exactly what it is: PAPER People. — Drew Elliott, Editor-in-Chief
It's been searingly hot in New York, so Bria Vinaite has been eating a lot of ice cream. The Lithuania-born, Brooklyn-bred actress has also been spoon-feeding fellow starlet Sasha Lane, watching Spongebob, mourning the death of her plant, Roger, and bopping around Paris — most of which we learned from inhaling her addictive Instagram stories.
Vinaite's big break came about via her surreal, cheery account, @chronicflowers; after it landed in the sights of director Sean Baker, she was cast in his acclaimed film The Florida Project. She earned raves, and has since shot three new movies: Violent Delights, a Paris-set film about the 2016 terrorism attacks, Adultland, which covers—you guessed it—an adult video store, and Lost Transmissions, which follows a music producer who goes off his schizophrenia medication. She also starred in Drake's epic "Nice for What" video, and is soon to appear on Netflix's trippy The OA. With such an impressive run, it's surely blue skies (and delightful Instagram posts) ahead.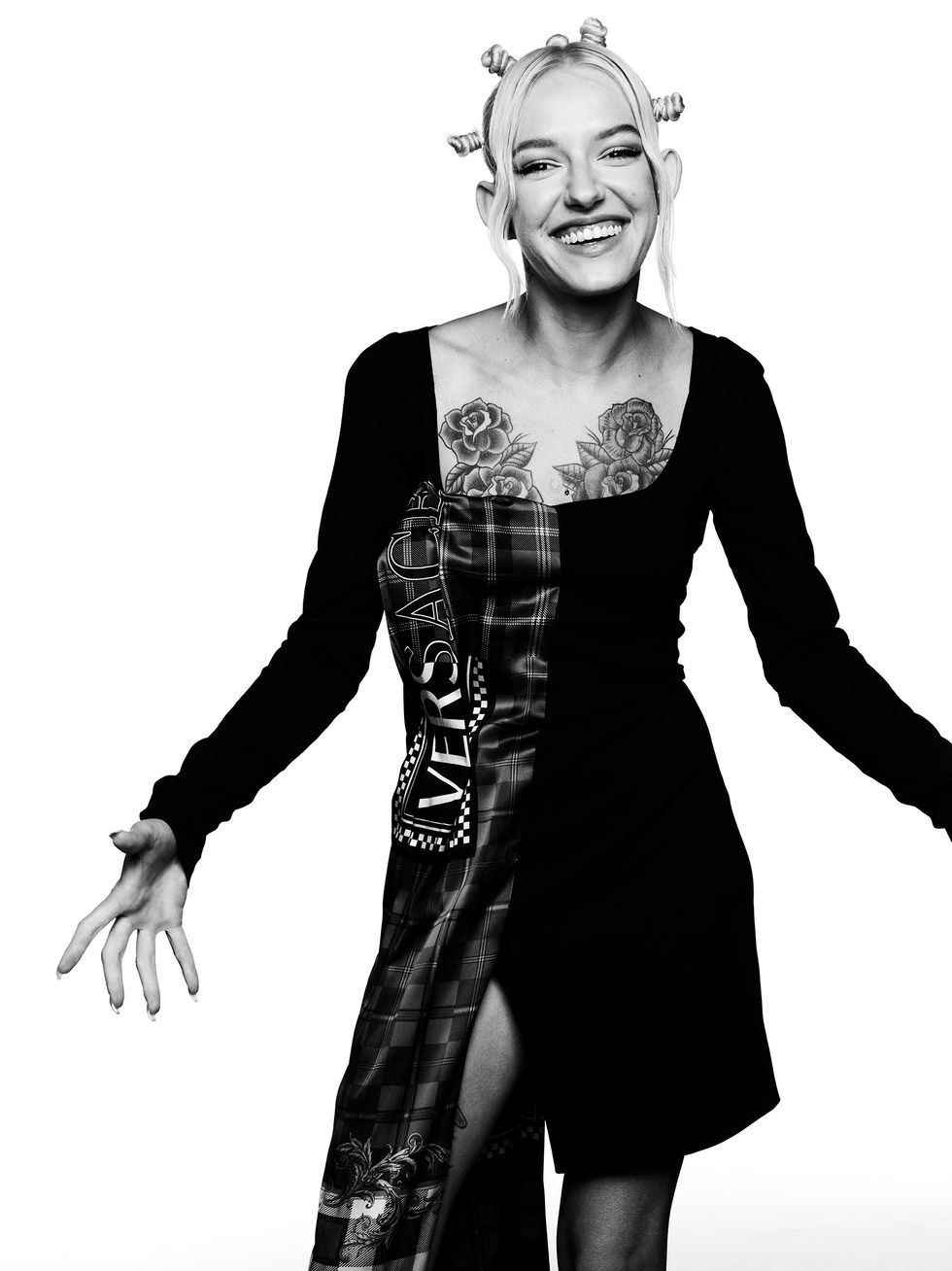 Dress Versace
I watch your Instagram stories obsessively and see what you like to do. But in your own words, what do you like to do with your time off?

I don't know! I just really like to like work out and make food and go out to eat. I really like being outside, but when it's this hot out, it's a little hard.
You have this really prolific Instagram presence that people, including me, really love. Since you've gotten to this more high-profile place, do you ever feel pressure to change what you post? Do you feel scared because more people are watching? Do you think more about it now?
No, but that's because I feel like social media is just social media. I feel like there's always going to be aspects of my life I keep for myself. Everyone is more open with things when they're younger and then you learn that there are important things to just keep yourself. So, I mean I feel like I've learned that lesson, but I don't think it's necessary to change much.
It seems like you have a lot of close friends who are actors, like Sasha Lane. But you're also close with the legendary Sarah Paulson! How did you meet?
Oh, my God, I love her. I met her a few months ago at the Governors Awards. She was just so lovely. I admire her so much. And she's just the sweetest person I have met in the industry. She's so easy to talk to and so funny, and I'm so thankful that I get to run into her sometimes, because it always makes me so happy.
Do you ever feel like people that you were friends with before perceive you differently, or that your social life has changed a lot? You became famous so quickly, and I'd imagine that would really change your social life.
I don't have a lot of friends. And the friends that I do have all do similar things, so it's not like a weird situation at all. I'm very picky about who I spend my time around. I just feel like I don't want to give my energy away.
You grew up in Brooklyn. As a city kid, what do you recommend when it's this hot out? Do you have any advice? Any pools you sneak into?

No pools. I definitely feel like a lot of ice cream! I eat so much ice cream in the summer it's insane.
You just finished filming Violent Delights in Paris. Could you tell me a little bit about what that was like?
It was so much fun. I'd never been to Paris. It was my first time there. I really liked the people I was working with and the story was really important, so I was just very thankful to be a part of that.
You were cast for the Florida Project off of Instagram. Did you ever plan on becoming an actress?
No.
Was it ever something you thought about?

No.
So, what's it like now embarking on this crazy career?
I really genuinely enjoy it a lot. I like to be able to work so hard on something and then be able to share it with so many people. And I feel like it's really exciting because you never know when you could stumble upon a career that you enjoy that you would have never thought of.
It's amazing. What did you first think when you got that call to do The Florida Project?
I didn't know if it was real or not. It was just a little — it kind of threw me off because I wasn't expecting anything like that to come from social media. I mean I definitely did a lot of research into Sean at first. [Laughs] I watched all his films, and just did a lot of Googling.
What did you think when you saw the film for the first time?
It was really cool because there were a lot of things that I wasn't in, like with the kids and stuff, and it was just really cool to go from reading a script to watching the full film.
Speaking of the kids, are you still in touch with Brooklynn Prince, your movie daughter?
Of course! That's my little best friend. We Facetime a lot.
Do you still have Roger, your plant? How is Roger doing?
Oh, my God. Roger died when I was traveling.
No!
And it was the saddest thing in the world. It's so sad, like he just — like I don't know what happened to him. It was a really, really sad situation.
Have you gotten a new plant?
You know, I haven't gotten a new plant yet because I don't want to like delete Roger's memory yet. But one day soon!
Photography by Ben Hassett
Styling by Mia Solkin
Hair by Joey George at Management Artists
Makeup by Stoj at Management Artist
Digital Tech: Carlo Barreto
1st Photo Assistant: Roeg Cohen
2nd Photo Assistants: Eric Hobbs and Chris Moore
Sign Up for the Morning PAPER