We met 26-year-old actress Beanie Feldstein as the Julie to Saorsie Ronan's Lady Bird, in Greta Gerwig's 2017 coming of-age gem — an awkward best friend who might've been a cliché without Feldstein's painful authenticity. It'll likely be the last time you see her as a sidekick. Taking the mantle from her older brother, Jonah Hill, Feldstein is currently flooding the market with (top-billed) unorthodox heroines. Along with co-star and fellow PAPER Person Kaitlyn Dever, she recently shared center stage in Booksmart (2019), a high school buddy comedy about a pair of nerd girls in an existential crisis, heralded as a timely update to her brother's Superbad (2007). Her upcoming starring roles — in How To Build A Girl, an adaptation of Caitlin Moran's 2014 novel about an "uncool," working-class girl living outside London who reinvents herself as a libertine rock critic (New York Times called it a "dirtier, funnier Almost Famous") and as Monica Lewinsky in a new season of FX's American Crime Story — are perfect examples of the kinds of stories that couldn't be told, or at least told as well, without an actress like her. — Jael Goldfine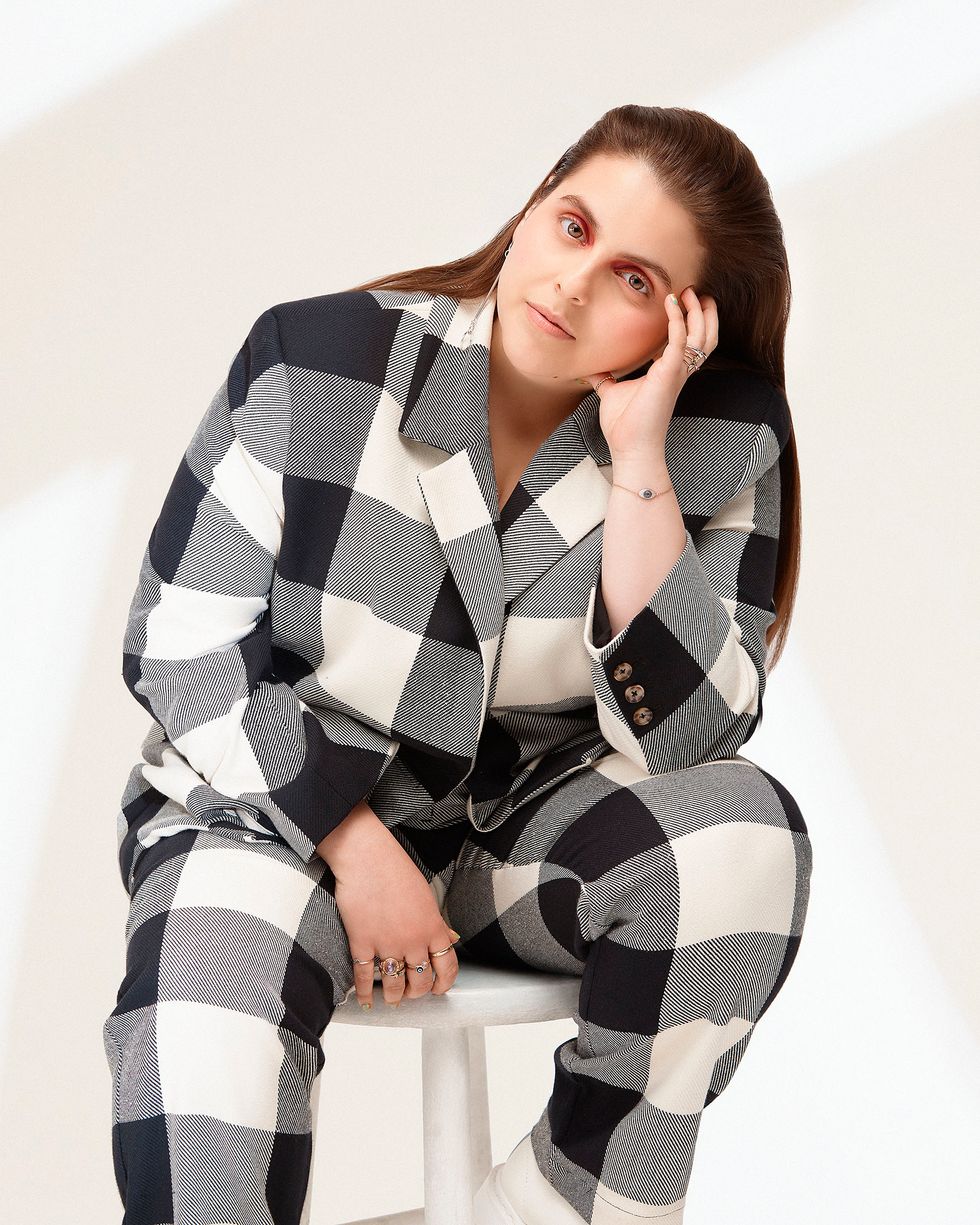 Jacket & Pants: Mara Hoffman, Earrings: Lady Grey, Rings: Queenie Cao
What's the biggest misconception about you?
That I'm not actually 17 years old.
What has been your best night out?
Once when my brother hosted Saturday Night Live, I ended the "night" at 8 AM dancing on a table with Channing Tatum. Literally the craziest thing this little Bean has ever done!
What was the last text you sent?
To my girlfriend: "I think I'm close to memorizing your phone number."
What's something no one knows about you but you wish people did?
I have intense allergies to cosmetics, so I can only use skincare made for literal babies. My lip balm is legitimately called "Grandma Minnie's Big Brave Boo Boo Balm."
What was the last song you listened to?
"Shower the People" by James Taylor.
If you weren't doing this, what would you be doing for a career?
If I wasn't an actor, I would be pursuing a Masters degree in Sociology. I graduated from Wesleyan University with a BA in Sociology and sometimes I dream of going back to school and eventually becoming a professor. I even attempted to study for the GRE while I was doing Hello, Dolly! on Broadway, but it ended up being a bit too much to take on. Maybe one day!
What's the craziest thing you've done in 2019?
I was in seven cities in three different countries and went to two weddings all in the week Booksmart was released!
What's your biggest irrational fear?
I am deeply scared of when people's mouths aren't their natural color. For example, if you have a Jolly Rancher stay the hell away from me! When I was at summer camp as a teenager, my bunkmates taped pictures of a Kool Aid advertisement to the top of my bunk bed. It featured kids sticking out their purple, green, and blue tongues to showcase the different flavors. I sobbed!
What was the last show you binge-watched?
Fosse/ Vernon, Dead to Me and Masterchef Junior... which I feel like really sums me up as a person.
What gives you hope in 2019?
Watching my incredible nephews grow up into remarkable young men.
What trend that you participated in do you never want to see again?
When I was in high school, we all used to leave videos on each other's Facebook "walls" and honestly some of them are deeply upsetting. Particularly the ones where we would dance and lip sync for each other. Full four minute personal music videos. Never again.
What's your go-to karaoke song?
"Take a Chance on Me" by ABBA.
Sign Up For The Morning PAPER