PAPER has always been a place of opportunity, a place that spotlights new talent and people who are doing tremendous things. We've spent over 20 years bringing you the Beautiful People issue, which identified amazing people who were doing things differently and using their creativity, ideas and success to transform culture and create new opportunities for artists, audiences and fans. This year, we have decided to rename the portfolio and call it exactly what it is: PAPER People. — Drew Elliott, Editor-in-Chief
The most striking thing about rising star Alton Mason isn't his attention-grabbing looks, his dancer's finesse, nor the enviable modeling contracts he's landed for Kanye West's Yeezy Season Three, Gucci's first all-black campaign, and most recently Virgil Abloh's groundbreaking debut with Louis Vuitton. No, it's that this wide-eyed, well-connected 21-year-old is just getting started. But Mason, who moved to Los Angeles full time this summer to focus on acting, doesn't get lost in the bold-faced names he counts as friends. (For clues to whom, just check his Instagram.) Instead he's concentrating on his own growth, taking acting classes and tap-dance lessons. "I love change," he says, "and I love being the underdog and putting in work and just fighting to be great."

You've had such stellar start to your career.
Things have been going good. I can't complain. I'm so blessed. Everything I've dreamed of I've been receiving and more. This is just the beginning.
Besides your Gucci debut, what's been a recent highlight.
One of the biggest highlights I've been cast in is walking for Louis Vuitton. Virgil Abloh is a very inspiring man to me — he made history. To be a part of that history is a blessing. He was the first eyewear campaign that I shot for, too. That was an amazing time. We shot in London. It was really cold. There was one shot where they caught a tear [falling] because of how cold it was, and it just worked.
Have you been able to keep up with dancing since your modeling schedule has blown up?
Yeah, from time to time, I go to some classes — hip-hop and I'm about to start tap class.
On Instagram, how do you go about posting? You've been in Vogue's best dressed list a few times.
I don't have any rules. I really just do me. I don't dive or get too deep into it. I just post cool picture that I like. Sometimes I post artists that inspire me. Just a way to express myself. I'll be out with friends, and I just like to wear whatever I like to wear. If there's a moment where we can capture it, why not capture the moment?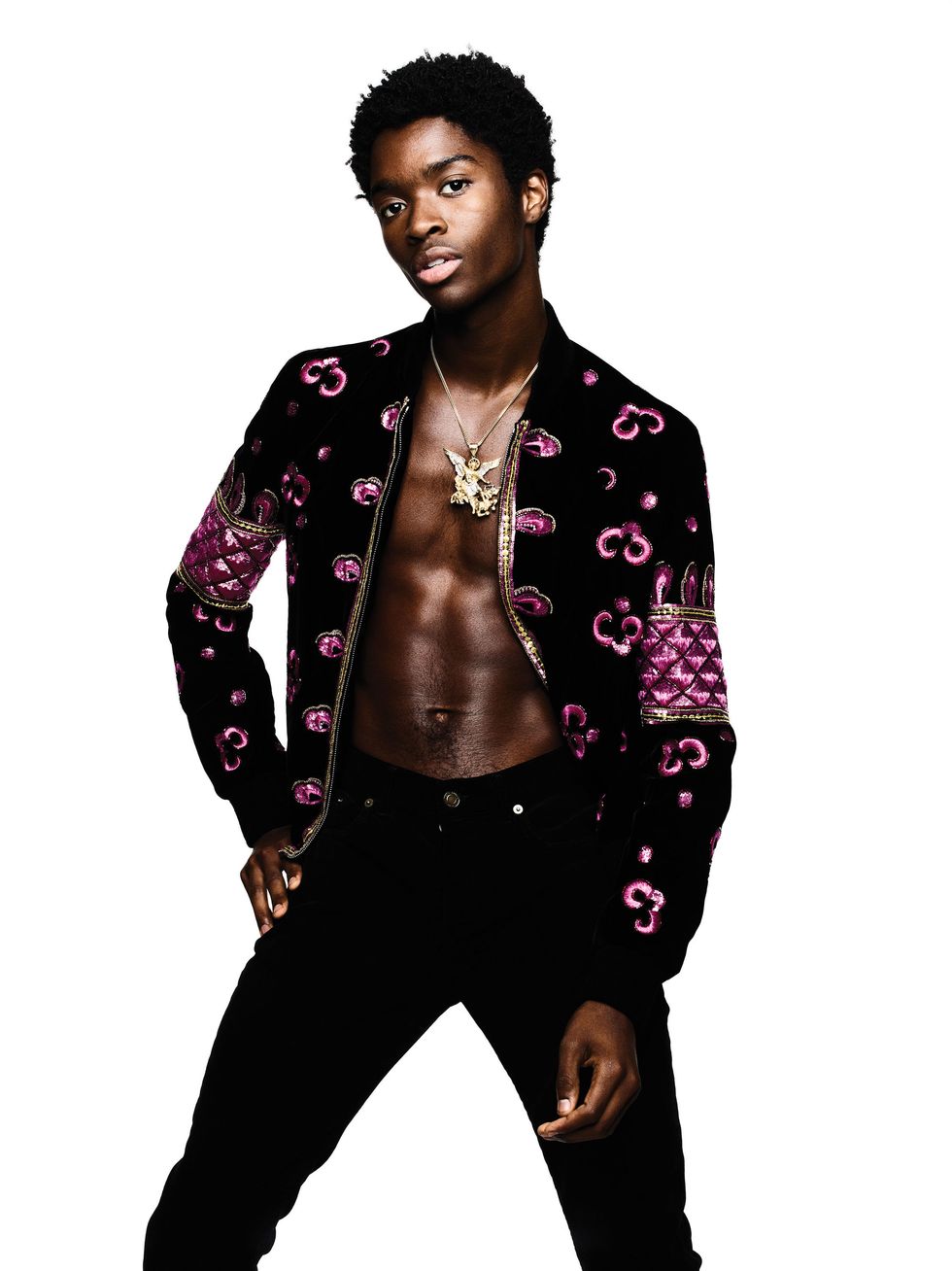 Clothing Saint Laurent by Anthony Vaccarello
Jewelry Popular Jewelry
Do you have any go to styling items that elevate an outfit?
It's kind of a feeling for me. I love jewelry. I love prints. I love colors. But sometimes I like to be really minimal with black and just white. I like utility pieces. I love shopping at thrift stores and getting pieces and combining that with high fashion pieces that I have. That's a lot of fun.
If your styling is based on feeling, what are you feeling?
Let's say you watch a movie the day before and the movie inspires you. I get inspiration from life. So life inspires many of my looks. Just seeing people on the street. Last year I was on a flight from Milan to New York, and they were playing The Matrix on the plane. I had never seen that movie before, but I always knew about it because it did so well back in the day. I watched that movie, and I just entered another vortex of how I want to dress. It felt so good to digest another aesthetic. It was like jumping into a time portal. It really did that my taste. I liked it.
Where did you land with that inspiration?
Wearing patent leather, black boots, combat gear, utility belts, vests. All of that. Half-rim black glasses.
What's your favorite part of traveling for work?
I honestly lost count of the countries I've been to. I'm really excited because I plan on going to Japan this year. I think the best thing about traveling is you leave the country digesting another culture, another walk of life, and you kind of apply that to your own taste, eyes, ears, and the way you dress, the foods you eat, and your perception of people. We're all so different and all so alike in so many ways.
How have you been handling your newfound fame?
Fame? Whoa whoa whoa. I don't consider myself famous yet. I feel like famous is when paparazzi are out your door. What I find nice is the messages I receive from boys and girls around the world who tell me that I've inspired them and I've helped them gain confidence. When they seek me for inspiration and love and support, I'm just so grateful. I know what it's like to be inspired and have someone help me overcome something through art. That's what I love the most.
What upcoming projects are you excited about right now?
I've been bicoastal [between New York and Los Angeles] for three years ago. I decided to come to LA and stay here for a bit to train, get better, and get indulged with acting and my music.
How do you like it so far?
I'm really accepting of change. I love change. I love being the underdog and putting in work and just fighting to be great.
Photography by Ben Hassett
Styling by Mia Solkin
Grooming by Michelle Harvey at Opus Beauty
Digital Tech (throughout): Carlo Barreto
1st Photo Assistant (throughout): Roeg Cohen
2nd Photo Assistants (throughout): Eric Hobbs and Chris Moore
Sign Up For The Morning PAPER