As 2017 comes to a close, we've predicted 11 names you'll undoubtedly know in the New Year. Between art and fashion, music and film, discover who'll be on fire in 2018.
Yasmin Geurts is exactly who the world wants today, and who fashion has been blindly overlooking for much too long. While the industry this year continued tipping toward greater inclusivity, Geurts (pronounced: "Hurtz") was able to solidify herself as one of the go-to models for full-figured beauty, signing to Muse Model Management's curve division and ushering in greater representation through her work.
Related | PAPER Predictions: 11 Names You'll Know in 2018
Born in Minneapolis, the 24-year-old always knew she wanted to work in fashion, but never predicted the exact capacity with which she'd be involved. In 2017, Geurts finally found her purpose and appeared in major runway shows, magazine spreads and mainstream campaigns across the world, from Dazed editorials to Forever 21 billboards.
Her presence has been a vital jolt in fashion's tired sample sized system, and a relatable refresh for women who haven't yet seen their bodies reflected in a majority of models. As we move into 2018, when diversity transcends being a want into a need, it's likely we'll see Geurts continue her fast ascension to becoming fashion's next big supermodel.
Growing up, did you imagine being involved with fashion in this capacity?
I've always liked creating worlds and images in search of some kind of poetic act. Modeling is part of that — it's always been something I've wanted to do since I was a kid, but I wasn't sure how I would make it a career since my hometown is kind of removed. In high school I was always involved in art and theater, and I would take little modeling jobs here and there. But when I moved to New York the stars really started to align. Everywhere I turned it was like the universe was directing me towards fashion.
Your audience online grew really quickly. What was this process like?
I was in the right place at the right time. I had finally kind of said "fuck it" to trying to do anything but find a higher meaning, so I decided to use my last penny to some visit family friends in Mexico. I stayed with Bobby Payne, a shaman who lives just outside of Izamal in the Yucatán. After a few months I came back to New York with an email from Lipman Studios who had lurked some posts from my trip. They wanted to hire me for two campaigns: Hudson Jeans "Hudson Casting Call" and Naked Cashmere, which was alongside my friend Barbie Ferreira and super model Kate Moss. When those came out everything exploded. I was signed that week and fast tracked into development.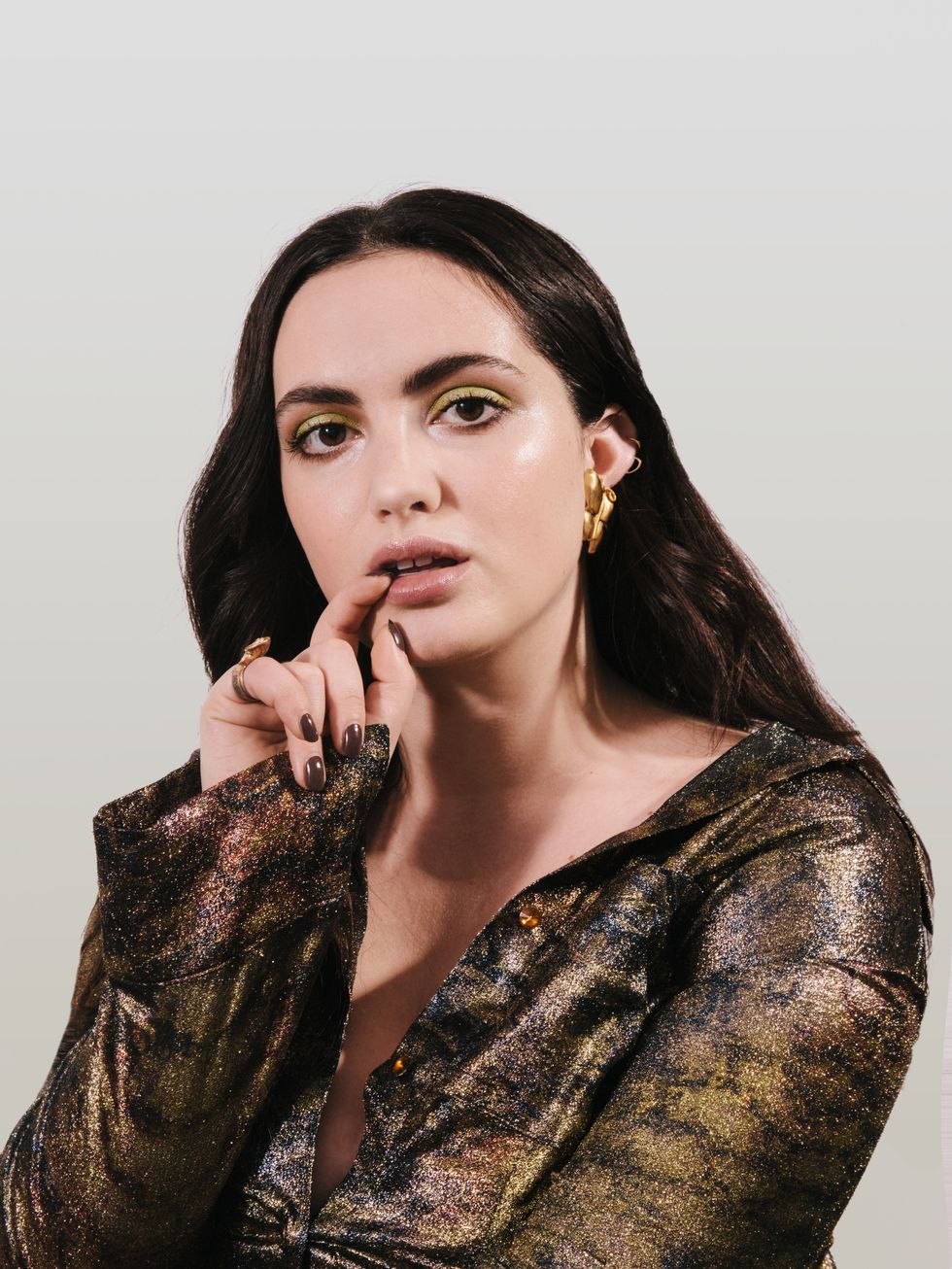 How do you think the Internet has helped to speed up visibility in fashion?

That's one of the only good things social media has done. It did give everyone the opportunity to have visibility. For the first time people saw others who looked like them, which was the collective realization that the earth was actually round (despite what some may say). A lot of people in fashion were inspired and continue to be. Though I think with every new movement there's always going to be the desire for evolution brought on by the market capitalizing on what communities do naturally.
Do you feel fully embraced by fashion today as a curve model, or do you still experience hurdles?
I've been really lucky coming into fashion at the time I did. A lot of people are curious about me because I'm like a new breed of model. I've never viewed myself as curve — I just have them, and it's not a big deal. Most of the time I feel like people are really excited to have me on set because I try not to hold back. There are some really funny moments, like for editorials the sample sizes barely cover half of my body, which I think is kind of fabulous. everyone's biting their nails trying to figure out how to tie this $10k dress on me, while I'm just laughing. It always looks good because we're all magicians, and I don't mind because it's in the process of changing, — I'm just on the trip.
Related | Casting Director James Scully on Diversity During Fashion Week
What steps do you think fashion still needs to take to become more inclusive?
Personally I've always rolled my eyes at the desire to put people into categories. Sometimes the overused diversity slogans feel tokenizing, even if that isn't the intention. Right now it could be healing to just move forward — just use people who are great at their jobs and whose visions you respect.
What has been your dream project as a model thus far?
Dazed Korea, Jalouse Magazine, Allure, and Office Magazine's Comme Des Garçon retrospective. There are a couple jobs that haven't come out yet, which were an absolute dream to be a part of, but in regard to that these lips are sealed.
What is your dream project as a model that's currently unrealized?
My dream project is to create a film with some of my idols — something poetic that leaves underlying commentary on our culture, and maybe opening a conversation about where we can go from here. I've been looking at Alejandro Jodorowski, Annie Leibovitz, Baz Luhrmann, Carrie Mae Weems, Nick Knight and Luke Gilford's work a lot lately. I also adore the mission and designs of Norma Kamali and Vivienne Westwood. My goal is to be part of fashion without any pretense, so I guess it should impact the industry as a whole.
What have been some key 2017 highlights?
Seeing myself on an enormous billboard giving a sashay in these ripped up overalls for Forever 21. I also did a campaign with my faves Lonely Lingerie. The location was beautiful; we went to the Vasquez Rocks outside of LA where a bunch of scenes from Star Trek were filmed. I was stomping all over the rocks in lacy underwear to scare off rattle snakes. There were a few projects with my bread and butter Nordstrom. I love them — they treat their people like royalty. And the best: a beauty campaign for the Lipstick Lobby. It was a political collaboration where $5 from every lipstick purchase goes to Planned Parenthood or the ACLU. I wear their shade "Outrage" all the time — it's a luscious matte red.
Click here to discover 10 more PAPER predictions.
Photography: Ryan Duffin
Beauty: Ashleigh Ciucci (Utopia)
Top: Gauntlett Cheng
Sign Up For The Morning PAPER
Music
Photography by Grace Scuitto / Story by Jade Gomez / Makeup by Marla Vazquez / Hair by Abraham Esparza / Styling by Heather Picchiottino