As 2017 comes to a close, we've predicted 11 names you'll undoubtedly know in the New Year. Between art and fashion, music and film, discover who'll be on fire in 2018.
As a Junior in college, Hana Quist has already outgrown the label "student." Throughout 2017, she's solidified herself as one of New York nightlife's most sought-after drag queens, styled her biological parents for an instantly iconic "drag family" portrait series and caught fashion's attention as a rising designer with a penchant for all things over-the-top. Unsurprisingly, it didn't take Quist long to be recognized — with her powdered face, wild wigs and luxe corsets, she's not difficult to spot (or remember).
Related | PAPER Predictions: 11 Names You'll Know in 2018
The Philadelphia native discovered and began privately experimenting with drag as a teen in her bedroom, and after her move to the Big Apple quickly made a name among the city's most illustrious queens. Her early crotchet creations became a must-have after she cemented her place as a nightlife heroine, and she's since elevated her drag persona to new heights with floral morph-suit gowns, satin bunny-eared masks and head-to-toe looks Marie Antoinette would have salivated over.
Now turning her attention to a thesis collection, Quist is breaking down barriers with gowns built for all sexualities and gender identities, proving why she's truly the trailblazer fashion needs now.
You're a nightlife staple in NYC and a rising fashion designer. How do you balance both?
For me fashion and nightlife go hand-in-hand. I joke that drag queens raised me, but it's sort of true. I learned so much from drag queens and from nightlife. It really influences and inspires my work. Nightlife is a way for me to play around with ideas and experiment without the judgment of "fashion," which can sometimes be very intimidating whereas drag is more fun and open. My drag helps my fashion and vice versa.
Related | Portraits of Queens From DragCon NYC
How did you first discover drag?
I've always felt like a drag queen but I never had the term "drag" to describe what I was doing. Ever since I was little I loved dressing up and playing with my appearance. Just like all the other millennial drag queens, I found out about drag through Drag Race. I didn't make the connection between the drag queens on TV and what I was already doing because I don't consider myself a performer and drag race is really big on performance. Through my love of the show I later found out about club kids and more of the broader world of drag and nightlife. That's when I realized that I was already doing drag and it was the community I wanted to be a part of.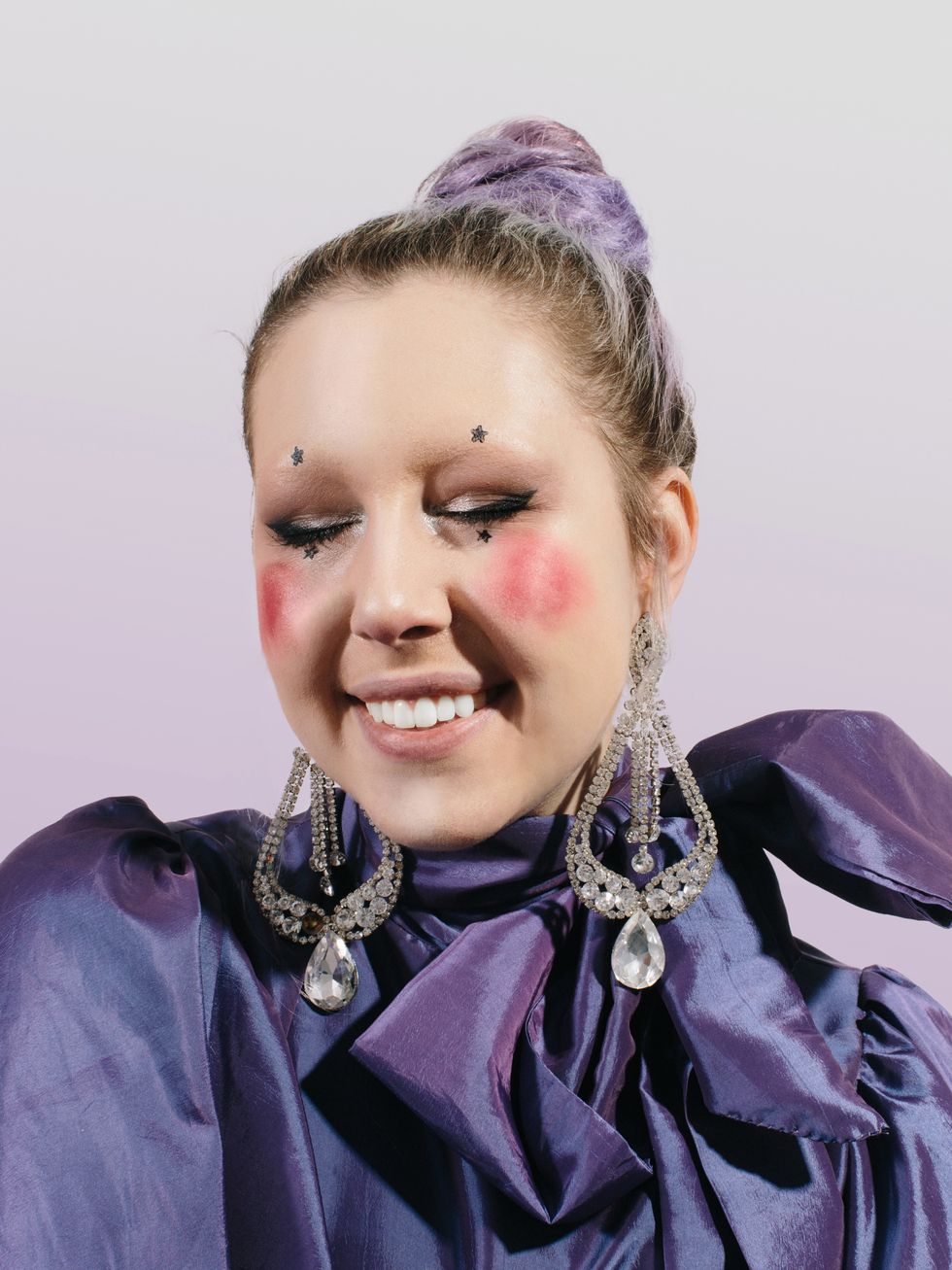 Are you noticing a rise in female drag queens?

Woman have always played a role in nightlife and have been doing drag without it being called "drag." Now with Drag Race and social media, the larger visibility means a lot of different types of queens. I remember starting drag a couple years ago and there were very few "bio/faux/hyper" or whatever you want to call it queens, and now there are lots. Before I moved to New York, I was so worried and defensive about being a woman doing drag because I thought it was this huge issue, and I moved to New York and it really wasn't. Everyone was so accepting, kind and it was never really brought up. As long as you're pulling looks, participating and contributing to your drag community, you're a drag queen.
Related | The World According to RuPaul
Is it a fight to get the same recognition for Hana Quist, the designer, as Hana Quist, the nightlife star?
I love both the world of drag and the world of fashion, but it's very easy to get praise for drag. In fashion, it's much harder to have people like what you're doing and take it seriously. I've been so lucky to have amazing opportunities because of drag. I was able to travel to Vienna for Life Ball, I've been shot by amazing photographers, I've had my designs published and I've been able to work with lots of people in the fashion and drag industry that I respect, but as soon as you say drag or nightlife people just stop listening and respecting you, which is sad because nightlife is so important to fashion.
How long does it take you to create a look from start to finish?
My looks take me a long time — usually 15-20 hours to make and then the additional time the night of to get into hair and makeup. I'll start with an idea and sketch it out, then I'll go and buy supplies and fabric. I'll take a couple days to make the look. I always give myself lots of time the night of an event because seeing the full look with the hair, makeup and shoes really changes things and I want to be able to tweak things if I have to.
There's a very regal, almost Victorian theme running through your designs.
I love corsets. I find historical clothing so inspiring and I love trying to take something I've seen in a costume, painting or book and try to make it fit my style — make it more modern. I love the idea of a drag queen and trying to be as large and regal as possible.
Related | Meet the Contestants Slaying Season 9 of RuPaul's Drag Race
Drag has become popularized as a result of Drag Race. What're your thoughts on the landscape, right now?
It's bittersweet. On one hand the popularity of the show is helping people discover drag as this amazing thing, and it's making drag queens famous and giving them opportunities they otherwise wouldn't have had. But it also creates a whole group of people who consider the show to be everything. If you just know drag from the show you're missing so much of the history of drag, nightlife, and the community. At the end of the day I just want to see drag queens succeed and do amazing things, so if the show helps them do that then it's a wonderful thing.
Do you feel a responsibility to get political with your work?
Recently I've been thinking about how few major designers are queer or gay women, and how a lot of the queer imagery I see in fashion is geared for gay men. Another thing that has been on my mind is how fashion is still categorized as womenswear and menswear, which feel are outdated terms. Everything I design is so feminine, but at the same time I'd hate to say I do womenswear because I know lots of people who aren't woman who I'd like to wear my clothing. It's such a difficult area because I don't really feel like the terms womenswear or gender-neutral would apply to what I like making.
Click here to discover 10 more PAPER predictions.
Photography: Ryan Duffin

Full Look: Hana Quist
Sign Up For The Morning PAPER