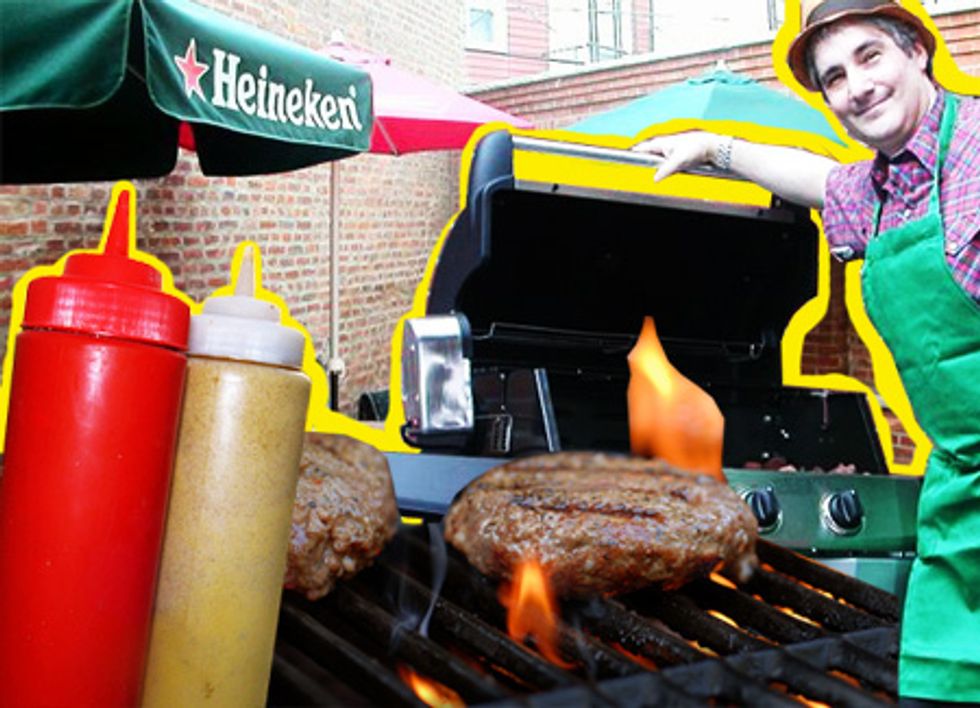 Yay, Memorial Day weekend! In honor of this glorious three-day harbinger of summer, we've gathered a list of bars that kindly combine the two best things about the long, hot days to come: outdoor drinking and barbeques! Sure, fire-escape grilling is an option, but eyebrows and eyelashes are precious things, and there are plenty of watering holes around town with grill-masters who are happy to handle the lighter fluid (and a couple of trusting establishments that will let you have at it with an open flame).

Below is a collection of spots (mostly in Brooklyn) whose backyards and decks are summer go-tos for sun, drinks, and flame-cooked delights --some start this weekend and run until Labor Day comes to ruin everything, others are ongoing, and all offer vegetarian options.

THE USUALS
The Delancey (168 Delancey St., (212) 254-9920) started things off Tuesday with a $5 all you can eat and a 7-9 p.m. happy hour with $2 off beers and well cocktails. Metropolitan (559 Lorimer St., Williamsburg, (718) 599-4444), whose weekend afternoon parties are still number one for gay boys , getds grilling this Sunday at 5 p.m. with free grilled goodies and $7 pitchers! Harry's at Water Taxi Beach (2nd St. and Borden Ave., Long Island City) opened on Thursday, with $3 hot dogs, $4 soy dogs, and the Motz burger ($5.50), which just won the Burger Battle of the Boroughs and, until recently was featured on the menu at Schnäk in Williamsburg.
FREE, FREE, FREE!
Second Chance Saloon (659 Grand St., Williamsburg, (718) 387-5515), a newish Williamsburg spot brought to us by former employees of beloved metalhead bar Sweetwater's (before it transformed in to the homey little eatery it is now), serves barbeque on the house Saturdays and Sundays, with a 2-9 p.m. happy hour ($1 off everything). 4th Avenue Pub (76 4th Ave, Gowanus, (718) 643-2273)'s complimentary burgers and dogs start the first weekend in June at this Gowanus spot, Friday-Sunday, from 3-8 p.m., which just happens to be when their $2-off-everything happy hour is. Pace yourself. For ladies who love free barbeque and other ladies, Park Slope lesbian bar Ginger's Bar (363 5th Avenue, Park Slope, (718) 788-0924) is the place to be on weekends.
PAY UP
Williamsburg's Pete's Candy Store (709 Lorimer St., Williamsburg, (718) 302-3770) starts their Sunday grills the first weekend of June with $6 hamburgers, veggie burgers or two hot dogs. At Catty Shack'sSunday barbeques, (249 Fourth Ave., Park Slope, (718) 230-574) $15 gets you sides like potatoes and corn on the cob in addition to burgers and dogs, and Boulevard Tavern (579 Meeker Ave., Greenpoint, (718) 389-3252) keeps their grill going year-round with a $5 all you can eat special Monday-Friday. Last but not least, recent bar of the week Trophy Bar (351 Broadway, Williamsburg, (347) 227-8515) will start their backyard barbeques in June. A kickoff date is yet to be determined, but owner Farika confirmed that they'll be at 4 p.m. on Sundays and won't be free (we also heard that an old pal from this season's Top Chef might be helping her curate the menu. Details to come). While they're getting their menu together, though, their Korean Barbeque Ho-down cook-off tentatively scheduled for June 22 will award the winner with -- you guessed it -- a trophy!
DIY
Char those dogs to perfection your own way at Williamsburg's East River Bar (97 S. 6th St., (718) 302-0511), at Windsor Terrace's Quarter Bar (676 Fifth Ave., (718) 788-0989), or on Bushwick Country Club's (618 Grand St.,(718) 388-2114) deluxe smoker. Remember to try one of BCC's $6 frozen Jim Beam and Coke Slushies. Or don't remember.
FYI
Studio B has informed us they will, in fact, be hosting barbeques on their brand new rooftop deck this summer. Check their website for details!