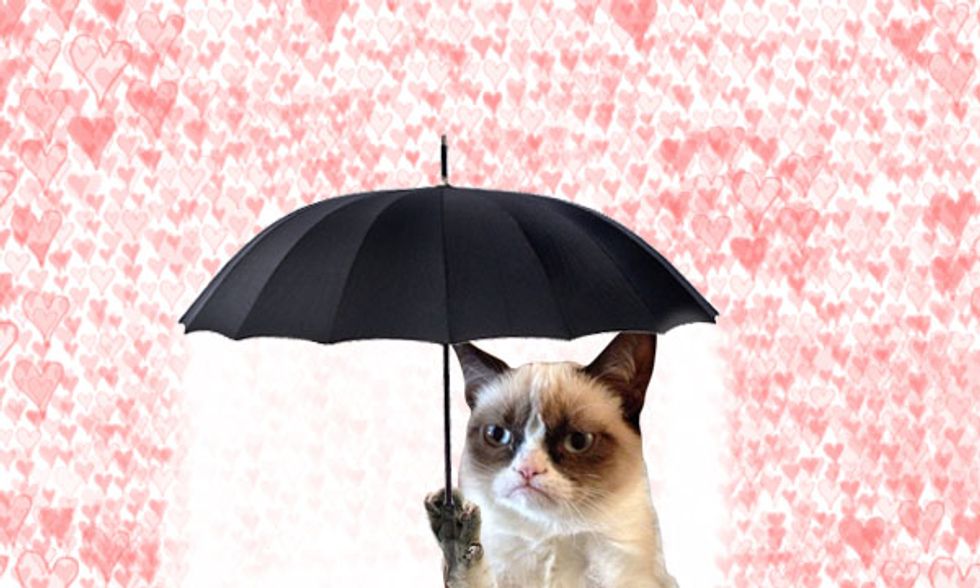 Valentine's Day can elicit a groan from all the single people in this city, but you don't have to be in L-U-V to have a rad V-Day. New York City has plenty of events for couples and single folk alike; from love-inspired comedy to chocolate-filled parties, check out our round-up of the best NYC Valentine's Day parties that won't make you cringe, cry or hate couples. 
Valentine's Day Party with Mr. Mickey
Put on your most fashion-forward
lewk
and join Mr. Mickey and his fellow stylish hosts Ariel Foxman, Marjorie Gubelmann, Samantha Boardman and more as they celebrate the day of love to the sounds of DJ Mad Marj and Steven Rojas. 

Tribeca Grand Hotel, 288 Church St.
;
10pm
Macaulay Culkin's iPod's Saved By the Bell Valentine's Day Dance
We love a little early '90s romance (or, really, just any excuse to dress like we're in the '90s), which is why the
Saved By The Bell-themed Valentine's Day
dance presented by Macaulay Culkin's ipod (which is exactly what it sounds like -- just Macaulay Culkin and his trusty Apple accessory). Grab your Spandex, back comb that 'do, and get ready to dance high-school style to all the '90s hits. Just
don't do too many caffeine pills
, okay?

le Poisson Rouge 158 Bleeker Street; 10:00 pm, 21+
Chandelier Creative's Valentines Day Soiree
Celebrate marriage equality at Chandelier Creative's Valentine's Day party at The Standard hosted by Richard Christiansen and our good friend, queen of astrology
Susan Miller.
The event benefits the organization Freedom To Marry, because everyone deserves the ability to marry the one they love! Japanese girl group The Suzan will play and there will be plenty of vodka to go around. Can you feel the love?
 
The Penthouse at The Standard East Village, 25 Cooper Square; 8:00 pm
LUV LUV LUV + Bleach's VDay Party
UK-based record label Luv Luv Luv (who works with Florence and the Machine and Blood Orange) and trend-setting salon
Bleach
are hosting a Valentine's Day party with music DJ'd by Pixie Geldof and F&tM's Rob Ackroyd. (It's safe to assume there might even be a few special Brits in attendance.) This is bound to be one great party with awesome music and even better hair.
Lilium at The W Union Square, 201 Park Avenue South
;
10pm
Sketchbook Project Date Night at The Brooklyn Art Library
Nothing says "aww" like you and your sweetheart filling out a sketchbook together! Sign up for the sketchbook project now or sign up in person and get some sparkling wine to split with your special someone. Art, wine, and love? Sign us up.
 
Brooklyn Art Library 103A North 3rd Street; 6-8pm RSVP here. 
OoOo Baby I Like It Raw
You can't have Valentine's Day without ungodly amounts of chocolate and luckily for you the Body Actualized Center
and the IAMU Cacao Company have
got you covered
. In addition to loads of brownies, truffles, and cheese cake, you'll also be able to indulge in intimacy exercises, have fun at a kissing booth, and be treated to performances by Labanna Babalon, Angelina Dreem, and more. Sounds sexxxy.
 
Body Actualized Center 143 Troutman St; 9:00pm-2:00am, $5-$10
Valentines Day Party at Hôtel Americano
The Americano and The Conôsur at The Hôtel Americano are both serving three-course prix fixe dinners featuring French and Latin American cuisine including a smoked hamachi crudo and a chocolate fountain. Yum.
Hôtel Americano, 518 W 27th Street. RSVP to conosur@hotel-americano.com, $65-$95
Slow Grind at Heathers Bar

DJ and promoter Helen Harris -- the mind behind queer Southern hip-hop party H.A.M (read more about her
HERE
) -- is giving all you Valentine's Day hopefuls another chance at love. Harris' sensual party series Slow Grind is back for its fifth installment, featuring a steamy, lust filled celebration of R&B just for the lover in you. Open to anyone and everyone, come out and experience the power of baby making music in full effect.
Heathers Bar, 506 E 13th St., New York, NY; 10:00 pm, Free
Rhymes + Minds: Artist Showcase "The Anti-Valentines Day Edition" at Rustic Tavern
If the radio isn't quenching your thirst for a stimulating music fix, the Rhymes + Minds Artist Showcase is debuting some alternative talent in genres spanning from reggae to spoken word. Hosted by femcee Saba Jenga with performances by Dizzy, Pyro, Blaq Music, Dappa Donna, Brandon Jolly, Dom O Briggs, Nello Luchi and Scienze this "anti-Valentine's Day" celebration is going to be an intimate experience with top-notch food and drinks.
Rustic Tavern
,
471 Dekalb Ave, Brooklyn, NY; Dorr open 8:00 pm Performances 10:00pm, Free


Turn Down <3 Vday Edition
Head to Williamsburg spot K&M for a dance party featuring music by Rok One, B2B, Illich Mujica and Crybaby. If you don't have work on Friday (or just don't give an F), this all-night rager is for you.
K&M, 225 N. 8th St., Williamsburg; 10pm-4am, FreeImage designed by Isabel Alcantara