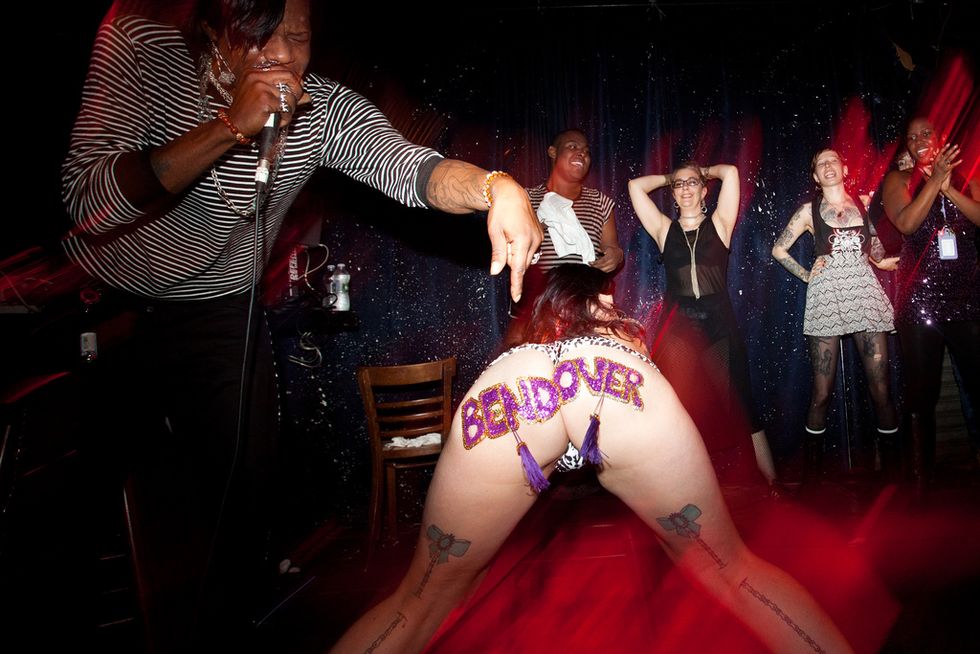 Have you ever been to
a Big Freedia show
, or any boonanas dance party for that matter, where you wanted to join in on the ass-clapping fun, but lacked the confidence or know-how? Well, there's a class for that, and it's taught by none other than
Heather Loop
, Big Freedia's most recognizable booty dancer.
Heather Loop has the most famous butt in the city. It's been
widely photographed in action
, and is easily identifiable by her trompe l'oeil
green-ribbon-topped stocking tattoos
(just below the main attraction). Heather's ass spends more time in the air than Michael Jordan did in the 90s, because, as one of sissy bounce-star Big Freedia's (and also
Vockah Redu
's
) dancers, it's her professional duty.

More about the class, in her own words:

As one of Big Freedia's dancers I would like to share my skills and freedom to dance and shake your ass! I would like to focus on hip isolation and making you ass-clap!

I'll teach the girls and guys to not be shy about your behind and be proud to shake what your momma ga

ve you!





I'll teach how to ward off any unwelcome attention from people when dancing in a public place like a club or bar.





I'll teach you how to do twerk, tick, how to do handstands, and splits while shaking your booty with tassels.





This is a class for the not-shy, and it is a serious workout! So we do a good 30 minutes of stretching before we get started!

I base this class off my experience as a bouncelesque performer and and dancing for Big Freedia. I would like to share how awesome and liberating this experience makes you feel!





WOMEN ONLY! QUEERS WELCOMED! NO DUDES!


---



And thank you Heather, not just for this overlooked service, but also for teaching us the term "bouncelesque."



May 8th -- TONIGHT -- 7:30-8:30,  $15




House of Yes, 342 Maujer St, Brooklyn



Above: Heather Loop's butt performing with Big Freedia. Photo by Rebecca Smeyne.