The sixth edition of FRIEZE New York returns to Randall's Island from May 5 to 7 with over 200 galleries from 31 countries — and a VIP preview on Thursday, May 4. This year they are collab'ing with the Getty-led initiative "Pacific Standard Time: LA/LA" and NYU's Institute of Fine Arts to present a symposium on Latin American and Latino art on Friday, May 5. Plus, all three special "platforms" return: Spotlight, featuring solo presentations from 31 galleries; Frame, with 17 emerging global galleries; and Focus, showcasing (and subsidizing) young galleries.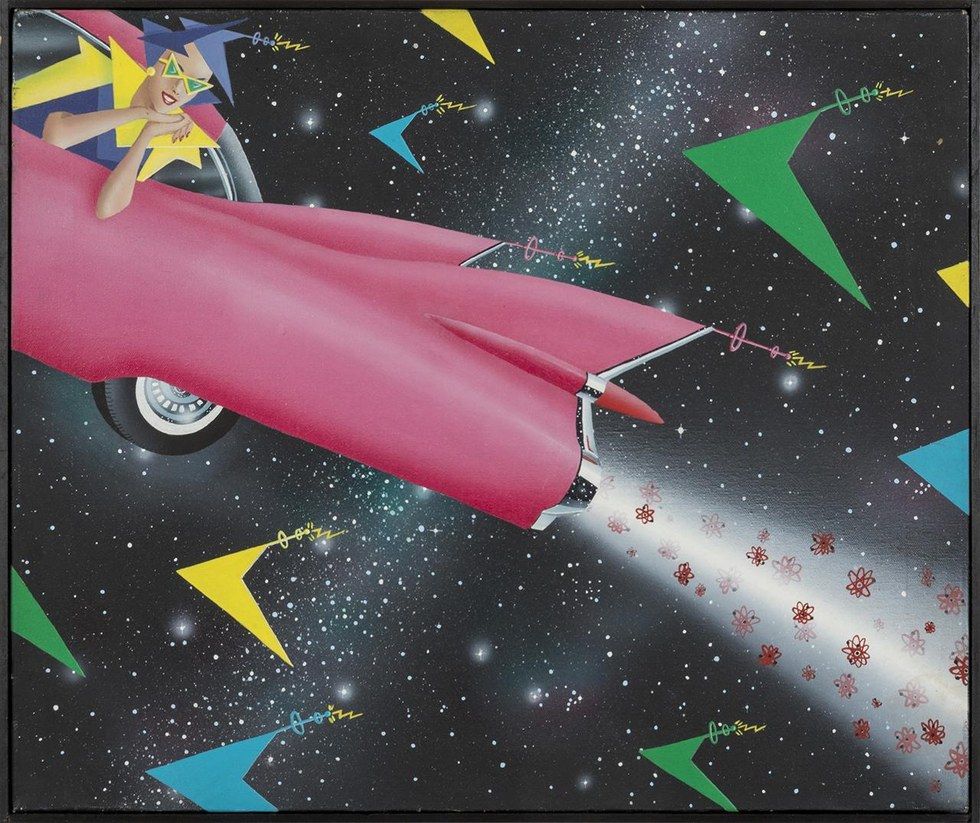 Kenny Scharf, Fast Fun, 1978 via Honor Fraser Gallery
Several New York galleries will take a look back at the 80's East Village scene in their Frieze spots: Honor Fraser Gallery has early works by Kenny Scharf made between 1978 and 1985; P.P.O.W. is showing works by Martin Wong, David Wojnarowicz and Anton van Dalen; and Skarstedt features Mike Kelly and Cindy Sherman. Also look for seven special commissions curated by Cecilia Alemani, including a secret movie theater by Jon Rafman and a tribute to Rome's Gallleria La Tartaruga with a program that changes daily and includes a new "interactive performance" piece by Ryan McNamara on Friday, May 5. Three non-profits have also been invited to participate this year: the Judd Foundation, Sculpture Center and White Columns.
When you need a break, check out new restaurant pop-ups from Cafe Altro Paradiso, Russ & Daughters and TYME Fast Food: as well as returning favorites including Sant Ambroeus, Frankies Spuntino and Roberta's.
Tickets are HERE. Take the ferry ($19 r/t) from East 35th Street — there's also a fast ferry from East 90th Street again this year, but it only runs during the week. Take the bus ($8 r/t) from the Guggenheim (88th Street and Fifth Avenue). Take a cab, drive or walk across the East 103rd Street footbridge.
SATELLITE FAIRS: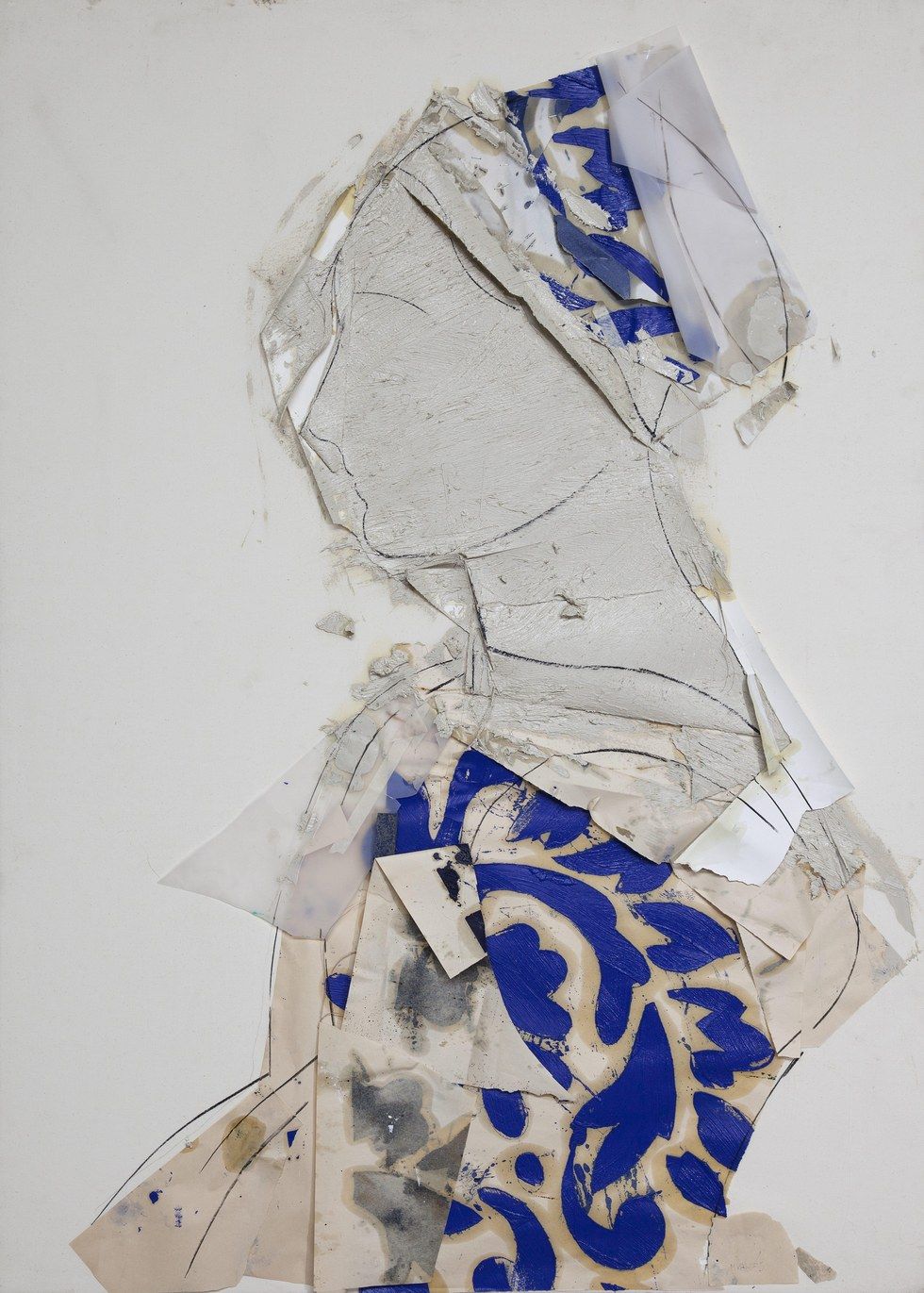 Manolo Valdés (Valencia, 1942) via Beck & Eggeling International Fine Arts and TEFAF
Another major fair, TEFAF, joins the fun this year. Founded in 1988, TEFAF Maastricht now attracts over 75,000 visitors to their annual event in the Netherlands. From May 4 to 8, the first New York Spring Fair will focus on modern and contemporary art and design from over 92 dealers, all within a unique environment created by Tom Postma Design at the Park Avenue Armory (643 Park Avenue). Tickets are HERE. There's a big opening night benefit for The Society of Memorial Sloan Kettering on Wednesday evening, May 3. Check out Swiss Galerie Gmurzynska's installation in the armory's Colonel's Room designed by Alexandre de Betak.
The PORTAL art fair is moving to 435 Broome Street in SoHo for this year's second edition opening on May 3. Thirty global artists will be featured and, rather than take fees, the fair's organizers ask the artists to consider donating a percentage of sales. Look for several mixed-media installations including a structure made from two large canvases by Iranian/American artist Zahra Nazari. Open daily from 11 a.m. to 6 p.m. through May 8 and admission is FREE.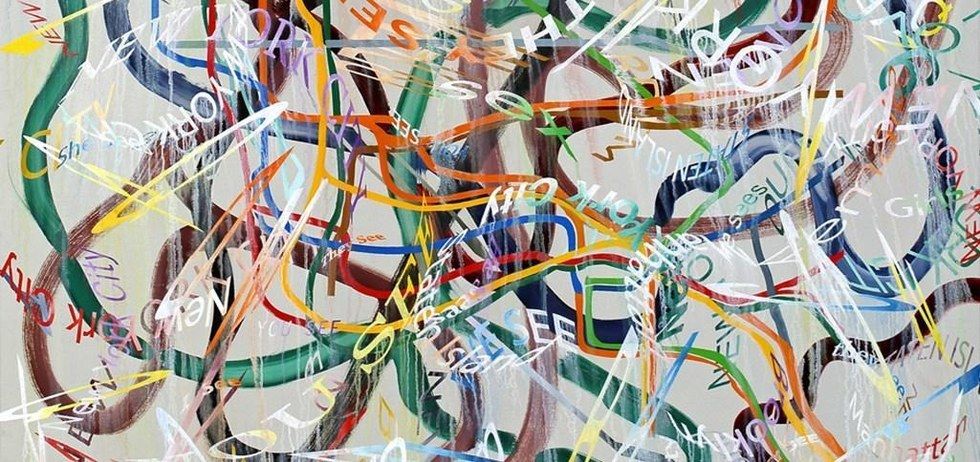 Via Art New York
Art New York & CONTEXT New York return in 2017 with over 120 international galleries from 50 countries showing at Pier 94 (55th Street and Westside Highway) from May 3 to 7, with a VIP preview from 2 to 5 p.m. on Wednesday. Check out a special, silk-screened edition of Bob Gruen's iconic, rock-star shots presented by Gary Lichtenstein Editions; photos from Andy Warhol's 1987 memorial at St. Pats by Christophe von Hohenberg; and 99 portraits of the 99% by Jason Meyers presented by Long-Sharp Gallery.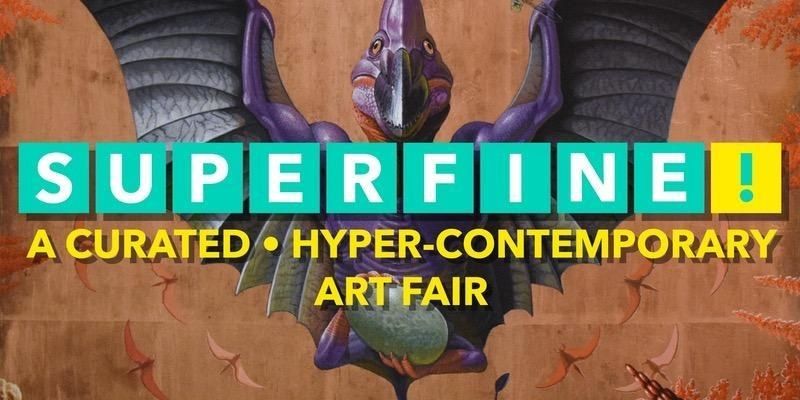 SUPERFINE! kicks off on May 4, 6 to 11 p.m., and runs through Sunday, May 7, featuring 40 global exhibitors and over 750 works on view at 459 West 14th Street. If you're in a "NY State of Mind," go HERE for tickets . On May 5, 6 to 10 p.m., there's a Young Collectors' Ice Cream Social with Penguin Prison.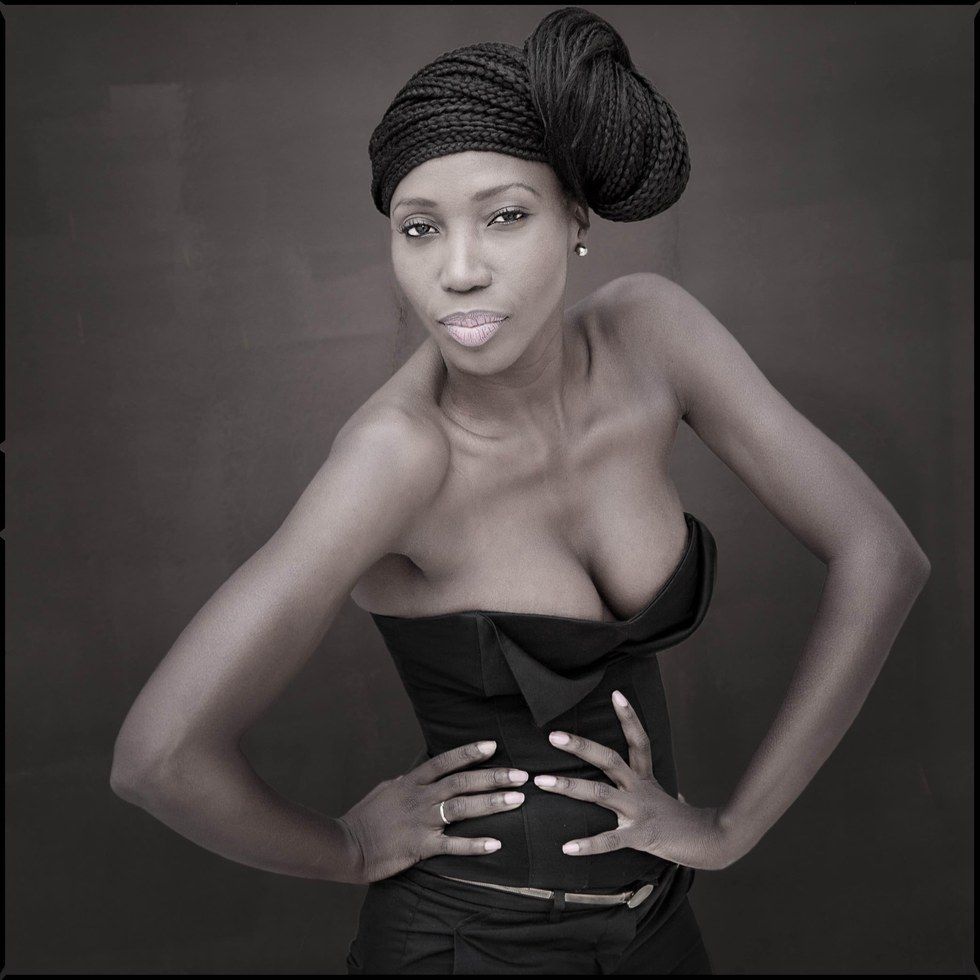 Antoine Tempe, Adama Paris, 2103. Courtesy (S)ITOR/Sitor Senghor
The third NYC edition of 1:54 Contemporary African Art Fair is back at Pioneer Works (159 Pioneer Street, Red Hook) with over 20 exhibitors on hand from May 5 to 7, noon to 8 p.m. daily.
The fifth FRIDGE art fair explores "50 Shades of Fridge: Art and Kink for the Age of Revolution" at two Brooklyn locations from May 3 to 6. The main fair is at the Branded Saloon (603 Vanderbilt Avenue, Brooklyn) and there's a pop-up at the NU Hotel (85 Smith Street, Brooklyn). They are hosting a "Grand Gala" to support Jacob's Color Link Initiative on May 3, 8 p.m. to 2 a.m., at the saloon.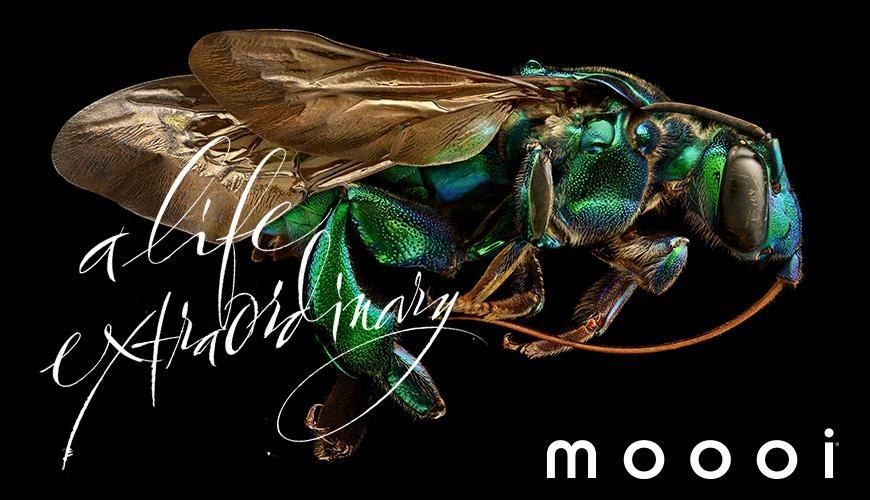 NYCxDESIGN celebrates global design with a citywide series of events running from May 3 to May 24. Go HERE for the complete run-down. Lots of things happening around town including: a photo exhibition by Levon Bliss at Moooi (36 East 31st Street); a showcase of student work at Parsons (66 Fifth Avenue); an exhibition of post-war French designers at Demisch Danant (30 West 12th Street); and a discussion on Women Craft Entrepreneurs on May 23, 6:30 to 8 p.m. at ABC Carpet & Home (888 Broadway). This year they've added a public-hub DESIGN PAVILION in Astor Place Plaza from May 7 to 11, 10 a.m. to 10 p.m. daily, with creative structures, displays and talks.
Also for design aficionados: The Collective Design fair celebrates their fifth anniversary with global design galleries showing at Skylight Clarkson Square (550 Washington Street) from May 3 to May 7; BKLYN DESIGNS is at Brooklyn Expo Center (72 Noble Street) from May 5 to May 7; and WantedDesign runs from May 17 to 23 at Industry City (220 36th Street, Sunset Park, Brooklyn) and from May 20 to 23 at Terminal Stores (269 11th Avenue, Manhattan).
BENEFITS: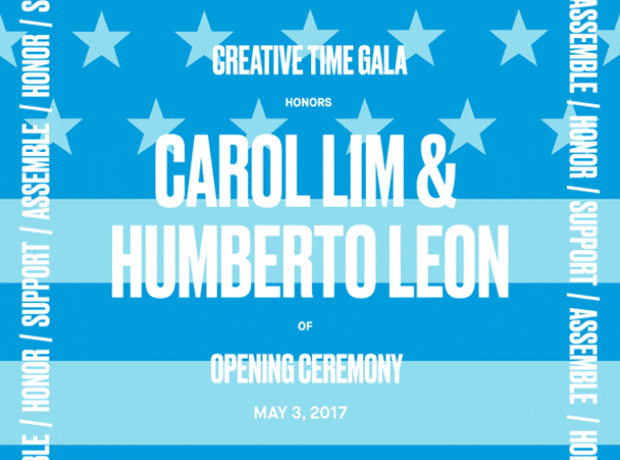 Creative Time's 2017 Gala is Wednesday, May 3, at City Point in downtown Brooklyn. This year they're honoring Carol Lim and Humberto Leon of Opening Ceremony and there's a "Pledges of Allegiance" flag auction with flags by Marilyn Minter, Vik Muniz, Trevor Paglen, Pedro Reyes and Rirkrit Tiravanija.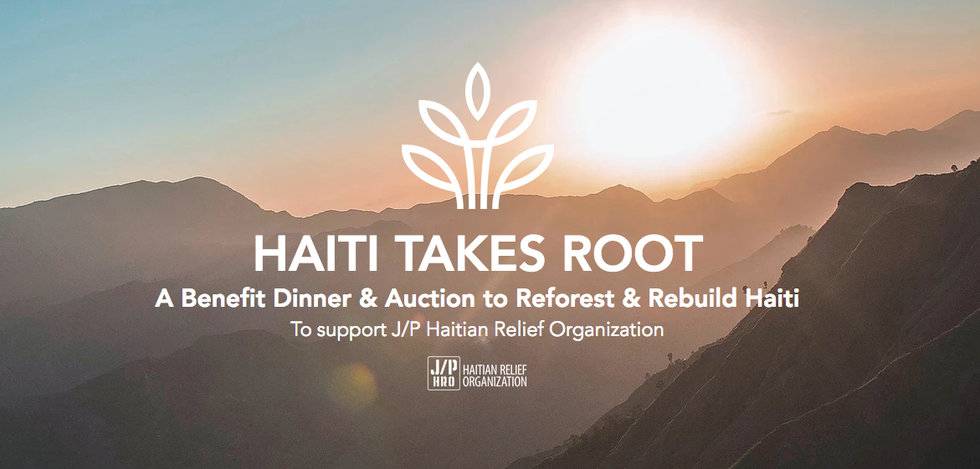 Sean Penn's J/P Haitian Relief Organization hosts a benefit auction and dinner at Sotheby's New York (1334 York Avenue) on Friday May 5, 7 p.m. The auction includes works by Ed Ruscha, Jonas Wood, Deborah Kass and Henry Taylor; along with "experiential" lots including dinner with Penn and Bill Clinton and a private tour of James Turrell's Roden Crater. You can preview the auction starting May 1. Tickets are HERE.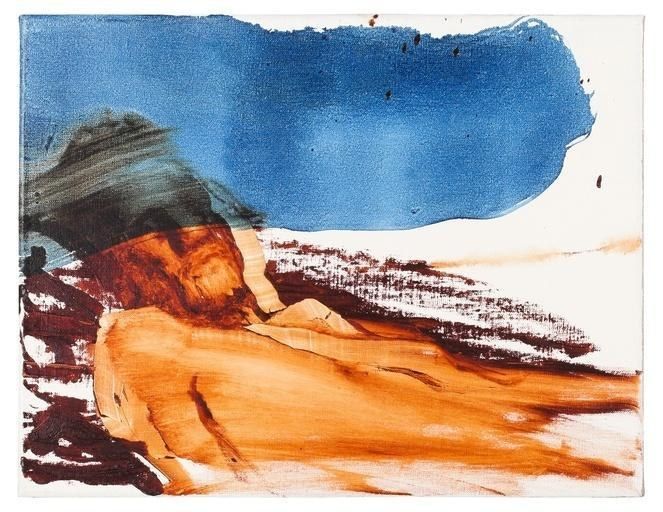 Doron Langberg, Sleep, 2014. Courtesy Paddle8
Aljira, a Center for Contemporary Art, hosts a benefit/auction on Saturday, May 6, 6 to 9 p.m., at 591 Broad Street in Newark, NJ. The theme, "Downtown83," acknowledges the cultural impact of the 80s. The auction via Paddle8 closes on May 12. Check it out and bid HERE.
Williamsburg arts venue National Sawdust has their third annual gala in honor of Philip Glass, Renee Fleming and Helga Davis at Gotham Hall (1356 Broadway, Manhattan) on May 3, 6 to 10 p.m. David Byrne, Julianne Moore and Ann Ziff are scheduled to speak; plus there will be live performances and a seated dinner. Tickets are HERE.
Splash photo by Mark Blower. Courtesy of Mark Blower/Frieze