We've been so overwhelmed by all of the new events, exhibits and parties coming to Art Basel Miami Beach 2013, that we've decided to bring you two more installments of our Mega Guide.  You wouldn't want us to leave anything out, would 'ya?  Here's PART 6 and watch for PART 7 on Wednesday and then check back in all next week for our daily updates and additions.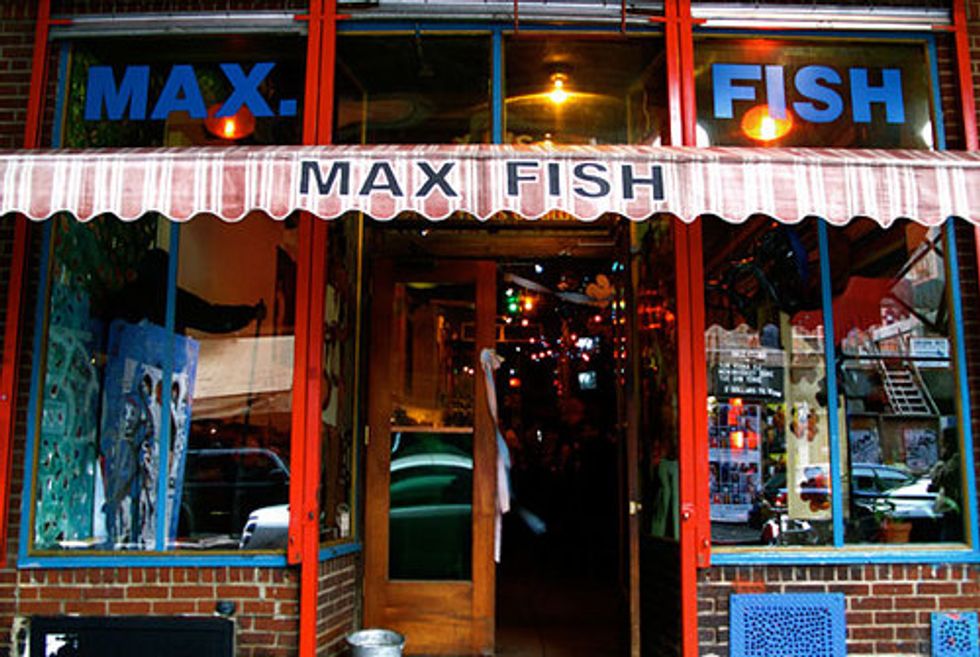 While we wait for the new Max Fish to open in Williamsburg, we received word that they are doing a pop-up during AB/MB at Radio Bar (814 First Street, South Beach) with support from DKNY and Klughause Gallery.  It opens on December 4th and you can stop in all week.  They're putting together a cool bunch of guest DJs, a guitar battle, a skateboard "jump contest" and the usual mayhem you'd expect from MF.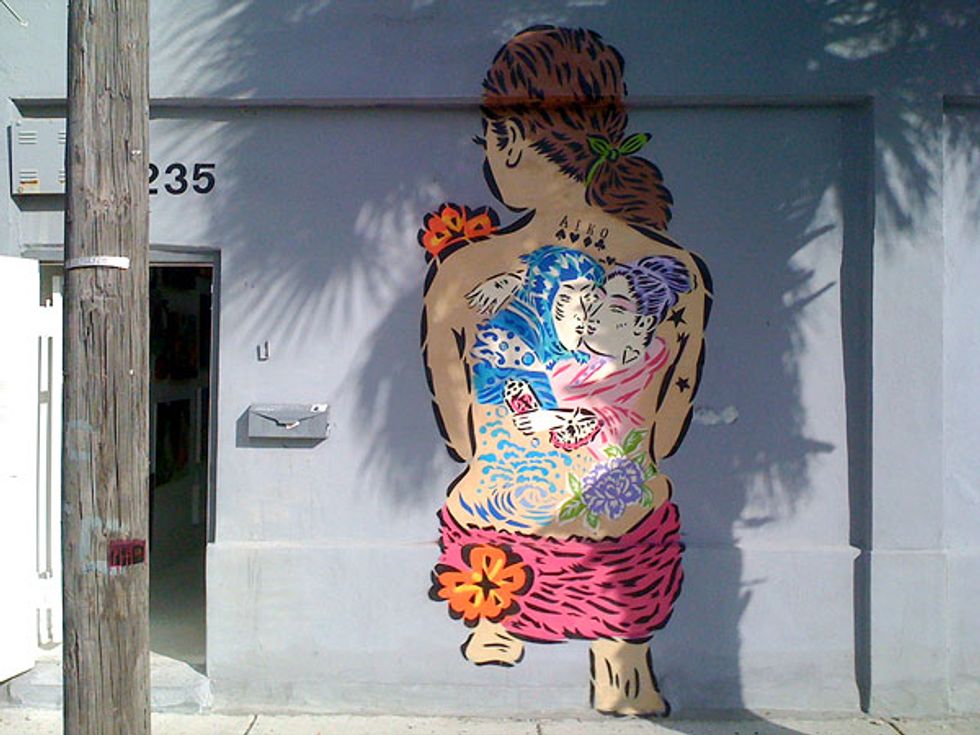 Several new projects are coming to the late Tony Goldman's on-going Wynwood Walls  project including murals co-curated by Jeffrey Deitch and Tony's daughter, Jessica Goldman-Srebnick, featuring contributions from women artists. "Women on the Walls" (NW 2nd Avenue, btwn, 25th and 26th Streets, Miami) will open on December 3 from 6 to 9 p.m. with works from Aiko, Fafi, Miss Van, Maya Hayuk and Lady Pink; other murals by Kashink, Faith 47, Lakwena and Sheryo will be on view in the surrounding neighborhood as well.  Also: Kenny Scharf  designed a new "garden" called Tony's Oasis (2219 NW Second Avenue, Miami) that will be dedicated on December 6 and Martha Cooper is the "curatorial advisor" for a new gallery exhibition inside the WW complex.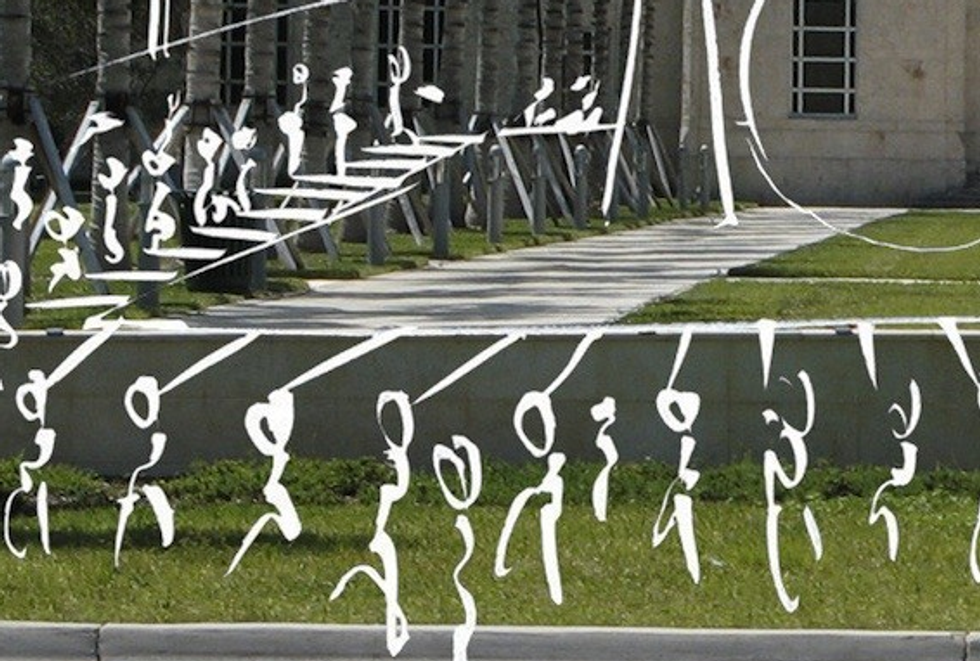 One of our favorite parts of Art Basel Miami is just being able to stroll around and enjoy the weather and check out the free art on display all over town.  This year, all of Collins Park (between 21st and 22nd Streets, South Beach) will be transformed into an outdoor exhibition space with over 30 large-scale sculptures and installations.  Curated by New York Public Art Fund's Nicholas Baume using the theme "Social Animals," the works on view will be by international artists including Olaf Breuning, Sam Falls, Oscar Tuazon, Jeppe Hein, Richard Long and Ursula von Rydingsvard. Opening night, December 4, 8:30 to 10 p.m., will also include special performances and it's all free and open to the public.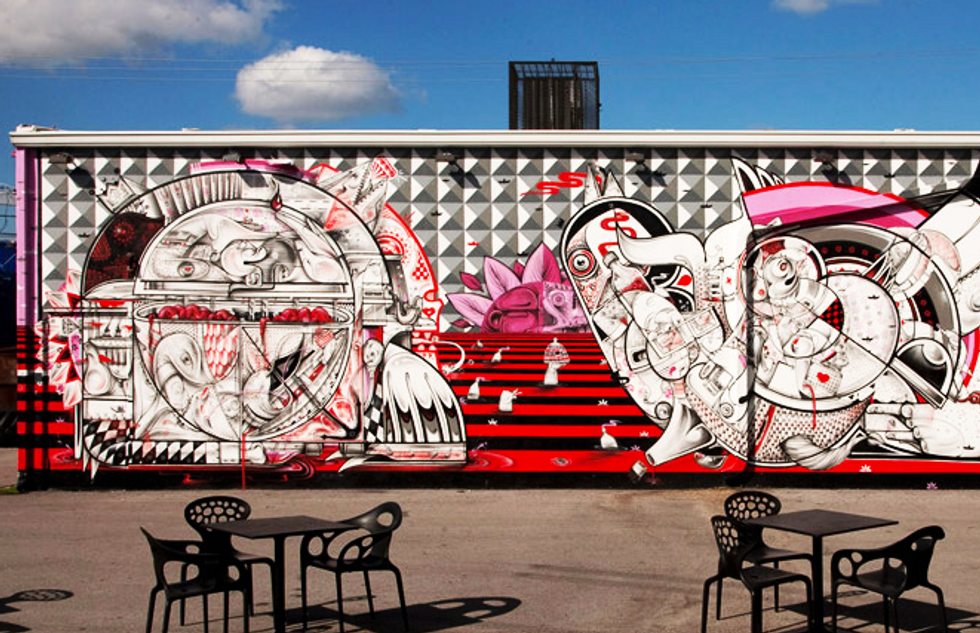 Re+Public has digitally augmented five Wynwood Walls murals and, using their new app, viewers can "walk into and interact" with the works by Aiko, Retna, How & Nosm and Ryan McGinness.  Go HERE to check it out.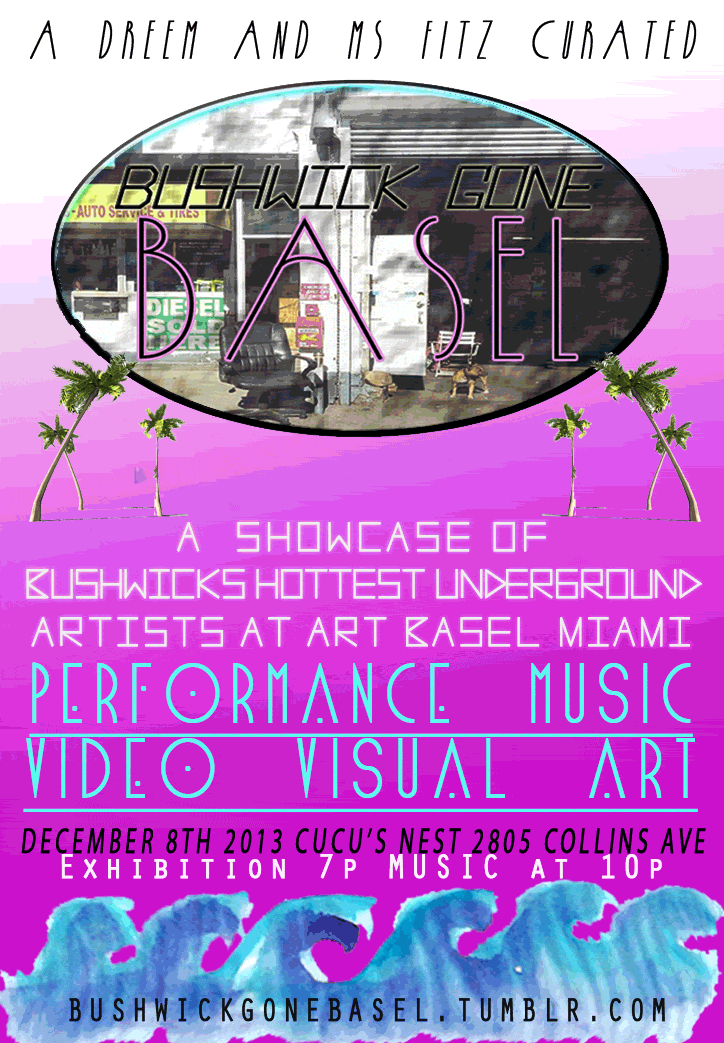 Bushwick is in the house, yo!  Over 25 artists representing the Bushwick underground  -- including musicians, visual artists, performers and personalities -- are chartering a magic bus and heading to Miami.  They'll be "crashing parties" all week and then you can crash theirs:  December 8th at Cucu's Nest (2805 Collins, South Beach) with an exhibition at 7 p.m. and music starting around 10 p.m.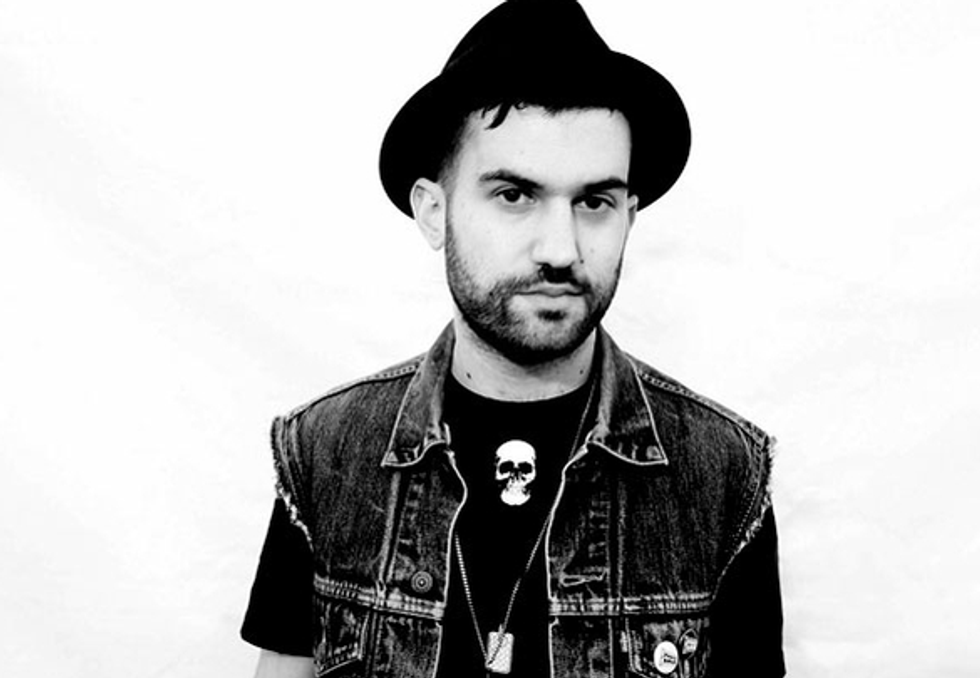 Several new music acts have been added to the big MANA Wynwood ( 218 NW 23rd Street, Miami) event including Kendrick Lamar on December 4th, Boy George on December 6th and A-Trak, Dave 1 and Nick Catchdubs in the afternoon on the 8th. They've also added several performance artists including Vanessa Beecroft, Rob Montgomery and a "live mural painting" by Ron English.  All the details, times and tickets (when available) are HERE.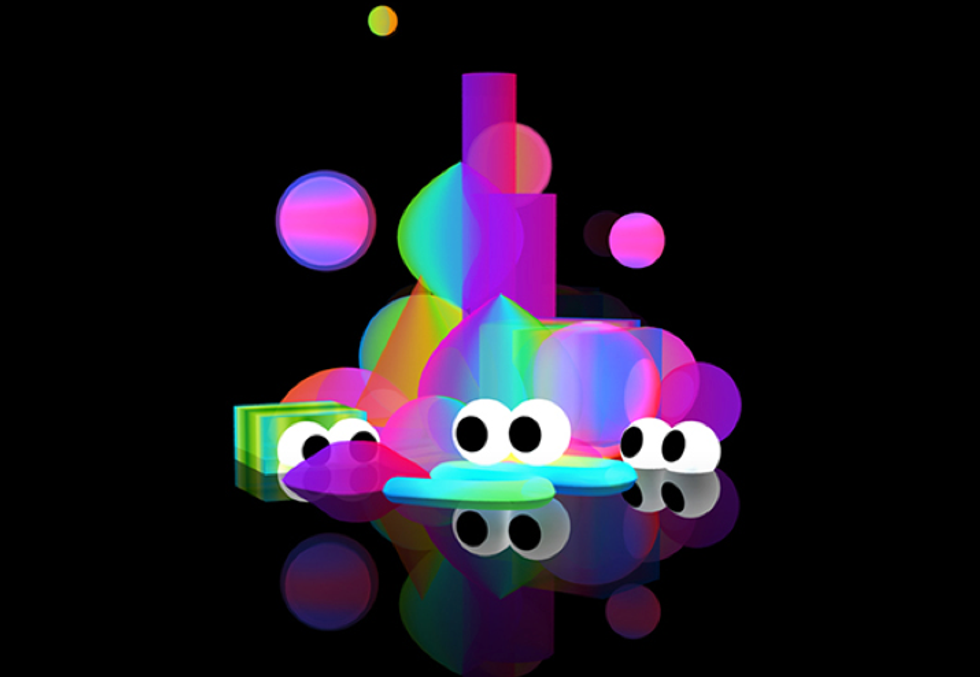 The Mondrian South Beach (1100 West Avenue, South Beach), Paul Kasmin Gallery and PAPER Magazine -- hey, that's us -- are hosting a reception for one of our all-time-faves, Friends With You, on Thursday, December 5th, 2 to 8 p.m., poolside at the hotel.  They're doing an installation called "Somewhere Over the Rainbow" that promises a "colorful experience meant to transport the viewer into an enhanced state of happiness and self-healing."  We'll be arriving at 4:20, of course.  If you can't make it on the 5th, stop by Saturday between 11 a.m. and 2 p.m. for a yoga session with Grey Area, Lululemon and Morgans.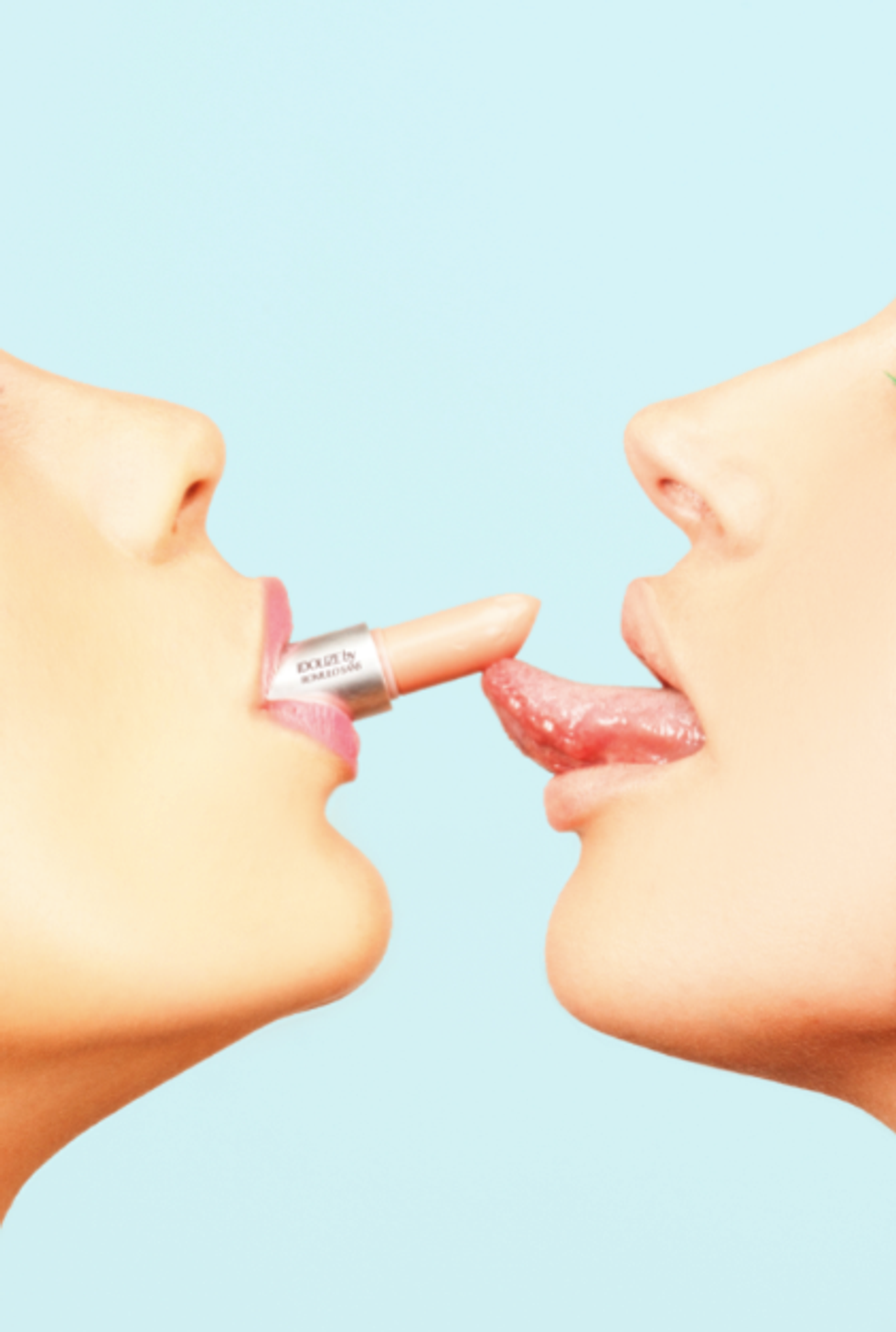 I D O L I Z E -- "a new platform for the intersection of art, fashion and design" -- is hosting an exhibition by five young international artists from December 4th to the 8th in Miami's Design District at 3800 NE 2nd Avenue on the second floor.  The artists are Cope/Arnold, Romulo Sans, Alberto Maria Colombo, Sean Augustine March and Ben Duggan/Jake Lomagno.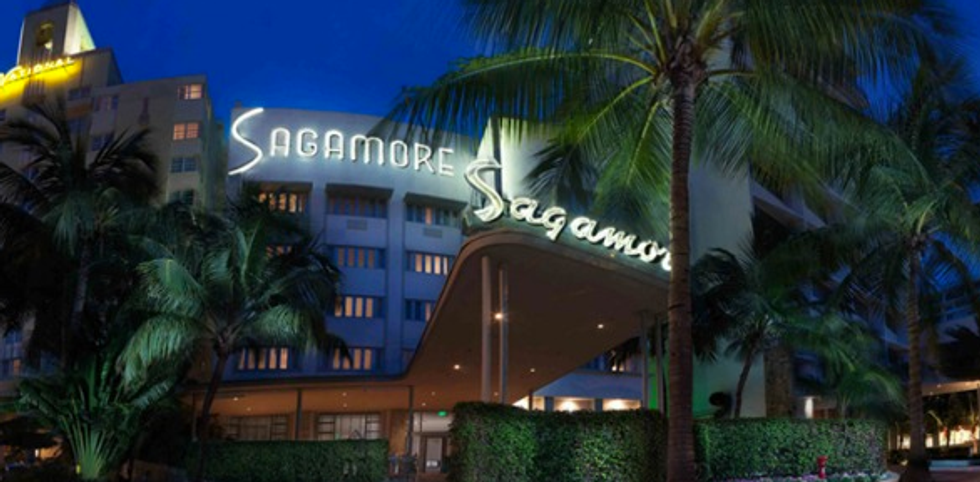 Miami's original "art  hotel," Cricket & Marty Taplin's" Sagamore (1671 Collins Avenue, South Beach) will host a big group exhibition called "Framing the Moving Image" curated by John Hanhardt.  On view all week will be works by Bill Beirne, Shannon Plumb, Ken Jacobs, Ernie Gehr, Antoni Muntadas and many more.  The hotel's incredible (and 12th annual) brunch is on Saturday.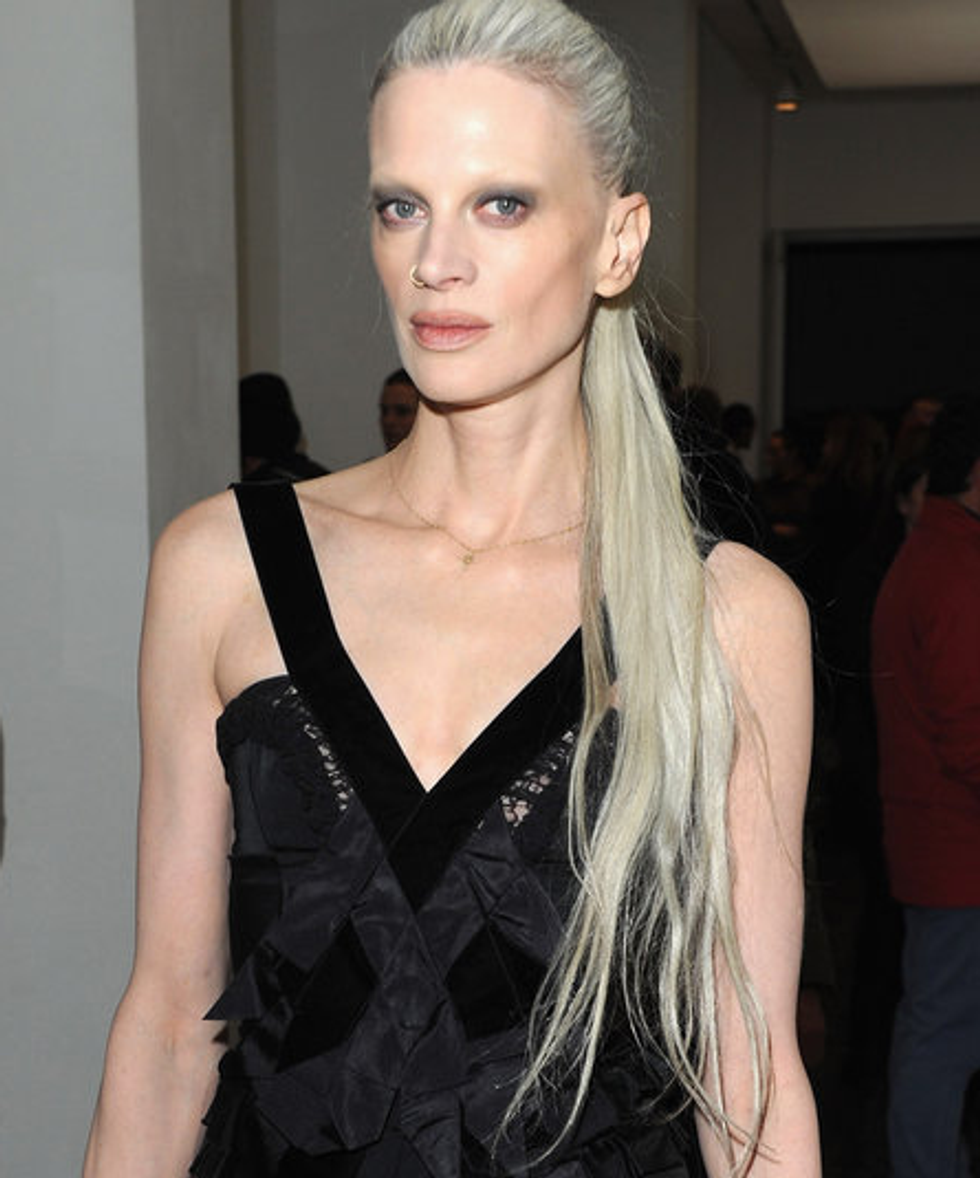 The premiere of Tim Walker's short film, "Suspension of Disbelief," starring Kristen McMenamy and Ben Whishaw is on Wednesday evening at the Perez Art Museum Miami.  Stefano Tonchi and Goga Ashkenazi are hosting with W magazine and Vionnet.  RSVP required.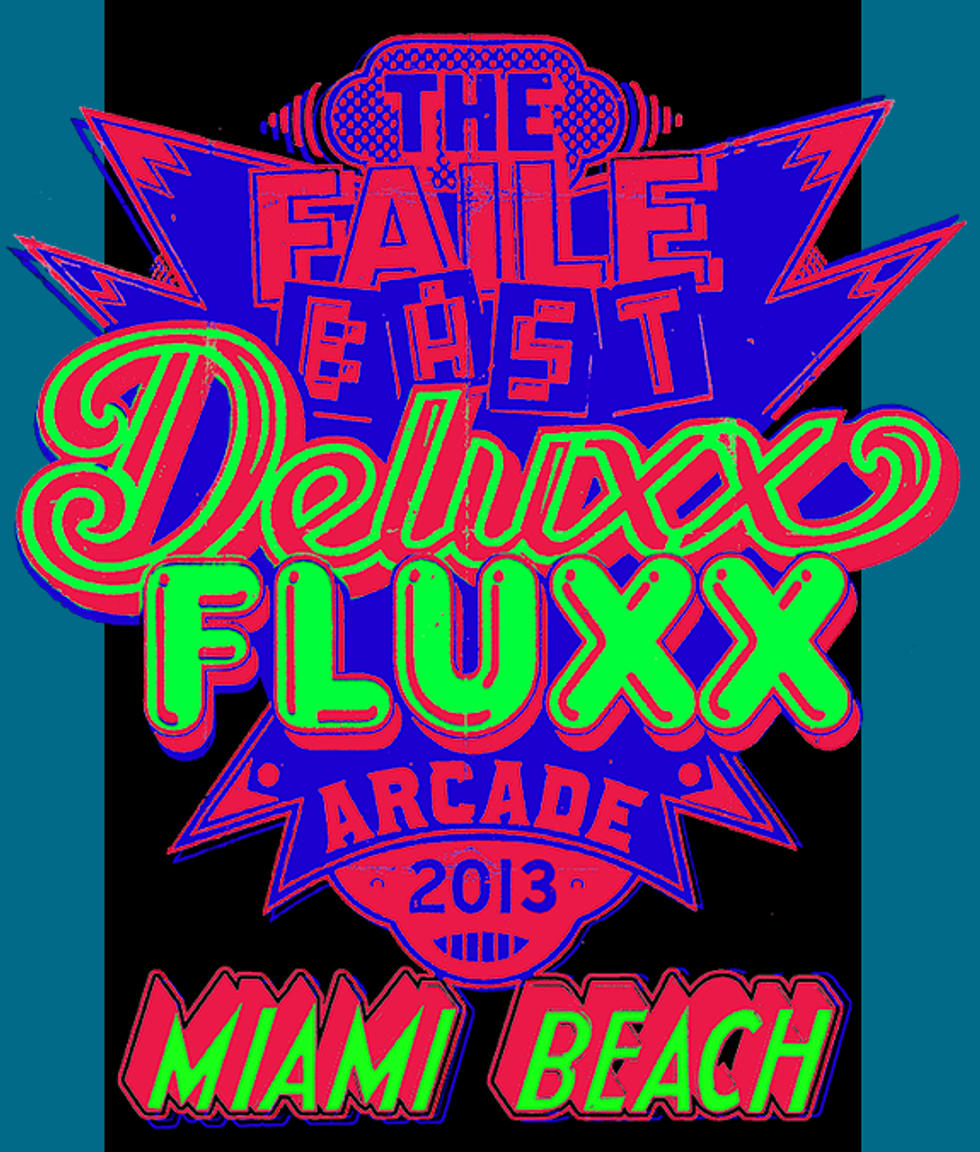 The FAILE/BAST Deluxx Fluxx Arcade 2013 Miami Beach will be open from December 3rd to the 7th in an abandoned storefront near the corner of Washington Avenue and 16th Street in South Beach.  There will be "unconventional video games, tricked-out pinball machines and foosball made psychedelic" -- all sponsored by Perrier.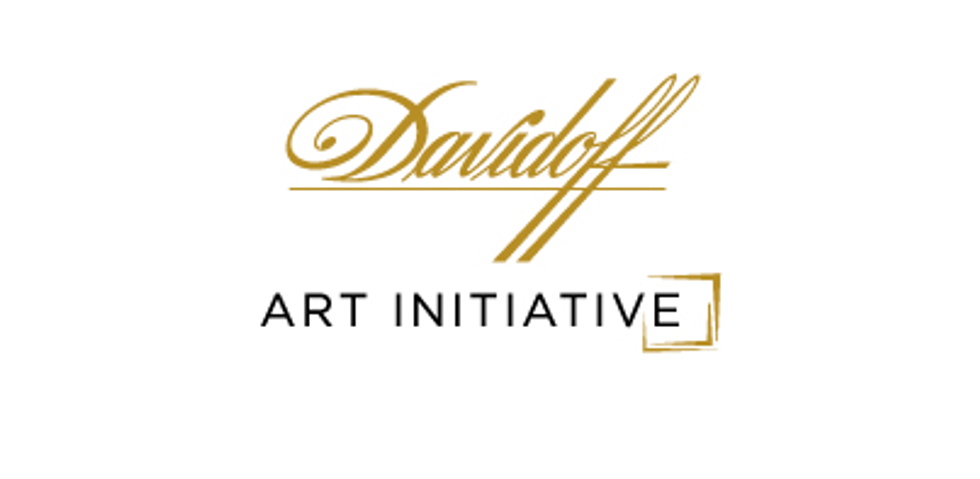 Davidoff's annual brunch to announce their latest Art Grant recipients and the next Dominican artist that will take part in the Davidoff Art Residency is on Thursday, December 5, from 10 a.m. to noon in their cigar lounge in the Miami Botanical Gardens behind the convention center.  Invite Only.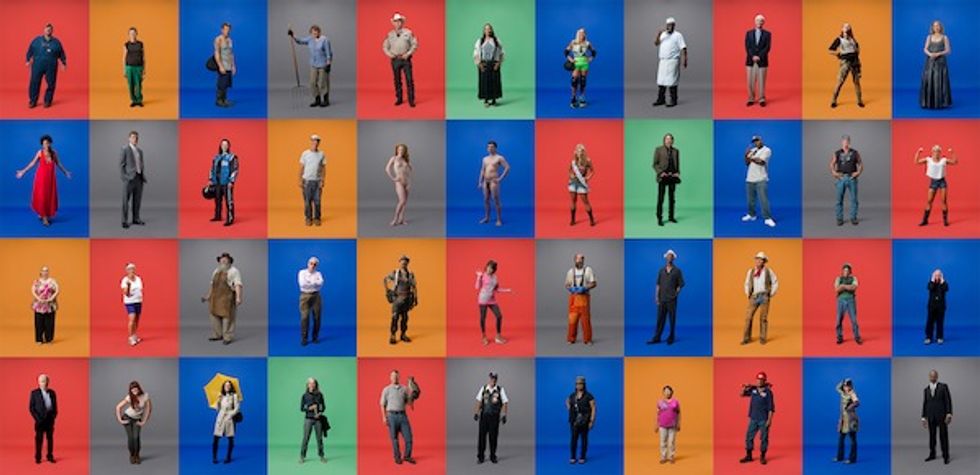 New York's "members-only group of cultural programmers," The Committee, and Cay Sophie Rabinowitz' OSMOS project space are hosting an evening with Brian Dailey to celebrate the publication of his book "America in Color" on Thursday, December 5, at the Gale South Beach (1690 Collins Avenue, South Beach). The book documents Dailey's journey across the USA, photographing people "who expressed their political identity through the selection of colored backdrops."  RSVP required.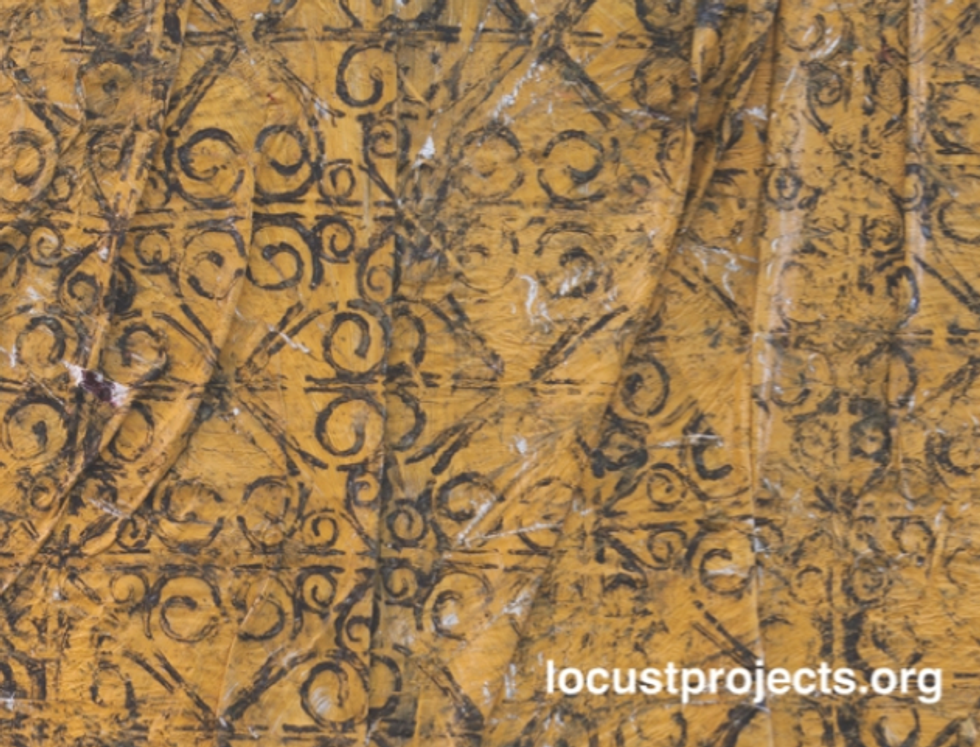 Look for city buses painted by New York-based artist Angel Otero. They're a part of Locust Projects'  "Art on the Move" public art initiative.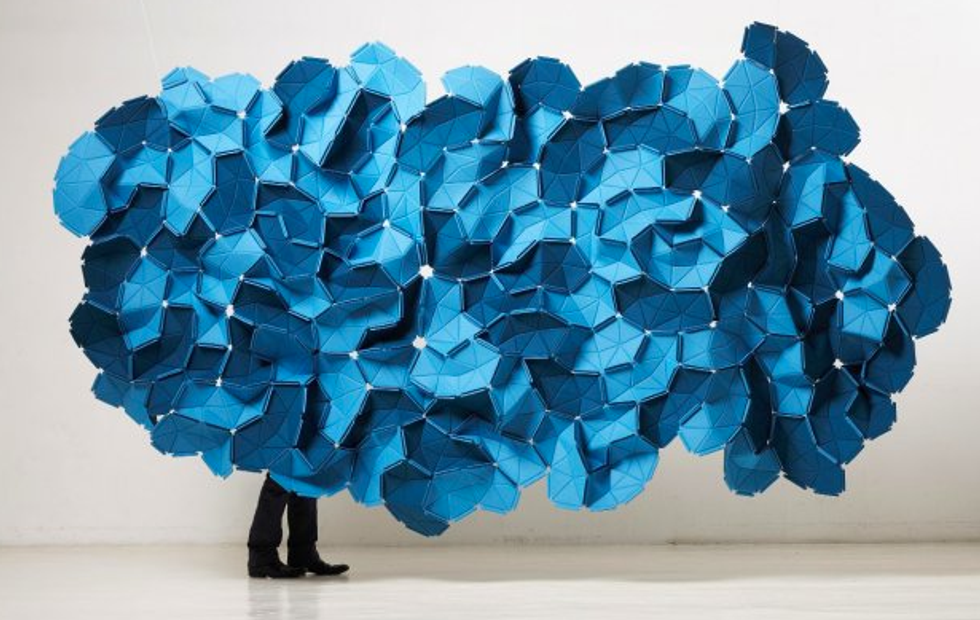 Ligne Roset (160 NE 40th Street, Miami) and Bernardaud celebrate contemporary French art and design with an exhibition of works by Ronan & Erwan Bouroullec, Inga Sempe, Nathan Young, Noe Duchaufour-Lawrance, Jeff Koons, Julian Schnabel, Marco Brambilla, JR and Prune, David Lynch and many more on Thursday, December 5th, 6 to 9 p.m.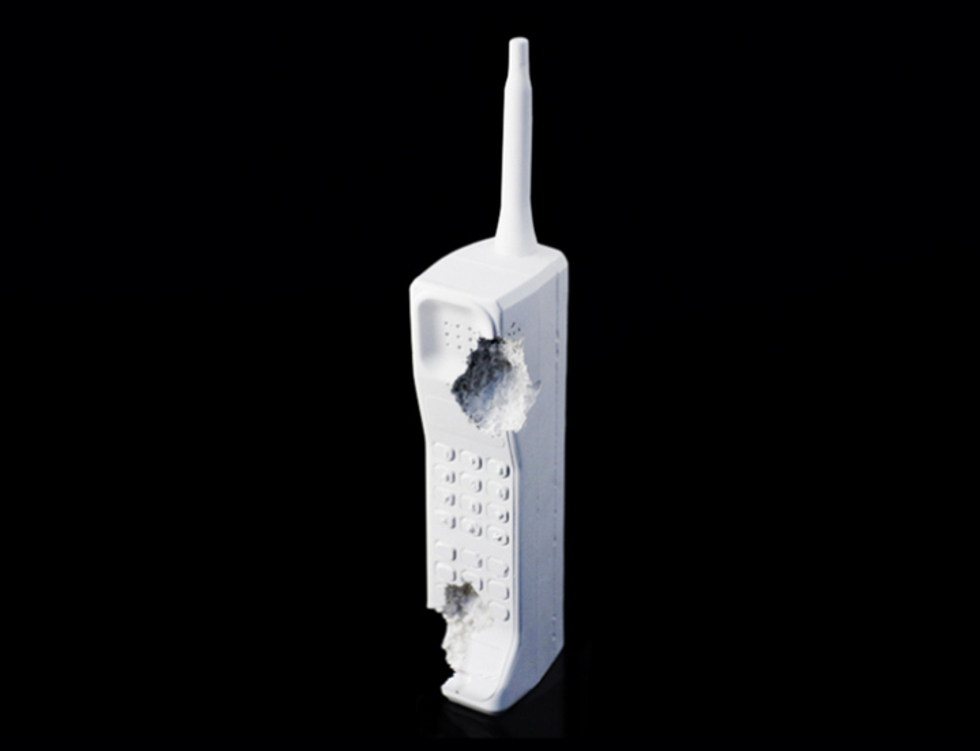 There's a premiere of Daniel Arsham's film "Future Relic 01" and the release of his limited edition object, "Mobile Phone," at The Webster (1220 Collins Avenue, Miami Beach) on December 5th.  RSVP required.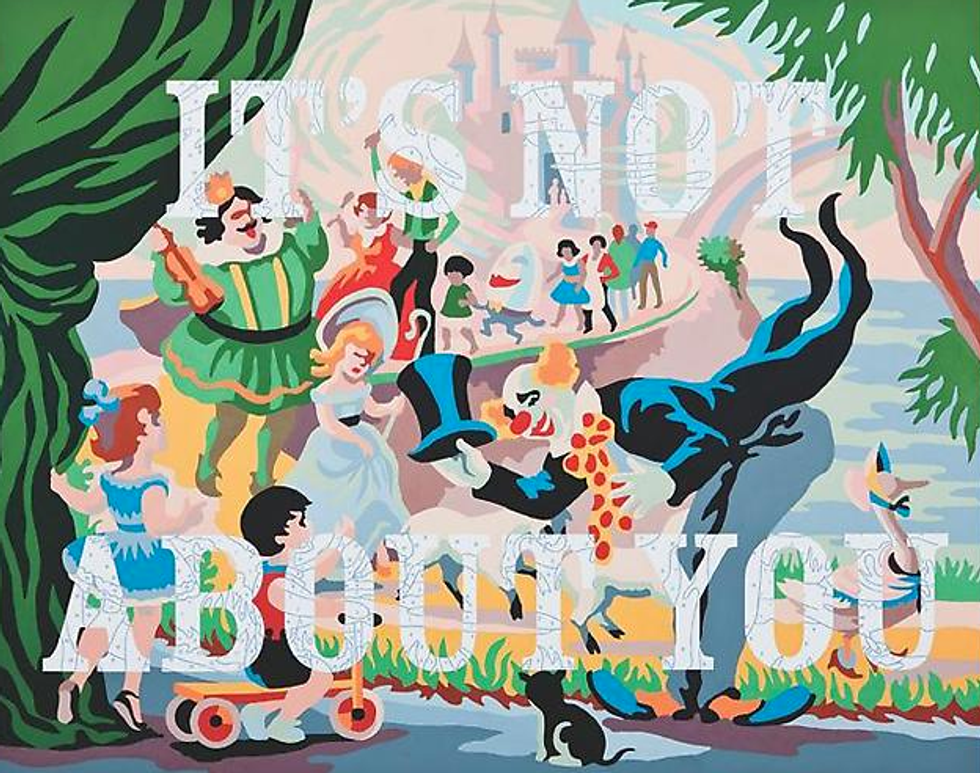 BENETTON, South Beach (670 Collins Avenue, South Beach) hosts a party to celebrate their collab with the artist Trey Speegle on Monday December 2nd from 7 to 9 p.m. Speegle's work will be on view in the store until December 8th.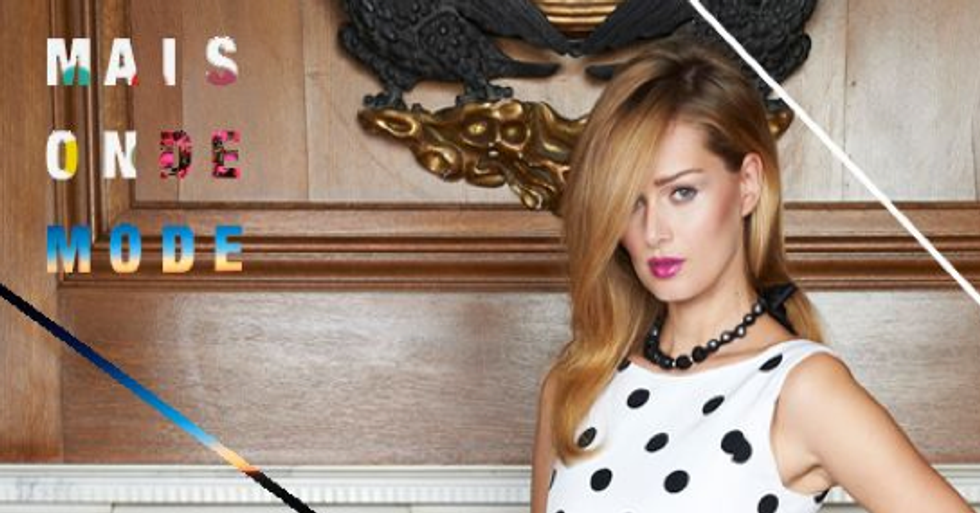 Maison de Mode and PK Shop have collab'ed on a line of artist-designed collectables that will debut in the afternoon of December 4th at the Soho Beach House (4385 Collins Avenue, South Beach).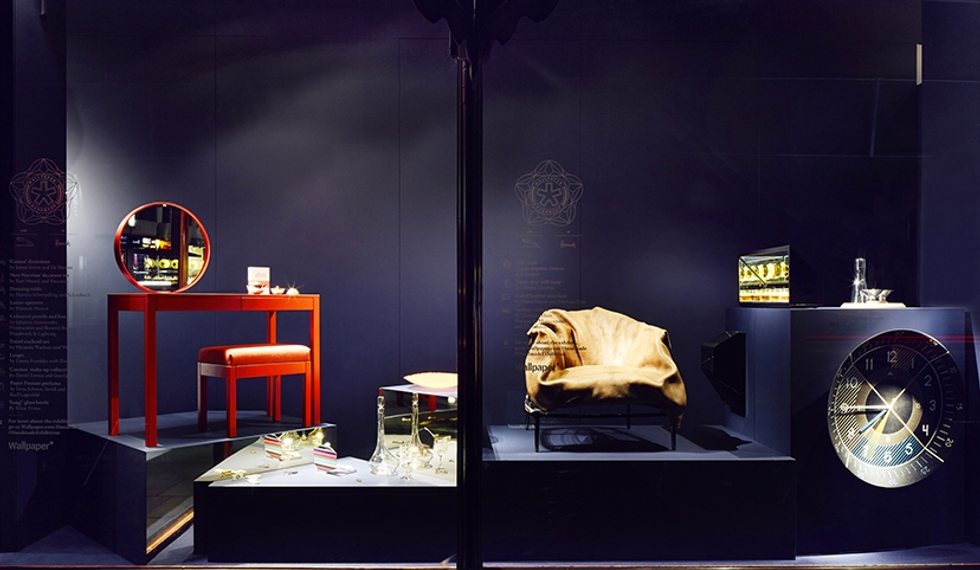 A new fair celebrating craftsmanship and design, Wallpaper* Handmade, will be open from December 4th to the 8th in Miami's Design District at 3841 NE 2nd Avenue. Over 70 works from international designers, artists, brands, makers etc. have been commissioned to create unique and one-off items.  The event is a collab with Jaguar, who will be displaying some of their hottest new cars on nearby streets.



TrendSeeder and NoBe67 Pret-aPorter launch their two-day, womenswear designer fair on December 6th at the Deauville Beach Resort (6701 Collins Avenue, Miami Beach).  The new fair will feature emerging designers including Pitusa UK, Laquan Smith, Jeux De Vie Designs, Monica Ocejo and Casa Del Rio.  DJ Jilly Hendrix spins at the opening.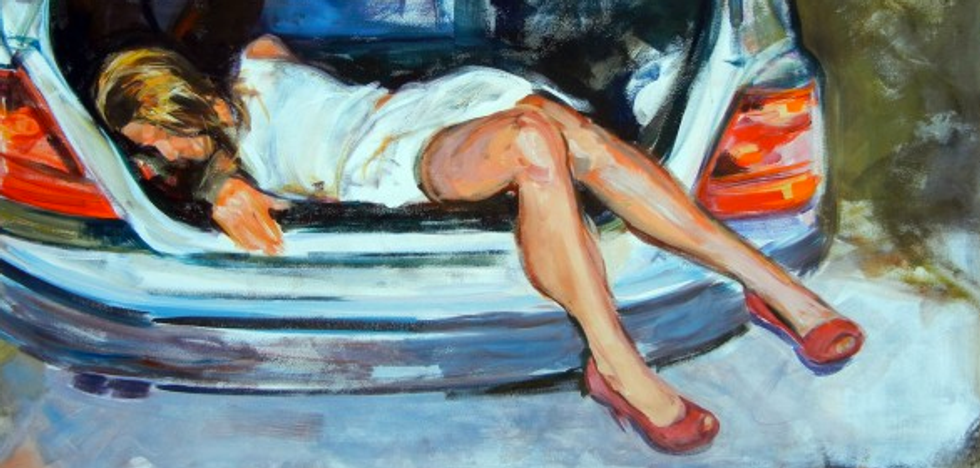 The University of Miami is hosting the sixth annual "CANE FAIR" from December 2nd to January 24th in their gallery in the Wynwood Building (2750 NW 3rd Avenue, Miami).  On view will be works from students in the school's MFA program.

Check out our Mega Guide to Art Basel Miami 2013 and stay tuned next week for our daily guides.

More from our Art Basel Mega Guide

PART 1
PART 2
PART 3
PART 4
PART 5