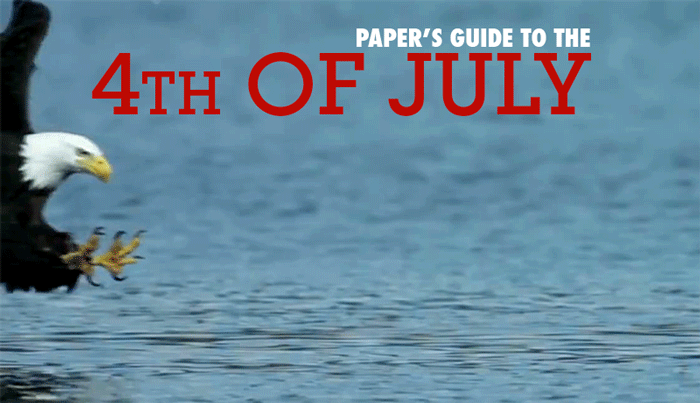 From fireworks to fire twerks, we've got 20 fun ways to spend your 4th of July long weekend in New York City. U-S-A! U-S-A!
Thursday, July 3
Fire Twerk
Kick off Fourth of July weekend à la Miley. With opening sets by DJ Miss Jade and TIG, and headliner Dalton, you'll be turning into a red-white-and-blond version of the pop star in no time -- and it's only the beginning of the weekend.
Marquee, 289 10th Ave., Manhattan; 11pm-4am
.
Friday, July 4
July 4th!
Cameo plays host to the deep house and garage sounds of Brooklyn-based DJs Robert Lux, Evan Michael, and Jesse Rudoy, along with the chill downtempo beats of Lemonade at this 21+ event. Fair warning: leave your Hasbeen wedges at home. You'll want to be wearing your dancing shoes. Tickets start at only $5.
Cameo, 93 N 6th St., Brooklyn; 9:30pm-Late. Tickets HERE
Independence Day & Night with THE WOLF & Friends
Le Bain brings out one of Brooklyn's best underground duos The Wolf (a.k.a. Wolf+Lamb) to celebrate 'Murica. The event also features DJ Ahmed Hashim, along with a mysterious "& Friends," to be announced later.
Le Bain at The Standard, 444 W 13th St., Manhattan; 10pm-4am
The Liberty Belle Extravaganza 2014
Jump back in time at this vintage celebration with burlesque and vaudeville performances by Gal Friday, Hazel Honeysuckle, Maine Attraction, Elle Dorado and Albert Cadabra, along with live swing, jazz, and country music by Gelber & Manning and the Star Spangled Orchestra, Dandy Wellington and his Band, The Grand Street Stompers, and Jack Grace Brand. The rooftop party will be hosted by Mr.Dandy Wellington, and has sold out every year, so advance tickets are recommended. It'll be like Frontierland at Disney World but with more booze.
Level R at Empire Hotel, 44 W 63rd St., Manhattan; 5pm-11pm. Tickets HERE


Coney Island Fireworks Show
The annual Coney Island spectacle will take place right off the beach with the best viewing coming from the Boardwalk on West 10-12th streets, the Steeplechase Pier, or even the Wonder Wheel, if you're feel like being a bit higher up.

Coney Island Beach & Boardwalk near Steeplechase Pier, Brooklyn; 9:45pm


11:11
Toast the stars and stripes with Ladyfag while dancing to the sounds of DJ Sveta, Honey Dijon, Michael Magnan and special guest, Mess Kid. "Eleven Eleven" is free before midnight, so get there early and buy Amanda Lepore a drink.
244 East Houston St., Manhattan; 11pm-4am. $5 after midnight

Nathan's Famous Fourth of July Hot Dog Eating Contest
The summer equivalent to Thanksgiving, the annual Nathan's hot dog eating contest is back for the 2014 season, and expectations are high. A select few will come together to gorge themselves on wieners and buns for a full ten minutes -- last year's winner, Joey Chestnut, broke a world record by gorging on 69 of 'em. Before the event, you can also catch some live entertainment with performances by the rapper Eric "Badlands" Booker and other local artists. The contest and entertainment is free to watch.

1310 Surf Ave (at Stillwell Ave), Coney Island, Brooklyn; Noon

Macy's Fourth of July Fireworks
The Macy's celebration is back in Brooklyn for the first time in five years, holding the show live from the East River, using the Brooklyn Bridge as a backdrop. This year, the annual event is celebrating the 200th anniversary of "The Star Spangled Banner" with a 25-minute musical score featuring some of America's greatest vocal chords like Idina Menzel, who will be accompanied by the DIVA Jazz Orchestra and Judith Clurman's Essential Voices USA. Other performers include Enrique Iglesias, Ariana Grande, the Zac Brown Band, and more, all hosted by Nick Cannon. You can watch the free event in person, or via live streaming on NBC.
Public viewing sections on selected parts of FDR Drive; 8pm
Zebra Katz at Rockaway Beach Surf Club
Rockaway Beach Surf Club is hosting a sandy soiree complete with water guns, fireworks and a piñata for the 4th of July. Come for performances by rapper Zebra Katz, punk group Sunshine Gun Club, hip-hop collective Kin2KY and atmospheric crew Nuraxi -- all from New York. Cool off with free Ciao Bella Gelato.
302 Beach 87th St., Queens; 2pm. Free.
Second Annual Fourth of July Beach Party
The party's starting off early in Coney Island this year, with a huge beach event. Hosted by Salsa Salsa & Friends, the bash will feature music by DJ John John & DJ Wally, lots of day drinking, and the potential for a mid-afternoon nap in the sun before the fireworks start.
Coney Island (right side of the pier), Brooklyn; Noon-Midnight
Leave Rochelle Out Of It
On Friday, Saturday, and Sunday, newish LES whiskey den Leave Rochelle Out Of It will be hosting backyard barbecues to celebrate America, the World Cup, and the three-day weekend. Expect to find beerpong,Tullamore Dew Whiskey slushies and hotdogs. 
Leave Rochelle Out Of It, 205 Chrystie St., Manhattan; 12pm-4am Friday, Saturday, and Sunday
Wasabassco at City Winery
When the fireworks show ends but the need for explosive sparkles lingers on, the only thing to do is go see a striptease burlesque show and drink a glass of wine...to honor our forefathers of course. Doc Wasabassco, the "Kingpin of Burlesque," is bringing his crew of acclaimed cabaret dancers to City Winery in the West Village, and if that's not enough, you can join the pre-party at 7pm at the Brooklyn Bell House, where the ladies of the night twirl their tassles as you gorge on barbecue and beer. 
City Winery, 144 Varick St; Doors open at 10:45pm. Tickets HERE.
Sonny's Soda Shoppe at the Mondrian Soho
Upgrade your beer slushy and hot dogs to Laboratorio gelato, Peroni beer, free Rosé, and Italian sausages, courtesy of Sonny's, while watching the fireworks from underneath a striped umbrella. Access to the highest party in NYC is $175, and well worth it.
Mondrian Soho, 9 Crosby Street; 6pm-midnight
Saturday, July 5Tiki Disco
Head to the roof at Output for good tunes (by Tiki stalwarts Lloydski, Andy Pry and Eli Escobar), good drinks and good vibes.
Output, 74 Wythe Ave., Brooklyn; 2pm-10pm. $10.
High North at Cameo
If you're looking to let off some steam Saturday night, Brooklyn's Cameo Gallery will be hosting an aggressive evening of psychedelic rock featuring Brachiosaurus, Giancarlo Bracchi and headliners High North. With band names that all sound like deadly diseases, it's guaranteed to be an interesting night.
Cameo Gallery, 93 N. 6th St., Brooklyn; 8pm. $10.
"Be Cute" at One Last Shag
One Last Shag's monthly "Be Cute" booty bounce is back. The gay dance party will feature a killer DJ set by Brooklyn drag queen -- and
Friend of Paper
-- Horrorchata.
One Last Shag, 348 Franklin Ave., Brooklyn; 10pm. Free.
Sunday, July 6
Jaws at Nitehawk Cinema
Nitehawk will be screening an array of all-American films for the 4th of July, including the Steven Spielberg classic, "Jaws." See it on the big screen like it's 1975 because nothing screams "celebrate" quite like a film about a monstrous man-eating shark. We're serious.
Nitehawk Cinema, 136 Metropolitan Ave., Brooklyn; 11:45am. $11.


Topshop x Playland Summer Sundays
In collaboration with Playland Motel in Rockaway Beach, Topshop will be launching a weekly Summer Music series starting this Sunday to continue through August 31st. Wrap up your weekend with DJ sets by Neon Indian and Liv Spencer, and a "Selfie Zone" that allows you to enter to win a $500 shopping spree at their Soho boutique.
Playland Motel, 97-20 Rockaway Beach Blvd; 4pm-9:30pm
FRAME at Glasslands
Brooklyn singer-songwriter FRAME will descend upon Glasslands Gallery with an evening of emotional -- but sophisticated -- pop. Openers include Montreal's How Sad and Wake Island, but be sure to catch Dream Arcade, who's music sounds like The Get Up Kids if they were asked to make
The Breakfast Club
soundtrack.
Glasslands Gallery, 289 Kent Ave., Brooklyn; 8:30pm. $10