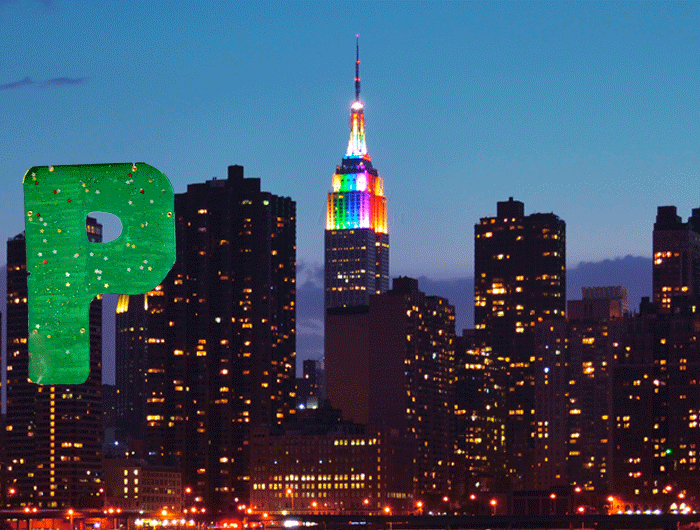 GIF by Austin Moore
In Pride Week's spirit of inclusion, there's something for everyone this weekend, whether you're into dance parties, films, drag shows, art installations, or even Tarot cards. Read on for recommendations of where to celebrate LGBT pride in NYC and kick off summer.

Thursday, June 25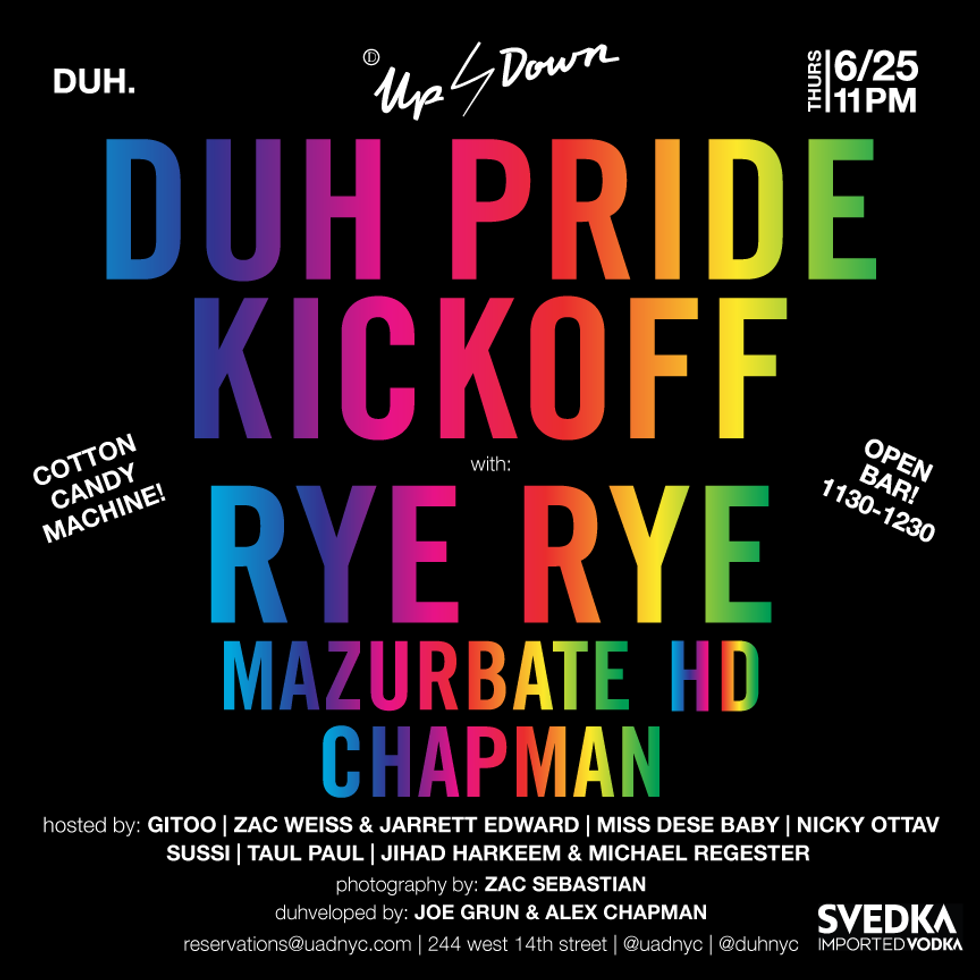 Photo via
Duh NYC
Duh Pride Kickoff
Get Pride Weekend off to a raucous start at Duh, which will be featuring live performances by rapper and M.I.A. protegée Rye Rye, and music by resident DJ Mazurbate, HD, and Chapman. Oh -- and don't forget to indulge in a cotton candy machine and Svedka open bar.
Up&Down, 244 W. 14th St., 11 p.m.
Fire in the Hole
The East Village's Nowhere bar hosts "Fire in the Hole," a monthly event in honor of redheads and their supporters. They have $3 whiskey gingers because, obviously.
Nowhere, 322 E. 14th St.
,
9 p.m.

Photo via
Hump Film Festival Tour
Hump! Film Festival
Sex columnist Dan Savage curates this year's dirty movie festival at the Wythe Hotel. 18 5-minute amateur porn films will be screened and cash prizes will be awarded for the noblest efforts. Because who doesn't want to watch low-budget money shots with a bunch of strangers?
Wythe Hotel, 80 Wythe Ave., Brooklyn, 7:00 p.m. and 9:00 p.m.
Friday, June 26Everybooty
This dance club-meets-art gallery-meets-drag show at BAM Fisher boasts four floors and a rooftop for getting your groove on to DJs Sean B, Matty Beats, and Deputy, checking out video and art installations, and catching performances by Will Sheridan, Mizz June, The Feath3r Theory, Turnt Up Trifecta, and I Am A Boys Choir. And if that's not enough, rumor has it there'll be karaoke and Tarot readings for those tired out from all the week's dancing.
BAM Fisher, 321 Ashland Pl., Brooklyn, 8 p.m.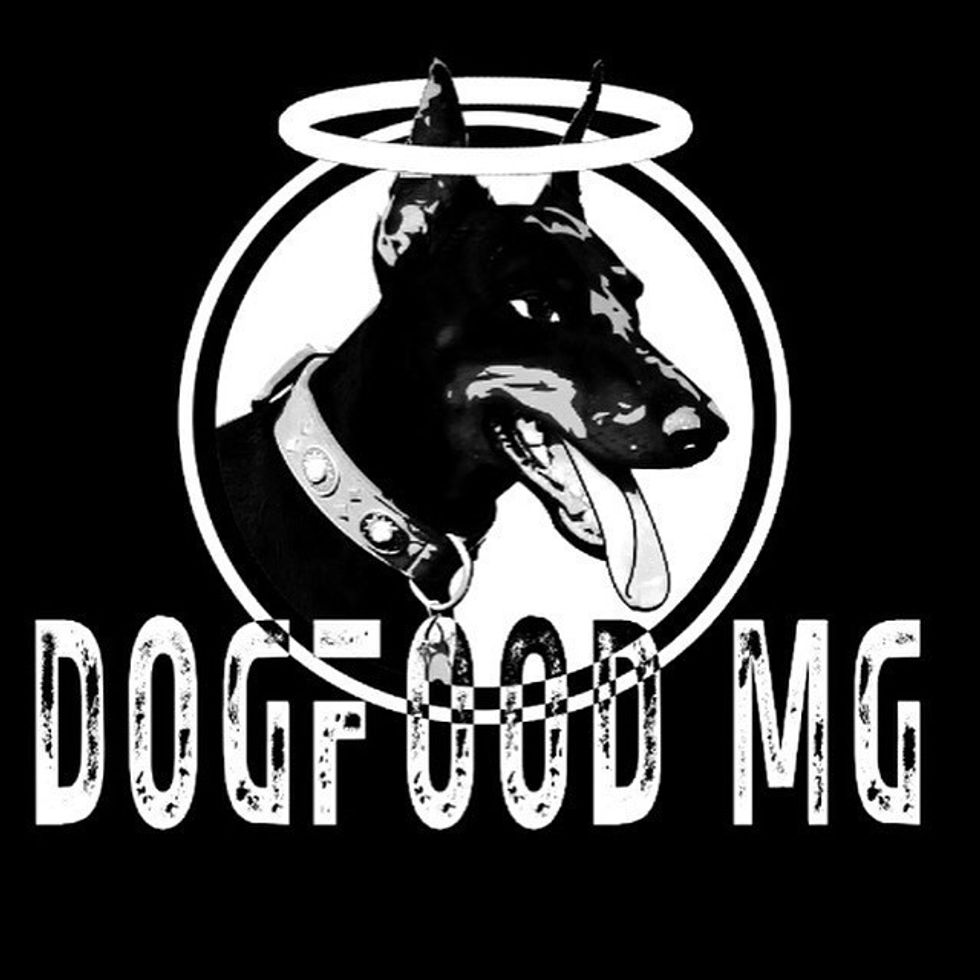 Mykki Blanco Presents Dogfood MG
Gender-bending punk-inspired rapper/performance artist/poet Mykki Blanco takes the stage following his long-time opener Psycho Egyptian,
futuristic

Berlin-based act Amnesia Scanner,
Violence,
and Chino Amobi
. And if you miss them this time around, you can catch
Mykki Blanco at the Riis Park Beach Bazaar
later this summer or
Amnesia Scanner at MoMA PS1
on Saturday.
Palisades, 906 Broadway, Brooklyn, 8 p.m.
The Rally
Since its start in 1969 after the Stonewall Riots, The Rally has served as NYC Pride Weekend's ultimate kick-off event. The free, all-ages gathering will be held on Pier 26 in Tribeca and includes a special performance by Ashanti. Make sure to, uh, be "
on time
."
Hudson River Park Pier 26
,
7 p.m.
Fantasy
If you're still raring to go post-Rally, head to "Fantasy", a burlesque masquerade party at The Diamond Horseshoe. You'll be able to purchase masks at the door should you forget yours at home.
The Diamond Horseshoe, 235 W. 46th St., 10 p.m-5 a.m.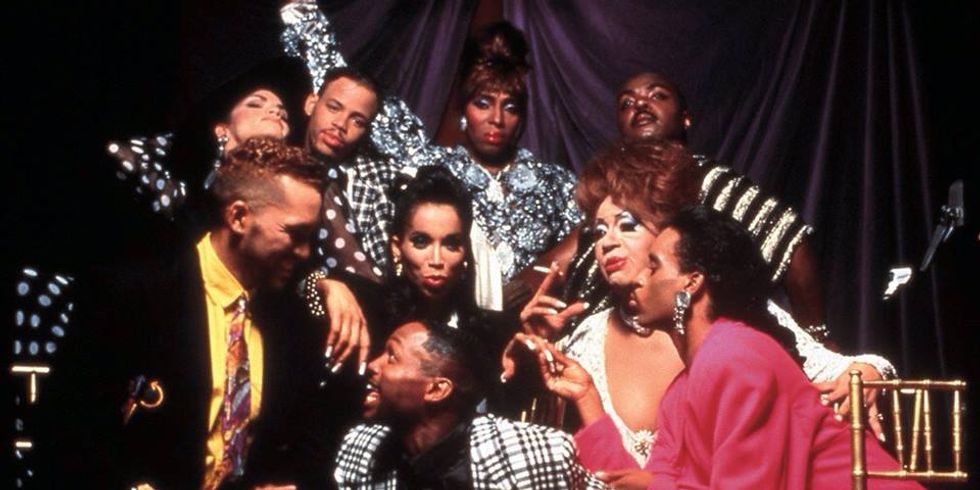 Celebrate Brooklyn!: Paris Is Burning
Celebrate Brooklyn! is holding a free outdoor screening of the 1990 documentary/bible
Paris Is Burning
, featuring an introduction by its director, Jennie Livingston. What's more, there'll also be a ball performance with members from House of Xtravaganza. Start perfecting your duckwalk now.
Prospect Park West at 9th St., 7:30-10:30 p.m. 
OASIS
Queer art collectives The Culture Whore and Factory Girls have joined forces to create OASIS, an eight-hour melding of art and music from the most talented voices in the Philly, Baltimore, and New York areas. The Bushwick event will feature music by JX Cannon and J Lamar, as well as Philly's Gun$ Garcia and Yolo Ono.
43 Scott Ave., Brooklyn, 11 p.m.-7 a.m.
Saturday, June 27

Teaze
Pride's 12th annual women-exclusive dance party will feature NYC Pride veteran Whitney Day, DJ Sherock, and
Orange Is the New Black
's Ruby Rose spinning all day against the serene backdrop of Hudson River Park. 
Hudson River Park Pier 26, 3-10 p.m.



WE Party
If you never finished your Bachelor's, WE Party's "University"-themed event seems like the next best thing. Held in Manhattan's Hammerstein Ballroom, DJs Sagi Kariv and Micky Friedmann will be spinning 'till 6 a.m. So get your tickets and avoid making out with any underage co-eds.
The Hammerstein Ballroom, 311 W. 34th St., 10 p.m.-6 a.m.
Siren
Siren, a yearly women's dance party, will be held at Watermark Bar, a mod indoor and outdoor lounge overlooking the East River. DJs RosyQ, Ches, and Nikki Lions will spin into the early hours of the morning.
Watermark Bar, 78 South St., 8 p.m.-4 a.m.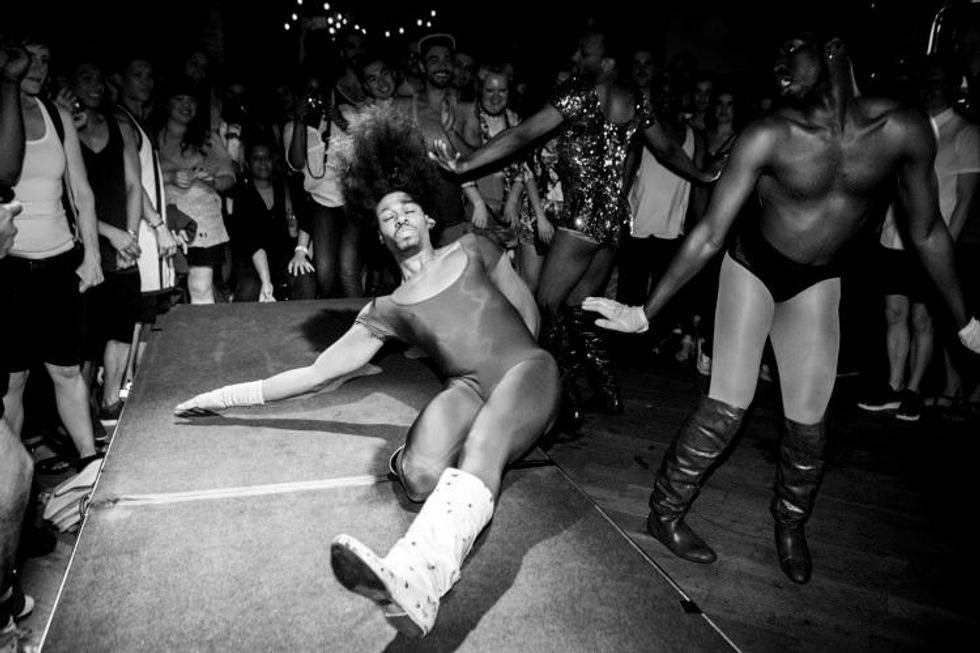 Pride Ball
In addition to the Hump! Film Festival, Wythe Hotel will be co-hosting, along with Gayletter, their annual Pride Ball. There will be special performances by House of Mugler, House of Labeija, and queer Brookly-based rapper
Jay Boogie
. A portion of the night's ticket sales will go toward Fierce, a charity supporting LGBT+ youth of color in New York City.
Wythe Hotel, 80 Wythe Ave., Brooklyn, 7 p.m.-1 a.m. 
Sunday, June 28PrideFest
PrideFest sets up camp on Hudson Street between Abingdon Square and West 14th St., with more family-friendly events that provide a tamer antidote to all the before-and-after parties throughout the weekend.
Hudson Street, between Abingdon Sq. and W. 14th St., 11 a.m.-6 p.m.
Pride Parade
Get your lamé hotpants ready for the big kahuna of Pride Weekend -- the parade -- which kicks off at 36th and Fifth and finishes its route on Christopher and Greenwich Sts. This year's Grand Marshals include actors Sir Ian McKellen and Sir Derek Jacobi, Ugandan LGBT rights activist Kasha Jacqueline Nabagesera, and Brooklyn-based activist J. Christopher Neal. Keep an eye out for PAPER's own Mr. Mickey who will be riding Diesel's LOVE float this year alongside vogue dancers sporting the brand's new, uh,
package-enhancing
Hero Fit briefs. 
Dance on the Pier
This Pride Weekend staple has hosted the likes of Cher, Demi Lovato, and Cyndi Lauper and this year it's Ariana Grande who's nabbed the headlining slot. Feel free to wear all the glitter your body can absorb and dance it all off during "One Last Time" for a good cause.
Hudson River Park Pier 26, 3-10 p.m.

Photo via
RuPaul's Drag Race
RuPaul

's Drag Race Pride
RuPaul's Drag Race is no longer confined to the screen; you can now catch live voguing by all the reality show's season 7 contestants plus some old favorites like Sharon Needles, Raja, and Pandora Boxx.
Liberty Theater, 233 W. 41st St., 8 p.m.
Pride at the Bell House
The tagline for the Bell House's annual Pride comedy event is "What if 'A Prairie Home Companion' were hosted by four Mirandas?" Comedians John Early and Cole Escola, along with author Isaac Oliver and "drag rapper" Hamm Samwich will co-host the event, with its profits going to SAGE benefiting LGBT elders. Special guests include Girls' Jemima Kirke, SNL's Sasheer Zamata, and comedian Julie Klausner.
The Bell House, 149 7th St., Brooklyn, 8 p.m.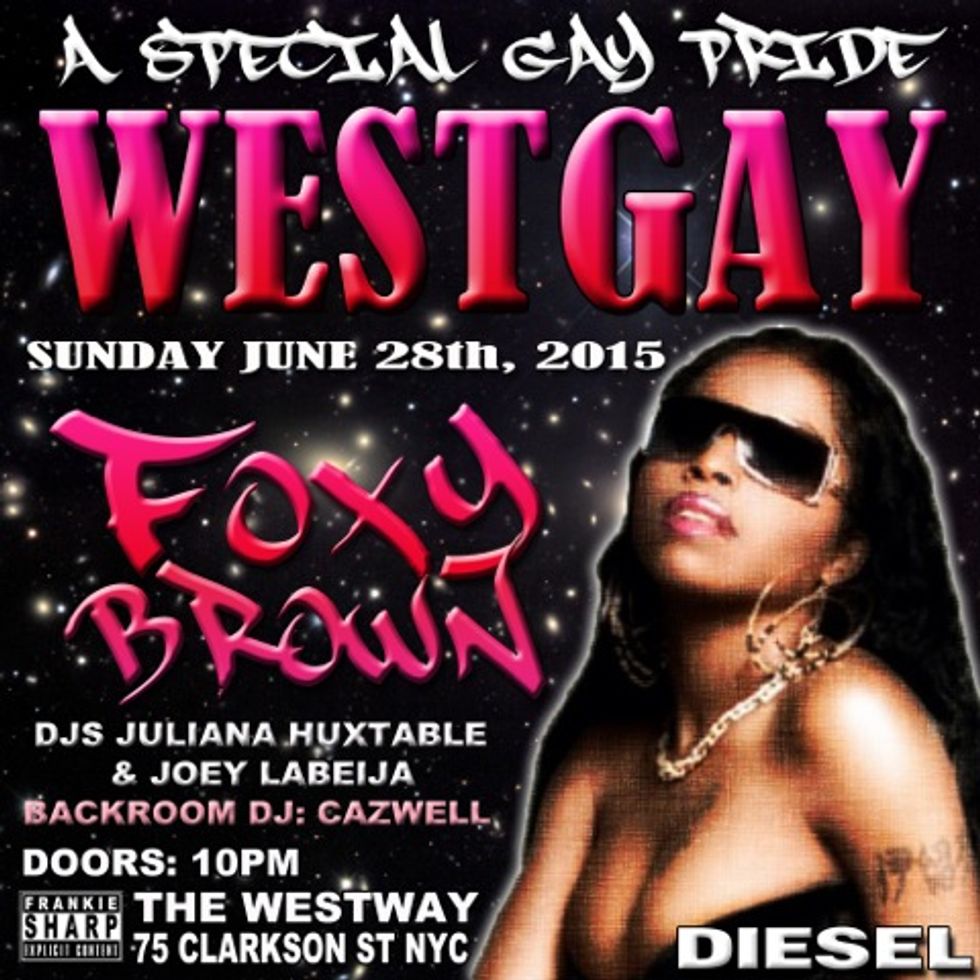 Photo courtesy of Diesel



Westgay
End Pride Weekend with a bang at Frankie Sharp's LAST-EVER Westgay before Westway shuts its doors for good. The last hurrah is being sponsored by Diesel and will feature a live performance by Foxy Brown and sets by DJs Juliana Huxtable, Joey Labeija, and Cazwell.  
The Westway, 75 Clarkson St., 10 p.m.; 21+; Tickets are $25 and can be purchased HERE








You May Also Like