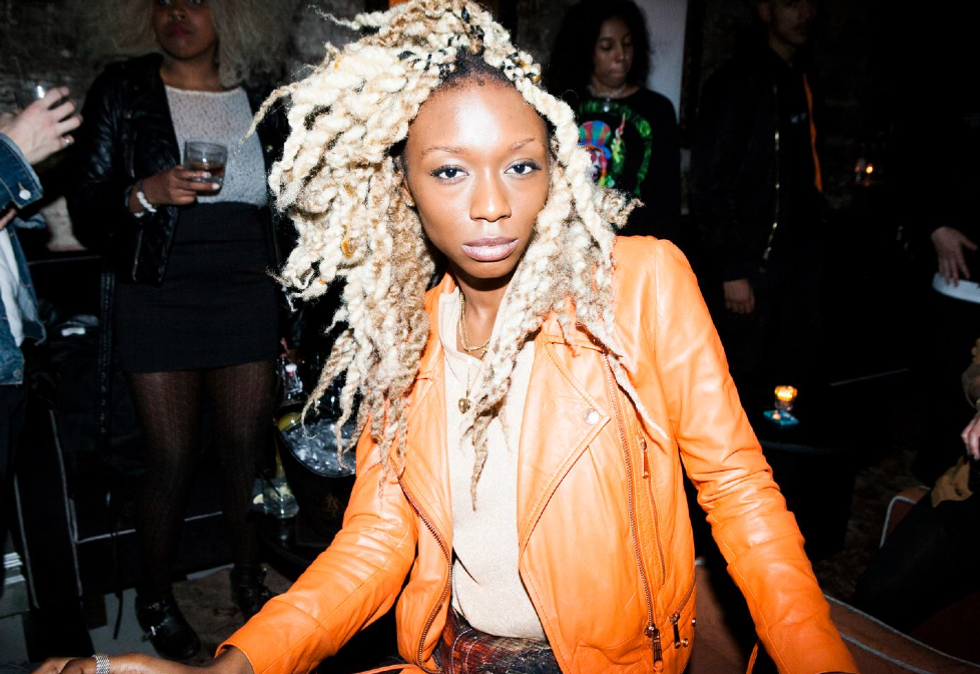 Junglepussy. [Photo by Class NYC
via
]
Summer is coming to an end, and with it your opportunity to at least pretend that there are no consequences to your actions (try finding a whole new neighborhood to hang out in through the snow). So get your Labor Day in New York on with our guide to the list of some of the best parties, shows, and screenings the long weekend has to offer.
Friday, September 4
Broke City is a consistently excellent Friday night bash that happens in Bushwick's gorgeous Lot 45 space, and their 4-year anniversary celebration is obviously no exception -- especially seeing as how local favorites Ital, Soul 2 Seoul and DJ Wey will be spinning an intriguing blend of analog and industrial techno. 
Lot 45, 411 Troutman Street, Brooklyn; 9:30 p.m.-4 a.m.; Tickets $10
Cutie DJ Doss is combining forces with Destiny (fka Princess Nokia) for a headlining show that combines some of the underground's best and brightest. And coming alongside Bruce Smear, Tallesen and Sadaf, it's bound to be quite the late nighter.
Baby's All Right, 146 Broadway, Brooklyn; Midnight; Tickets $8
New York's premiere electronic music festival, Electric Zoo is the perfect place for partiers to don their best day-glo outfits and fistpump the night away -- even if this year's featured artists are sort of a mixed bag with electronic godfathers The Chemical Brothers headlining alongside the likes of Zeds Dead and Alesso.
Randall's Island Park, Randall's Island; Fri, Sat, Sun, Get tickets here.
Martin Scorsese's classic comes to MoMA as part of a series of companion screenings to an exhibition of movie posters in the lobby outside of the museum's theaters. We know, it's complicated -- just take our word for it, you'll want to see Peak De Niro on the big screen in this great film about a disturbed outsider, his delusions, and his violence.
MoMA Roy and Niuta Titus Theaters; 8 p.m.; Tickets $12
Technophiles, rejoice, because Lost Soul is bringing a 12-hour, 2-room party stacked deep with local talent à la Volvox, Adrian Rew and The Long Count Cycle to a secret warehouse in Brooklyn. Prepare to sweat till the sun comes up.
Secret Location, Brooklyn; 11 p.m. - 11 a.m.; Tickets $20
Well... it is going to be Friday. And the success of
Straight Outta Compton
makes
director F. Gary Gray's
earlier comedy
 Friday
an especially appropriate viewing selection if you're looking to get out to the movies this weekend.
BAM Rose Cinemas; 2 p.m.; Tickets $14

Saturday, September 5
It's an understatement to say that Larry Levan and the Paradise Garage family have had a huge impact on NYC nightlife -- spawning careers and entire musical genres from a spot off Houston. And now they're back for one night only this Labor Day weekend, so whether you're in it for new experiences or the nostalgia factor, you better make sure to grab tickets quick, because they're going to sell out fast.
Verboten, 54 North 11th Street, Brooklyn; 9 p.m. - 6 a.m.; Tickets $30
Billed as a queer Caribbean dancehall fete, BRUK 0UT! is bringing some of NYC's brightest talent à la Juliana Huxtable, Joey LaBeija and Shybøi to one place for a night of tropical-tinged tunes. 
Black Bear Bar, 70 North 6th Street, Brooklyn; 11 p.m.
Saturday afternoons won't be the same without MoMA PS1's impeccably curated summer series, but at least their Labor Day Weekend closer is a show to knock it out of the part. Featuring Detroit house legend Derrick May, rapper Vince Staples, underground dance don Egyptrixx, cult electronic producer Clark and left-field pop songwriter Dan Bodan, trust us, it's gonna be a smash. 
MoMA PS1, 22-25 Jackson Avenue, Queens; 12 p.m. - 9 p.m.; Tickets $18
What more could you want than a dance party with some of the hottest EDM talent (aka Skrillex fave, Mija) on Output's roof in the middle of a heatwave-y afternoon? Yeah, we thought so.
Sunday, September 6
If you're not fucking with Junglepussy now, then you're gonna regret it later, because trust us, she puts on quite the show. Performing a rare daytime set in Trans-Pecos' spacious backyard, we'd recommend rounding up all your friends, ordering a pizza to the venue and drinking all the $4 Narragansett in sight.
Trans-Pecos, 915 Wyckoff Avenue, Brooklyn; 1 p.m.; Tickets $12
A Tiki Disco with voguers? On a boat? With an included after party. Yeah buoy!
Crown Height's West Indian American Day Carnival is always a mad ting with a parade bookended by live bands, Jamaican Patty-Eating Contests, costume competitions and more. Gwan now. 
Brooklyn Museum, 200 Eastern Pkwy, Brooklyn; 7 p.m.; Tickets $35
The South London party dons behind Horse Meat Disco are teaming up with the Spank DJs to throw their annual NYC Labor Day Weekend bash at mega-club Cielo and it's bound to be bonkers. Come prepared to dance all night and party hard.
Cielo, 18 Little West 12th Street, Manhattan; 10 p.m.-4 a.m.; Tickets $30 
Monday, September 7
Since its start in 2010 in a parking lot, record label Fool's Gold's Labor Day party has turned into a real, one-day festival. This year's installment boasts label co-founder A-Trak, the recovering Meek Mill, and human thirst trap Skepta.
FILM: Wet Hot American Summer Marathon
Videology will be screening the cult classic Wet Hot American Summer not once, not twice, but five times over the course of the day, with quick intermissions and special drinks to give the event that special end-of-summer-camp feel. Then you can go watch Netflix's inexplicably hilarious prequel series (made decades after the original).
Videology, 308 Bedford Ave, Brooklyn; 2 p.m.
The popular story-telling competition has an installment on Labor Day, which, combined with the drinks at Brooklyn's Bell House, might be exactly the right level of intensity for weaning yourself off a three-day weekend. Learn something and be drunk -- it's the way.
You May Also Like