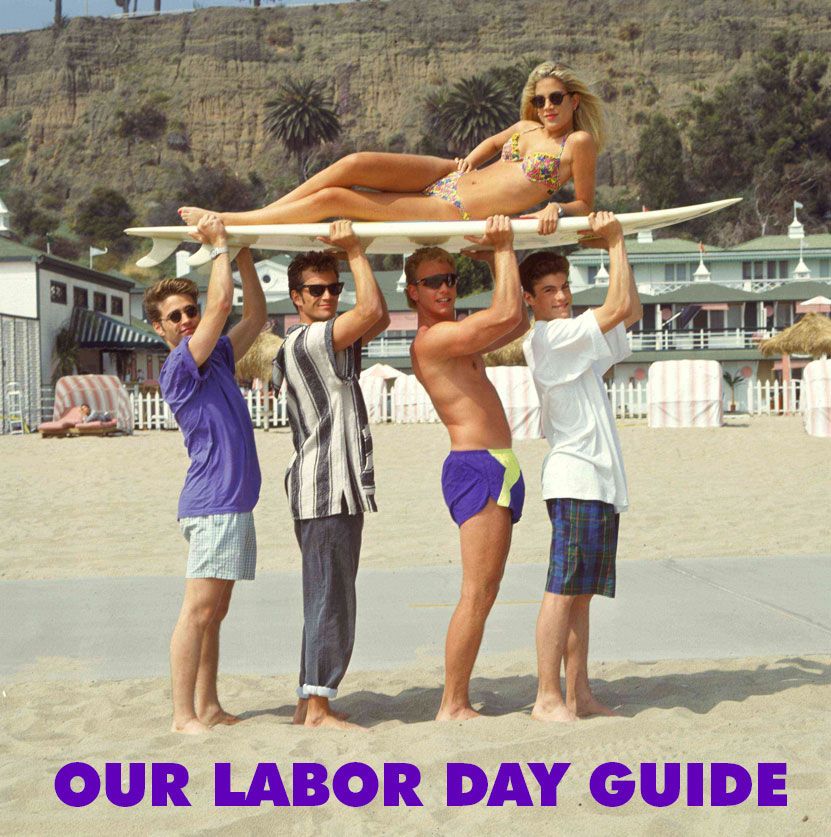 It's a three-day weekend party in the USA, what what! Even if you're not spending 72 straight hours drinking cans of Bud Heavy on a dock somewhere this weekend (in other words, you're stuck in the city), we've got you covered with 15 fun parties, concerts, film screenings, story slams and more happening on Friday, Saturday, Sunday and Monday.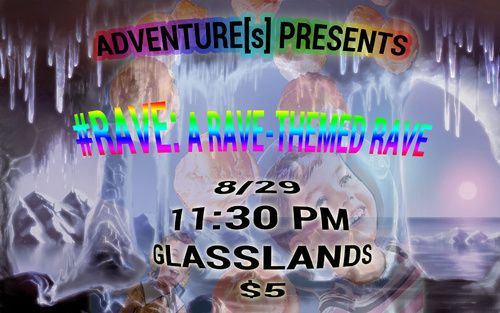 FRIDAY
#Rave: A Rave-Themed Rave at Glasslands
If earnestly going to a rave isn't your thing, try going to a #rave (pronounced "hashtag rave" with as much irony as possible) and putting your mid-90s nostalgia into overdrive. The night will call upon the ghosts of EDM past and present with DJ collective ADVENTURE[s] acting as your spiritual guide.
Glasslands, 289 Kent Ave., Brooklyn. Doors at 11:30pm. Tickets are $5 and available HERE.
Saved by the 90s at (Le) Poisson Rouge
Can nothing satisfy your insatiable '90s nostalgia? Don't worry, we've got you covered. The Bayside Tigers (the band, not
Saved by the Bell
's football team) are playing a set at Le Poisson Rouge
and it's gonna be, like, totally rad.
(
Le) Poisson Rouge, 158 Bleecker St. Doors at 11pm.Tickets are $12 in advance and available HERE.


Electric Zoo Official After Party at Output
Do androids dance? Who knows. But if you're a party animal and you know it, head to Williamsburg to dance your face off with Hot Since 82 at the official Electric Zoo after party.
Output, 74 Wythe Ave., Brooklyn.
Doors at 10pm. Tickets are $40 and can be purchased HERE.
Cirque Fridays at Highline Ballroom
If you want to feel like you're spending your Labor Day weekend in Vegas, check out Cirque Fridays where EDM-meets-Cirque du Soleil. Expect to watch insanely flexible aerialists in neon leotards spin above your head as you dance with considerably less flexibility. 
Highline Ballroom, 431 W 16th St. Doors at 11pm. Tickets are $20 and can be purchased HERE.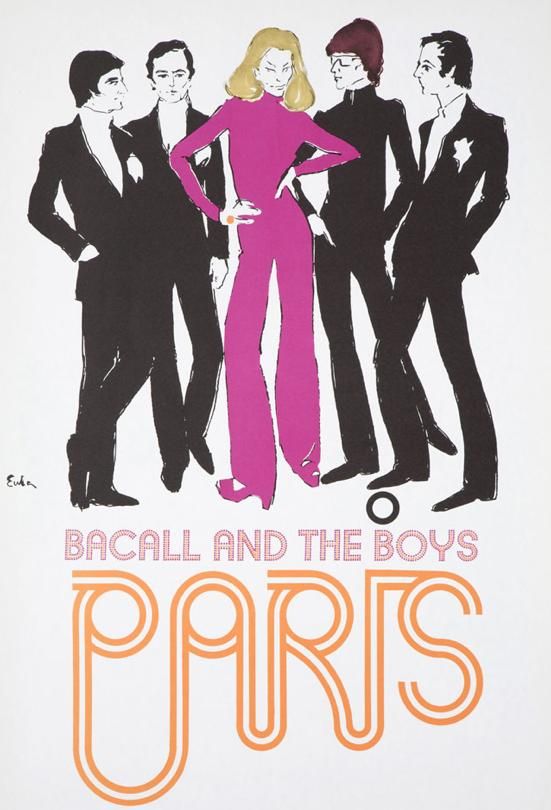 SATURDAY


Fashion Week: A View From The Mad Men Era
For those who are absolutely
dying
for fashion week to start The Paley Center has your fashion fix covered. They're screening
Eye on New York
(1967), which looks into the history of mens' fashion trends, and
Bacall and the Boys
(1968), which features fashion interviews with the late, great Lauren Bacall.
The Paley Center for Media, 25 West 52nd St. 2pm. Tickets with general admission.
DAY LIFE NYC Boat Party
Ideally, we'd all be someplace -- any place -- that's just not the city this weekend. But don't feel so bad. Rumor has it that the rosé supply is
running dangerously low
out in the Hamptons so they can't be having that much fun. If you're still craving a semi-getaway
join DAY LIFE as they take to the seas for a boat party, complete with DJs and live music.
The Cabana (Marco Polo Cruises at E. 23rd St.). 1pm-5pm. Tickets are $30 and can be purchased HERE.

MoMA PS1: Warm Up
Get yourself to Long Island City for another Saturday of live music and DJ sets at MoMA PS1. The lineup includes Benj B, Dam-Funk, DJ Marfox, and more.
MoMA PS1, 22-25 Jackson Ave. 3-9pm. Tickets are $18 in advance and can be purchased HERE.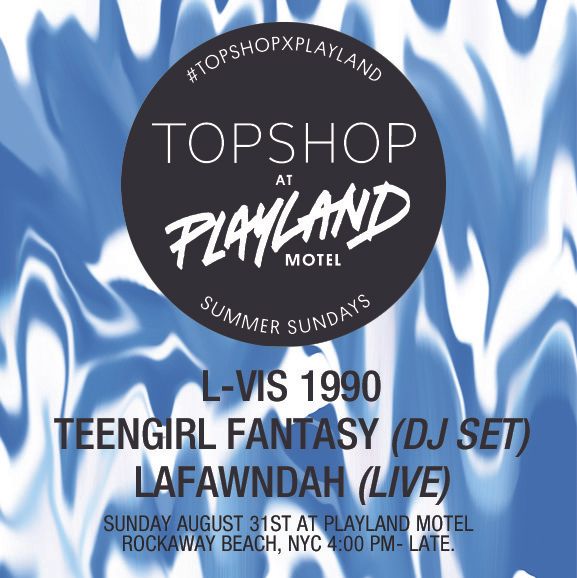 SUNDAY


Topshop x Playland Summer Sundays
Rockaway's Playland Motel has been home to Topshop's beach bash all summer. This weekend marks their last party of the season with sets by L-VIS 1990, Teengirl Fantasy and dreamy electro singer Lafawndah.
Playland Motel, 97-20 Rockaway Beach Blvd., Queens. 4pm-Late. FREE.
Excellent Brunch at Nitehawk Cinema
Party time, excellent! Catch a screening of
Wayne's World
at Williamsburg's favorite dine-in theater, Nighthawk Cinema.
Nitehawk Cinema, 136 Metropolitan Ave., Brooklyn. Noon. Tickets are available HERE.
Roberta's 1st Annual Jerk Off & Bikini Bike Wash
Head to Bushwick fave Roberta's for their first-ever bikini bike wash party where'll you find booze, pizza (of course), and DJ Spliffington on jamz duty. Sadly it's no block party, but they had us at pizza.
Roberta's, 261 Moore St., Brooklyn. 1-9pm. FREE.


Rub-A-Grub at Do Or Dine
Sound Liberation Front and Do or Dine are back at it again for Rub-A-Grub, their regular backyard food and music bash. With a three-part menu, drinks, soul music beats from DJ Akalepse, and classic hip-hop from DJ Still Life, you can expect this party to provide the quintessential end of summer experience and good vibes all around.
Do Or Dine,
1108 Bedford Ave., Brooklyn. 2-10pm. Tickets are $15 in advance and available HERE.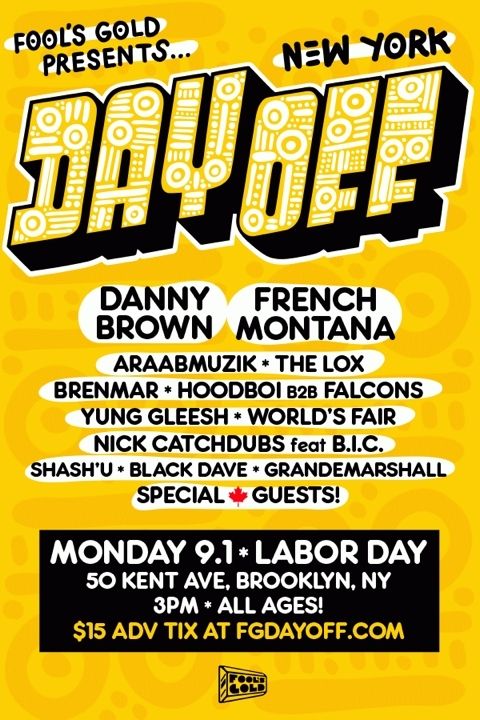 MONDAY

Fool's Gold Day Off
The annual Fool's Gold Day Off party is back with a smorgasbord of hip-hop and electronic music including sets by Danny Brown, French Montana, Brenmar and more.  
50 Kent Ave., Brooklyn. 3pm. Tickets are $15 in advance and available HERE.

Labor Day Brunch at Maison Premiere
If you're feeling fancy, treat yourself to a decadent brunch of oysters, chilled seafood, and the obligatory bloody mary on Bedford. Brunch and live music starts at noon.
Maison Premiere, 298 Bedford Ave. Noon-onwards.

Greenpoint Heights Trivia Night
You know what's super fun? Spending the entire day drinking and then spending the night attempting to answer obscure trivia questions. Trust us, it really is hilarious. If you want to finally use your self-designed liberal arts degree or you're just feeling up for the challenge, head to Greenpoint Heights bar at 8pm.
Greenpoint Heights Bar, 278 Nassau Ave., Brooklyn. 8pm. FREE.

The Moth Story Slam at The Bell House
If you consider yourself more of a drunk poet than a drunk quiz master, head to The Bell House to tell your tale. Monday night's theme is "beauty" and, as per usual, storytellers are chosen at random from a hat. Go just to watch or to improv the next great American novel. Good luck.
The Bell House, 149 7th St., Brooklyn. Doors at 7:30pm, show starts at 8pm. $8 at the door.